15 Best Shoes For Standing All Day: Comfortable And Supportive – 2023
Keep your feet feeling protected all day long with durable yet fashionable shoes.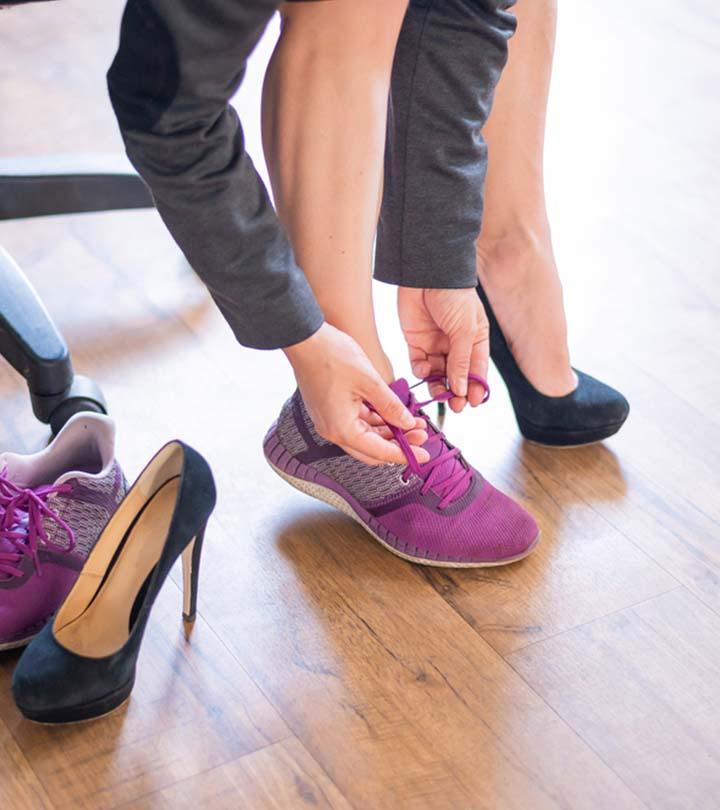 If you are someone who is standing for over a couple of hours or up and about for the entire day, you must get yourself the best shoes for standing all day. These shoes are important to provide you comfort, support, and the right fit to keep your arches well. Having the right shoe is like having a comfortable footbed. It should have breathable fabric, and also fashionable enough to match your outfits. They must also be easy to wear and remove in case you have to do it all while standing up. Needless to say, standing for more than a few hours or continuous movement is tiresome. So, you must get shoes that are lightweight and flexible and give good stability. You might also prefer some fun patterns and attractive colors so that you look trendy as you work your way through the day.
So, if you want to thank your feet for all the effort they take, give them a pair of the comfiest shoes. We have listed below the 15 best shoes for standing all day just for you.
Top 15 Best Shoes For Standing All Day At Work
The Adidas Cloudfoam Pure Shoes offer a female-friendly fit with a soft midsole cushioning that provides maximum comfort. Sport these trendy shoes that keep your feet dry, are super comfortable, and feature a stretchy upper mesh and rubber sole to keep you relaxed and stable, whether you're headed out on a grocery run or at work all day. These breathable shoes also have lace closure and a knit textile upper that complements the snug fit around your ankles. As per reviews, the shoes are primarily trusted among users for their impeccable quality. They are available in various trendy shades, so you can pick one that best suits your everyday outfits!
Pros
Lace closure
Knit textile upper
Hugs the foot
Cloudfoam memory sock liner
Available in unique shades
Comfortable and lightweight design
Cons
It may not be ideal for gym wear or extensive use.
The Skechers D'Lites Sneaker in the Black Silver shade is designed with an attractive leather upper and contrasting inlays, along with a padded collar and tongue for the extra comfort and ankle support that your feet need. This is a reliable and trusted brand known to make comfortable and effortlessly cool shoes. These shoes are designed with leather and synthetic material and come with an air-cooled memory foam insole and a thick shock-absorbing midsole, making them perfect for everyday wear. If you are standing on your feet for most of your day, you no longer have to worry about quality and comfort with these sneakers that have a flexible sole and allow you to sport one of many colors.
Pros
Provide ankle support
Air-cooled memory foam insole to prevent sweating
Offers maximum shock absorption
Ideal for everyday wear
Flexible sole
Ergonomic design
Available in multiple colors
Cons
You may find the shoe to be slightly heavy.
Running late and want an easy-to-slip-on pair of shoes? The STQ Women's Slip-On Sneakers are just the one for you! These ultra-lightweight and breezy slip-ons come with a clean-lined, breathable, and flexible mesh insole that lets you feel like you're walking on clouds. You never have to worry about being tired when you get your hands on these water-resistant shoes for standing all day! You can now glide your way through your day with these aesthetically appealing and shockproof shoes that support your gait and balance. Whether you're looking for a knit fabric liner material, excellent arch stability, or an ultra-light PU sole, this versatile design has it all.
Pros
Lightweight and breezy
Flexible for your feet
Made of soft material
Slip-resistant
Removable insoles
Air-cushion shock-resistant design
Available in multiple colors
Cons
May not be suitable for extensive walking or jogging
Do you consider yourself a lover of all things funky? Then you've got to check out these trendsetting sneakers that win at both style and comfort. This pair is not only easy to wear with its bootie-style upper that hugs your feet but also super practical for everyday use. Get a sleek, snug, and fashionable fit with the New Balance FuelCore Nergize Sneakers that are ultra-lightweight and offer the right cushioning so your feet are never tired. The REVlite midsole and NB memory sole comfort insert are what make these sneakers ideal for pain-free everyday wear. So if you're headed out for a day of running errands or simply want to take a break from pointy heels, these bestselling women cross training sneakers are available in a range of colorful options to choose from!
Pros
Easy to wear
Snug and supportive fit
Lightweight cushioning
Made of synthetic material
Lightweight and comfortable
Available in colors
Cons
May not be ideal for those who have wider or flat feet
If you're a woman who loves to hustle, then you should check out the Columbia Women's Ice Maiden II Snow Boot that has a stylish waterproof design to help keep your feet protected in plausible tricky weather. The supportive midsole offers advanced traction and allows you to use this pair in the snow. The waterproof leather and textile upper are combined with a seam-sealed membrane and provide 200g insulation so your feet won't go numb. These stylish boots have gained rave reviews for being lightweight and comfortable. They are designed to offer long-lasting comfort with superior cushioning and high energy return. Choose from a range of outdoor performance wear by Columbia and rest assured, you can flaunt a feminine, waterproof, insulated, comfortable, and stylish pair of shoes this winter.
Pros
Omni-grip non-marking traction rubber
Lightweight
Supportive midsole
Waterproof leather upper
Provides 200g insulation
Long-lasting quality with superior cushioning
Options available in multiple colors
Cons
May not be suitable for icy weather conditions
The Akk Slip-On Women's Sneakers are the right combination of lightweight and comfortable casual shoes that are ideal if you're on your feet round the clock. The breathable and skin-friendly slip-on style design is accompanied by laces for extra support and lets you control the snug fit of these sneakers. For easy wear and all-day comfort, get your hands on one of the 12 different colored shoes for standing all day. The non-slip MD outsole and memory foam insert provide superior cushioning to safeguard your feet with impact protection. What are you waiting for? Get your hands on these bestselling, versatile, and stylish women's walking shoes that you can use for work, daily walks, or shopping.
Pros
Comfortable work shoes with flexible soles
Available in 12 colors
Breathable and skin-friendly material
Non-slip MD outsole
Comes with a memory foam insert
Cons
Does not offer too much arch support
Let your feet breathe with the Nike Revolution 5 Women's Running Shoe that has a soft foam lining to help cushion your every stride. This minimal design is super portable, and the lightweight knit upper cradles your feet gently to offer breathable support. Head out for a quick run after a long day and rewind as these comfortable shoes have a rubber outsole for durable and flexible traction on slippery surfaces. You will love the reinforced heel, responsive cushioning, and no-sew overlays that add to the support and durability these shoes have to offer. What's more? The textured outer covering helps reduce weight and covers up creases, allowing your feet to look just as well as they feel.
Pros
Soft sock liner
Plush lining
For durable and flexible traction
Lightweight cushioning
Breathable support
Available in unique and stylish colors
Cons
May take a while to break into these shoes
Backed by soft and balanced cushioning, the Brooks Ghost Shoes have soles that do not lose reactivity and last longer. The lightweight shoes are available in many unique colors and enable a fluid stride. If you're standing on your feet all day, these shoes will prevent any chance of shock with their integrated absorber system that also comes with an exclusive segmented crash pad so that your feet are always evenly cushioned. For a soft fit that is supported by a new generation mesh upper and 3D printing, this is one of the best shoes for standing for a prolonged period of time.
Pros
Durable soles
Lightweight
Available in attractive colors
Integrated shock absorber
Comes with a segmented crash pad
Has a mesh upper
Cons
Not suitable for high impact activities
Featuring a 4-way gradient print, the Ryka Devotion Plus 2 Women's Walking Shoe is designed with super supportive technology to protect your feet. The anatomic Precise-Return heel cup ensures that your heels are well backed up with extra arch and heel support. If you are looking for an ideal pair of comfortable walking shoes, then this one is accompanied by a soft synthetic sole to leave you feeling comfortable everywhere you go. The lace-up front feature lets you secure your feet and keep them snug, while the smooth lycra-lined tongue comes with a comfortable collar and in-built cushion so you feel balanced even after you are probably standing still in one place for hours on end. As per reviews, these are the most comfortable walking shoes that you can wear for long hours.
Pros
4-way gradient print
Anatomic heel cup
Lace-up front feature
Lycra-lined insole
Inbuilt cushion
Ideal for walking and low impact activities
Cons
You may find that the soles are relatively soft.
If you are on the lookout for a practical and comfortable fit, look no further than the Skechers Work Sure Track Trickel that has a 100% leather upper. This supple low-cut design gives you a custom fit as it has a generous silhouette that is accommodating. You can keep your feet protected and supported with these shoes that also have a padded tongue and collar, along with a ventilated lining. These shoes have been tried and tested by users and are highly coveted as one of the best for standing for the ultimate comfort. They feature a removable memory foam cushioned footbed with a pull tab at the helm for easy slipping the pair on or off. You can make sure that standing on your feet all day does not become a pain in the back with these EH-safe rated shoes that come with a shock-absorbing midsole and a slip-resistant nitrile rubber traction outsole.
Pros
Slip-resistant
Practical and comfortable
Suitable for slightly oily or wet surfaces
100% leather upper
Low-cut design for a custom fit
Ventilated lining
Removable memory foam
Cons
May not be ideal for long-wearing hours
Designed with the patented Versoshock technology, these shoes from GDefy are a must-have if you want to invest in comfort and the right fit. Get the best of well-aligned shoes with an orthotic insole that comes with a breathable, perforated finish and a colorful synthetic upper. The lightweight PU core provides both cushioning and flexibility and is topped off with an antimicrobial lining cover. This quality-tested pair of shoes has an ergonomic design that delivers high energy return and comfort and is recommended for not just long-standing hours, but also for walking and pain relief. You can choose from a stylish range of up to 8 different colors that are unique and attractive!
Pros
Versoshock technology
Orthotic insole
Breathable finish
Lightweight PU core
8-hour comfort
Diabetic-friendly and arthritis-friendly
Relieves plantar fasciitis and other pain
Available in colors
Cons
You may find the soles to be slightly thick and bulky.
The Orthofeet Coral Pain Relief Sneakers are supported by an innovative pain relief technology that will allow you to stand on your feet for long hours. The premium orthotic soles each have anatomical arch support, along with a breathable cushioning foam that is made of odor-resistant fabric. Trust these sneakers to help you control overpronation and improve foot and leg alignment and any related aches. Keep your feet far from fatigue with these super attractive sneakers that not only come with a roomy toe box and stretchable upper but also have a seam-free protective interior. Pamper your tired feet with these comfy shoes that will leave you feeling like you're walking on pillows.
Pros
Innovative pain relief technology
Anti-fatigue
Orthotic soles
Anatomical arch support
Controls overpronation
Ideal for those with diabetes, arthritis, plantar fasciitis, bunion, and swollen feet
Toe box and stretchable upper for wide feet
Cons
You may have to replace the soles every 6 months.
With an inspired trusstic system technology, the Asics Gel-Quantum Women's Running Shoe reduces the weight of the sole unit without compromising on the structural integrity of the shoe. What makes these shoes trusted for all-day comfort is the use of seamless materials that reduce the potential for any friction or irritation that traditional stitching may cause. The Solyte midsole material is ultra-light and features enhanced and durable cushioning. You won't have to compromise with the ComforDry lasting material with a plush underfoot comfort that manages moisture levels and offers you a high level of breathability. With effective gel cushioning systems like these, your feet will be safe from impact shocks and toe-off phases.
Pros
Lightweight sole unit
Seamless materials
Durable cushioning
Breathable and moisture managing underfoot comfort
Prevents impact shocks and toe-offs
Cons
The sole may be slightly firm until you break into the shoe.
If you want to amp up your everyday casual look while letting your feet reap the benefits, the Marianne slip-on sneakers are a good buy. This pair is specially crafted for a better fit and feel all day and has a pure leather upper that is available in unique shades like black, cream, tan, white, and more. The contour technology along with the non-slip outsole come together to deliver a smooth stride and pressure relief as you are up and about. These round toe shoes have a synthetic sole and elastic goring side panels so you can now choose to have happy feet!
Pros
Pure leather upper
Available in different shades
Contour technology for better arch support
Non-slip outsole
Round toe shoes with synthetic soles
Elastic goring side panels
Cons
Not suitable for high-impact exercises, including jogging and running
The Merrell Women's Siren Edge Hiking Shoes are just the right fit if you are someone who enjoys a long walk or trek. Many reviewers who have tried and trusted these shoes rave about its design for women's feet that makes it suitable for standing for long periods of time. They feature a sticky Vibram Megagrip sole that provides extra traction even on soggy or wet ground, making this an ideal option for your next monsoon weekend getaway. Choose the kinetic fit base removable contoured insole for the best flexibility and support. The mesh and TPU uppers are breathable and equipped with a traditional lace-up closure to ensure that your feet are warm and snug, while the bellows tongue makes sure to keep away any debris.
Pros
Made for hiking
Sole provides traction
Kinetic fit base
Breathable mesh upper
Lace closure and bellows tongue for extra support
Cons
The upper part of the shoe is not waterproof.
Now that you've got an idea about the best shoes for standing, you can go ahead and click "add to cart". If you're wondering about how to pick the right shoe for you, take a look at our buying guide below to choose the best shoe that'll help you navigate your way round the clock!
How To Choose The Best Shoes For Standing All Day
When choosing the best shoes for standing, the one most important thing to consider is the durability of the shoe. The materials used to manufacture the shoes affect how long they will last, and it is important to look for synthetic or leather linings. This type of lightweight design construction will ensure that no matter how long you are standing on your feet, the shoes won't wear out. Standing for most of your days means that your body weight is going to be distributed differently when compared to when you are walking. Uneven weight distribution means that certain parts of the inner sole need to be better equipped to handle the extra pressure.
If you want a pair of shoes for standing, you will need to look for one with extra padding and cushioning for maximum comfort. The best shoes for standing will have an exterior that can withstand the wear and tear of standing all day, with an insole that acts as a soft pillow to support your foot. High-traction shoes will have a cushioned footbed that is ideally soft enough to provide comfort and also efficient to absorb shocks. You must also be careful of removable insoles that have too much cushion because that might affect a person's balance and walking patterns.
Another important feature to look out for when buying the best shoes for standing is breathability. Consider the fact that you may be wearing your shoes for hours at a stretch and you will want to avoid your shoes trapping heat and sweat. Leaving your feet in the heat and perspiration can cause foot problems and is generally bad for your feet. Look for options that are breathable and allow air to comfortably pass through your shoes so that they are well-ventilated throughout the day. Proper ventilation will keep your feet cool, making it easier for you to carry on with your job comfortably.
One of the foremost things anyone considers before buying a shoe is the size and width. Make sure to do a fit assessment and look for options with good fit or a customizable fit that will allow your feet to be comfortable. The width of the shoes that you intend to wear all day is just as significant as its size. The extra movement inside a shoe that is too thin or too wide can cause chaffing, blisters, and other unpleasant side effects which you will want to avoid.
If you plan on wearing a pair of shoes for more than 6-8 hours a day, it goes without saying that the flexibility of the shoe is critical. A flexible outsole works in tandem with your feet and therefore helps you avoid any aches. It is important to look for flexibility in the shoe to avoid hot spots and ensure long-term comfort for your feet. Along with being flexible, the shoes should also offer sole durability.
Why Trust StyleCraze?
We have curated this list of the best shoes for standing all day long to help you pick the right one. We understand that you need to wear comfortable shoes to avoid foot pain from standing all day. We have gone through hundreds of reliable online reviews and product information available on brand websites to shortlist the shoes. The products included in the list are lightweight, flexible, and will give you good stability.
Frequently Asked Questions
Are crocs shoes for standing all day?
Crocs, although lightweight, may not be the most ideal option for standing all day. You can look for more comfortable shoes that are not just light but also offer optimum flexibility and cushioning support that all-day wear demands.
Are memory foam shoes good for standing all day?
Yes, memory foam shoes offer extra support to your feet and ensure that they stay snug and protected all day long.
Are running shoes good for being on your feet all day?
Running shoes are designed for flexibility and movement and can be suitable to wear all day. You will want to look for running shoes if you are likely to be walking or standing.
Are Skechers good shoes for standing all day?
Yes, if you pick the right kind of Skechers, you can get a comfortable and well-designed fit that will help you as you stay put round the clock.
How to make shoes more comfortable for standing all day?
If your shoe doesn't already provide a comfortable sole, you can get your hands on a pair of shock-absorbing and water-resistant insoles to guarantee comfort.
Are flat shoes good for standing all day?
Flats may not be the best option if you are looking for shoes to wear when you will be standing all day as they can cause discomfort and pain after some time. Instead, look for shoes that have supporting cushions such as the New Balance FuelCore Nergize Sneakers, that will provide comfort to your feet all day long.
Recommended Articles