13 Best Shoe Organizers That Are Space-Saving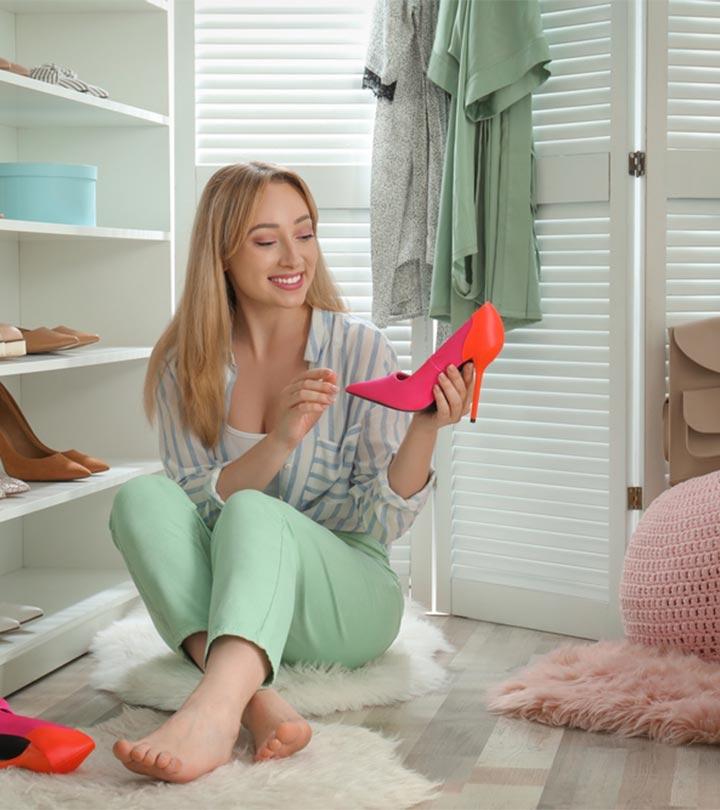 You can never have too many shoes, and that is why you need the best shoe organizers to keep them in your arm's reach. There's a shoe for every mood, season, and outfit, and sometimes that classy yet massive collection can end up making a huge mess on your floor. Moreover, it might become hard to find the right pair from the collection when you are in a hurry.
A good shoe organizer can help you avoid that mess. It allows you to organize your shoes according to their type, making it easier to spot them whenever you need. Also, such organizers help keep your adored collection clean and save a lot of space in smaller households. So, if you are searching for a shoe organizer, you have landed on the right page. Swipe up to explore our list.
13 Best Shoes Organizers That Are Space-Saving And Safeguard Your Footwear
Simple Houseware's Over The Door Shoe Organizer features 24 clear pockets that keep your footwear safe from damage and dust. You can simply hang it on a closet rod or on the door with no need for any other hardware. If you prefer, you can also swap out this piece for a brown or pink hanging shoe organizer. Apart from shoes, you can also utilize this professional organizer for your beauty accessories or kids' toys.
Pros
24 clear pockets
No hardware needed
Also available in pink and brown
Saves footwear from damage and dust
Can be used for other accessories
Cons
Some may find the backing to be flimsy
Whitmor's door shoe organizer can fit 36 pairs of your footwear and come with 12 racks. Made with non-slip coated steel and white resin on the sides, this shoe storage option is quite sturdy and requires no tools to assemble. While the bars keep your shoes from slipping off, your door remains protected with non-slip door pads. If you have shoes of varying sizes and heights, simply make use of the foldaway bars on the shoe organizer for small space.
Pros
Easy no-tool assembly
12 racks house 36 pairs of shoes
Foldaway bars for various sizes and heights
Non-slip door pads to protect door
Anti-slip coating
Cons
Might be difficult to stack heels and wedges
ERONE's shoe storage organizer is stable, sturdy, difficult to bend, and can withstand heavier weights. It is constructed with anti-rust thickened metal tubes reinforced by sturdy PP connectors. This 8-tier tall shoe organizer can hold anywhere between 16 to 20 pairs of shoes and as it is designed to fit into a narrow space, it gives a sleek look. No-tool assembly gives you convenience and you can set up the shoe organizer cabinet even in tiny passageways without looking messy. For taller shoes like boots, you can also detach a rack from this vertical shoe organizer to make some space.
Pros
8-tier shelf
No-tool assembly
Fits 16 to 20 pairs
Waterproof
Easy to clean
Anti-rust
Cons
Auledio's stackable shoe organizer can help you accommodate shoes of different shoes and heights. With a powder coated finish, the rack stays resistant to corrosion and will give you a long life without any wear and tear. The wired bars on this shoe storage solution keep your shoes ventilated, so there's no stagnating odor and no dust is collected either. We think this is a great front door shoe organizer as your guests can easily stack their footwear upon arrival.
Pros
3 long racks
Anti-corrosion finish
Adjustable and detachable
Keeps shoes dust-free
Maintains ventilation
Easy installation
Cons
Might not handle heavy weight
Under-the-bed shoe racks and organizers like this one by Onlyeasy are foldable to save you space and convenient for storage. Holding 24 pairs, this horizontal shoe organizer is made of non-woven polypropylene and cardboard, which adds to its sturdiness. With 2 handles and zippers on the front, you can easily pull them out and open them whenever you need to switch your footwear. Each box has a see-through window for easy access, which also prevents your beloved shoes from collecting dust. This clear shoe organiser can help with space-saving and looking mess-free.
Pros
Fits 24 pairs
Handles for easy pulling
Strong and smooth zippers
See-through window
Dust-proof
Foldable
Cons
Some may find the cardboard dividers to bend easily
storageLAB's cube shoe organizer can be used to store away up to 12 pairs of footwear. The adjustable compartments can house shoes of any size and height. With a clear top of this plastic shoe organizer, you can pull out your shoes at a glance and this feature also keeps them away from any dust or dirt. Firm sides, durable handles, and sturdy zippers add to the convenience you get with storageLAB's space-saving shoe organizer. As the fabric used barely causes any friction, it slides easily on carpets and hardwood floors.
Pros
Fits 12 pairs
Clear top
Non-friction fabric
Handles for pulling
Sturdy zippers
Firm sides
Cons
Made with sustainable and eco-friendly bamboo wood, this 3-tier entryway shoe organizer can hold up to 12 pairs. Its slatted surface is resistant to moisture, so you can even stack your shoes after being drenched in the rain! The wooden finish adds an elegant look to your interior if you happen to place it inside your house. And what's more, the bamboo shoe and boot organizer is also quite easy to put together
Pros
Eco-friendly
Holds 12 pairs
Slatted surface
Moisture-resistant
Easy assembly
Cons
Might cause splinters when handling
Prepac's shoe cubby organizer is made of wood and given a laminated finish with an espresso shade. Each cubby is spacious enough to house your footwear and the 12-tier shoe rack storage organizer can easily handle up to 36 pairs. Not only can this sleek piece of furniture be fitted in entryways, you could combine a few for your very own custom shoe closet! Sturdy and durable, this shoe organizer for entryway is made of non-toxic composite wood.
Pros
Fits 36 pairs
Narrow and sleek
Made with non-toxic wood
Laminated finish
Available in 4 colors
Cons
Fairly heavy when handling
HOMEFORT's garage shoe organizer has powder-coated metal tubes and plastic parts that can be assembled easily. This helps the material stay resistant to rusting and corrosion over time. As you can fit about 4 to 5 pairs of shoes on each rack, a total of 20 pairs of footwear can be stacked. By reducing clutter along with adding an elegant look, this is one of the best garage shoe organizers you can use.
Pros
Anti-rust
Anti-corrosion
Fits up to 20 pairs
Easy to assemble
Lightweight
Cons
Might be too big for kids shoes
YITAHOME's shoe organizer shelf has a lightweight body made of cardboard, which makes it easily portable. It has a ventilated design, which keeps air flow constant and prevents a musty smell from lingering around in the cubbies. The stackable design and see-through display is convenient to save space and give you easy access. With this shoe cube organizer, you can store 18 pairs of footwear and prevent dust from getting in.
Pros
Lightweight
Portable
Stackable
Ventilated
See-through
Fits 18 pairs
Cons
Some may find it difficult to assemble
Bamworld's behind-the-door shoe organizer can house anywhere between 24 to 30 pairs of baby or adult shoes. On the top left, a small box is present that can hold small items such as keys. With the armrest on the other end, you could use the bamboo stackable shoe shelf to hand your umbrellas. It is constructed with bamboo-integrated strips, which are sturdy and bear wear and tear better. Eco-friendly with a natural satin finish, this shoes storage organizer has mats on each leg to prevent damage to your floors.
Pros
Fits 24 to 30 pairs
Small box to hold essentials
Can be used to hang umbrellas
Eco-friendly
Easy to assemble
Padded to prevent damage to floors
Cons
Might be difficult to store heels owing to the gaps
Mabel Home's shoe organizer cabinets have 3 compartments, which can hold 2 pairs of shoes each. The metal surface is easy to clean and can be used both indoors or outdoors. Without requiring any assembly, these white shoe organizers keep your footwear clean and well-protected. They add a chic look to your interior, save space, and can also function as a small side table for decorative purposes.
Pros
3 compartments
Can hold up to 6 pairs of shoes
Save space
Easy to clean
Keep footwear clean
Can be used indoors and outdoors
Cons
Might not accommodate bulkier footwear
WBHome's shoe organizer cubbies can easily accommodate 48 pairs of footwear in 12 compartments. The modern and clean design not only adds flair to your interior but keeps shoes safe from dust and other kinds of damage. Made with waterproof resin panels, the floor shoe organizer is both easy to clean and assemble. To house your shoe collection while saving space, this large shoe organizer will definitely come in handy.
Pros
Waterproof
Fits 48 pairs
12 roomy compartments
Dust-proof
Easy to clean
Easy to assemble
Cons
Some may find the panels to be flimsy
Now that we've looked at some of the best shoe organizers on the market, let's get into how you can choose the right one for yourself!
How To Decide On A Shoe Organizer
The ideal way to go about choosing a shoe organizer is to count how many pairs of shoes you own. If you're planning to add some more to your collection in the near future, you should look for a bigger storage. You must also keep in mind how much space you have and work accordingly.
Cubby holes are rectangular or square slots that keep your shoes tidy while also giving you a good view of them. But these cubes have a small standard size and can pose difficulty when having to store boots or the like.
Shelves are somewhat like your cupboards and allow you to maximize space by arranging your shoes however you fancy. If you own various styles of boots or shoes, this is a good option. Additionally, their sophisticated look can be used in entryways where placing shoes openly would otherwise be unflattering.
Drop-down incline shelves or drawers with adjustable height shelves help save space as they fit behind doors and have low depth. Not only can they house different kinds of shoes, but placing multiple of these next to each other can give you a display surface.
An over-the-door shoe organizer is the simplest of the lot and works the best at space-saving. It is essentially just pockets made of plastic that holds your footwear. The entire organizer features hooks at the top which can be hung on your closet or bedroom door to save space. However, these must be carefully placed so as to not damage the door or the shoes.
Under-the-bed shoe organizers are also cubbies but they have a zipper closure topped with a see-through cover. While this helps prevent any dust or bacterial from getting in, there are also handles to pull the boxes out. You can conveniently slide them under your bed to save some precious space and store shoes out of sight.
Wooden shoe racks and shelves are pretty sturdy and durable. They can have natural, varnished, or lacquered finishes. While they do add elegance to an interior space, they might be a little heavy and not very portable.
Plastic shoe organizers are the easiest in terms of maintenance and cleaning but can be the least durable. They should be installed and handled with care as they can be quite flimsy.
Metal and iron stackable shoe storage racks offer both stability and durability. Usually constructed without any doors, they are quite ideal if you place a preference on displaying your shoe collection. They are quite light which means assembly and disassembly is quite easy.
Now that we've seen what kinds of shoe racks you can buy, let's learn how you can organize shoes neatly to save space and create an aesthetic.
What Is The Proper Way To Organize Shoes?
Categorize your shoes and store them accordingly. Those you wear daily should be easy to reach and those worn less frequently like stilettos or snow boots can be higher up. With the shoes that are remaining, keep similar styles together such as work shoes in a single group.
Use clear organizers so you know what is where and you can tell which shoe you want at a glance. Clear boxes with lids, cubbies with a transparent cover, and clear plastic ventilated doors are quite ideal.
Keep high maintenance and luxury shoes at the very top to keep them well-protected. Heels are not the best for metal wire racks as the shoes might keep slipping through the gaps.
Over-the-door organizers are your best friends when it comes to neatly stacking away sandals, slippers, and flats. They give you easy access to these everyday essentials and also don't take up much space.
Seasonal shoes like boots are best stored away under the bed in foldable boxes. Not only will they remain clean, but they're also out of your sight and can be brought out when the seasons change.
Buying shoes isn't all that difficult but it might become a bit of a problem when they all add up. While possessing footwear in all the shapes, styles, and colors in the world isn't wrong, it can be difficult to store them. This is why our list of the best shoes organizers can be beneficial. No matter how much space you have or don't have and the plethora of footwear you own can be easily taken care of. There are a wide variety of organizers out there that keep your precious shoes safe from the elements and allow them to stay in shape.
Why Trust StyleCraze?
Priyam Gupta, the author of this article, is a fashion enthusiast who loves keeping up with the latest fashion trends and bringing them to her readers. Understanding the pain points of her readers, she has extensively read through user reviews on reliable online platforms to curate this list of best shoe organizers. This list of shoe organizers will allow you to organize your shoes according to their type and save a lot of space in your home.