11 Best Shoes To Wear After An Ankle Surgery For Fit And Healthy Feet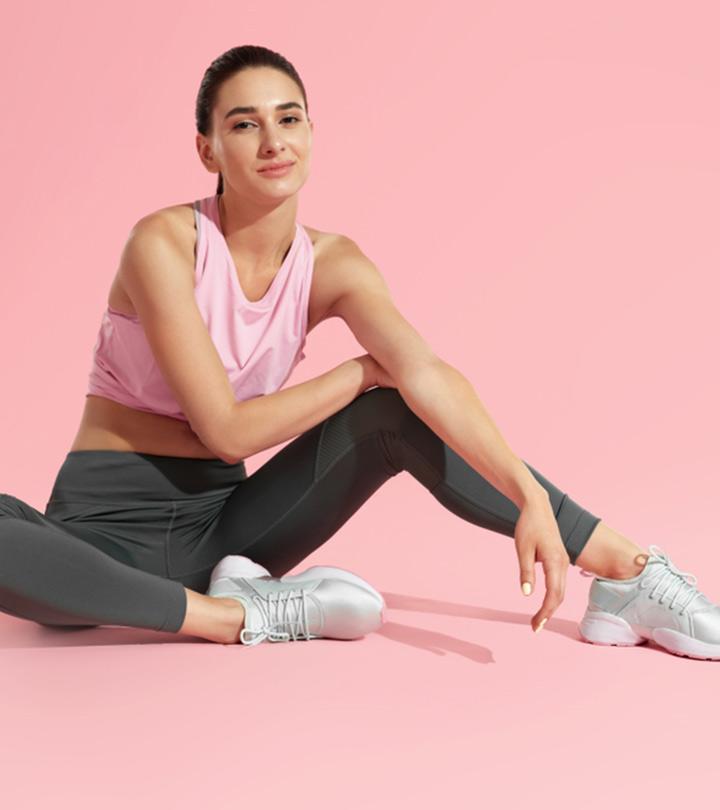 We don't really appreciate our feet and ankles till we are forced to stay off our feet. Well, if you have recently undergone surgery or are in the recovery period, you must invest in the best shoes to wear after ankle surgery. These shoes are specially made to enable speedy recovery and make sure your feet remain well-cushioned from shocks and impact. They are also lightweight and ergonomically designed for use.
The market is full of brands offering shoes for post-surgery recovery. To help you select the ones best suited to your cause, we have listed some of the best shoes to wear after ankle surgery. Some of these are quite stylish too, so you can go out feeling comfortable and stylish. So, go on and take a look through, now!

11 Best Shoes To Wear After An Ankle Surgery To Speed Up The Healing Process
One of the best shoes to wear after ankle surgery, this one from STQ is incredibly lightweight and cushions your feet like a warm pillow. Made with a 3D fit print mesh upper, you can rest assured that it's going to be super breathable and well-ventilated. Designed with shock-proof air cushioning on the footbed, it makes use of a rebound material to absorb shock in every step you take. With a comfortable EVA outsole, you can count on this pair to carry you throughout the day or on long walks. With a padded collar around the ankles and a vertical pull tab for ease of wear and removal, this comfortable shoe offers semi-rigid arch support and comes with a heel cradle.
Pros
3D fit print upper mesh
Shock-absorbing
Padded collars
Arch support
Available in many colors
Cons
May only be ideal for wider feet
If you haven't hopped on the white sneakers meets mom jeans trend yet, now is a great time to do it while caring for your feet. Considered one of the best shoes after ankle surgery, they are made with high-quality fabric and designed with a padded collar and tongue for unparalleled comfort. The cushioned insole with a soft lining keeps your feet well-supported while the durable rubber outsole protects your feet. The breathable leather and mesh upper offer both versatility and breathability while the tall platform helps support your ankles with every step you take.
Pros
Durable rubber outsole design
Extra padding in the collar
Tall platform for extra comfort
Cushioned insole
Available in other colors
Cons
Sizing may not be accurate. You may need to size up.
Arguably one of the best shoes to wear after broken ankle surgery, this colorful pair is made with a 0.5-inch platform to comfortably carry your feet on any terrain. With an air cushion design, the soft and comfortable shoes support your feet throughout the day while keeping your ankles protected. The geometric outsolve pattern evenly distributes impact throughout the soles for smooth step-to-step transition while the breathable fabric and soft interiors make the shoes an ideal choice.
Pros
Lightweight design
Non-slip sole
0.5-inch platform
Air cushion design
Wear-resistant
Cons
May not be ideal for wear during heavy rains or similar climates
Touted as one of the best shoes after ankle replacement, this knitted fabric pair is lightweight and incredibly ventilated. The breathable upper, although made of fabric, also has strong wrapping, so it won't feel stuffy and is ideal for long exercise sessions. Designed with a soft sponge inner, it reduces friction between the feet and the shoes to feel gentle on your skin. The pair is equipped with arch support insoles, which helps maintain the correct posture for your feet. The pair also boasts an air cushion, which improves elasticity and offers shock-absorbing qualities.
Pros
Lightweight knitted material
Arch support shoes
Shock-absorbing
Soft cushioning
Non-slip sole
Oxford patch on sole for increased friction
Cons
Some may find it slightly narrow in the toe area
Asics' running shoes need no introduction, and once you get your hands on this pair, these shoes after ankle surgery will be the only thing you need to heal your feet quickly. A synthetic meets mesh masterpiece, these shoes come with a reinforced rubber sole and are made with Space Trusstic technology, which helps reduce the weight in the sole while providing stability. But that's not the only thing it's known for as the rearfoot and forefoot gel technology cushioning system absorbs shock and makes walking in any terrain a piece of cake. For bounce, the shoe incorporates FlyteFoam midsole technology.
Pros
Shock-absorbing technology
Exceptional bounce
Enhances stability
Reduces weight of the sole
FlyteFoam midsole technology
Cons
Nike loyalists would not even need any convincing and would have hit "Add to cart" without a second thought, however, if you're not a fan yet and are making the big switch to Nike, here's what you need to know about this pair. The 36 Pegusus comes with a synthetic sole and a smartly-engineered upper mesh with targeted perforations for better ventilation and breathability. It is also designed with a slim heel collar and tongue to shed off the bulk and is equipped with exposed Flywire cables for a snug fit. The full-length Zoom Air unit lends your feet a smooth feeling with every step and the sockliner adapts to and mimics the contours of your feet for optimal support.
Pros
Synthetic material sole
Well-ventilated
Slim heel collar
Absorbs impact
Available in many colors
Cons
While wearing heels after ankle surgery might not be the best idea, you sure can dress up your casual outfits with this sturdy and durable pair. The perfect amalgamation of fabric and synthetic, the shoes are designed with a breathable mesh upper for ventilation and flexibility. If you're an in-between size person when it comes to shoes, you'll be happy to note that the shoes offer extra toe room, which also helps improve blood circulation. Crafted with a front rolling forefoot design, it provides stability and the removable insoles help make way for custom orthotic support.
Pros
Breathable mesh upper
Available in other colors
Large platform for comfort
Extra toe space
Free CorrectiveFit orthotic insoles
Cons
Easy to slip in and out of, these durable shoes are a great hit with those dealing with post-ankle surgery care. Designed with a breathable one-piece upper mesh which has more than 10,000 holes, it is highly stretchable, flexible, and incredibly well-ventilated. The outsole is made of lightweight materials and is slip-resistant, provides ample cushioning, and anti-twist as well, making it a great choice for ankle care. The soft insole provides your footbed much-needed support while being skin-friendly and moisture-wicking.
Pros
Comfortable insole
Slip-on post-surgery shoes
MD outsole
One-piece breathable upper mesh
Anti-twist
Abrasion-resistant
Cons
The perfect example of style meets substance, these high-rise shoes will make you a head-turner wherever you go while healing and supporting your ankles like a comfortable cushion. Made of textile and synthetic materials, these shoes are made with a fully-knit upper that makes it flexible and comfortable. For extra breathability, you will see more mesh details in the forefoot area. A great shoe to wear after ankle surgery, the extended ankle collar is ultra-stretchable with excellent shape retention.
Pros
Sturdy rubber sole
Fully-knit upper
Flexible
Extended ankle collar
Available in other colors
Webbed lacing system
Cons
Some may find it difficult to slip into and take off initially
Looking for a pair that's as easy to slip into as it is to get out of? You can search your end here! Designed with non-slip rubber soles, these shoes provide ample friction while reducing cushioning force for relaxed and confident strides. Crafted with a lightweight and breathable upper, the sneakers feature an integrated collar in a low-cut silhouette. It is also equipped with an ultra-soft insole that will make you feel like you're walking with clouds on your feet. Apart from these qualities, the shoes are also shock-absorbent and wear-resistant.
Pros
Wear-resistant
Shock-absorbent
Anti-slip
High elasticity
Breathable upper mesh
Cons
Some may find the upper slightly thin
One of the most comfortable shoes to wear after ankle surgery, these slip-ons come with a non-slip rubber sole, so you can take confident steps wherever you go. If you happen to have sweaty feet, these shoes will have your back as the woven upper mesh upper allows for good ventilation and breathability. With a durable memory foam on the inside, this type of shoes offers good elasticity and they are moisture-wicking too. The rubber sole further offers strong wear resistance and protects the feet by reducing the chances of your ankle spraining.
Pros
Slip-on shoes
Durable rubber sole
Memory foam insole
Moisture-wicking
Available in many colors
Cons
Some may find it slightly wide
Now that we've looked at some of the best shoes to wear after a broken ankle, let's take a look at some things you should keep in mind before buying yourself one.
How To Choose The Best Shoes For Ankle Injury
Perhaps it goes without saying that the higher the heel, perhaps it may not be the closer to god, for in the long run, high heels can seriously affect your knees, joints, and ankles. High heels put a lot of pressure on the knees and even on the ankles as they are constantly trying to keep your body balanced on a tiny platform. Look for shoes and sneakers with as low a heel as possible. Yes, some sneakers feature large platform heels. When purchasing these kinds of sneakers, ensure the platform weight is distributed evenly and how much cushioning it offers to your feet.
It may be counterintuitive but low-top sneakers are a better choice if you're solely looking for shoes for broken ankle recovery or after ankle surgery. High-top shoes may restrict ankle movement, yes, but this may also render your ankles less flexible in the long run, making them more prone to accidents or injuries.
One of the best things you can do for yourself is to invest in shoes with a breathable mesh upper. Not only does this allow for better ventilation and keep your feet comfortable, it also makes the shoes more flexible and stretchable. Check whether the shoes come with insoles or midsoles that provide ample cushioning for your footbed as this is important. A quick and easy way to gauge how flexible a shoe is to bend the shoes towards the laces. The easier it bends, the better the flexibility.
Why Trust StyleCraze?
The author of this article, Priyam Gupta, is a fashion enthusiast and has done extensive research and poured through many customers reviews online to carefully curate the list of the best shoes to wear after ankle surgery. These lightweight shoes are ergonomically and fashionably designed to enable recovery and ensure that the feet remain well-cushioned from shocks and impact.
Frequently Asked Questions
What are the best shoes to wear after foot surgery?
STQ's Air running breathable shoes, the walking shoes from New Balance, and Gannou's athletic running shoes mentioned in this post are some of the best shoes to wear after foot surgery and can help you with a speedy recovery.
Should I get a boot for good ankle support?
When looking for a boot with a good ankle support feature, it is best to consult your doctor.
Why should I wear a boot after ankle surgery?
A boot is a type of medical shoe often prescribed to those who have undergone ankle or foot surgery and is used in the healing process of broken bones, shin splints, or severe pain. It helps keep the foot stable, so that it can heal faster.
How long does it take to fully recover from ankle surgery?
Ankle surgery recovery typically takes about 6 weeks. However, the duration can be shorter or longer, depending on the type of surgery.
Why is ankle support important?
As the ankle takes the burden of supporting and keeping our whole body balanced throughout the day, it is important to invest in shoes with ample ankle support.
How long do you have to wear a walking boot after ankle surgery?
You'll probably have to wear a casting boot for 6-10 weeks.
Recommended Articles:
10 Best Shoes After Foot Surgery For Speedy Recovery
10 Best Shoes for Nurses – (Reviews & Buying Guide)
Best Insoles For Shin Splints And Orthopedic Support
13 Best Slippers For Sweaty Feet That Aren't Uncomfortable