11 Best Shoes To Wear With Capris And Cropped Pants – Stylecraze
Add charm to your cropped bottoms with these must-have stylish and comfortable shoes.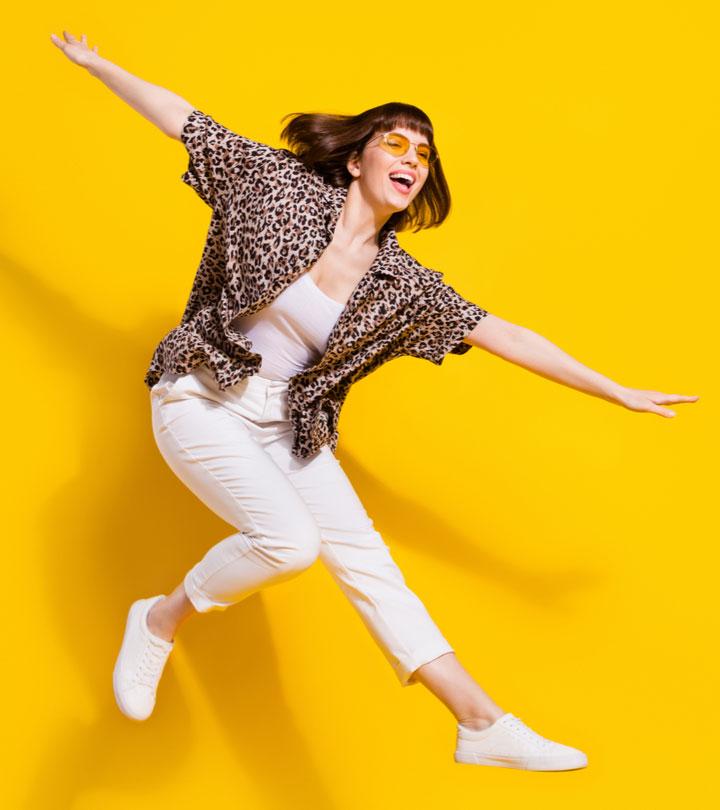 Capris are a versatile piece of clothing that can make you look cool, chic, or trendy. Whether it is black, white, brown, or printed, the best shoes to wear with capris can be good for either evening parties or casual wear. So, you don't have to strain your ankles in high-heeled shoes or worry about looking too shabby in sportswear shoes while rocking a capri. Sneakers are the ideal shoes to wear with them, and they come in breathable material, fine finish, and minimalist style. They also offer decent height.
Now you don't need an array of shoes to make your outfit stylish. A few pairs of trusty shoes that match your minimalist styling and are comfortable to wear are all about trend now. For example, you can pair your jeans or capris with beautiful sneakers. But choosing the right shoes that match your capri's style can be demanding. Take a look at the 11 best shoes to wear with capris. From slip-on shoes, walking shoes, and cushion insole to rubber soles, there is a wide collection available. Scroll down to check out our top bestselling fashion-forward options!
11 Best Shoes To Wear With Capris During Any Season
If you're looking for a durable and fashionable pair of shoes to wear with capris, you're going to love this gorgeous white pair that works equally well whether you are going for a long walk, getting ready to smash your workout, or heading out for brunch with your girlfriends. Made of lightweight leather and featuring a breathable mesh design, this comfortable pair of shoes is not only the latest style statement, but it is also incredibly functional, which makes it a hot favorite amongst young women everywhere. It is a must-have for those who love to be part of the ever-changing shoe trends and want a chic design.
Pros
 Made of lightweight leather
 Soft lining and cushioned insoles
 Durable rubber outsoles
Versatile and trendy
 Suitable for daily wear
Cons
 Some might find these shoes a bit uncomfortable for all day wear.
Amp up your style quotient and give yourself a wardrobe update with the ideal shoes for complementing capris, your favorite sundress, a cute miniskirt, or a pair of skin-tight jeans. Featuring a breathable inner mesh, a latex arch insert, and elastic topline, this stylish pair of slip-on shoes to wear with capris ticks all the right boxes when it comes to the perfect must-have that is equal parts functional, comfortable, and oh-so-fashionable. Ideal for casual wear, this pair of lightweight shoes is great for walking, promises all-day comfort, and has sole durability.
Pros
Lightweight
Sleek and comfortable
 Classic, slip-on design
 Latex arch insert for all-day wear
 Suitable for all outdoor activities
 Ideal for summer season
Cons
 Some might find that these shoes tend to look a bit bulky.
Say hello to all-day comfort, and get ready to strut your stuff with this gorgeous pair of slip-on sneakers that are designed to elevate your look so that you always have your best foot forward. Ergonomically designed, these high-quality shoes feature a lightweight and breathable material, cushioned insole, and an anti-slip outsole that allows balance and stability without compromising style. Whether you prefer a casual outfit of capris and a tank top or a more dressy ensemble to step out for the night, these comfortable shoes to wear with capris offer effortless pairing and are sure to complete your look.
Pros
 Ergonomic, slip-on design
 Anti-slip outsole for balance and stability
 Cushioned for all-day comfort
 Suitable for all occasions
Cons
 Some might find that the sizes of these shoes run a bit small.
Perfect the cool, laid-back vibe with this casual pair of slip-on sneakers that can be paired with any outfit for an uber-chic look that is sure to turn heads. Comfortable and versatile, these shoes feature a memory foam padded insole and a flexible outsole with a stretchy collar that allows you to quickly put the shoes on and off. Whether heading for a day at the beach or for brunch with your girlfriends, these ultra-stylish sneakers will compliment your look and put a spring in your step. According to reviewers, the shoes are super comfortable and fit perfectly without causing blisters.
Pros
 Versatile and trendy design
 Memory foam padded insole
 Stretchy collar for ease of use
 Suitable for all-day wear
 Also available in other light colors
Cons
 Some might find that these shoes are a bit unsuitable for wear in rough terrain.
Bid goodbye to shoe bites and uncomfortable footwear with these swanky slip-on sneakers that are sure to never go out of style. Featuring a unique animal print, these walking shoes to wear with capris have an anti-slip rubber sole and comfortable padding to ensure you can wear them every day and go seamlessly from an early morning walk to a mid-day lunch meeting, all the way to after-work cocktails. These dressy yet comfortable shoes are a perfect partner to your casual capris. Just slip these on and step out with unbeatable swag.
Pros
 Attractive animal print
 Durable anti-slip rubber sole
 Made of lightweight canvas fabric
 Comfortable and breathable
Relaxed and stylish
Cons
 Might not be best suited for those with very narrow feet.
Comfort means functionality with this versatile pair of all-season walking shoes which can be paired with your favorite capris to have you camera-ready for any outdoor activity. These sightseeing shoes feature numerous holes on the surface to allow efficient ventilation, as well as a removable insole, to keep your shoes odor-free no matter how much you sweat. Ideal for daily walking and casual wear, these lightweight shoes don't compromise on style and can be easily worn with your favorite skirt for a more dressy look.
Pros
 Designed for everyday use
 Quick-drying and well-ventilated
 Anti-slip and wear-resistant rubber outsole
 Elastic no-tie shoelaces
Casual and sporty look
Cons
 Might not be best suited for those with very wide feet.
If you love how the cool kids on the block are dressing, then you need a pair of these ultra-cool lace-up sneakers, which are sure to amp up your confidence. Ergonomically designed for all-day comfort, this stylish pair of shoes offer an effortless style and go perfectly with whatever you're wearing, whether a pair of your favorite capris or rolled-up baggy jeans with a crop top. Made of a breathable and lightweight canvas material, these versatile shoes deserve a place with your wardrobe staples. The ergonomic design of the shoes allows for longer wear and makes it a reliable pair of walking shoes.
Pros
 Ergonomically designed for comfort
 Breathable and lightweight
 Suitable for all-day wear
 Ideal for outdoor activities
Cons
 Some might find the fit of these shoes a bit tight around the toes.
Every wardrobe deserves a classic pair of shoes, and this one fits the bill with its timeless design, durability, and high-quality workmanship. Made of premium full-grain leather, classic styles like this one are the ideal pick when you're looking for something halfway between casual and formal. And there's more! These non-clunky shoes are so comfortable that you could walk a marathon in them and end the day without any blisters or shoe bites. So get your hands on these unique sneakers that offer casual sophistication; you will thank us later!
Pros
 Made of premium full-grain leather
 Classic, timeless design
 Comfortable fit
 Durable and functional
Cons
 Some might find that these shoes are a bit difficult to maintain.
Here's a pair of gorgeous, low-top sneakers that are equal parts comfortable, stylish, and durable. Made of a sweat-proof and wrinkle-resistant canvas material, these shoes can also be worn without socks for a fun, casual look. Easy to slip on as you're rushing out of the door, these sneakers will see you through your day without making you feel tired and are the ideal choice for busy, activity-filled days. The attractive design and relaxed fit are reasons enough that these sneakers are a hot favorite amongst young women everywhere. According to reviewers, these perfect shoes are not heavy and remain super comfortable to wear.
Pros
 Adjustable shoelaces
 Wrinkle-resistant canvas fabric
 Easy to put on and take off
 Stylish, decorative stitching
Cons
 Might not be best suited for those with flat feet.
Treat yourself to a pair of these fashionable black slip-on sneakers with casual elegance and get ready to walk out with oodles of style and confidence. Ideal for the minimalist young woman who likes the same pair of shoes to see her through casual and formal occasions, this versatile contemporary option features a classic design, a sturdy exterior, and a comfortable cushioned insole for all-day wear. So what are you waiting for? Gift yourself these types of shoes and instantly elevate your look to one that is chic and always camera-ready.
Pros
 Non-slip rubber outsole
 Sturdy and breathable outer material for all-day comfort
 Easy to slip on and off
 Memory foam cushioned insole
Cons
 Some might find that the shoes are a bit narrow.
Get up-to-date with the latest hot fashion trends and make a style statement with this classic pair of white canvas sneakers that are sure to have the compliments rolling in. These round-toe sneakers are sophisticated casual ones that are easy to walk around in and can make the simplest dress or pair of capris look oh-so-chic and stylish. The perfect gift to feel comfortable, whether at a cafe, a concert, or the hottest club in town. Versatile and durable, these shoes are an absolute must-have to enhance your personal style, unlike other bulky sneakers.
Pros
 Comfortable round-toe design
 Made of a durable and breathable canvas material
 Suitable for all occasions
 Designed for all-day wear
Cons
 Some might find these shoes a bit difficult to clean.
*The prices provided in this article are based on the latest available information. However, they may vary due to changes in pricing by the seller and/or promotional offers.
Now that we've had a look at our pick of the 11 best shoes to wear with capris in 2023, let us look at some things to consider when buying your perfect pair.
What Kind Of Shoes Look Good With Capris?
You want to pair your hot pair of capris with shoes that not only look good, but also make you feel like you are walking on clouds. Round-toe designs are the perfect place to start because they help you look glamorous without squishing your toes and causing unnecessary pain. Make sure that the shoes you pick have a durable exterior and a cushioned memory foam insole for absolute comfort without compromising on style.
If your style is minimalist, you want a versatile pair of shoes that not only look good with your capris, but also go well with your skin-tight jeans, that slinky dress, and your cute miniskirt. Fashionable choices like white canvas shoes with a low-top design are the hottest new trend that will see you through not only your coffee date but also a walk in the park or a night out in the hottest club in town!
 Breathable and lightweight material
When it comes to shoes and your overall outfit idea, comfort is everything. You don't want a pair of shoes that looks great but leaves you with painful blisters and shoe bites at the end of the day. Pick a pair of stylish shoes that provide all-day comfort without that icky sweaty feeling and which can be worn easily both with and without socks. Canvas shoes are a great place to start because they are lightweight and look oh-so-cute with your favorite pair of capris.
Why Trust StyleCraze?
Priyam Gupta is a style and fashion enthusiast who can help you style your outfit as per your needs and fancies. Following the recent fashion trends blindly is not enough. You must know what looks best on you. For instance, have you ever given a thought about what kind of shoes to pair with your favorite capris? Well, if not, Priyam is here with her specially curated list of the top shoes that go best with a pair of capris. She went through thousands of online reviews to curate the list. The products in the list are comfortable and take up your style game a notch higher.
Frequently Asked Questions
How do you wear capri pants with sneakers?
Capri or cropped pants are the easiest wardrobe staple to style, since they look super cute and stylish whether you pair them with a crop top, a sweatshirt, or a regular t-shirt. You can't go wrong with a simple pair of white, low top sneakers to wear with your favourite capri pants for a look that is stylish, comfortable, and understated.
Where should capris hit on the leg?
Ideally, capris should hit the leg about mid-calf. However, nothing stops you from defining your own style and picking capri pants that are slightly shorter or longer.
Can you wear high-top shoes with capris?
High-top shoes look great with capris. They give a very casual look and keep you comfortable.
Can you wear capris to a wedding?
Although capris are very versatile, they might not be suitable for attending an elegant event like a wedding.
What shoes do I avoid while wearing capri pants?
Sandals, sneakers, loafers, or heels don't go well with capri pants.
Recommended Articles: