13 Best Shorts For Women To Wear In Summers – 2022
Beat the heat with this selection of sweat-wicking, breathable, and lightweight shorts.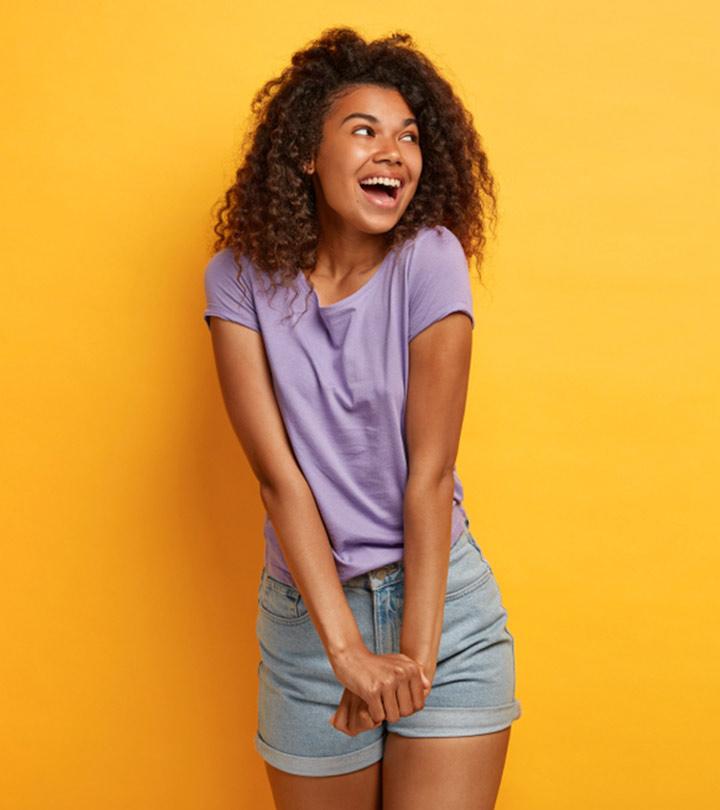 As soon as summer and spring peep in after the winter breeze has long left, the best shorts for women take up the most space in our closets. These shorts not just keep up cool throughout the hot and humid weather but also have the power to transform our look instantly. On days when it is too hot to wear jeans and sweatpants, you can pair your fave pair of shorts with any piece of top or shirt and create a statement OOTD. With summer around the corner, we have picked some of the best shorts for women to keep you cool and comfy for the season.
Fabric waistbands, hemlines, pockets, fear of camel toes, chafing, or wedgies are some of the common concerns that pop up in our heads as we try to decide which shorts to get. Hence, our team at StyleCraze has reviewed the 13 best shorts for women available in the market to help you narrow down your wishlist. Scroll down and have a look.
13 Best Shorts For Women To Keep You Cool This Summer
Luvamia's denim shorts are a great addition to your wardrobe this year, as you can pair them with almost anything for a variety of looks. They fit you mid-waist perfectly with the frayed and ripped fabric adding a slight edge to your outfit. They have 5 pockets to fit your essentials and more, with a zipper and buttons for convenient wear. The fabric is breathable as it is made from 85% cotton, 10% polyester, and 5% elastane. They are stretchy, soft, and have a slight slit on both the sides that ensure that the fit gives ease of movement. Luvamia shorts are easy maintenance as they are durable, machine washable, and their slim-fit pattern gives you a snug and clean fit. You can choose from sizes small (S) to extra extra large (XXL). Depending on your preferences, you can also select from 30 shades of blue, 5 shades of black, and 1 white denim.
Pros
Perfect for summer
Slim fit
Come with 5 pockets
Material is stretchy and soft
Machine-washable
Come in multiple sizes and colors
Can be styled for casual or professional occasions
Cons
Mid-waist fit can cause some fabric to bunch up at the zipper area.
Comfort has become key these days since so many people are working and studying from home. These shorts from 90 Degree By Reflex are made from material that is 96% polyester and 4% spandex, allowing for a comfortable stretch. They have an adjustable waistband that features a drawstring so that you can modify the fit at your convenience. The two side pockets are a great substitute for your wallet when you happen to be out and about. The sizes are highly accommodating as they run from extra small (XS) to triple extra-large (3XL). They are available in 4 neutral shades of olive, grey, black, and navy blue; you can match these shorts with just about anything from your closet for a chic and comfy look. These comfortable shorts for women from 90 Degree By Reflex are so multifunctional that you can go straight from your yoga class to the grocery store without having to change!
Pros
Stretchy and comfortable material
Come in 4 shades
Can be used for different occasions
Easily washable in the machine
Stay put throughout physical activity
Cons
The fabric may not be very breathable
Kafeimali's Leopard Summer Shorts are an ideal pick when you want to change up your look to something a little more spicy. Made with a blend of cotton and polyester, these shorts are perfect to lounge around in your home while still feeling dressed up. This model of cute women's dress shorts have a drawstring that can be adjusted to match your comfort, and the side slit ensures mobility for daily activities. The material is soft, stretchy, and durable. They are available in 5 sizes— small (S) through double extra large (XXL). They are great for working out, or even sleeping in!
Pros
Stretchy and soft
Breathable
Easily machine-washable
Adjustable waistband
Can be worn on multiple occasions
Cons
Shorts might be slightly see-through.
These Amazon Essentials Inseam Chino Shorts are made of 97% cotton and 3% elastane, making them extremely breathable with just the right amount of stretch. They are mid-length, featuring a classic fit and can add a chic look to your outfit. Pockets on the sides and the rear allow for convenience and you can forego your purse or wallet. The closure uses a zipper fly and buttons which are comfortable. They are available in 15 fun colors that work great for the summer.
Pros
Comfortable fabric
Available in 15 colors
Affordable
Soft and stretchy
Durable and breathable material
Cons
Rare pockets are only decorative
These Athletic Shorts by Blevonh are lightweight— made from 90% polyester and 10% spandex to keep you cool when you exercise or go on a run. The waistband is not too tight and has the right amount of stretch to ensure comfort. There are 2 pockets on the sides that are big and roomy enough to fit your phone and wallet so you can go hands-free. A built-in liner underneath is tight enough to provide extra coverage and won't ride up to reveal skin underneath. The material can be washed in the machine and dries quickly. They run through sizes small (S) to triple extra large (3XL) and are available in 19 colors, with some shorts having drawstrings and some not. These shorts are a great alternative to when you just can't be bothered to wear sweatpants.
Pros
Offer relaxed fit
Won't ride up to reveal skin
Available in 19 shades
Come in 6 sizes (S-3XL)
Cons
Fabric is not water-resistant
These shorts by Hanes are classy, with a touch of comfort. They are made with 90% cotton and 10% polyester which ensures that your skin can breathe easily through the fabric. The drawstring makes for an adjustable ribbed waistband that can be modified according to your convenience. The material is extra soft and brushed inside to give you maximum comfort for running errands or to just lounge around. The French Terry Bermuda Pocket Short is mid-length with rollover cuffs that give off a sophisticated look. The side pockets are truly the cherry on top! They are available in 4 colors and 5 sizes of small (S) through double extra large (2XL).
Pros
Breathable fabric
Adjustable drawstring
Has side pockets
Comes in 4 colors
Don't cling to skin
Cons
May not be machine-washable
These cute women's shorts by Govc are made with 73% cotton, 14% rayon, 11% polyester, and 2% spandex which ensures that you stay sweat-free. These trendy shorts for women are mid-rise and distressed with a cuff at the hems that hugs your body to give you the right kind of fit. Perfect for a casual outing, or even a classy event, these shorts are available in 12 colors. They can be easily washed in the machine and have a zipper and button for closure. They also come with 5 pockets and sizes— small (S) through double extra large (XXL).
Pros
Don't shrink when washed
Material can survive multiple washes
Has 5 functional pockets
Available in 12 colors
Cons
May run wide around thighs for some
C9 Champion's Knit Sport Shorts are made with 100% polyester and incorporate a duo-dry technology which is effective at keeping sweat and moisture at bay, ensuring high performance and mobility. The waist features an elastic band and there are 2 pockets with enough room for your phone and wallet. The fabric is breathable and is machine-washable. Available in 4 neutral colors and 6 sizes (XS-2XL), these shorts are super comfortable if you are into sports, or even just sleeping!
Pros
Have deep side pockets
Soft and lightweight material
Have a cooling effect
Come in 4 neutral colors
Water-resistant
Machine-washable
Cons
Might ride up and reveal skin
Waistband doesn't have a drawstring.
Levi's is a leading brand that invented blue jeans and produces denim apparel worldwide, and their 501 Original Women's Shorts stand true to that testament. Made with 100% cotton, these shorts are a must-have item in your summer wardrobe. They sit a little above the waist as they are high-rise, hugging your thighs and hips perfectly. With a cut-off hem and button for closure, these shorts also come with a whopping 5 pockets! They are available in 12 fun colors that you can dress up or down depending on the event and your own mood.
Pros
True to size
Extremely breathable fabric
Available in 12 colors
Soft material
Cons
The material is not stretchy.
Plaid&Plain's High-Waisted Denim Shorts are the perfect addition to your wardrobe not only in the summer, but all year-round. Made with a 100% cotton, they are extremely breathable and have a cooling effect on the skin. The waist band is made of elastic and also has buttons for closure, ensuring maximum comfort. The hems are cuffed and give an A-line fit that flatters your body line. The fit is loose and these shorts pair well with tops of any kind and size. These cotton shorts for women are available in 5 colors with 2 pockets, each on the front and rear. Their sizes are accommodating, running through extra small (XS) to extra large (XL).
Pros
Don't shrink when washed
Don't ride up to reveal skin
Elastic waistband with buttons
4 pockets for convenience
Come in 5 colors and sizes
Cons
Stitching may not be durable
These shorts by Acelitt are a blend of polyester and spandex with an elastic waistband that ensures maximum comfort for easy mobility. The material is stretchy and fits true to size with 2 functional pockets on both the sides and the back. It is also breathable and feels cooling on the skin, making it suitable for hot summer days. The leg openings are wide and make moving around extremely convenient, and the drawstring can be modified to your comfort. These Acelitt stretchy shorts for women are available in 37 different colors and patterns and they can be paired with almost anything in your wardrobe for a casual look.
Pros
Stretchy fabric
Don't ride up to reveal skin
Extremely soft and breathable
Wide legs allow for ease of movement
Available in 37 colors and patterns
Cons
Waistband might twist over upon washing
Made with 95% polyester and 5% spandex, these Grace Karin shorts are not only extremely classy but they are also highly comfortable. The elastic frill waist comes with a matching belt that can be modified according to your convenience. Their 2 side pockets are functional and the shorts allow for ease of movement due to the wide leg openings. These versatile shorts are available in 27 cute colors and are perfect for running errands, casual looks, or even a professional event. They come in 5 sizes: small (S) through double extra large (2XL) and are very accommodating.
Pros
Available in 27 colors
Features self-adjustable bowknot tie
Frill waist gives a sophisticated look
Breathable
Don't cause chafing around thighs
Cons
Might ride up to reveal skin
These Blooming Jelly High Waist Running Shorts are a blend of polyester and spandex on the outside with an inner lining that is a blend of nylon and spandex. The fabric is lightweight and has a cooling effect on the skin, and the compression underwear lining underneath ensures that no skin is revealed even if the shorts happen to ride up. They are well-suited for those who are active throughout the day and exercise. These shorts by Blooming Jelly have a side slit for easy mobility and the elastic waistband makes for a comfortable fit. One pocket also has a zipper so you can leave your phone or wallet without fear of them falling out during a run. They are available in 9 fun colors that will hype you up to be active and take care of your body! The sizes are accommodating as they run through extra small (XS) to extra large (XL).
Pros
Available in 9 colors
Comfortable elastic waistband
Features inner underwear lining
Great for working out
Zipper pocket for safety
Non-transparent
Cons
The pocket may not fit bigger phones
Now that we have looked at some of the best shorts for women to get you summer-ready, let's dive into how you can choose the right ones for yourself.
How To Choose The Best Shorts For Women
When choosing shorts for summer, it is best to look for those made with cotton or a blend of cotton. Cotton is extremely breathable and has a cooling effect on the skin. Even though it can wrinkle easily, shorts made with a blend of cotton and polyester can prevent this. It is lightweight and also soaks up sweat. For a stretchier fabric especially when working out, look for blends that also incorporate spandex. Linens, rayons, and denims are also suitable options.
Shorts with pockets and especially those that are functional help immensely when you want to forego your purse. Make sure that the pockets can fit your phone, wallet, or keys for days you want to go hands-free. Side slits on the shorts legs also help ease of mobility if you are an active person.
A lot of shorts come with drawstrings that help you adjust the level of tightness so as to prevent digging into your waist. This is a helpful feature, as it can help you modify the comfort level and avoid being too tight or too loose on your waist. Additionally, you can also select from buttons and zippers for closure depending on which one you prefer.
Shorts are available in a plethora of colors and this is an advantage since you can pair them with almost anything to create multiple looks. However, lighter colors fare better in the summer as they reflect light and keep you cool in hot and humid weather. Darker colors will absorb sunlight and leave you feeling extremely hot and sweaty. Therefore, lighter and neutral colors like white, beige, cream, yellow, and light shades of blue will be helpful.
Shorts are a staple item in a summer wardrobe that can make a casual outfit fancy, and vice versa. You can pair running shorts with a fancy blouse or blazer for a classy event, or chic shorts can be worn with a crop or tank top for a day of running errands or just lounging around your house.
It is important to be aware of your body measurements whenever making a clothing purchase because clothes that don't fit right are unflattering on the body. The size charts available will help you know whether a pair of shorts will sit the way you want it to. They usually provide measurements of the hips, waist and thighs and a general size like small (S), medium (M) and large (L).
Why Trust StyleCraze?
The author, Chaitra Krishnan, has a deep interest in fashion and loves reviewing different products in this domain. She has curated this detailed list of the best shorts for women after thorough research into various products and going through numerous reviews and feedback on multiple forums and brand websites. These shorts come in stretchy and soft fabrics that are ideal for summers.
Frequently Asked Questions
What length of shorts is the most flattering?
Shorts with a length of 7 inches are the most flattering.
What kind of shorts are in style?
Baggy, loose-fitting shorts, leather shorts, short shorts, animal print shorts, retro shorts, and Chino Shorts are all in style.
What kind of tops goes with paper bag shorts?
Paperbag shorts look great with body-con tank tops, sleeveless, short-sleeve or long-sleeve bodysuits, crop tops, simple t-shirts, button-up shirts, and lightweight blouses.
Should shorts cover the knees?
No, shorts should not cover the knees. They usually end way above the knees.
How do you look good in shorts with big thighs?
•  Side slits make your thighs appear smaller because they don't grip them tightly.
•  Choose pleated shorts because the flowy silhouette is comfortable and flattering on thick thighs.
•  Choose loose-fitting shorts to hide bulges and folds in the thighs.
What kind of shorts make your legs look thinner?
High-waisted denim shorts will make your legs appear thinner and longer.
Recommended Articles