10 Best Shoulder Braces For Faster Healing (2022) + Buying Guide
Soothe pain and speed up relief with stability and support for a quick recovery.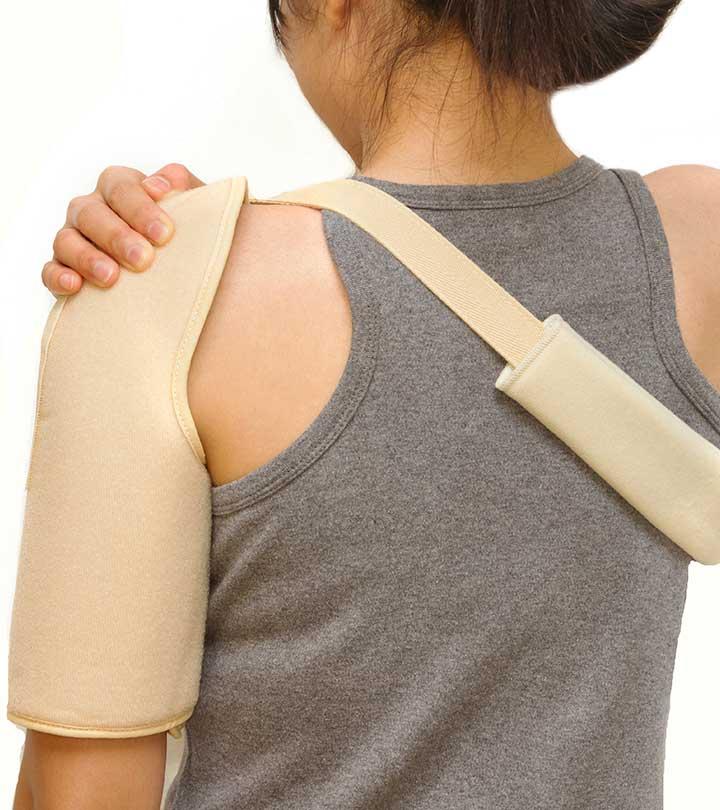 Body aches are inevitable, whether you over-exert yourself or stick to your chair, resulting in stiffness. Shoulders are also gravely affected, which calls for the best shoulder braces to prevent aches. With constant aches, it is not only hard to be productive, but it also eats away from your resting and self-care time. To keep your shoulder stable and healthy, scroll through these 10 best braces and buy one!
What Is A Shoulder Brace And How Does It Work?
Your shoulder is the most movable joint in your body. Just look at all the things you can do with it – from swinging a golf club to swimming the butterfly stroke – it offers an incredible range of motion. But this feat comes with a high and frequent risk of injury, especially to athletes in volleyball, basketball, weightlifting, and swimming.
A shoulder brace helps you with recovery when your shoulder is injured. It is a compression wrap that provides the much-needed support and stability to the fragile area. It relieves pain and sometimes restricts mobility to help the injury heal faster. You can get yourself fitted for the right size based on measurements of your chest and arms. Wear the correct size of the shoulder brace and feel the difference right away.
Read on to learn more about the 10 best shoulder braces of 2022, followed by a buying guide to help you select the best option for your needs.
Top 10 Shoulder Braces Of 2022
Product Claims
The NatraCure 6032 Hot/Cold & Compression Shoulder Brace gives you the option of enjoying either heat or cold therapy, as well as compression therapy, depending on your needs. It comes with a gel pack that you can either chill in the refrigerator or heat up in the microwave before use.
It is meant to be used together with the inflatable pad for maximum comfort. The NatraCure Shoulder Brace is universal, so you can wear it with equal ease on either shoulder. The easy-to-use air pump system lets you adjust the level of compression according to your comfort. It is an excellent choice for recovery from shoulder injuries, such as tendinitis, bursitis, and tendon tears.
Pros
Multiple adjustable straps for a perfect fit
Can be worn on either shoulder
Offers heat and cold therapy
Fits chests up to 50 inches
Helps speed up recovery time
No prescription required
Easy to use
Air pump system for uniform compression
Washable
Reusable
Cons
None
Price at the time of publication: $41.99
Product Claims
The Babo Care Shoulder Stability Brace is made of a breathable fabric that will not cause you to sweat all day so that you can wear it under your clothes with ease. It offers compression and support for your shoulders. There is also an integrated pressure pad where you can place an ice pack for soothing inflammation.
This shoulder brace has a two-way adjustment system, so you can wear it on either shoulder with equal ease. The one-size-fits-all brace can be worn by users with a chest size between 33 and 45 inches. Babo Care backs its claims with a confident money-back guarantee, so you can try the product without any worries.
Pros
Lightweight
Made of breathable neoprene
Fits well under clothes
Can be worn on either shoulder
Protects shoulder from further injury
Adjustable straps for a better fit
45-day money-back guarantee
Double pressure mechanism for added support
Super elastic for unrestricted movement
Cons
None
Price at the time of publication: $19.99
Product Claims
The Fightech Shoulder Brace is a helpful solution for dealing with sore muscles, joint pain, and injuries. The neoprene material is breathable and washable, making this brace a breathable and sanitary choice. It is also universal, so you can wear it on either shoulder comfortably.
There is an inbuilt pocket, where you can place a heat pad or an ice pack to treat specific issues using heat or cold therapy. The versatility of the Fightech Shoulder Brace lets you enjoy the complete range of movement during sports. You can also use it to immobilize your shoulder while resting.
Pros
Made of breathable neoprene
Machine-washable
45-day money-back guarantee
Can be worn on either shoulder
Inbuilt pocket for ice or heat pack
Improves range of motion
Can be worn while sleeping
Available in different colors
2 adjustable sizes
Cons
May require assistance to put it on.
Price at the time of publication: $27.77
Product Claims
If the choice of too many sizes bothers you, the Zenkeyz Shoulder Brace makes things much easier for you. It is designed with an adjustable 'one-size-fits-most' style that is easy to put on and keeps you comfortable all day long. An inbuilt ice pack pocket lets you enjoy the heat or cold therapy, as needed, for pain relief.
The upper shoulder stabilizing brace provides controlled compression, which helps with healing. It is lightweight, so you can wear it under your clothes without appearing bulky. The brace comes as part of a recovery kit that also includes a rope pulley for improving range of motion and an ebook on stretching exercises to aid recovery from injury.
Pros
Inbuilt pocket for ice or heat pack
Can be worn on either shoulder
Comfortable under and over clothes
Adjustable
Made of breathable fabric
Lightweight
Comes with a money-back guarantee
ebook of exercises included in the package
Cons
May be too big for users with smaller frames.
Price at the time of publication: $28.99
Product Claims
McDavid Shoulder Support Brace is a non-bulky option that you can wear with ease under your daily wear. It is ideal for minor shoulder injuries, such as muscle pulls, that can occur during athletic activity. It is not an immobilizing brace, and your arms are free to move normally.
You can wear the brace comfortably on either shoulder and enjoy great support. It gives you a complete range of motion along with customizable compression using the adjustable arm closure. The patented HexPad technology sets the McDavid brace apart from its competitors. It is a breathable padding system that aligns with the contours of the body for utmost protection and support.
Pros
Available in 3 sizes
Can be worn on either shoulder
Made of breathable neoprene
Lightweight design
Adjustable hook and loop closure straps
100% latex-free
Can be worn under clothes
Affordable
Cons
Not suitable for high-impact sports.
May feel uncomfortable under the arm.
Price at the time of publication: $30.31
Product Claims
EVS Sports SB03 Shoulder Brace is a good choice if you are athletic – whether a college sportsperson, a professional athlete, or a casual golfer. This shoulder brace offers a high level of support and compression to ease pain related to severe shoulder injuries. The X-strap design is a handy innovation that keeps the brace from sliding around.
You can adjust the arm closure according to your comfort and tolerance. This will prevent underarm chafing and keep you comfortable while wearing it. The no-snag design keeps the brace from getting tangled with your clothes, while the breathable mesh helps reduce sweating.
Pros
X-strap stabilizer system prevents sliding
Can be worn on either shoulder
Adjustable arm closure
3 velcro straps to control compression
Comfortable to wear and take off
Made of breathable air mesh
TPR gripper pull tabs
Cons
Velcro fabric wears out soon.
Quality control issues may be present.
Price at the time of publication: $45.99
Product Claims
The Zeegler Orthosis Shoulder Support Brace offers support, stability, and appropriate compression. It is excellent for speeding up recovery after a shoulder injury. You can also wear it as protection to avoid unexpected accidents at the gym or during athletic activity. The inbuilt shoulder pad allows you to insert an ice pack or a heat pad for cold or hot therapy as needed.
As a bonus, the Zeegler brace also comes with a complimentary ebook, How to Deal with Shoulder Pain. It details many helpful non-surgical remedies to treat shoulder injuries, along with handy tips on pain relief exercises and more. The brace is available in a single, adjustable size and fits comfortably under your clothes.
Pros
Free ebook included
Can be worn on either shoulder
Comes with a money-back guarantee
Can be worn under clothes
Inbuilt pocket for ice or heat pack
Made of breathable neoprene
Easy-to-wear design
Cons
May feel uncomfortable under the arm.
Compression may feel too much for some users.
Price at the time of publication: $26.95
Product Claims
The Saunders Sully Shoulder Support Brace features a form-fitting design that is contoured to fit your body perfectly. It provides you with controlled movement, so you can go about your daily business without worrying about pain or injury. You can use the Velcro straps included with the brace to further secure and restrict shoulder movement.
This shoulder brace is perfect for post-operative use when you want to restrict the movement of the shoulder as much as possible. It also provides helpful support when you are in pain and keeps you comfortable. The material is perforated neoprene that offers excellent grip and doesn't allow for unnecessary sliding around.
Pros
Available in 5 sizes
Can be worn on either shoulder
Suitable for post-operative use
Helps with rotator cuff injuries
Made of breathable neoprene
Velcro straps for a snug fit
Firm grip prevents sliding or bunching
Cons
Expensive
Quality control issues
Sizing issues for some users
Price at the time of publication: $163.38
Product Claims
The Bauerfeind OmoTrain Shoulder Brace is created using a lightweight knit fabric. This ensures that you can wear it discreetly under your business clothes and sport a professional look while keeping your shoulder in good health. The brace is designed to center your arm in its socket while allowing for an organic range of motion.
The design guides the arm in its natural movement but does not hinder mobility. It is easy to wear and take off, and you won't need assistance to enjoy the support from this brace. The high elasticity and strap closure ensure a snug fit that provides both compression and stability.
Pros
Lightweight
Can be worn under clothes
Available in 7 sizes
Promotes a natural range of motion
Does not impact mobility
Made of breathable fabric
Can be worn on either shoulder
Cons
Expensive
May be too tight for muscular users.
Stitching may be faulty in some cases.
Price at the time of publication: $156.8
Product Claims
The Shock Doctor Shoulder Support Brace is another popular option in the shoulder brace category. It features a soft lycra mesh zone and N-Tex airflow panels, which make it extremely comfortable and breathable. You can choose from a wide range of sizes and use the adjustable strap system to get that perfectly snug fit.
The latex-free shoulder brace offers moderate stability and helps deal with shoulder injuries. It is universally designed, so you can wear it on either shoulder with equal ease. The N-Tex airflow vents on the brace keep moisture out and provide healing warmth to aid recovery.
Pros
Available in multiple sizes
Can be worn under clothes
Can be worn on either shoulder
N-Tex airflow for more breathability
Provides level – 3 stability
2 adjustable chest-wrap straps for the perfect fit
Cons
Needs assistance to be put on.
May have a slight odor.
May not work for larger sizes.
Price at the time of publication: $54.99
Listed below are some benefits that you can hope to experience when you start wearing a shoulder brace.
Benefits Of Using A Shoulder Brace
1. Protection
For athletes who already face a high risk of injury due to the nature of the sport they play, it is essential to protect their shoulders at all costs. The support from a shoulder brace ensures minimal movement and keeps the area protected against further damage, especially in case of injury.
2. Injury Prevention
It's not just athletes who can benefit from wearing a shoulder brace. People with genetic disorders may have weak shoulders. They can consider wearing a brace to prevent getting injured in the weak spots. A shoulder brace is also useful for those who have had shoulder injuries previously and would like the additional support for the vulnerable area.
3. Compression
The compression provided by a shoulder brace is immensely helpful as it boosts the skin receptors and aids the brain in a better understanding of the position of the shoulder. This trains the mind to avoid straining or overstretching the problem areas during particular tasks. Compression on swollen joints also relieves pain by easing inflammation.
4. Combat Ruptures
A shoulder brace is useful for immobilizing the shoulder in case of fractures or bone ruptures. It limits movement and allows the injured person to recover more quickly. The brace also controls the arm movement during strenuous activities to keep you safe.
5. Exercise Support
Sometimes, devoted athletes push themselves too hard to achieve their next milestone. The risk of dislocation or rupturing critical muscles is quite high in such cases. Wearing a shoulder brace during exercise provides vital support and also prevents untoward accidents.
6. Affordable
Shoulder braces are not expensive, and you can easily afford a quality product without burning a big hole in your pocket.
7. Multiple Size Options
People of all ages and sizes can use a shoulder brace. The best models vary in size and are designed to fit all kinds of body shapes. As long as you purchase one that is the correct size for you, the shoulder brace is sure to provide maximum support.
8. Need Not Be Worn 24×7
If you think a shoulder brace works like a plaster and is required to be worn all the time, well, think again. A shoulder brace is a rehabilitation device that helps an injured shoulder heal to full recovery. Many athletes wear one while playing or exercising and then take it off as soon as they are done.
There are three levels of support provided by the various shoulder braces. You must be familiar with these levels to pick the right one for your needs. Read on for more information on the kind of support you can expect from each support level.
Different Levels Of Shoulder Brace Support
Level 1 Shoulder Brace – Compression-Alignment-Healing
Compression-focused designs usually offer level 1 support. This implies light support for minor injuries, such as a slight sprain or a strain on the shoulder. You can wear a level 1 brace daily for long periods without any worries. Compression helps support soft tissues and joint alignment, provides heat therapy, and boosts blood circulation.
Level 2 Shoulder Brace – Support-Compression-Alignment-Healing
A level 2 shoulder brace provides you with all the same benefits as its level 1 counterpart, while also adding extra support with more stability. It also gives you adjustable compression that can help with moderate sprains and unstable joints.
Level 3 Shoulder Brace – Stability-Support-Compression-Alignment-Healing
As implied, a level 3 support is the maximum support, and a shoulder brace with level 3 support is meant for use in recovery from serious injuries. These include ligament tears, muscle sprains and strains, and fragile joints. A level 3 shoulder brace also provides more advanced design and support features.
Yes, we know you can't wait to buy a brand new shoulder brace and hit the gym with renewed enthusiasm. But wait. It is essential to be informed on the features of a good shoulder brace that you must check out before you click "Add To Cart."
What To Look For When Buying A Shoulder Brace
1. Size
As explained earlier, shoulder braces come in several sizes. These sizes vary from one brand to another. It is essential to get yourself correctly fitted before you buy a shoulder brace. Also, note that some models offer a one-size-fits-all design. Make sure that your measurements match the size chart listed by the manufacturer before purchase.
2. Material
Shoulder braces made of neoprene are most breathable and comfortable and keep you cool even when you are working up a sweat. They are also machine-washable, so you don't have to worry about hygiene.
3. Design
Depending on the model, shoulder braces usually work as stabilizers or immobilizers. A stabilizing shoulder brace is meant to offer support while letting you retain some flexibility in your arm for movement. An immobilizing brace limits all movement to help you recover from more severe injuries.
4. Level Of Support
Do check the level of support provided by your brace. For daily use and limited support, a level 1 shoulder brace should be fine. However, if your injury is more severe, you can opt for a higher level of support in consultation with your health advisor.
5. Hot/Cold Therapy
Several shoulder braces offer an integrated pressure pad, where you can place a cold or hot gel pack. This lets you enjoy heat or cold therapy as needed for your injury.
Frequently Asked Questions
Do shoulder braces work?
Yes. Shoulder braces limit shoulder movement and reduce the risk of muscle and bone dislocation and damage. Also, these braces offer compression to the skin and tissues in and around your shoulder.
What kind of brace should I wear for shoulder pain?
A sling brace is ideal for relieving shoulder pain. It immobilizes and stabilizes your shoulder muscles and provides adequate compression.
How long should I wear a shoulder brace?
Wear a shoulder brace for three to four hours at a time.
When should you wear a shoulder brace?
Wear shoulder braces to reduce pains related to rotator cuff tears, muscle dislocations, separation, and muscle strains.
Can I sleep with a shoulder brace on?
Yes. You can sleep with a shoulder brace on.
Why does my shoulder pain increase at night?
At night, the inflammation worsens and strains your shoulder muscles. This causes your shoulder to pain more at night.