11 Best Shower Filters To Overcome Hair Loss
Say goodbye to hair loss and dry scalp using these durable and affordable shower filters.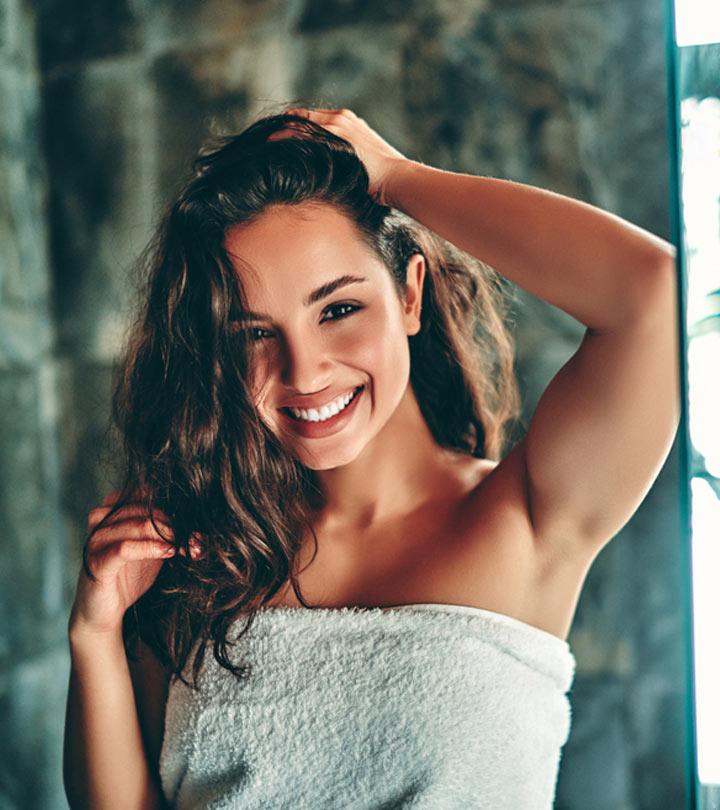 The chemicals present in your home's water may be a contributing factor to your premature hair loss. Thankfully, we have found some of the best shower filters for hair loss on the market to help you tackle this grave issue. These filters extract all harmful chemicals from the water and give you a safer showering experience. What's more? You don't have to bury a hole in your pocket to get your hands on one of these as they don't cost a bomb.
In this article, we discuss how shower filters can be the ultimate cure for dry scalp and hair thinning. All you have to do is avoid regular showers and use a shower filter. They eliminate all the contaminants like minerals, chlorine, and microbes present in the water. So, if you have tried everything else to stop hair fall and are still reeling under the problem, shower filters could be the answer to your prayers. Check out our list of some of the best shower filters to prevent hair loss. Scroll down!
Top 11 Shower Filters For Hair Loss
On the top of our list is an easy-to-install all-rounder that gives you value for money.  This product dramatically reduces harmful chlorine, dirt, and bad odor in your tap water with multi-stage filtering, giving you fresher and cleaner water. Previous users have raved about the great results of this product and how it helped make their hair thicker and healthier. With a unique blend of redox media, calcium sulfite, and activated carbon, this product quickly and easily removes everything bad in the water. Take a look at this video to learn more about the product.
Pros
Affordable
Fights odor
Easy to install and remove
Multi-layer filtering
Softens hard water
Cons
Does not include a showerhead
As the name suggests, this 15 stage shower filter is a complicated piece of science in itself. Despite its complexity, it is super easy to install and use, all you really need is a shower! With added vitamin C beads, this product removes chlorine, fluoride, heavy metals, and other sediments that are commonly found in tap water. Once you install this shower filter, you will find your hair getting shinier and smoother with every wash. To make things even better, this product promises consistent water pressure!
Pros
Added Vitamin C
Multi-stage filtration
Remove foul odors
Easy to install and remove
Water disinfection
Cons
Some may find the flow of water too fast.
This Culligan water filter is a showerhead that offers a clean and refreshing bathing experience by reducing harsh chlorine levels in your tap water. It features a filtration system that removes impurities in water, which causes hair damage and consequently hair fall. The showerhead water filter also reduces harsh chlorine buildup. It comes with a patented WHR-140 filter cartridge that remarkably reduces sulfur and odor, and further limits the passage and growth of bacteria. Watch this YouTuber's honest review to get a better idea about the product and its features.
Pros
Removes odor
No tool installation
Patented technology
Showerhead and filter
5 spray setting
Cons
It may not reduce chlorine in the water.
This FeelSo filter cum shower head combo is the best deal you can ever find. It not only removes chlorine but also heavy metals such as lead, mercury, nickel, and chromium with a 15-stage process. By getting rid of such unwanted metals, this water shower head cum filter improves the overall hair quality and reduces hair fall. It works well with extreme water temperatures, so go ahead and shower like nobody's business. It can be adjusted at different lengths and angles and is equipped with 5 spray modes.
Pros
Shower head and filter combo
Adjustable swivel ball joint
Saturates water with oxygen
Water disinfection
Eliminates smells
Cons
Some may find the installation cumbersome.
Yes, you read that right. It is not just a shower head, it is a full-blown system. With a premium NSF Certified filtration media, this system contains natural coconut shell carbon, copper, and zinc media. It helps reduce chlorine, lead, iron, and other harmful chemicals while maintaining the pH balance of tap water. It is constructed with a unique design that allows water to flow without clogging. It increases contact time with the media for better filtration while maintaining water pressure.
Pros
Features massage settings
Easy to install, maintain and replace
Certified and tested to remove 90% chlorine
Patented copper and zinc blend
1 filter lasts 6 month
Cons
Replacement filters are slightly expensive
This Crater Aqua System filter provides the best purifying effects with 15 stages of filtrations. The water will feel softer, the shampoo will lather better, and your precious hair will feel rejuvenated and tangle-free. With a high-powered water output, this filter maintains the existing water pressure while cleaning it simultaneously. Unlike other filters, this product provides double chlorine protection giving your whole family the safest tap water for daily use.
Pros
Double chlorine protection
Universal compatibility
15 stage filtration
Anti-leak construction
Cons
Some may find the installation difficult.
This high-output shower filter comes with a replaceable multi-stage filter that makes dramatic changes in your bath. It reduces harmful and unpleasant odors and impurities. By doing so it relieves the body of fatigue and slows down signs of aging. By using this filter, you can feel your hair get softer, moisturized, and healthier. Formulated to maintain a body's natural pH, this filter adds vitamin C to your water while providing excellent filtration.
Pros
Easy installation
Added vitamin C
Universal compatibility
Ensures consistent water pressure
Cons
It may take a few days to show results on extremely hard water.
This piece of magic not only cleans your water but opens avenues to therapeutic massages. With multiple settings, you can choose the stream you like, ranging from a gentle pressure or a power-focused stream to rinse out the shampoo. The high-pressure water helps in blood circulation and improves the overall health of hair follicles. This filter further eliminates shampoo blockers and odors, giving you clean and healthy hair. This product removes chlorine, fluoride, and toxins using coconut activated charcoal, KDF-55 and alkaline ceramic ball layers.
Pros
Removes odor
Tool-free installation
Replaceable cartridge
Improves blood circulation
Eliminates shampoo blockers
Cons
May leak if not installed correctly.
This ergonomically designed showerhead from PureAction removes chlorine and chloramines and reduces the fluorine content in hard water, thus softening it. It is made using abs plastic with cartridges that contain tourmaline stone and zeolite mineral stones that spray out some soft water that can help in improving your hair, skin, and nails. So, if you are tired of using hard water and are looking for ways to change it to soft water, your search ends here!
Pros
One-year warranty
Aromatic filters
Easy to install
Suitable for all showers
Balances pH effectively
Cons
Ceramic beads may require frequent replacement
This Sonaki water filter adds to your existing showerhead, all you have to do is assemble and then install it. It does not affect the existing angle or positioning of your shower head. With vitamin C as its heart, this filter neutralizes chlorine and chloramines in your tap water. The vitamin c in this product lasts up to 5000 liters of water use. The brass resin inline finish is durable and comes in a chrome finish. It also has a unique see-through filter housing.
Pros
Durable
Easy to install
Unique transparent housing
Vitamin C lasts up to 5000 liters of water use
Neutralizes up to 99.9% chlorine and chloramines
Cons
What if you can choose a showerhead that will not only prevent hair loss but is also visually attractive? This product has a system that filters 99% of chlorine and reduces the residual impurities in the water, turning hard water into soft water. It is easy to install and releases water with three attractive LEDs, depending on the water temperature. What's more? The showerhead is laser perforated to save water by 35% so that you can have a guilt-free shower.
Pros
Ergonomic design
Temperature control sensor
Visually attractive
Saves water
Cons
The colors may change at a fast pace
Why Trust StyleCraze?
The author of this article, Vaishnavi Kothuri, is a hair care enthusiast. She conducted extensive research on several products to compile this list of the best shower filters for hair loss. She also browsed through multiple forums for user feedback to pick the best ones for her readers. These products help eliminate contaminants and microbes present in the water, thus preventing hair loss.
Frequently Asked Questions
Does a shower filter help hair loss?
Yes, it can. It also depends on the underlying reason behind your hair loss and the extent to which your water is harsh. If your water is contributing towards your hair loss and is harsh, a shower filter can help significantly.
Can not- filtered water make your hair fall out?
Unfortunately, yes. If the water is too harsh, it can affect your hair quality and health.
Can showering too much cause hair loss?
Exposure to clean water shouldn't cause hair loss. It may cause dehydration in some rare situations.
Can jarsh water cause hair thinning?
Harsh water can cause hair thinning that subsequently leads to hair fall. The harshness in the water comes from toxins and chemicals that have adverse effects on our bodies.
Recommended Articles