11 Best Side-support Bras To Get The Perfect Body Shape
Flaunt your curves with these beautiful, comfy, and easy-to-wash side-support bras.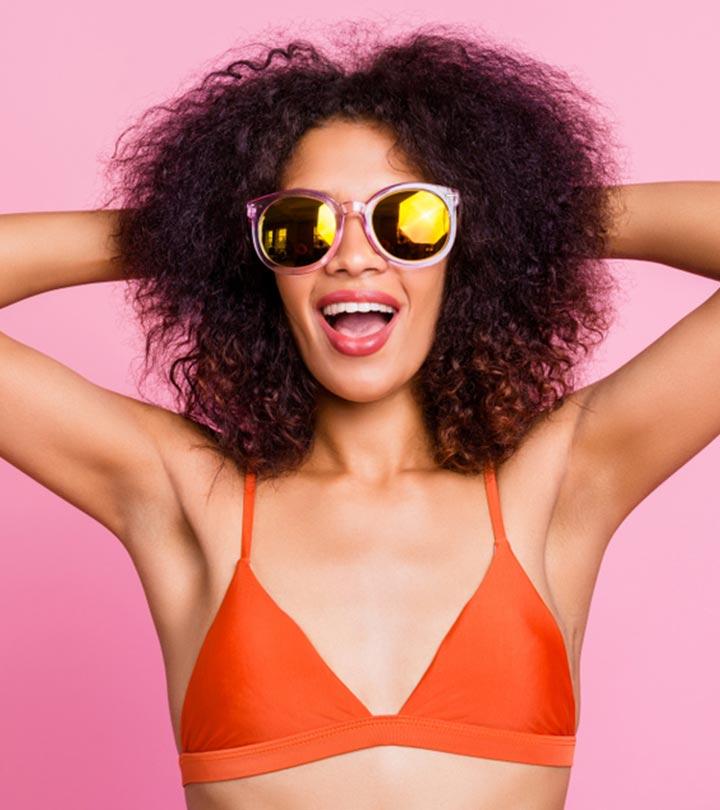 Finding the perfect lingerie is difficult. This is especially true for curvy women with bigger cup sizes. We are always on the lookout for the best side support bra to control spillages. Even though these are extremely useful must-haves, finding the right one is quite the task. It involves a lot of trial and error to find the perfectly fitted bra that offers adequate side support. To help you with your search, we have listed the best side support bras that are top-rated by women all over. We ensure these will be a good addition to your lingerie collection. Go ahead and take your pick.
11 Best Side-support Bras To Give You The Right Fit
Designed with nylon and elastane, this full coverage bra works great for underarm bulge. There are extra side panels that ensure all-day comfort without tightening your side armpits. For an enhanced fit, this bra has foam cups that are seamless and look smooth under clothing. The center part contains adjustable straps for relaxation and ease. You can even adjust the shoulder straps as per your need and make it a perfect fit. In case you wish to get that sleek look that works for sleeveless tops and dresses, this is the best bra for you.
Pros
Supports well
Good quality elastic band
Covers underarm spillage
Flexible underwire cups
Cons
Size might run a little large
Price at the time of publication: $21.58
Ladies who love strapless bras cannot get over this beautifully designed strapless bra from Vanity Fair. It has a 4-way sheer stretch fabric that keeps up with the comfort and holds your breasts with great support. There is no-slip silicone placed in it, which prevents slipping of the bra, provides a comfortable push and keeps your breasts properly held. The lightly lined cups let you flaunt your figure wonderfully and make your body look smooth under clothing. Crafted with nylon and spandex, this full-coverage bra enhances your shape without causing any discomfort.
Pros
Versatile design
Ample side support
Available in 3 basic colors
Can be used with adjustable straps
Cons
Price at the time of publication: $19.99
If you are a full-figured woman who needs a side-support bra with extra comfort, this bra with side support panels has to be your top choice. It comes with magiclift technology that has cushioned band lifts which helps in enhancing your body shape and supports your breasts without a wire. It provides amazing support and is especially suited for physically active women. The brand offers great relief by using moisture-wicking fabric that absorbs moisture and keeps it cool in there. There is proper attention to detail provided by using seamless cups that enhance your overall appearance. The bra suits ladies who need a full-coverage bra with top-notch arm support that fits perfectly.
Pros
Well-defined
Great shape lines
Adds an amazing lift
Breathable fabric
Cons
Price at the time of publication: $37.8
This is a well-designed contour underwire bra with extra side coverage to eliminate underarm bulge. It fits perfectly with its adjustable straps. Made with soft material, the bra gives great comfort and is smooth on the body. The bra adds a lift while keeping the overall look minimal. It is very easy to attain the seamless look with this bra as it is lightly lined. For girls who want a decent bra for tight tank tops or deep-neck dresses, this is a great fit. There are no bulges seen while wearing this bra, which enables you to look sleek and in good shape. Its elastic-free sides and back support hold in the bulges very well.
Pros
Perfect t-shirt bra
Comes with a thin lining
Front adjustable straps
Flexible underwire cups
Cons
Some may not find it stretchy enough
Price at the time of publication: $39.99
Playtex women's bra is a beautiful full-coverage bra with side support and an ultimate fit. It provides smooth coverage with its fuller cups. The supportive bra is unique with higher sides and wider straps that prevent underarm spillage. It eases you all day long. With the signature medium frame, the bra serves as a support system that lends a customized fit along with more stability. The cushioned straps help in relaxing the shoulders by reducing the pressure that is usually caused by the narrow straps. You can trust this bra for that natural shapely look and sturdy construction. The adjustable back, no-slip design and wireless frame makes this bra one of the widely used full-coverage bras.
Pros
Beautiful detailing
Supportive M-frame
Available in multiple colors
Plush-lined bottom band
Cons
Price at the time of publication: $17.99
Here is a popular bra choice that is great for side support and full-coverage. From enhancing your body shape to delivering a relaxed feel, this side-support bra has a lot to offer. It has striped jacquard fabric that makes it look different and adds a modern style to it. The design runs over the cups, straps and enhances the overall beauty. With fully convertible straps
straps, there is reduced strap slippage and better comfort. It also has flat elastic that is ideal for providing support to busty breasts. The side support panel is the key highlight of this bra as it keeps the shape sleek and provides support to busty armpits.
Pros
Has soft mesh wings
Fully lined bottom cups
Stylish gold charm in center
Suitable for everyday comfort
Cons
Price at the time of publication: $58.67
Need that stylish side-support bra in your lingerie collection that adds a modern and hot look? If yes, then this is the right side-support bra for you. With a unique blend of nylon, lace and spandex, this bra excels at comforting and lending support. The side and back panels are especially made broad to cover the bulging armpits. Its adjustable straps keep your shape well-lifted and completely flaunt-worthy. There is an underwire for support which makes it even more suitable for those deep-neck dresses and sleeveless tops. For that smooth look under your clothes, there exists a dual ply back smoothing.
Pros
Super soft
Easy-to-wash
Lace side sling
Has a stretch to it
Cons
Price at the time of publication: $39.99
Freya hero underwire side-support bra is a must-have addition to your lingerie collection. It looks sensuous, feels great and adds a tint of glamour to the entire look. For those ladies who love to experiment with different kinds of bras, this range feels really exciting. There is side support provided for forward shape. Also, there exists a four section cup, semi sheer button cup along with a sheer top cup. The bra fits with grace on the neck edge and feels delicate and very feminine. It offers side support through the silky panel along the sides that not only look good but also feel great.
Pros
Comfy design
Beautiful look
Adds a lift to breasts
Available in four unique colors
Cons
Price at the time of publication: $30.82
When all you desire is comfort and stunning shape, choosing Fantasie Angelina Side-support Bra is a great decision. It has three-panel cups with Swiss embroidery that offers a delicate design and utmost support. There is also an additional lined side panel that enhances bust shape and adds overall lift. It is adorned with floral embroidery that makes it look luxurious, sensuous and beautiful. Its fully adjustable shoulder straps prevent slippage along with providing a comforting fit. The three-tone bow at the center adds a gorgeous charm to the entire look. For those who wish to invest in a bra with good side support, this one is highly suitable.
Pros
Very delicate
Wide straps
Stretchable
Perfectly elastic band
Cons
Cup size might run small for some
Price at the time of publication: $22.74
The Anita Rosa Faia Fleur Underwire Side-support Bra 5653 is a true blessing. It offers full coverage, supports breasts and keeps it in good form. As far as spillage is concerned, the bra comes with a wide side panel that compresses your breast gently and delicately hugs around the bust. The contrast lining inside the cups make the bra design more beautiful. The floral lace gives a touch of sensuousness reflecting true femininity. Made of nylon and elastane, the fabric is long-lasting, comforting and covers sagginess.
Pros
Soft material
Easy to put on/ put off
Stunning design
Hook-and-eye closure
Cons
Price at the time of publication: $69
When looking for a side-support bra that offers versatile features like seamless finish, great comfort, solid material and stylish seamless design, this bra scores the most. It is made of a blend of nylon and spandex which is stretchable and feels light. The bra provides pull-on closure with light-padded and contoured cups to lift your breasts. With a stretchable finish, the bra reduces back bulges and ensures a smooth and sleek look. The bra has no lines which offers a seamless outline.
Pros
Has wide straps
Offered in many colors
Provides a seamless finish
Can be easily hand or machine washed
Cons
Size may run a little large for some
Price at the time of publication: $15.99
Having known about so many great options, you must surely be wanting to invest in one of these brands. Before making the purchase, take a look at these points mentioned below for opting a better choice.
How To Choose a Side-support Bra?
Consider the following points before choosing a side-support bra-
Choose a bra that is beautiful and comfortable at the same time. After all, life is too short to be wearing boring bras. Deciding what kind of style you wish is totally your choice. Lacy ones look sensuous. Then there are bras for lift and side support. You can also try those which offer full coverage and are great for t-shirts. Others are ideal to minimize side bulges and back ones too, and you can dress them under sheer and sleeveless dresses.
The quality of the fabric matters the most. So, one must always look for bras that last long and feel comfortable. Bras made of blended materials like nylon, elastane and cotton are usually long-lasting and also do not require much care.
Your bra has to fit right or else it won't do its job well. A side-support bra needs to have a side panel, wide straps, that can be adjusted along with hook and eye closure for that ultimate fit. If the material is stretchable, it is more suitable as a stretchable bra can be modified with the size.
Benefits Of Side-support Bras
Great for physical movements
Offers full coverage
Provides support
Prevents pillage of armpits
Can make your bust lines look smaller
Good for offering customizable fit
Why Trust StyleCraze?
The author of this article, Srijita De, is a fashion enthusiast. She listed the best side-support bras after carefully researching, checking reviews online, and going through multiple forums for user feedback. These bras are made with good quality elastic bands and come with flexible underwire cups.
Frequently Asked Questions
Are side-support bras good?
Yes, side-support bras are good.
Why do you need a side-support bra?
Side-support bras lend extra support and prevent spillage at the bulging armpits and backs.
Can I wear side coverage bras every day?
Yes, you can wear side coverage bras every day. The unique design and adjustable straps provide excellent support for daily use.
Are side support bras good for small breasts?
Yes. Side bras are great for small breasts. Along with supporting your breasts, the bras provide a lift towards the center for an enhanced look.
How do you lift saggy breasts naturally?
Maintaining a good posture and choosing the correct bra size and shape according to your breasts can help lift sagging breasts naturally. If you are physically active, exercises such as push-ups and dumbbell chest presses can help tighten upper body muscles and in uplifting the breasts.
Recommended Articles