11 Best Silicone-Free Conditioners To Buy In 2023
Keep your hair healthy, hydrated, and safe from damage, and make it smooth and lustrous.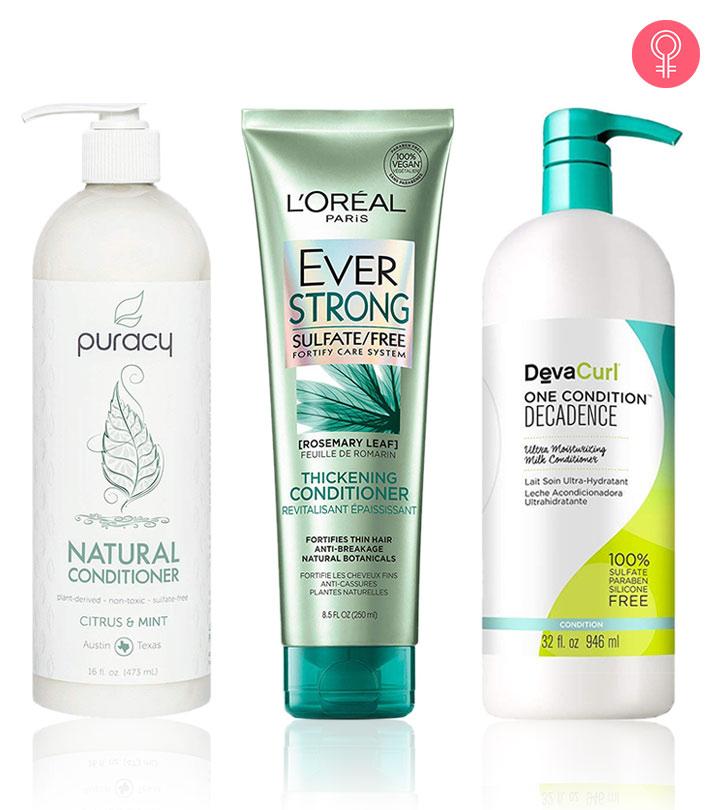 Silicones are synthetic polymers present in hair products that coat your hair strands and add a temporary "glue" to your hair cuticles that make your hair look super smooth and shiny. Whether silicone is good or bad for your hair is tricky. So, it is best to avoid confusion and switch to the best silicone-free conditioners.
Silicones build up on your hair, which can eventually weigh down your tresses while leaving them limp and undefined. They may also make your hair look greasier. Ironically, it can even cause hair dryness.
Alexandro Vasquez, a hairdresser, says, "Nowadays have increased a lot the searching for products with a organic approach and silicone-free products are on rising. It will definitely be the best for your hair to search for organic, sulfate-free and silicone-free products."
So, are you looking forward to incorporating silicone-free conditioners? Keep reading this article to explore our top picks that have garnered numerous positive reviews online!
Top 11 Silicone-Free Conditioners To Buy Right Now
This shine-enhancing conditioner for dry hair by SheaMoisture bears sugarcane, marshmallow root, and meadowfoam extracts. It is silicone-free and works wonders by restoring your natural moisture and softening the hair hassle-free. Several reviewers have recommended this conditioner for soft, defined curls. Also, the conditioner is free from animal testing, suitable for colored hair, and makes it manageable and ready to style. If you are looking for ways to experience silky smooth salon-worthy results, this product is a must-buy!
Pros
Sulfate-, paraben-, and mineral oil-free
Hydrates the hair
Restores the shine
Cruelty-free
Sustainably produced materials
Color-safe
Cons
May not be suitable for oily hair
Fragrance may be overwhelming
Price at the time of publication: $10.99
This aromatic hair conditioner has extracts of organic rosemary and peppermint that deliver intense shine and softness to your hair. It contains polyquaternium, fatty acids, and coconut and mixed plant oils that make your hair look fresh and healthy. This weightless conditioner helps prevent tangles and static in your hair. It also balances moisture levels in your scalp, so you can wash your hair multiple times without overdrying. This video showcases the tester's experience and offers a more detailed explanation of the product.
Pros
Soothes dry and itchy scalp
A little product goes a long way
Nice creamy texture
Lingering aroma
Cruelty-free
Cons
Price at the time of publication: $24.64
This conditioner contains a blend of nourishing ingredients like vitamins B5 and E, cold-pressed Moroccan argan oil, cold-pressed avocado oil, wheat protein, cold-pressed extra virgin olive oil, and silk protein. All these ingredients repair and strengthen damaged hair. The unique formula of this conditioner restores moisture, reinvigorates the hair follicle, protects your hair from UV rays, and keeps it nourished. You may check this video detailing the reviewer's experience for a better understanding of this product.
Pros
Paraben-free
Sulfate-free
Contains DHT blockers
Mineral oil-free
Contains only pure oils
Not tested on animals
Cons
May not suit all hair types.
Price at the time of publication: $16.0
This silicone-free conditioner contains a blend of botanical extracts and vegetable emollients that leave your hair soft, shiny, and manageable. It provides intense and weightless moisture that helps eliminate static, friction, and tangles in your hair. Ingredients like soapbark, ivy, black walnut leaf, and ginseng extracts restore nutrients to your hair. It contains a hint of eucalyptus and peppermint fragrance that delivers a lingering aroma to your hair.
Pros
Free of harsh chemicals
Suitable for all hair types
Keeps your scalp moisturized
Strengthens your hair
Safe for sensitive scalp
Hypoallergenic
Not tested on animals
Cons
Price at the time of publication: $33.32
This nature-inspired conditioner contains 98% naturally derived ingredients. It moisturizes your hair without weighing the curls down. Tahitian gardenia flower and mango butter help preserve the natural curl and restore bounce to enhance and define the curls. This curl defining conditioner helps eliminate tangles and prepares your hair for defined and vivacious styles. It tames flyaways and makes your hair more manageable.
Pros
Gentle for daily use
Creamy consistency
Imparts shine to your hair
Great for sensitive scalp
Cons
Not as hydrating as it claims
Price at the time of publication: $15.63
This award-winning hair conditioner is specially formulated to fight humidity, so your hair stays frizz-free, soft, and healthy for days. It nourishes and conditions your hair and improves the texture of dry and damaged cuticles. Many reviewers have recommended this product for hydrating their scalp and balancing its moisture levels. It also adds volume to your hair and lends long-lasting shine to it. It has a light citrusy fragrance, which is quite soothing.
Pros
Eliminates tangles
Tames unruly hair
A little product goes a long way
Reduces damage and breakage
No animal testing
Cons
Not suitable for oily hair
Price at the time of publication: $70.0
This gentle conditioner contains a blend of moisturizing botanicals like argan oil, coconut oil, aloe vera, shea butter, soapberry, and growth-promoting pomegranate. This is an ideal conditioner for dandruff treatment as its ingredients deeply hydrate your hair and scalp to give you soft, silky, healthy, and frizz-free hair. It clears residues and keeps your scalp squeaky clean. This pH-balanced conditioner fights humidity and promises to keep your hair fresh and oil-free.
Pros
Gentle for dry and oily hair
Free of harsh chemicals
Fights dandruff
Treats scalp inflammation
Not tested on animals
Cons
Can dry out your hair initially
Price at the time of publication: $28.99
This pure argan oil hair conditioner contains therapeutic argan, jojoba, pomegranate, shea butter, buckthorn hibiscus, green tea, and aloe vera. These nourishing ingredients add volume to your hair and strengthen each hair strand to give you long, thick, and silky hair. It rejuvenates dry and brittle hair, making it soft and smooth with body and radiant shine. This silicone- and paraben-free conditioner is ideal for sensitive and itchy scalp.
Pros
Controls frizz
No animal testing
Detangles your hair
Doesn't weigh your hair down
Adds volume and bounce to your curls
Cons
Not suitable for coarse hair
Price at the time of publication: $11.95
This gentle and clarifying conditioner is infused with organic oils and lemongrass extracts that cleanse your scalp by washing away impurities. It leaves your hair feeling super moisturized and is a great product for co-washing. This plant-based and lightweight formula of this organic conditioner smoothes your hair and adds shine to it. It is free of harsh chemicals and is gentle for daily use.
Pros
Adds volume and bounce to your hair
Great for oily hair
A little product goes a long way
No animal testing
Cons
Price at the time of publication: $18.95
L'Oreal Ever Strong Thickening Conditioner contains rosemary leaf that helps in removing build-up and excess oils to promote thicker and stronger hair. It gently cleanses and purifies your scalp and induces strength into hair from the first wash. Experience luxurious lather and a rich aromatic fragrance with this gentle conditioner. This strengthening and moisturizing conditioner soothes dry strands and gives you damage-free and volumized hair. This heat-protectant conditioner protects hair from UV rays and heat styling. This video review of a tester's experience will help you learn more about the product.
Pros
Great for thin and brittle hair
Clears build-up and hard water residue
Treats itchy scalp
Cons
Price at the time of publication: $4.79
This natural conditioner features 5 essential oils – angelica, ylang-ylang, lavender, geranium, patchouli, and sweet almond oils that are blended to strengthen and soften dry and damaged hair. The nourishing oils in this repairing conditioner stimulate, and rejuvenate your hair, making it smoother and healthier. This is a highly effective conditioner with essential oil that helps restore capillary fiber and improves the texture of your hair.
Pros
Suitable for daily use
Delivers quick results
Ideal for dry and brittle hair
Cons
Price at the time of publication: $28
If you have read about the damage silicone does to your hair, you must be thinking of jumping on the 'only silicone-free hair care products' wagon! But, before you do so with your conditioner, make sure you keep the following pointers in mind.
What To Look For When Buying A Silicone-Free Conditioner
Ingredients
While it is a good start, it simply isn't enough to go just silicone free. Avoid products that have sulfate, paraben, and mineral oil in them. If your hair's on the drier side, opt for conditioners that have nourishing ingredients, such as argan, jojoba, coconut, or olive oil in them. Those with avocado oil are also a good option. A chemical-free all-natural conditioner is the best for providing restorative care to your brittle hair as its nourishing formula restores hair health without damage.
Hair Type
Some silicone-free conditioners are not a great fit for those with dry, damaged hair as it doesn't provide adequate hydration. In such cases, look for hair conditioners that contain extra conditioning oils/butters.
Fragrance
Don't go for products with added scents in them. They tend to dry out and damage your hair over time. However, if going fragrance free is not practical for you, opt for those with mild scents over overpowering ones.
Hair Concerns
When you first start using silicone-free products, it may appear that your hair is drier after washes. If you have frizzy, dry or curly hair, this could be an issue. To combat this, you could start pre-oiling your hair before shampooing and follow it up with a silicone-free conditioner.
Those having to shampoo their hair in hard water know the struggle as the hair never feels clean! If you are facing this issue, go for clarifying conditioners that remove build-up and hard water residue from your mane.
Why Trust Stylecraze
The author, Pooja Karkala, is a hair care enthusiast who enjoys trying out new products, tools, and formulations. She has an in-depth knowledge of different ingredients that boost hair growth and leave it feeling healthy and nourished. She has done her share of research and reviewed several customer feedback before curating this list of the best silicone-free conditioners. These are cruelty-free, suitable for all hair types, and make your hair more manageable.
Frequently Asked Questions
Is silicone-free conditioner better?
Yes, a silicone-free conditioner helps to nourish and hydrate the hair naturally and define your curls and waves. When you use a silicone-free conditioner, you do not run the risk of it building up in your hair pores over time. Silicones also prevent moisture from going into your hair strands.
Why are silicones used in conditioners?
Conditioners have silicone in them because it makes your hair look shiny and soft. It also helps in smoothing, detangling, and adding volume.
What happens to hair when you stop using silicones?
Not using silicone on hair will allow moisture to penetrate deeper into your hair, making it healthy from within.
Do silicones dry out hair?
Yes, overusing silicone-based products can cause buildup on your hair, making it appear dull and dry.
Is silicone-free the same as sulfate-free?
No, silicone and sulfate are not the same. If a product is silicone-free, it does not mean it is free of sulfate as well. Sulfates are cleansing agents, whereas silicones are used to make your hair look shinier.