10 Best Silicone-Free Conditioners To Buy In 2020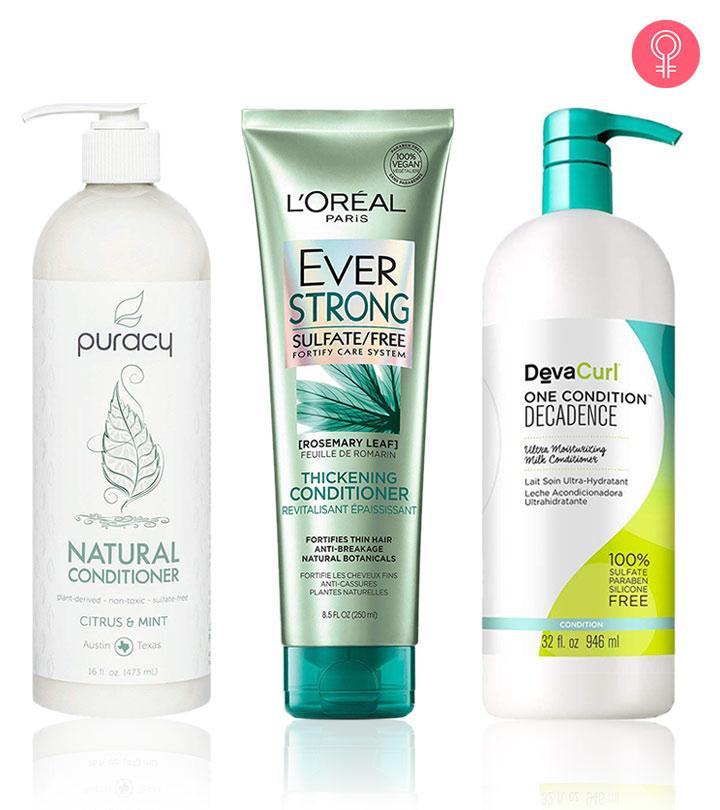 Are you wondering why people are suddenly raving about silicone-free products? Are silicones bad? Let me break it down for you. If you are a frequent user of conditioners, there's one thing you want – salon-finish silky hair. But, of late, have you been noticing a ton of product build-up on your scalp? If yes, it's time you switch to silicone-free hair products. Sure, silicones add sheen and make your hair look silky soft, but the effects can be damaging in the long run. Hair products with non-soluble silicones can lead to some product build-up. Here's a list of 10 bestselling silicone-free conditioners available on the market. Take a look!
Top 10 Silicone-Free Conditioners To Buy Right Now
DevaCurl Ultra Moisturizing Milk Conditioner delivers strength, nourishment, protection, and moisture to dry and damaged hair. This creamy and rich formula is made with a blend of rare botanicals like chufa milk and quinoa proteins mixed into olive oil for soft, frizz-free, and healthy hair. It keeps your curls hydrated and makes it easy to detangle them. It has a herbaceous scent that stays put for hours.
Pros
Lightweight formula
Nourishes your hair
Great for curly and kinky hair
Adds glossy shine to your hair
Makes your hair more manageable
Cons
This aromatic hair conditioner has extracts of organic rosemary and peppermint that deliver intense shine and softness to your hair. It contains polyquaternium, fatty acids, and coconut and mixed plant oils that make your hair look fresh and healthy. This weightless conditioner helps prevent tangles and static in your hair. It also balances moisture levels in your scalp, so you can wash your hair multiple times without overdrying.
Pros
Soothes dry and itchy scalp
A little product goes a long way
Nice creamy texture
Lingering aroma
Cruelty-free
Cons
This silicone-free conditioner contains a blend of botanical extracts and vegetable emollients that leave make your hair soft, shiny, and manageable. It provides intense and weightless moisture that helps eliminate static, friction, and tangles in your hair. Ingredients like soapbark, ivy, black walnut leaf, and ginseng extracts restore nutrients to your hair. It contains a hint of eucalyptus and peppermint fragrance that delivers a lingering aroma to your hair.
Pros
Free of harsh chemicals
Suitable for all hair types
Keeps your scalp moisturized
Strengthens your hair
Safe for sensitive scalp
Cons
This nature-inspired conditioner contains 98% naturally derived ingredients. It moisturizes your hair without weighing the curls down. Tahitian gardenia flower and mango butter help preserve the natural curl and restore bounce to enhance and define the curls. This conditioner helps eliminate tangles and prepares your hair for defined and vivacious styles. It tames flyaways and makes your hair more manageable.
Pros
Gentle for daily use
Creamy consistency
Imparts shine to your hair
Great for sensitive scalp
Cons
Not as hydrating as it claims
This award-winning hair conditioner is specially formulated to fight humidity, so your hair stays frizz-free, soft, and healthy for days. It nourishes and conditions your hair and improves the texture of dry and damaged cuticles. It hydrates your scalp and balances its moisture levels. It also adds volume to your hair and lends long-lasting shine to it. It has a light citrusy fragrance, which is quite soothing.
Pros
Eliminates tangles
Tames unruly hair
A little product goes a long way
Reduces damage and breakage
Cons
Not suitable for oily hair
This gentle conditioner contains a blend of moisturizing botanicals like argan oil, coconut oil, aloe vera, shea butter, soapberry, and growth promoting pomegranate. These ingredients deeply hydrate your hair and scalp to give you soft, silky, healthy, and frizz-free hair. It clears residues and keeps your scalp squeaky clean. This pH-balanced conditioner fights humidity and promises to keep your hair fresh and oil-free.
Pros
Gentle for dry and oily hair
Free of harsh chemicals
Fights dandruff
Treats scalp inflammation
Cons
Can dry out your hair initially
This pure argan oil hair conditioner contains therapeutic argan, jojoba, pomegranate, shea butter, buckthorn hibiscus, green tea, and aloe vera. These nourishing ingredients add volume to your hair and strengthen each hair strand to give you long, thick, and silky hair. It rejuvenates dry and brittle hair, making it soft and smooth with body and radiant shine. This silicone- and paraben-free conditioner is ideal for sensitive and itchy scalp.
Pros
Controls frizz
Detangles your hair
Doesn't weigh your hair down
Adds volume and bounce to your curls
Cons
Not suitable for coarse hair
This gentle and clarifying conditioner is infused with organic oils and lemongrass extracts that cleanse your scalp by washing away impurities. It leaves your hair feeling super moisturized and is a great product for co-washing. This lightweight formula smoothes your hair and adds shine to it. It is free of harsh chemicals and is gentle for daily use.
Pros
Adds volume and bounce to your hair
Great for oily hair
A little product goes a long way
Cons
L'Oreal Ever Strong Thickening Conditioner contains rosemary leaf that helps in removing build-up and excess oils to promote thicker and stronger hair. It gently cleanses and purifies your scalp and induces strength into hair from the first wash. Experience luxurious lather and a rich aromatic fragrance with this gentle conditioner. This moisturizing conditioner soothes dry strands and gives you damage-free and volumized hair.
Pros
Great for thin and brittle hair
Clears build-up and hard water residue
Treats itchy scalp
Cons
This natural conditioner features 5 essential oils – angelica, ylang-ylang, lavender, geranium, patchouli, and sweet almond oils that are blended to strengthen and soften dry and damaged hair. These nourishing oils repair, stimulate, and rejuvenate your hair, making it smoother and healthier. This conditioner helps restore capillary fiber and improves the texture of your hair.
Pros
Suitable for daily use
Delivers quick results
Ideal for dry and brittle hair
Cons
These are our picks of the top 10 damage-free and silicone-free conditioners that do not weigh your hair down or make it greasy. Pick your favorite product, try it and let us know your experience in the comments section below.
The following two tabs change content below.

Latest posts by Pooja Karkala (see all)

Pooja Karkala
Pooja is a Mass Communications and Psychology graduate. Her education has helped her develop the perfect balance between what the reader wants to know and what the reader has to know. As a classical dancer, she has long, black hair, and she knows the struggle that goes into maintaining it. She believes in home remedies and grandma's secrets for achieving beautiful, luscious hair. When she is not writing, she learns Kuchipudi, practices yoga, and creates doodles.