9 Best Primers Without Silicone To Keep Your Skin Soft – 2023
Skin-loving and gently formulated beauty products devoid of harmful ingredients.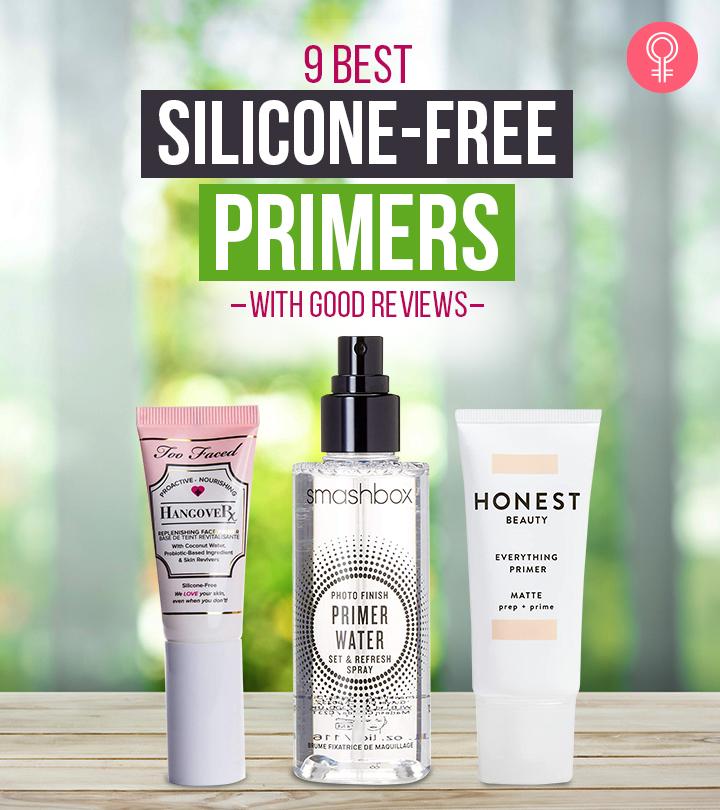 "Makeup is not a tool meant to make an ugly thing beautiful. It's meant only to magnify the beauty that already exists." –
A primer smooths your skin and makes your makeup set flawlessly. But regular primers are incorporated with silicone that seals moisture but also traps dirt, sebum, and other impurities. Only the best silicone-free primer extends the wear time of your makeup and keeps your skin soft.
Silicone-based primers also cause breakouts and blackheads. Thus, most makeup experts are switching to silicone-free primers to get a perfect finish. These primers are non-comedogenic, lightweight, and blend smoothly on your skin.
These silicone-free primers provide the same results as silicone-based primers while making your skin healthy. It is an essential tool for beauty enthusiasts. The silicone-free primers are also usually free from harsh chemicals. In this article, we have curated a list of the 9 best silicone-free primers for a perfect look. Check them out below!
9 Best Primers Without Silicone – 2023 Update
Pros
 Vegan
 Lightweight
 Non-greasy
 Cruelty-free
 Paraben-free
 Phthalate-free
Cons
None
Price at the time of publication: $17.95
Pros
 Non-comedogenic
 Dermatologist-tested
 Non-allergic
 Non-sticky
 Vegan
 Paraben-free
 Sulfate-free
 Triclosan-free
 Phthalate-free
 Cruelty-free
 Fragrance-free
Cons
 May not suit combination skin
Price at the time of publication: $33.0
Add a veil of moisture in one simple step with this Photo Finish Primer Water from Smashbox. This 2-in-1 product primes your face to create a hydrating canvas for makeup. A few spritzes of this primer water also sets the makeup to stay for a longer duration. Its watery formula gets absorbed instantly and rejuvenates dull and dry skin. The high-impact primer plumps and soothes the skin. Besides, this ultra-fine spray infused with revitalizing electrolytes boosts complexion and suits all skin types. Take a look at this video to know more about the product.
Pros
 Non-acnegenic
 Dermatologically-tested
 Paraben-free
 Sulfate-free
 Phthalate-free
 Fragrance-free
Cons
None

Price at the time of publication: $21.5
Pros
 Dermatologist-tested
 Hypoallergenic
 Paraben-free
 Phthalate-free
 Dye-free
 Oil-free
 Synthetic fragrance-free
 Cruelty-free
Cons
Price at the time of publication: $20.85
Pros
 Instant cooling
 Lightweight
 Softens skin
Cons
None
Price at the time of publication: $24.78
Pros
 Long lasting-wear
 Vegan
 Cruelty-free
 Paraben-free
 Oil-free
Cons
None

Price at the time of publication: $27
Pros
 Antioxidant properties
 Natural ingredients
 Cruelty-free
Cons
None
Price at the time of publication: $6.38
Pros
 Long-lasting wear
 Hydrating
 Non-comedogenic
 Cruelty-free
Cons
None
Price at the time of publication: $48
Prep your skin and give it a boost of hydration with this Sheer Envy Hydrating Primer Mist from Hard Candy. It is infused with coconut water that retains natural moisture levels and lasts for up to 12 hours. This primer mist creates a moisturized canvas that holds makeup for a longer duration and makes your skin soft, smooth, and supple. Its liquid texture blends effortlessly and does not warrant frequent touch-ups.
Pros
Cons
Price at the time of publication: $9.95
Silicone-free primer is preferred by many because of its ability to prolong your makeup looks without attracting dirt and dust. With so many such primers available on the market, it gets difficult to choose the right one for yourself. But, we have listed a few pointers to consider before buying silicone-free primers.
Things To Consider Before Buying The Best Silicone-Free Primers
 A primer is either worn alone or under makeup so choose a non-sticky, silicone-free primer that absorbs easily and completely.  A non-sticky primer also allows the other makeup products to glide smoothly on the skin's surface. Choose a lightweight formula so that it does not feel cakey or heavy on the skin.
Choose primers according to your skin type. For dry skin, use a hydrating primer which replenishes the lost moisture while giving a smooth base for makeup. Oily skin types can opt for a matte, oil-free primer that controls sebum production and mattifies the skin.
Lightweight primers rich in antioxidants, peptides, dimethicone, and hyaluronic acid work best for mature skin types. Avoid shimmery or matte finish primers that may enhance the appearance of fine lines and wrinkles. For acne-prone skin, choose non-comedogenic primers infused with salicylic acid and tea tree oil, which controls acne and does not irritate the skin. For redness, pick hypoallergenic, colored primers that also conceal the inflamed skin.
For the best results, make sure that your makeup primer is free from chemicals. Along with silicone, avoid ingredients like paraben, phthalates, triclosan, mineral oil, gluten, or synthetic fragrances.
A sweat-resistant primer is recommended if you are attending a brunch or a day function. It lets your makeup stay for long hours without getting smudged. Opt for primers with SPF if you spend long durations outdoors.
Why Trust StyleCraze?
The author, Baishali Bhattacharya, is certified in makeup techniques, understands the importance of quality primers without silicone, and wants her readers to get the bang for their buck. She has compiled this list of the best primers without silicone. These products will give you the best results without burning a hole in your pocket. She checked thousands of online reviews and feedback on different platforms to pick the suitable ones.
Frequently Asked Questions
Are silicone-free primers good for oily skin?
Yes, silicone-free primers that offer a mattifying effect are good for oily skin. The shine-free formulas soak oil and sebum and keep your pores unclogged.
Can you use a silicone-free primer for combination Skin?
Yes, silicone-free primers work on combination skin but not as effectively as on dry skin. Silicone-free primers may help keep the drier parts of a combination skin moisturized.
Do silicone primers cause breakouts?
Yes, silicone primers create another layer on your skin that does not let the existing dirt and sebum getaway. The accumulation of excess dirt and sebum causes breakouts.
What is the difference between silicone- and water-based primers?
The major difference between a water-based primer and a silicone-based primer is that the former is used for dry skin while the latter works well on oily skin. Silicone-based primers prevent excess oil by creating a top layer on your skin. On the other hand, water-based primers are lightweight and nourish your skin and hydrate the dry areas.
Can I use silicone-free primer every day?
Yes, you may use silicone-free primers daily.
How to remove a silicone-free primer from your skin?
Use a makeup remover wipe or micellar water to remove silicone-free primer. Dab the remover wipe or the cotton pad with micellar water on your face and remove the makeup. For stubborn layers of makeup, you may also use a facial cleanser.