10 Best Silk Scrunchies For Sleeping Without Interruption!
Hold your hair in place tangle-free and sleep stress-free with these easy-to-use silk scrunchies.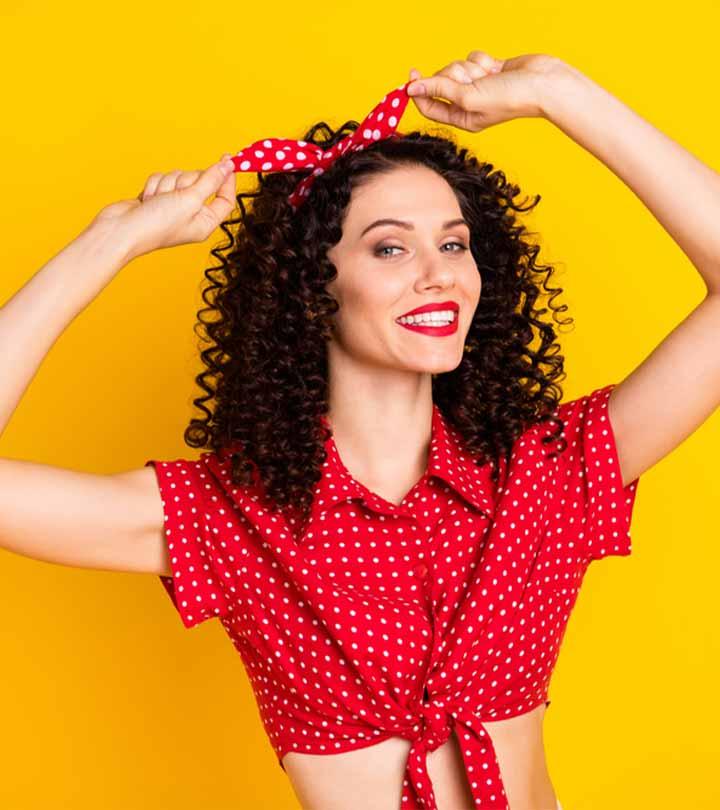 Scrunchies are trusted and well-loved sleeping buddies that keep your hair out of your face as you relax and rejuvenate. The silk scrunchies for sleeping not only keep your hair from disrupting your sleeping patterns but also keep them hydrated and protect them from severe tangles all night long. When it comes to fabric, though, not every scrunchy is created the same way. Cotton, elastic, and velvet are used in a lot of them. These materials can cause your hair to pull, lose flexibility over time, and even cause dents in the hair strand, leaving it dull and lifeless. That's where a silk scrunchie will save the day!
Silk scrunchies are better than the others because of their soft and delicate nature. This one is suitable for all hair types and will not dry out your hair or produce ridges. It will not only protect your magnificent mane, but it will also help make a style statement. You've come to the perfect place if you've been looking for the perfect sleeping scrunchy all this while. Take a look at our curated list of the best silk scrunchies used while sleeping to ensure that you wake up with beautiful locks every day.
10 Best Silk Scrunchies For Sleeping Soundly In 2023
Prevent breakage and wake up with frizz-free hair using this sleepy tie scrunchie. Made from 100% mulberry silk, it is gentle and ensures no marks are left on the scalp or hair. Thanks to its strong bond infused with amino acids, it efficiently reduces hair damage and hair fall. Several reviewers have also noticed a reduction in hair breakage after using these scrunchies. Designed using premium-quality materials, these luxurious hair scrunchies expand to about 4-8 inches, making them suitable for all hair types. Be spoilt for choice and make a pick from their collection of over 15 stunning colors!
Pros
 100% mulberry silk
 Gentle on hair
 Infused with amino acids
 Expand up to 4-8 inches
 Suitable for all hair types
 Available in 15 stunning colors
Cons
Price at the time of publication: $9.99
Elevate your look with these fashionable sleep scrunchies from Enjoy Holiday 1981. With uncompromising quality and comfort, these are made from a superior blend of silk and satin. They have a stretchy, soft, and smooth texture and are absolutely adorable, making them an ideal accessory for any occasion! Rest assured knowing your hair is in good hands as these reduce your chances of hair getting caught and ensure that known ridges are caused.
Pros
 Soft and stretchy
 Made from hair-friendly silk and satin blend
 Available in different colors and styles•
 Uncompromising quality and comfort
Cons
 The fabric may be pilling
Price at the time of publication: $11.23
Indeed an ode to beauty and versatility, this pack of 3 scrunchies comes in gorgeous colors of charcoal, ivory, and rose pink. An ideal choice for anyone with an eye for a vintage aesthetic, this silk sleep accessory glides over the hair with minimal effort and minimizes breakage and hair fall. Bid farewell to hair loss and frizz as these silk sleep scrunchies made with pure mulberry silk will rid you of all your hair woes. If these hair protection benefits were not persuasive enough for you to click the 'add to cart' button, these scrunchies are also hypoallergenic, making them a must-have hair essential!
Pros
 Hypoallergenic
 100% mulberry silk
 Comes in 3 colors
 Glides over hair effortlessly
Prevents hair breakage and hair fall
Cons
 The elastic of this pack may wear out sooner than expected
Price at the time of publication: $17.99
If handmade silk scrunchies are what you're on the prowl for, then you're in luck. This one combines silk and polyester with unparalleled quality and softness to ensure your hair feels and looks great. While you indulge in your beauty sleep, this silk elastic band offers a comfortable fit all night long as it doesn't add stress to pressure points or cause any discomfort. These medium-sized night silk scrunchies stretch to about 5 inches, making them wrap around the hair at least 2 times, depending on the thickness. Not only do these make a fashionable hair accessory, but they can also make a cute bracelet that will grab everyone's eyes!
Pros
 Medium size
 Silk and polyester blend
 Stretches to about 5 inches
 Doubles as a bracelet
 Suitable for all hair types
Cons
 The material may not feel too soft for some
Price at the time of publication: $5.99
Cuteness overloaded, this sleepy tie scrunchie features a bunny tie knot that helps you unleash your inner fashionista. With stylish patterns and vibrant colors to choose from, you'll never run out of one that matches your OOTD. Unlike other poorly constructed scrunchies, these have the optimum stretch, making them neither too tight nor too loose. Made from velvet-padded materials and flexible plastic, these hair ties are gentle on all hair types and provide a secure hold.
Pros
 Optimum stretch
 No snagging or pulling
 Gentle on all hair types
 Comes with a bunny tie knot
 Available in stylish patterns and vibrant color
 Made from velvet padded materials and flexible plastic
Cons
The ties may come undone easily from the hairband
Price at the time of publication: $7.99
Here's another great addition to your silk hair care essentials from HomeSource. Crafted using 100% pure mulberry silk, these ensure your hair stays soft and nourished while you doze off into your uninterrupted sleep. Durable with unbelievable comfort, you can sleep peacefully knowing that you won't wake up with creases or dents on your hair. Its ability to provide hold without pulling or breaking the hair has made it a favorite amon reviewers. The carmine, mauve, and shell pink colors add a touch of femininity, making them the ideal gift for yourself or your loved ones.
Pros
 100% pure mulberry silk
 Durable and comfortable
 Reduces hair creases
 Ideal for gifting
Cons
 May not be ideal for thick hair
Price at the time of publication: $13.99
If comfort is what you're looking for, then that is what you'll get with these sleep scrunchies from YANIBEST. This one is created using only silk, and hence offers a frictionless grip that minimizes frizz and leads to damage-free hair. Ideal for nighttime, it ensures you don't wake up to knots, creases, or tangles. Infused with amino acids, it conditions your hair, so you have healthy and shiny locks. Perfect for you or your teenager, you must grab this one before it's too late.
Pros
 Conditions hair
 Frictionless grip
 Ideal for nighttime
 Infused with amino acids
 Perfect adults and teenagers
Cons
Price at the time of publication: $15.99
Envious of the gorgeous locks sported by celebrities? Well, we're here to disclose their secret to frizz-free, healthy tresses. Try this hair scrunchie from SOBONNY, and you, too, can flaunt hair that is similar to the ones in magazines. Combining breathable and luxurious silk to immaculate design, you can put this one on and off without hurting your hair or causing abrasions. Stretching up to 8 inches, these night silk scrunchies can be used on any and every hair type.
Pros
 Immaculate design
 Stretches up to 8 inches
 breathable and luxurious silk
 Ideal for every hair type
Cons
 Some find that these may be a bit too stiff
Price at the time of publication: $13.99
There are 99 problems, but bad hair days won't be one! With this sleep-friendly scrunchie from Qingbay, you can enjoy deep sleep, knowing that every day you'll be able to show off your stunning, crease-free hair. Long, short, thick, or thin — regardless of what hair you boast, these will quickly go on and off while offering maximum support and stretch. Several reviewers praise its mulberry silk material that does not cause breakage. No more crying over split ends and damaged locks as these ties condition your hair all night and ensure no frizz or hair loss caused by harsh materials.
Pros
 Crease-free hair
 Ideal for all hair types
 Available in colors and patterns
 Offers maximum support and stretch
Cons
 The fibers may begin to shed after multiple washes
Price at the time of publication: $16.13
The little girl in you who loves all things pink and pretty will jump with glee, when you take a look at these real silk scrunchies. Adorning a gorgeous rose gold hue, these will make a fashion statement wherever you go. They are made using charmeuse, a lightweight material carefully woven with a satin weave to make sure that your hair is taken care of while you sleep. The soft silk scrunchie will get on your hair as easily as it gets off, leaving no trace of it behind with ridges or creases. Whether you wear them on your hair or accessorize it on your wrist, compliments are sure to follow!
Pros
 Made using charmeuse
 Friction-less usage
 Does not leave creases
 Gorgeous rose gold hue
Cons
Price at the time of publication: $19.99
Now that we've taken a look at the 10 best silk scrunchies for sleeping, here are a few points that one must remember before selecting the perfect one.
How To Choose The Best Silk Scrunchies For Sleeping Soundly?
While the predominant material used in silk scrunchies is silk, they may also come blended with other fabrics, including satin, velvet, and polyester. Polyester blended silk scrunchies offer maximum stretch and no-slip grip and are relatively less expensive. However, they are not the preferred materials for hair as many perceive them to be rough and harsh on their delicate tresses. Satin and silk are the second most preferred option for the best silk scrunchies for sleeping as they are durable while being suitable for all hair types. The best and most sought-after scrunchies are those made from non-toxic materials like 100% pure mulberry silk. They are not only hypoallergenic but also soft and highly forgiving towards all hair textures. Besides this, the amino acid bonds in their structure replicate the ones present in your hair, making it the most preferred material.
A scrunchie mustn't be too tight nor too loose, despite your hair thickness. It must also wrap itself quickly around your twice while keeping your locks firmly in place. For these ideal scenarios to take place, pick a silk scrunchie that stretches up to 4-8 inches effortlessly.
This is entirely dependent on what you like and dislike. Many silk scrunchies are available in solid, vibrant colors and patterns like polka dots, stripes, and other designs. If you are heading to work or a formal setting, we suggest you go for ones in a single color, as they do not scream for attention and are versatile enough to match all outfits. However, if you're on the way to a Sunday brunch or fun-filled event, you can experiment with various styles.
What Are the Benefits Of Silk Scrunchies?
There are numerous benefits of using silk scrunchies for sleeping, and some of them are as follows:
 Reduces friction – Silk is widely appreciated and expert-recommended for its ability to reduce friction greatly. Unlike cotton hair ties that tug at your hair, leaving you with hair breakage and knots, silk scrunchies glide effortlessly off your hair, virtually friction and pain-free.
 Conditions hair – Silk is primarily made from numerous amino acids and is protein-based. This helps to lock in moisture while aiding hair growth.
 Does not leave dents – Other scrunchies made from other materials may leave dents and creases on your hair, but silk is so gentle that it does not.
 Suitable for all hair types – Curly, straight, wavy, or anything else — silk scrunchies are all you need for a good hair day.
 Added fashion accessory – Not only are silk scrunchies adorable when you put them on your hair but they can also double as a bracelet when you wrap them around your wrist.
Why Trust StyleCraze?
Kirtana Divakar, who authored this article, is a haircare enthusiast and she finds joy in assisting her readers in picking suitable hair care products. For the same reason, she compiled a list of the best silk scrunchies for sleeping by trying some herself and reading many product details. Soft and delicate, these listed items are perfect for all types of hair.
Frequently Asked Questions
Is it okay to sleep with a silk scrunchie?
Absolutely! In fact, silk scrunchies are ideal sleeping companions as they result in ridge and crease-free hair while keeping them conditioned and comfortable all night long.
What are the different types of scrunchies?
There are many types of scrunchies, including velvet scrunchies, satin scrunchies, slip scrunchies, scrunchies with tails, cotton, polyester, and silk scrunchies.
Why are silk scrunchies good for your hair?
Silk scrunchies are made using amino acids that lock in moisture and prevent breakage. They also don't leave dents, so your tresses look and feel healthy and nourished.
What's the difference between silk and satin?
While satin scrunchies may have a more sheen and glossy appearance, it is less durable and may be prone to snags and pulls. Silk may be a more expensive option, but it is worth it as they are hypoallergenic, reduce friction, and prevent split ends.
How do you wash silk scrunchies?
Step 1 – Add warm water to a bowl and mix it with fabric softener or shampoo
Step 2 – Wash the scrunchies gently with your hands
Step 3 – Rinse them off with fresh water and dry them naturally overnight
Recommended Articles