11 Best Ski Hats And Beanies That You Must Buy In 2023
Look like a pro model while skiing down the pinnacle with these stylish head wears.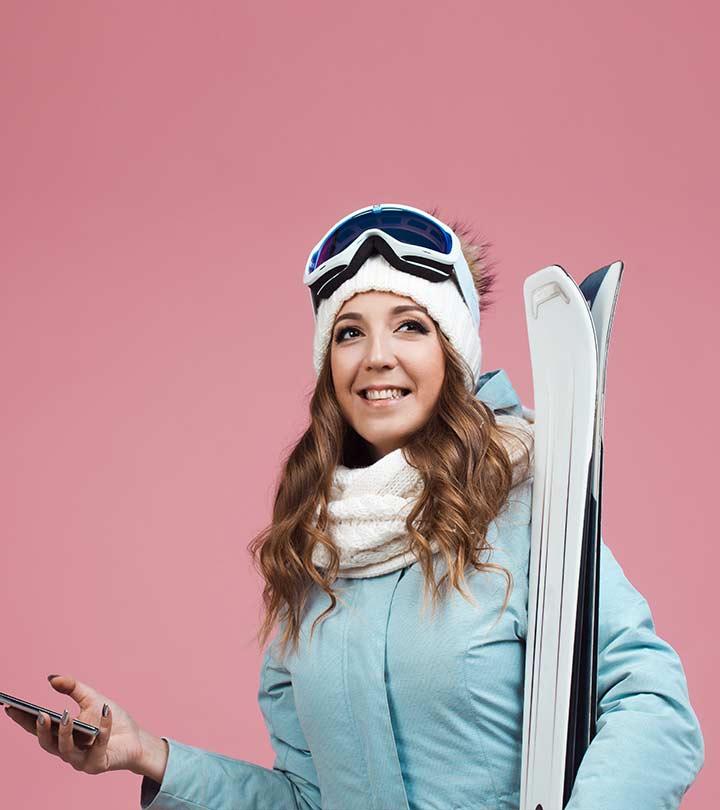 Planning for a ski trip can be exhilarating. And yet, packing the exact gear to help you last in the snowscape hills might be a more tedious task. After all, you wouldn't want to freeze your feet off, so you need to think about this carefully. The colder the weather, the warmer the outfit from head to toe. One essential item that keeps us warm is a ski hat.
Ski hats perform the vital functions of conserving the body's heat and protecting our ears from frostbite. These hats are built with fabric that ruthlessly fights against the freezing cold winds, including wool and acrylic yarn as they are lightweight on the body and have better heat storing capacity. Synthetic fleece liners combined with the aforementioned yarns help eliminate any moisture, keeping you dry. So, to keep you feeling cozy without shedding an ounce of your ski spirit, here are our reviews for the 11 best ski hats for you to choose from!
11 Best Ski Hats To Pick For The Ultimate Snowscape Jaunt
The Furtalk winter ski hat is perfect for any cold weather conditions. Its 100% acrylic build and thick double lining make it great for sub-zero degrees. Furthermore, it is highly comfortable and AZO-free, making it a very stylish hat to enjoy your time in the snow. In order to prevent heat loss, this cable-knit hat comes with a flexible and elastic opening that snugly holds on to your head without going loose. The hat also fits any head shape and size. Warm enough to keep you snug when the strong wind hits, it's also breathable enough to not make you sweat.
Pros
AZO-free 100% acrylic
Trendy and stylish design
Breathable fabric
Unisex option
Extremely soft and warm
Will not make your head sweat
Fits any head shape and size without going loose
Cons
Price at the time of publication: $14.99
This thermal chunky knit ski beanie hat designed with polar fleece lining has a great insulating feature that keeps you warm the entire time it sits on your head. With a premium quality fabric that is 100% stretchy and vegan, the hat offers long-lasting durability and needs only simple maintenance to keep it going. With its precise knitting design, the cool ski hat stands different from the rest and comes with good thermal properties. You could never go wrong with a slouchy beanie because it compliments any outfit with its fold-over cuff and is perfect for the autumn and winter seasons. It also has breathable knit which fits most head sizes, you will not regret tagging this skiing hat along for your trips.
Pros
Extremely soft material
Fashionable design
Provides thermal protection
100% stretchy polyester that does not turn loose
Roomy for better breathability
Cons
Might run a little small in size
Price at the time of publication: $15.98
Who doesn't love a great deal? We thought you would definitely love the idea of your favorite beanie coming with a complimentary scarf, so we put it on the list. The perfect package of warmth for your chilly days on the snowy trails, the cute ski hat is made with a soft fleece liner that will leave you with lasting comfort. With a 100% acrylic yarn that will keep your head in the clouds, this double-layer designed hat fits almost every shape and size. The added benefit comes with the warm scarf that maintains an even flow of air plus higher insulation to protect your neck and face.
Pros
Designed with a cute, fluffy pom pom
Comes with a warm scarf to cover neck
Hat and scarf are fleece lined
Soft fleece lining in both hat and scarf
Spacious and breathable
Offers extra protection
Cons
The fit might not be perfect.
Price at the time of publication: $18.99
As a company that has long curated warm items to cater to your winter needs, it sure isn't a surprise when we recommend their Acrylic Watch Cap. Designed to be slim-fit and lightweight, the snow-proof material of the warmest ski hat in their collection is elastic and stretchable enough to fit your head and still have some room for breathability. However, don't let its lean appearance fool you, because this ski touring hat can be worn in the freezing winters of December when you are on snowy ski slopes. This ski hat will last you long while keeping your head and ears toasty.
Pros
Lightweight and breathable
Ideal for bigger head sizes
Quick-drying
Stretchy material
Extremely soft acrylic fabrics
Cons
Price at the time of publication: $18.7
The sophisticated and chic design of this Maxnova ski hat makes it one of the best ski hats out there for snow enthusiasts. Created in tons of colors, this 100% nylon ski hat serves as a premium quality covering with ultra-soft fabric that ensures no itchiness. Friendly to the skin, this women's ski hat will nest your head in warmth and comfort and offer adequate ear coverage during the coldest weather. Not only does it help you fight the harshest winter winds, but this hat also boosts your snowy get-up. This soft, ribbed-knit winter hat will neatly cover your ears without feeling or looking bulky. It is also available in vibrant colors.
Pros
Soft and warm nylon hat
Ribbed texture
Comes in tons of colors
Minimum weight
Stylish and comfortable
Cons
Price at the time of publication: $11.99
The Bodvera Winter Beanie Hat features a soft fleece lining hat that protects your head out in the cold and offers a comfortable fit. Made from a thick and cozy acrylic knit yarn, this trendy design ski hat makes for an amazingly comfortable and breathable choice for all your snow-filled adventures. It features superior heat retention for you to enjoy the maximum amount of warmth. The hat might not have enough material to wear as a slouchy beanie, but it covers the entirety of your head and stays snug so as to not slip off. This trendy ski hat is perfect for skiing or snowboarding as it will keep your ears locked up in extra warmth while the upgraded design prevents overheating around the head.
Pros
Warm and soft fleece lining
Perfect for snow activities as it does not slip off
Not bulky at all
Breathable and prevents overheating
Cons
Runs a little smaller in size
Price at the time of publication: $8.99
You're not skiing right if you haven't come across one of these trapper hats. These types of wind-resistant ski hats for women are more common for those who reside or travel to the highest peaks with the lowest temperatures. Why? These ski beanie hats are windproof, have extra insulation features, and keep your entire face and head warm and secure. This ski hat from Koolsoly is made with warm faux fur and designed with a windproof panel or mask. You will face absolutely no issues with this ski hat as it is anti-static, breathable, windproof, and waterproof. There are other nifty ways to keep your blood pumping and regulate proper airflow throughout your head. The mask is removable and adjustable, the insulated ear flaps can be worn down for added heat, and contrary to its image, the ski hat does not weigh you down at all!
Pros
Roomy and breathable
Big fluffy collar and cuffs
2 deep side pockets
Lightweight and soft
Available in 5 colors
Cons
Due to some sizing issues, the mask may be positioned oddly.
Price at the time of publication: $9.99
The Hat Depot stands out for its sober design, slim fit, and slouchy but slightly pointy tip. This model of ski beanie hat is primarily made with a 100% acrylic knit fabric and is combined with stretchy fibers that make it comfortable to wear. It is a warm, comfortable, and durable beanie to put on in any season or weather that requires you to keep your head and ears safe as you enjoy your favorite outdoor activities. A rolled-up beanie adds a hint of retro to your style and goes perfectly in terms of heating your ears against the harsh chilly winds.
Pros
Warm, cozy, and comfortable acrylic ski hat
Right amount of slouchy
Slim-fit, plain, and retro design
Comes in a myriad of colors
Cons
Might not be ideal for larger head sizes
Price at the time of publication: $9.99
This versatile style double-layer designed trendy ski hat with pompom flaunts a soft fleece lining that helps keep you warm during frosty winters. An adorable fur ball is attached at the top to give it a cuter look. This Redess ski beanie hat is knitted in a flanging design to prevent itself from becoming deformed. It may look simple to the eyes, but it absolutely tops the chart in keeping your noggin and lugs comfy and snug. This snow ski hat is strictly made from select windproof fabric that feels like butter to the touch and offers a cozy and warm feel.
Pros
Stretchy and elastic material
Ultra-soft fabric
Hand-knitted with top-quality fur
Double-layer design keeps your head warm at all times
Cons
Price at the time of publication: $11.99
Balaclava masks may not be a good sign to the cops, but when it's ski season, these masks or ski helmet hats are a must to protect yourself from harsh winter winds. This ski hat in particular is made of 100% soft acrylic material that you can simply roll up to look like a regular beanie. When you're working or conducting activities at sub-zero temperatures, this ski mask helmet will protect and safeguard your face, ears, head, and neck.
Pros
3-hole balaclava for proper ventilation
Comes in various colors
Helmet compatible
100% acrylic
Can be rolled up into a makeshift beanie
Lightweight and breathable
Cons
Warm but might not be as soft
Price at the time of publication: $10.95
Last but not least, this set of uniquely designed warm ski hats will surely serve as a treat to spectators. Release your inner punk and opt for these bold neon ski winter hats to make a statement. The material of these beanie hats is thick, so they will hug your head and ears with all-encompassing warmth. They are pretty long, so you could try cuffing them up to the shortest size and they would still cover your ears. These cool ski hats are also great to spot your friends if you're in the snow or at the park because of how bright they are.
Pros
Fun and bold colored ski beanie hats
Thick and warm
Lengthy
Fits most head sizes
Cons
These were some of the best warm ski hats brands that you should try out before you rev up the engines for your ski trip. Choosing the right ski hat is imperative because it could be detrimental to your health should you choose an incorrect ski hat. We have a few tips here to help you pick the right ski hat for your needs.
How To Choose The Right Ski Hat
Selecting the correct material or fabric for the ski hat is absolutely crucial. Avoid cotton fiber beanies as they soak up and retain water ultimately canceling out any chance of insulation. Instead, opt for polyester, acrylic, fleece, or even wool-knit fabrics that are warm, moisture-wicking, and breathable.
Fit and elasticity are also of great importance. Fit means the hat has to cover you properly throughout the head and ears and still have some room left for ventilation. Elasticity has more to do with the stretchiness of the hat in case someone has a bigger size. Most ski town hats or winter hats come in universal sizes, suggesting that the hat fits almost all shapes and sizes. However, there are brands that also run in proper measurable sizes like S, M, L, etc., so you should check the size chart(s) if provided to get a better idea.
Of course, you can never compromise on quality. Try looking for 100% acrylic or 100% polyester beanies that are super-soft, vegan, and lightweight.
No matter what article of clothing you are wearing, breathability is a must. You should always feel at ease and comfortable with whatever you wear, Likewise, beanies or fleece ski hats need to have a type of ventilation that will help regulate your bodily functions.
Your comfort is a personal standard, so it should always be prioritized over style. Find a ski hat that doesn't just look appealing but is also made from high-quality materials. The hat should fit you well and keep the areas it covers breathable.
You obviously want a ski hat that favors the conditions you are going into. If it's somewhere chilly but not too cold, wear a hat that is justified for the weather. If the temperature is lower than double digits, you definitely need to wear something that protects your face, neck, and ears. Temperature plays a big role in choosing the right ski hat as the thickness and designs change on that basis.
Why Trust StyleCraze?
Priyam Gupta, the author of this article, is a fashion enthusiast and loves experimenting with the newest fashion trends. She sifted through hundreds of reviews by users on trusted forums and carefully curated this list of the best ski hats to wear. These ski hats are built with a fabric that keeps your head warm and cozy, giving you the freedom to ski to your heart's content stress-free.
Frequently Asked Questions
Why do I need a ski hat?
If you've got plans to spend time in sub-zero temperate places, a good ski hat will protect you by keeping your neck, ears, and head warm. Why you need it is based on your level of cold resistance, although when you are on a snowscape, it is recommended to cover your head and ears to avoid frostbite.
Can I wear my ski hat under my helmet?
It depends on the kind of ski hat you're trying to get. If it is a balaclava or a taut ski beanie hat, you can wear it under your helmet. You may have to pull down the hem of the beanie if it is a bit more slouchy to fasten the grip before wearing a helmet.
Can I wear only a ski hat for skiing?
Ski hats are designed to protect you from harsh winds and keep you warm with better insulation. Other forms of hats or beanies may be less powerful in comparison to a ski hat because it is activity and weather-based.
Why do ski hats have pom poms?
The design of ski hats is derived from the design of the winter hats worn by French sailors. Many sailors would add pom poms to their hats to safeguard their heads from the low ceilings of the ships.
Does wearing ski hats cause hair loss?
No, a standard ski hat will not cause hair loss. But if your hat is too tight, it can tug and pull at your strands and create patches of baldness on your scalp. It is recommended to wear snugly-fitting ski hats.