The 13 Best Women's Ski Pants Of 2023, Recommended By A Fashion Expert
Enjoy the snowy weather comfortably and in style with super fashionable and cozy pants!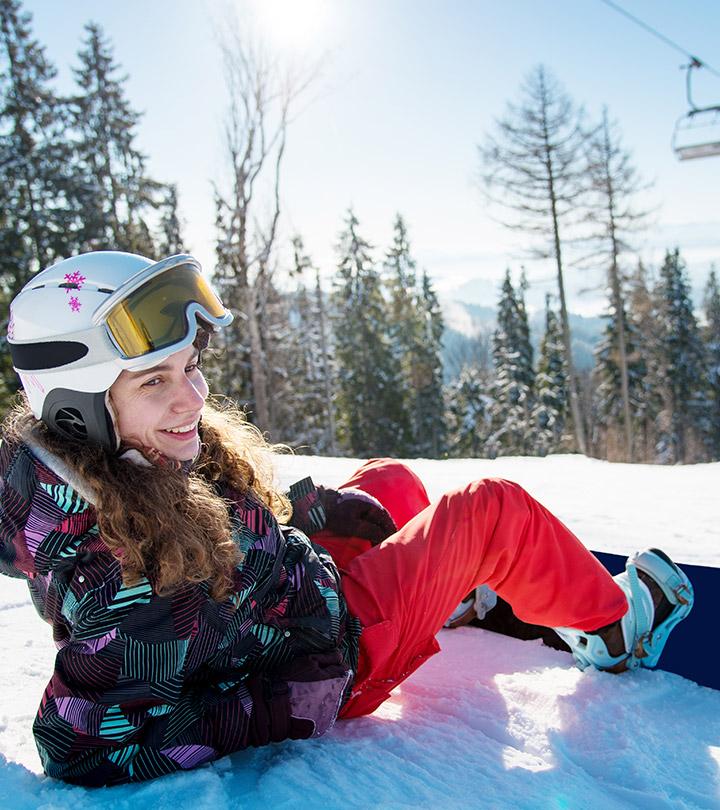 While going through your travel checklist for a ski trip, you need to ensure that you have the best women's ski pants that are cozy, stretchy, and fit your waist comfortably. You can also wear these pants for various sports-related and adventure activities. Ski pants are mostly tailored with sturdy, water-repellent material on the outside. They are essential to help you stay warm and dry while snowboarding or skiing. They usually come with four fitted layers that protect your body from injuries and against the wind. These layers are mostly lined with sustainable materials like fleece or natural wool that gathers heat to keep you warm and is soft on your skin. Also, there is a wide range of variety, from slim fit to plus-size, and you get to choose the one that fits your preference. With tons of options out there, it can be tricky to gauge which ski pants are good quality and how much you should spend on them. Read this post to find out the 13 best ski pants for women.
How To Choose Ski Pants
The choice of ski pants is influenced by factors like the material, budget, experience, fit, and comfort, etc. among many others. In addition to that, there are certain factors that you should keep in mind before buying ski pants.
The leg gaiters should be tight enough to keep snow from entering up your ski pants.
The pockets of the ski pant should have a zipper attached so you can carry small essentials with you.
The fabric of the track pant should be stretchy or baggy to enable natural movement.
Always choose pants with waist adjusters to offer a great fit.
Selecting ski pants with thigh venting allows managing temperature control and ventilation.
The hem of the pants should have anti-abrasive material increasing flexibility and durability.
Waterproof property should be checked carefully before buying.
The size of a ski pant shouldn't be figure-hugging, or else it might limit movement.
Many times, the seams for the ski pants are either glued or sewn to the back that can sometimes easily come out once you are out in the snow.
The section below focuses on some of the best ski pants for women, that are available in the market right now!
The 13 Best Women's Ski Pants Of 2023 With A Buying Guide
Pros
Lightweight and insulated
Comfort suspenders provide a good fit
Ballistic weaves embedded to reinforce guards at the ankle and hem
Contains separate storage for small essentials
Comes with boot zippers for convenient wearing
Cons
Difficulty in sub-freezing temperature
These 92% polyester and 8% spandex women ski pants are perfect for this winter as it is waterproof, windproof, warm, abrasion-resistant, and super comfortable! These skiing essentials are highly recommended by reviewers for outdoor activities like hiking, mountaineering, trekking, skiing, snowboarding, etc.
Pros
It comes with small pockets that have a zipper to stow away essentials like phone, keys, etc.
It has a waistband and a belt that can be adjusted
Comes with some unique features like knee patchwork, and thigh cargo pockets with zippers
Lined with fleece that acts as a water-repelling and windproof agent to keep you warm and dry
Cons
Not suitable for freezing temperatures
These pants are made using 100% polyester and are machine-washable, so you can toss them in the machine without worrying about damaging the fabric. Water and stain-proof, these snow pants allow water to run off the pants to keep you warm and dry. Based on reviewers' experiences, they provide just enough warmth and are a perfect fit for plus-sized individuals.
Pros
Comfortable fit with an adjustable stretchy waist
Gusseted crotch design, allow free movements
Wind and waterproof for maximum protection from cold environments
Lined with fleece, these pants are perfect for winter outdoor sports like skiing, trekking, or even water rappelling, etc.
Cons
Not suitable for sub-zero temperatures
These are one of the best women's ski pants in the market right now! These pants are crafted to have a 3-Layer construction to keep you warm. It allows for natural and smooth movements because of its cargo-pant style. This winter sports gear is designed with anti-static fabric and hence, effectively provides insulation.
Pros
Velcro secured pockets that are perfect for storing keys, cards, etc.
Easily accessible front enclosure secured with Velcro
Reinforced leg guards secured by elastic boot gaiter
Cons
The Velcro is not long enough to tighten the pants around the waist
Pros
Comes with features like leg garter on the inside, and zippered pockets allowing you to store essentials
Comes with a waistband that can be adjusted
These pants are made with water-resistant fabric for durability and flexibility
Provides an excellent fit
Plus-size options
Cons
The gaiters can be too tight
Pros
Adjustable suspenders for a perfect fit
600 Denier Ballistic guards protect from wear and tear
Seamless integration of boots using garters to keep it in place
Cons
May not be suitable for extremely cold weather
These pants are crafted from 100% polyester with a fleece lining. These ski pants for snowboarding consist of three layers- the surface layer coated with a water-repellent material, middle layer with supreme-quality fabric, and the inner layer with polar fleece. This unique combination makes these pants perfect for winter outdoor activities like hiking, mountaineering, camping, skiing, etc.
Pros
Very comfortable to wear
Comes with a waistband and a belt that can be adjusted
Waterproof cargo pockets that can be zipped shut
Cons
The waterproof feature is not effective in blizzards or snowstorms
These pants are made using 100% polyester fabric and coated with a water-repellent material making it snowproof. They are thermally tested in laboratory conditions for optimal performance. It has got an adjustable and detachable brace to give you a perfect fit. The elastic waistband will provide you comfort while indulging in fun snow sports!
Pros
Water-resistant
Comes with an insulated compartment to stow away small objects
Adjustable braces
Comes with snow gaiters to prevent snow from entering your boots
Cons
Difficult to put on single-handedly
Pros
Semi elastic leg opening that restricts the flow of the wind
Water-resistant and breathable
Allows unrestricted movement
Lightweight
Flexible waist and insulated storage pockets
Cons
Contains only two thigh pockets and no back pocket
These fleece-lined pants are made by using 3D high-performance waterproof fabric that effectively prevents rain and snow soaking into your clothes. The insulated inner layers of the ski pant keep moisture away from your body, keeping you dry all day.
Pros
Outer layers are made of windproof material
Comes with mesh-lined venting to regulate body temperature
Cons
Restricted movements as compared to other ski pants for women
These pants are lined with fleece to keep you warm and cozy all day. It allows you to enjoy all kinds of winter activities like skiing, hiking, camping, mountaineering without worrying about getting too cold or wet.
Pros
Water-repellent polyester surface layer keeps you dry
Comes with an adjustable waistband
Waterproof zippered pockets to store small essentials
Cons
Not very warm for sub-zero freezing temperatures
Made with 100% polyester, these snow pants offer a snug fit. They allow you to move freely while indulging in snow sports. They are quite durable and are perfect for skiing and other adventure activities like mountain climbing, rappelling, etc. Its waterproof quality is amongst the best, providing protection against the harshest of rains. Online reviews of these pants highlight it for its great fit and cute color.
Pros
Provides protection from harsh weather
2 waterproof front pockets and a thigh pocket that is water-resistant
Cons
Complicated to wear single-handedly
From Unitop come these stylish, water-resistant ski pants, crafted using 5% spandex and 95% polyester. These ski pants with a relaxed fit have an elastic waistband to offer a snug fit. It also comes with zippered pockets secured with Velcro so you can stow away your phone and not miss out on the Insta-worth selfies on your trip!
Pros
Perfect for snowy weather
Comfortable material with knit feel
Can be machined and hand washed
Water-resistant
Cons
Sizes may run small
Buttons may be loose
Why Trust StyleCraze?
The author, Srijita De, is a fashion enthusiast. She loves trying trendy wear and is a big fan of ski pants. She has gone through brand websites and online reviews to pick the best ones for her readers. And she has considered all your requirements and product features to list out these pants. These are the must-have cozy wear for women who want to go for ski trips.
Frequently Asked Questions
What should I be wearing underneath my ski pants?
You can wear synthetic and natural fabrics as a base layer to keep yourself dry and warm.
What's the difference between ski pants and insulated ski pants?
Ski pants are also known as insulated pants, as there is no difference between these two terms.
What is recco in ski pants?
Recco is an advanced emergency technology that helps rescuers to find people lost in an avalanche.
How tight should women's ski pants be?
Ski pants should have a comfortable and breathable fit.
How often will you wear your ski pants?
You should wear them as long as you are on the ski fields. However, ski pants can also be worn as casual wear, which provides you suitable warmth and comfort.
How long do ski pants last?
High-quality ski pants may last long until you experience an unfortunate mishap while skiing. As you do not ski daily and it is limited to specific seasons, your ski pants will remain sturdy for a long time.
How often should you wash your ski pants?
Wash your ski pants once a season. Avoid dry-cleaning your pants to prevent damage and loose fabric.