12 Blurring Products For Flawless Skin
Let go of your imperfections easily and welcome a flawless, radiant complexion. Let's be honest, as much as we love to go natural and makeup-free, sometimes, nothing brings out our acne scars, blemishes, wrinkles, and fine lines more than a bright sunny day or a well-lit party. Sometimes, all the layers of foundations and concealers cannot hide the dark marks or enlarged pores. Worry not! There are makeup accessories that can blur skin imperfections and give you a smooth, clear, and illuminated appearance.
Blurring products are a perfect addition to your makeup ritual. They effortlessly cover all flaws and give you desirable skin. Go through our list of the 12 best skin blurring products that can give you a radiant, dewy, and soft finish. Scroll down!
12 Best Skin Blurring Products
Tula Skin Care presents a smoothing face primer infused with licorice and chia seeds, which help even out the skin tone and maximize luminosity. The turmeric in this formula minimizes inflammation and redness caused by irritants.
This product is rich in probiotics that balance the skin by locking in moisture and hydration. The buildable formula releases 'glow particles' that give the skin a sun-kissed tan. This skin blurrer prepares the skin for other beauty products. The primer is suitable for combination, normal, oily, sensitive, and mature skin types. Take a look at this video to learn more about the product.
Key Ingredients: Licorice, Chia seeds, turmeric, and Probiotic extracts
Pros
Lightweight
Paraben-free
Sulfate-free
Phthalate-free
Mineral oil-free
Petrolatum-free
Formaldehyde-free
Triclosan-free
Retinol-free
Gluten-free
Fragrance-free
Cruelty-free
Cons
Expensive for the quantity
Not suitable for all skin tones.
Body Blur from Vita Liberata is a skin-perfecting primer that instantly blurs all imperfections, blemishes, spider veins, and cellulite to give you a flawless appearance. The formula contains organic glycerin that has therapeutic qualities to fight age signs and irritation. It keeps the skin hydrated and moisturized.
The natural shea butter has antimicrobial properties that protect the skin from harmful UV rays and develops a healthy skin barrier. Vitamin E promotes collagen production, increasing skin elasticity and diminishing wrinkles. Panthenol moisturizes the skin and boosts cell regeneration, while aloe vera soothes the skin with its anti-inflammatory properties. The silky lotion leaves the skin soft and smooth to the touch. Watch this YouTuber's honest review to get a better idea about the product and its features.
Key Ingredients: Aloe vera extracts, Organic glycerin, Shea butter, Panthenol, and Vitamin E extracts
Pros
Smells good
A little goes a long way
Paraben-free
Alcohol-free
Perfume-free
Silicone-free
Cons
C&C by Clean & Clear is a perfect blurring primer for oily skin. This oil-absorbing primer stick blurs the appearance of open pores and diminishes the shine from oily skin. The no-glow formula eliminates excess oil produced by the skin and gives a 12-hour shine-free appearance. This primer suits all skin types.
Key Ingredients: C12-15 alkyl benzoate and Silica
Pros
Lightweight
Universal shade
Oil-free
Gluten-free
Paraben-free
Soy-free
Sulfate-free
Synthetic color-free
Vegan
Cruelty-free
Cons
Not long-lasting
Can trigger breakouts
Expensive
The Cover FX Blurring Primer gives the skin a dewy matte finish. This lightweight primer has a silky texture that reduces fine lines and gives an overall soft and radiant effect. It is formulated with butterfly lavender, which minimizes skin imperfections. Vitamin E protects the skin from free radical damage and keeps it hydrated. This balm can be used on its own or under or over makeup.
Key Ingredients: Butterfly lavender and Vitamin E
Pros
Blendable
Lightweight
Paraben-free
Gluten-free
Mineral oil-free
Phthalate-free
Sulfate-free
Talc-free
Fragrance-free
Cons
This perfecting powder from FLOWER BEAUTY is a silky pressed powder that offers medium buildable coverage. It is infused with next-generation blurring pigments that create a luminous glow on the face. The compact foundation powder evens the skin tone and covers the pores, giving the skin a smooth, perfecting finish. It imparts a flawless, soft, and natural-looking radiance to the skin. The package includes a mirror and sponge, which help with quick touch-ups on the go.
Pros
Cruelty-free
Buildable coverage
Not cakey
Lightweight
Cons
The Halo Glow Setting Powder from e.l.f. is a silky, weightless formula that gives your skin a flawless appearance. The setting powder is infused with a fine-milled synthetic sapphire that offers a soft glow to the face. The powder blurs fine lines and imperfections and minimizes shine. It gives a semi-matte finish and ensures that your makeup looks fresh all day.
Key Ingredients: Mica, Tapioca starch, Silica, and Synthetic sapphire
Pros
Sets easily
Lightweight
Not cakey
Vegan
Cruelty-free
Phthalate-free
Paraben-free
Fragrance-free
Nonylphenol-free
Ethoxylate-free
Triclosan-free
Triclocarban-free
Hydroquinone-free
Cons
Nanoblur is a unique cream that diffuses light and uses optical blurring technology to provide the skin with an instant flawless matte finish. Just a pea-sized amount of the blurring cream is enough to fade imperfections and give a silky-smooth finish to your skin. This product claims to make your skin appear softer, highly defined, and even-toned within 40 seconds.
Key Ingredients: Glycerin, Citric acid, and Nano-optic Prism Complex
Pros
Vegan
Paraben-free
Colorant-free
Fragrance-free
Cons
Leaves residue
Can trigger rashes or allergies
Expensive
The #NoFilter Primer from NYX is an excellent product for blurring imperfections on the face. The light cream gives the skin a flawless, smooth texture for a natural-looking glow. It acts as a base and preps your face for makeup.
Key Ingredients: Vitamin E
Pros
Lightweight
Smells good
Blends well
Cruelty-free
Vegan
Cons
This blurring powder from BECCA comes in a sheer golden peach shade that helps set makeup by blurring skin imperfections. The formula contains ceramic microspheres that gently reflect and scatter light to give an airbrush-like finish. The weightless powder is super-soft on the skin. It absorbs extra shine and makes your skin appear even, flawless, smooth, and naturally shine-free.
Key Ingredients: Micro-fine blurring powder, Pearlescent microspheres, Mica, and Silica
Pros
Lightweight
Not cakey
Blends well
Paraben-free
Sulfate-free
Phthalate-free
Cons
The Illuminating Primer from FLOWER BEAUTY blurs enlarged pores and fine lines, giving the face a clear, bright finish. It is rich in antioxidants and vitamin C, which fight pollution and irritants. This primer is excellent for everyday makeup. It minimizes dullness and keeps the face looking flawless all day. This formula contains pigments that transform your face into a smooth canvas to hold makeup for a long time. This skin illuminating face primer suits all skin types.
Key Ingredients: Water, Glycerin, Sorbic Acid, and Squalene
Pros
Lightweight
A little goes a long way
Blends well
Cruelty-free
Cons
May leave an oily shine.
Limited shade range
This setting powder is powered with a skin brightening complex formulated from natural ingredients. It offers sheer light coverage for deep or fair skin tones. This powder smoothens uneven skin tone and gives it a healthier texture.
It acts as a skin conditioner, moisturizing and blurring fine lines, wrinkles, and blemishes, to make your face look flawlessly radiant. It provides long-lasting hydration with a perfect finish. The lightweight 2-in-1 setting and finishing powder are packaged with a powder brush for easy dispersal of powder and brush off excess powder. It allows mess-free and even application.
Key Ingredients: Skin Brightening Complex
Pros
Weightless
Smooth
Cruelty-free
Gluten-free
Vegan
Oil-free
Cons
The PÜR No Filter primer moisturizes and illuminates the skin and balances the complexion in one step. This primer is infused with prismatic blurring micro-pearls that even out the skin tone and cover imperfections. An Energy Complex of green tea, ginseng, and vitamin B helps boost the skin's metabolism and give it a rejuvenated look.
The formula contains agave that provides moisture and hydrates the skin, giving it a plumper, more youthful appearance. The Ceretin Complex in this formula brightens the skin and reduces the appearance of wrinkles and fine lines, evening out skin tone and texture over time. This primer is enriched with coconut, olive, and shea oils to nourish the skin.
Key Ingredients: Ceretin Complex, Energy Complex, Coconut oil, Olive oil, Shea oil, Abyssinica seed oil, and Hemp oil
Pros
Lightweight
Cruelty-free
Suitable for all skin tones
Cons
Skin imperfections are common in every skin type. The blurring products mentioned above help hide uneven skin tone and imperfections that even concealer can't. They provide an even texture and clear flawless skin with zero touchups. These products are rich in antioxidants and vitamin C that help in boosting collagen production and act as a natural barrier. These powders blur the appearance of fine lines and crow's feet. Most of them are lightweight, vegan, and cruelty-free. However, some products are available in limited shades only. Check out the product reviews to select the best blurring products that suit your skin type.
Recommended Articles
The following two tabs change content below.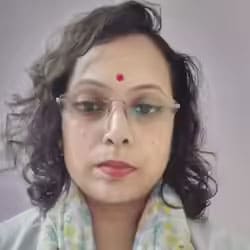 Baishali is an associate editor and holds a master's degree in English. She specializes in makeup and fashion and is...
more