17 Best Skin Care Tools To Use At Home For A Lasting Glow
Your skin care regime will improve greatly with the use of these amazing tools.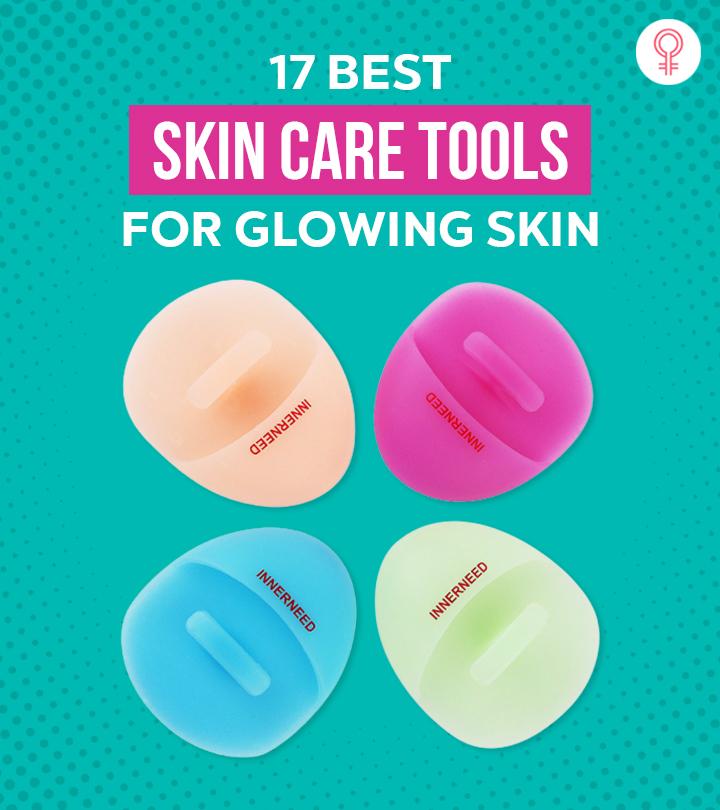 With people turning to simpler and quicker solutions, it is no wonder that the best skin care tools out there are being coveted like crazy! Facial toners, handheld LED devices, crystal rollers…the list just goes on! With so many options out there, you just need to choose the most affordable and durable ones from the bunch, and you are good to go! Check out our list of the best skin care tools to give you supple skin in the comfort of your home. Scroll down!
17 Best Skin Care Tools For Women
This silicone face cleanser and massager brush gently cleanses the skin to remove dirt and grime from the face and neck area. It is made from food-grade soft silicone that does not irritate the skin. The brush side has two sets of bristles – dense and tiny – that exfoliate the face, cleanse the pores, and remove blackheads and oil to give you fresh and clean skin. This set of soft silicone brushes come in a pack of four and are easy to clean and quick to dry.
Pros
Non-abrasive
Easy to hold
Suitable for all skin types
Easy to clean
No deformation
Travel-friendly
Hygienic
Cons
Price at the time of publication: $5.98
Exfoliate your skin with the Gackoko Facial Cleansing Brush. It comes with 5 different brush heads that help to deep clean and massage your skin and shrink pores. The kit is equipped with 2 speed settings and is operated on battery power. The device thoroughly removes dead skin cells, dirt, and tough makeup. Additionally, the device is IP6X waterproof, and you can use it safely in the shower. For more information about the product, click this video.
Pros
 Convenient to use
 Ergonomic designConvenient and comfortable
 Water-proof
 Suitable for all skin types
Cons
None
Price at the time of publication: $11.99
Pure Daily Care's NanoSteamer produces nano ionic steam with negatively charged particles that deeply penetrate the skin to unclog the pores. It combines the conventional heating element and the latest ultrasonic vaporizer to produce a consistent steam flow. The kit includes a facial steamer, a stainless steel skin kit with a pouch, a pouring water cup, a user manual, and a power cable.
The stainless steel kit includes five different tools that help extract blackheads and whiteheads. This multipurpose device can also be used as a humidifier. You can remove the detachable head to convert it into a towel warmer for quick use. The 200 mL water tank makes steam for 30 minutes without any noise. The auto-shutoff sensor switches off the steamer when water runs out.  Check this video to learn more about the product.
Pros
Multipurpose
Portable
Auto-shutoff
Easy to use
Easy to assemble
Value for money
Cons
May develop mold and mildew.
Price at the time of publication: $39.95
Improve skin texture with the AKIYRO Micro Derma Roller. This roller promotes overall skin texture, reducing the appearance of fine lines and wrinkles. The derma roller gently exfoliates your skin. It is made of high-grade stainless steel microneedles. These microneedles make your skin smooth, bright, young, and refreshing. In addition, it unclogs pores and prevents breakouts.
Pros
 Ergonomic
 Easy to use
 Storage case
 Safe and comfortable
 Bind-resistance
 Rust-resistance
Cons
None
Price at the time of publication: $17.99
This multipurpose device from POPPYO deeply cleanses the skin to remove blackheads and unclog the pores. It comes with four changeable probes that work on whiteheads, dead skin, blackheads, and dirt without hurting the skin. You can gently run this tool on a freshly cleansed face to remove skin impurities and dirt. The device uses suction to dislodge dirt and grime from the pores. This safe facial device is made from ABS material and comes with an LED digital display for ease of use.
Pros
Portable
Easy to use
Easy to clean
Lightweight
Suitable for sensitive skin
Cons
May leave red marks on the skin.
Price at the time of publication: $21.99
The Ion Cleaner from GUGUG is a high-frequency skin scrubber that operates on water-based exfoliating technology to lift impurities and dirt from the skin. It features four operative modes – Cleaning, Lifting, Ion+, and Ion -. In the Cleaning mode, the tool passes high-frequency vibrations to unclog the pores, while in the Lifting mode, EMS pulse microcurrents stimulate the skin cells to promote collagen production. The Ion+ mode eliminates grease and buildup from the pores, and the Ion- setting helps the skin better absorb nutrients from creams and serums.
Pros
Easy to use
Easy to clean
Multipurpose
Rechargeable
Cons
Does not hold charge for a long time.
Price at the time of publication: $22.99
This non-vibrating facial exfoliator is suitable for sensitive skin. It comes packed with six replacement heads that gently exfoliate the skin to bring out its glow. The bright LED light ensures you do not miss any spot while using the device. This professional-quality esthetician tool is dermatologist certified and provides consistent precision to fade away wrinkles and fine lines while improving skin's ability to absorb skin care products. The dermaplane head features a safety guard to keep the skin protected. Take a look at this video to get more information on the product.
Pros
Travel-friendly
Multipurpose
For all ages
Easy to use
Suitable for daily use
Cons
Price at the time of publication: $13.79
Deep cleanse the dirt and other impurities trapped in the pores with the Alecoy Blackhead Remover. The device also eliminates dead skin cells, whiteheads, blackheads, makeup residue, and grease. In addition, it promotes blood circulation and skin elasticity when the device is used as a massager. This device can also minimize the appearance of fine lines and make your skin appear clear. It comes with five different suction heads that are used for different functions.
Pros
 Rechargable
 Portable
 LED display
 Easy to use
Cons
None
Price at the time of publication: $21.99
This quartz roller promotes blood circulation and calms muscle tension to reveal bright and youthful skin. It maximizes the skin's ability to absorb creams and serums and reduces dark circles, dullness, puffiness, wrinkles, and fine lines. The larger roller head is suitable for the cheeks, forehead, and neck, whereas the smaller side is meant for the under-eye area and nose bridge. This roller comes with a gua sha massaging stone that increases blood circulation and relieves pain and muscle stiffness.
Pros
Sturdy design
Easy to use
Includes gua sha tool
Travel-friendly
Cons
Price at the time of publication: $15.19
The Deayoka Rose Quartz Gua Sha Tool is ideal for massaging dull and tired skin. Gua sha promotes blood circulation by moving the lymphatic fluids, resulting in brighter-looking skin. It reduces puffiness and muscle tension to bring out your hidden beauty. This tool is made from high-quality rose quartz, called love stone or rose stone, that promotes emotional health and good vibrations. The kit comes with a small pouch to safely store your Gua Sha stone and an instruction manual.
Pros
Cons
Price at the time of publication: $9.99
The Foreo UFO Smart Mask Treatment Device enhances the skin's ability to absorb skin care products. This professional-quality smart facial mask provides customized facial treatment at home. The various therapy modes – Thermo-Therapy, Cryo-Therapy, pulsations T-Sonic Technology, and spa-like LED Light Therapy – work on different skin concerns to bring out youthful and glowing skin.
Pros
Easy to use
Dedicated app
Time-saving
Cons
Price at the time of publication: $175.2
The Radiance Roller from YouthLab is a gentle massage wand that leaves you with radiant and youthful skin. It massages the facial muscles to reduce stiffness and enhance blood circulation. This cool-touch roller depuffs the skin to promote lymphatic drainage and eliminate toxins. Its massaging action fades wrinkles and fine lines, enhances contouring, firms the facial muscles, and increases radiance. It also improves the skin's ability to absorb creams, serums, and moisturizers while alleviating tension and offering relief.
Pros
For hot and cold use
Lightweight
Durable
Portable
Calming
Cons
Attachments keep falling apart.
Price at the time of publication: $26.83
Deep clean your skin with the OLAY Regenerist Facial Cleansing Brush. The device comes with two speed settings – slow and fast speed—the slow speed is for deep cleansing and the fast speed is for gentle exfoliation. You can also use this cleansing brush to clean hard-to-remove makeup from the skin.
Pros
 Soft bristles
 Water-resistant
 Dermatologist-designed
 Lightweight
Cons
Price at the time of publication: $19.68
The Spin Spa Body Brush comes with five attachments to offer a complete skin care solution. The different heads – a brush, a massager, a Microderm needle, a cleaning head, and pumice – can be used with soap and water for a deep cleansing routine. Its smart design makes skin cleansing easy and effective. You can adjust the speed settings for a deeper cleanse.
Pros
Easy to operate
Multipurpose
Long handle
Adjustable speed
Cons
Price at the time of publication: $36.0
This therapy Mask from HIME SAMA uses the photodynamic principle to energize your skin. It fades wrinkles, shrinks pores, and enhances blood circulation to prove the skin's elasticity and make it look brighter and younger. This mask comes with 192 high-intensity LEDs that give you salon-like phototherapy results. It is natural, reusable, and comfortable to wear.
Pros
Portable
Easy to use
For all skin types
Reusable
Cons
Price at the time of publication: $228.99
The Pfeffe Cryo Sticks fade fine lines, diminish pores, reduce puffiness, and improve skin elasticity. This anti-aging skin care tool rhythmically contracts the skin blood vessels to offer you younger-looking and firm skin. It boosts blood circulation to improve acne and eliminate fatigue. This lightweight and portable device is ergonomically designed to provide the best massaging experience at home. It is carved out of 304 stainless steel, making it durable and long-lasting.
Pros
Lightweight
Portable
Easy to use
Comfortable
Ergonomic design
Includes a storage case
Cons
Frozen globes feel heavy.
Price at the time of publication: $18.99
The LKSDJGOH Cold Globes For Facials is a set of 2 ice-cool rollers that can improve your skin's appearance and boost the circulation of blood. It helps in relieving muscle tension and stress while you relax at home. Made from high-quality borosilicate glass and filled with harmless gel liquid, these rollers can glide effortlessly on your skin that has a smooth surface, giving you a refreshing facial massage. It is a unique gift you can give to your near and dear ones on occasions like Christmas, Thanksgiving, and New Year.
Pros
Increases elastin production
Reduces puffiness
Tightens skin
Lightens dark spots
Reduces fine lines
Cons
Why Trust StyleCraze?
Shiboli Chakraborti, the author of this article, is a certified skin care coach. She understands that specially crafted skin care tools are required to make your skin smooth and radiant. She researched various trusted e-commerce sites to learn about the products in detail and provide you with the best skin care tools. The tools in our article help cleanse your skin thoroughly, brighten your skin, and keep it soft and plump.
Frequently Asked Questions
Why are facial tools important?
Facial tools assist to minimize the appearance of puffiness, offer a prominent jawline, exfoliate the skin, relieve tension, improve circulation, and even increase collagen production, resulting in tighter, brighter skin and an improvement in overall skin texture.
What is better, gua sha or roller?
Facial rollers are a more calming treatment. They help to promote blood flow and remove puffiness swiftly. Gua sha, on the other hand, has a much deeper effect and can be far more beneficial when applied correctly. It can assist release muscular tension in ways that rollers cannot, and it can make a bigger difference when working with fine lines and wrinkles.
Do I need to use a facial cleansing brush?
Yes, a facial cleansing brush helps remove dirt, debris, and makeup and exfoliates the skin's surface.
Can facial brush remove blackheads?
Yes, facial brushes help to remove blackheads and prevent their appearance. However, you can see effective results only with regular use.
How often should you gua sha?
You can use gua sha once or twice a day. Make it a part of your morning and night skin care ritual.
Recommended Articles