11 Best Trusted Skin Plumping Products On Amazon – 2022
Add life to your skin with these products and skip investing in the painful treatments.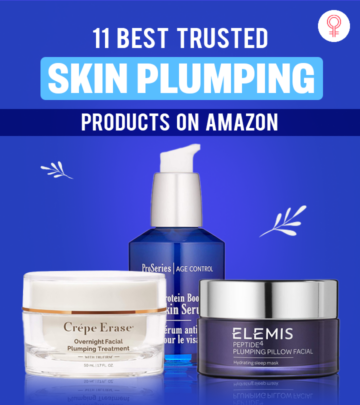 Ample hydration is key to keeping your skin moisturized and healthy. However, your skin becomes dull with age and may develop fine lines and wrinkles. Though there are many cosmetic treatments available that can plump up the skin, adding the best skin-plumping products to your regimen can make a difference. Unlike those painful treatments, these skin-plumping products can temporarily cause localized skin swelling. But they also help smoothen the aging signs like wrinkles and fine lines. In addition, they are formulated with skin-nourishing ingredients that help keep your skin clean and fresh.
In this article, we have listed the 11 best-trusted skin-plumping products available online. Scroll down and check them out.
11 Best Skin Plumping Products
The SkinMedica HA5 Rejuvenating Hydrator offers instant smoothening and long-lasting hydration to the skin. HA5 is a blend of five different types of hyaluronic acid that smooths the skin and reduces the appearance of wrinkles and fine lines.
This unique moisturizer uses an exclusive VITISENSCE Technology that uses the power of antioxidants in Vitis flower stem cell extract, polysaccharides from French Polynesia, and Peptide Complex to replenish hyaluronic acid in the skin and enhance its overall health. It ensures continuous hydration and freshness for up to 8 hours and makes your skin radiant. Check out this video on YouTube for a detailed understanding of the product.
Key Ingredients: Hyaluronic acid, Peptide Complex, and Vitamin E
Pros
Lightweight
Non-comedogenic
Oil-free
Fragrance-free
Paraben-free
Sulfate-free
Phthalate-free
Cons
SkinMedica's TNS Recovery Complex helps in rejuvenating aging and sun-damaged skin. This skin-enhancing gel is infused with TNS or tissue nutrient solution that improves overall skin health while fading wrinkles and fine lines. It reduces inflammation, encourages cell growth, enhances skin elasticity, and lightens age spots to impart a youthful glow to the skin. The potent formula effectively combats aging signs and helps in maintaining epidermal health. If you want to know more about this product, check out this video on YouTube.
Key Ingredients: Human Fibroblast Conditioned Media (TNS)
Pros
Blends well
Lightweight
Mild scent
Imparts glow
Cons
The Visible Difference Refining Moisture Cream Complex from Elizabeth Arden is a nourishing skin plumping product that cushions your skin with moisturizing ingredients. Its rich, protective, oil-based formula is infused with hyaluronic acid, olive oil, and squalene and creates a barrier over the skin to retain moisture and prevent water loss. The lightweight formula quickly gets absorbed into the skin, leaving it hydrated and fresh.
Key Ingredients: Panthenol, Squalane, Glycerin, Olive oil, Retinyl palmitate, and Allantoin
Pros
Dermatologist-tested
A little goes a long way
Spreads well
Smells good
Cons
Feels heavy
Contains parabens
May cause breakouts
The Jack Black Protein Booster Skin Serum fades fine lines and wrinkles to reveal healthy-looking skin. Its peptide-rich formula goes deep into the skin to smoothen the signs of aging and enhance the skin tone.
The silky liquid formula protects the skin from further damage. It contains Matrixyl 3000 – a peptide that fades wrinkles, fine lines, and crow's feet. It also contains Syn-AKE, a tripeptide, that smoothens the skin, and Renovage boosts the moisture level and reduces pigmentation. The Dynalift sorghum grass stalk juice firms and tightens the skin, while the antioxidant-rich organic green tea nourishes the skin.
Key Ingredients: Matrixyl 3000, SYN-AKE, Renovage, and Dynalift
Pros
For daily use
Non-greasy
Lightweight
Absorbed quickly
A little goes a long way
Paraben-free
Alcohol-free
Cons
Cetaphil's Rich Hydrating Cream helps in strengthening the skin's natural moisture barrier to offer 24 hours of hydration. The hyaluronic acid in the formula intensely hydrates the skin, while the olive extract and vitamins C, E, and B5 nourish sensitive skin. The lightweight formula is quickly absorbed without clogging the pores to rehydrate and replenish the skin from within.
Key Ingredients: Hyaluronic acid, Olive extract, and Pro-vitamin Complex
Pros
Hypoallergenic
Lightweight
Quickly absorbed
Non-greasy
Fragrance-free
Non-comedogenic
Dermatologically tested
Cons
Very light moisturization.
The Skincare Oil from Bio-Oil is a nourishing skin plumping product infused with vitamins A and E, PurCellin oil, and rosemary, lavender, calendula, and chamomile oils. While vitamin A enhances skin elasticity and improves its tone and texture, vitamin E protects the skin from free radicals and keeps it looking healthy. PurCellin oil acts as an emollient and makes the skin supple, smooth, and soft.
Rosemary oil soothes, refreshes, and conditions the skin, and lavender oil calms and soothes the skin and protects it from bacteria. Chamomile and calendula oils reduce inflammation and calm and soothe the skin. These ingredients boost collagen production, seal in moisture to repair and hydrate the skin, and prevent the signs of aging. This oil can help reduce the appearance of stretch marks, acne scars, and other marks due to surgery or injury.
Key Ingredients: PurCellin oil, Rosemary oil, Lavender oil, Chamomile oil, Calendula oil, and Vitamins A and E
Pros
Non-comedogenic
Non-irritating
Easily absorbed
Dermatologist recommended
Suitable for all skin types
Cons
The Revision Skincare D.E.J. Face Cream is a skin-renewing moisturizer that fights the signs of aging and promotes healthy-looking skin. It features prebiotic ingredients that enhance healthy microbiome levels to plump the skin.
The formula contains a blend of 11 antioxidants that protect the skin against environmental aggressors. It is enriched with peptides that reduce the appearance of wrinkles and fine lines, while vitamin C brightens the skin and evens out the skin tone. This face cream also contains hyaluronic acid and lipid technology that intensely hydrate the skin and restore its natural barrier.
Key Ingredients: Acetyl tetrapeptide-2, Palmitoyl hexapeptide-14, Alpha-glucan oligosaccharide, THD ascorbate (vitamin C), Hyaluronic acid, and Antioxidant blend
Pros
Lightweight
Brightens the skin
For daily use
Blends well
For all skin types
Cons
The Skin Plumping Gel Cream from Hada Labo Tokyo has a luxurious gel-like formula that deeply hydrates and moisturizes the skin to prevent aging. The highly concentrated blend contains super hyaluronic acid that delivers lasting moisturization to plump the skin and keep wrinkles and fine lines at bay.
This gel-cream has a clinically proven formula that softens and nourishes the skin by restoring elasticity and adding bounce. The formula contains three types of hyaluronic acid and collagen that prevent fine lines and improve skin texture. It also contains arginine, an amino acid that maintains moisture levels, and ceramides that lock moisture into the skin.
Key Ingredients: Hyaluronic acid, Collagen, Arginine, and Ceramides
Pros
Lightweight
Quickly absorbed
Non-greasy
Non-comedogenic
Paraben-free
Dye-free
Mineral oil-free
Fragrance-free
Cons
This advanced overnight cream from Crépe Erase plumps and soothes the skin to make it look younger and radiant. The luxuriously hydrating formula contains a TruFirm Complex, which is a blend of essential poly-nutrients that protect the skin's structure and restore its elasticity. The nourishing hydrators like vitamin E, coconut oil, grapeseed oil, olive oil, and cocoa butter soothe tired-looking skin and make it visibly firmer while reducing wrinkles and fine lines.
Key Ingredients: TruFirm Complex
Pros
Lightweight
Non-greasy
Quickly absorbed
Smells good
Cons
This hydrating sleeping mask from Elemis retains moisture and leaves your skin feeling plump. Its potent formula revives dry, tired skin by preventing moisture loss. This plumping mask contains star arvensis oil, rich in omega 3 fatty acids, that improves the skin's elasticity and prevents dryness. It also contains Indian night jasmine to soothe the skin and peptide 4, rich in amino acids derived from yeast extracts, to revitalize and plump the skin. Other ingredients like night scented stock, sweet orange, and ylang-ylang soothe your senses.
Key Ingredients: Star arvensis, Indian night jasmine, Peptide4, Night scented stock, Ylang ylang, and Sweet orange
Pros
Lightweight
Spreads easily
Paraben-free
Sulfate-free
Phthalate-free
Cons
This emulsion from Ren Clean Skincare instantly hydrates your skin and makes it appear plump and bouncy. The formula contains hyaluronic acid and xylitol that lock in moisture and provide lasting hydration and plumping effects. They also reduce the appearance of wrinkles and fine lines caused due to water loss or dehydration. The carob seed extracts in the formula plumps and smooths your skin, while the ceramide from safflower oil reinforces the skin barrier to prevent moisture loss.
Key Ingredients: Hyaluronic acid, Xylitol, Carob seed extract, and Ceramide
Pros
Lightweight
Vegan
Cruelty-free
Gluten-free
Cons
Why Trust StyleCraze?
Shiboli Chakraborti, the author of this article, is a certified skincare coach who also writes product reviews in the beauty category. Based on the research of user reviews and feedback available on online platforms, she has compiled this list of the best skin plumping products. The above-listed products provide hydration and prevent the early appearance of aging signs like wrinkles and dullness.
Recommended Articles