15 Best Skin Tag Removers You Can Use Easily At Home – 2023
Remove those pesky spots on the skin with high-quality and user-friendly tools.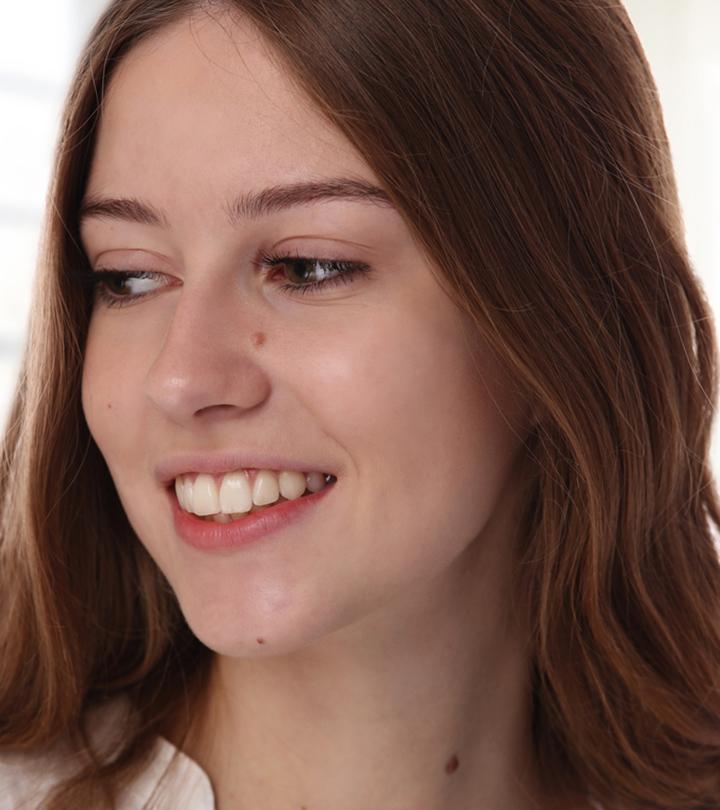 If the skin tags on your face or body have been annoying you, try getting your hands on the best skin tag remover. Skin tags are small painless, skin-colored lumps or growths that commonly occur on your face, neck, armpits, eyelids, or groin area. While harmless, they may seem annoying to many. While these can be removed through homeopathic treatments or the cryo-freeze method, a high-quality skin tag remover can also help get it removed easier and faster. To help you get that evenly clear skin, we have shortlisted the 15 best skin tag removers to make it easier for you!
15 Best Skin Tag Removers
The Tag Band Skin Tag Removal Device is designed to work fast in removing skin tags. It delivers permanent results with just one use. The user manual is easy to understand and guides you through the procedure. It works best on skin tags that are 4 to 6 mm wide. You get small, white-colored bands that you push on the tip of the pen and roll it towards the base. You have to place the TagBand remover onto the cone and push it to its bottom. You position the hollow side or the base of the cone over the skin tag. Push the remover towards the skin tag and pull the cone to release the band on the skin tag. The band cuts off the blood supply to the skin tag. After a few days, the skin tag will fall off without causing you any pain.
Pros
Works fast
Easy to use
User manual with instructions provided
Affordable
Effective
Cons
Price at the time of publication: $22.99
The Compound W Freeze Off Remover works well on plantar warts. The ultra-precision applicator tip adjusts the area of contact to freeze warts. Salicylic acid helps the wart peel off gradually over 10-14 days. Apply gentle pressure to the applicator tip for 40 seconds to remove the wart without leaving scars. This product is dermatologically tested and is both safe and simple to use.
Pros
Works immediately
Efficient and safe
Does not leave scars
Skin-friendly formula
Cons
May cause allergic reactions
Price at the time of publication: $13.12
The Dr. Scholl's Clear Away Wart Remover is a fast-acting liquid that eliminates common warts. It contains 17% salicylic acid, which dissolves wart tissue, causing it to relax and fall off. This skin tag remover eases discomfort, conceals discs, and preserves the skin while treating the wart. Allow each wart to dry after applying one drop at a time using an applicator. Use it once or twice daily as needed for up to 12 weeks. This treatment is perfect for fingers and toes; it has been dermatologically evaluated and is entirely safe for use.
Pros
Affordable
Safe and effective
Fast-acting
Safe for children
Cons
Not suitable for the entire body
Price at the time of publication: $11.49
Try the Skin Clinic Freeze 'n Clear and see how quickly and effectively it works after a single treatment. Unlike dome-style freezing treatments, which do not reach crucial treatment temperatures, this product achieves the ideal temperature for eradicating resistant warts. The set includes two highly precise applicators that gently target troublesome warts with medical-grade cryo-treatment. This product does not hurt or blister healthy skin.
Pros
Doctors' choice
2 sizes for safe freezing
Value for money
Long-lasting
Cons
None
Price at the time of publication: $17.99
The Dr. Scholl's Freeze Away MAX Wart Remover is a medical device that easily removes regular and heel warts. The precise spray of chilling gas freezes the wart down to the core. Spray for ten to fifteen seconds while slowly pushing your thumb down on the can. It provides long-term benefits with a single application. However, do not use this device in sensitive places like the eyes.
Pros
Fast action
Suitable for the entire body
Safe for children
Precision spray for direct freezing
Dermatologically tested
Cons
None
Price at the time of publication: $16.19
The Boiron Thuja Occidentalis Wart Removal Medicine is a painless method of removing regular warts on the body or plantar warts on the heels. It contains an organic active ingredient, white cedar, for pain-free wart removal. This medication is prepared with high-quality ingredients and environmentally friendly techniques, with no added sugars, tastes, colors, or preservatives. Instead of using messy liquids or patches to remove warts, this product provides an oral alternative. The unflavored pills melt in the mouth without water, making them suitable for children, teenagers, and adults.
Pros
Natural ingredients
Pain-free removal
Suitable for all skin types
Safe for children
Cons
None
Price at the time of publication: $6.98
The Neatcell Cordless Blue Light Pen is an efficient and powerful tool for removing skin tags. This pen features a small pulse width and produces little heat. It includes nine light output speed levels and four light intensity levels that may be tuned arbitrarily. It comes with glasses and can be charged through USB. This cordless tool is lightweight and portable, making it ideal for at-home use.
Pros
Safe and easy to use
Cordless
Rechargeable
Cons
Price at the time of publication: $139.99
The Forces Of Nature Organic Wart treatment is a strong and safe way to get rid of warts, leaving behind fresh, smooth skin. It is suitable for warts on the fingers, cheeks, feet, and body. This organic product contains thuja, tea tree, thyme, lemon, and natural ingredients that sink deep into the skin, eliminating warts and restoring skin tissue to its normal color. Use a wet cotton swab, and dab directly on warts thrice daily. This approach is simple to apply, effective, safe, and suitable for everyone.
Pros
Painless removal
Non-scarring
Vegan
Contains natural ingredients
Acid-free
Cons
May cause irritation to those allergic to essential oils
Price at the time of publication: $24.32
The Pristine Herbal Touch Wart & Mole Vanish removes two to five large skin outgrowths or five to twenty-five smaller skin outgrowths. The formula contains active ingredients from lemon, cashew plant, and fig plant. The formula works for all skin types and is safe to use on the body and face. It comes with cotton swabs, applicator sticks, anti-bacterial solutions, WMV bottle, and a wart/mole vanish cream. A user manual is provided to guide the users on how to use this kit to remove skin tags, warts, and moles. Twenty minutes of application is recommended. 
Pros
Removes 2-5 large growths or 5-25 smaller skin growths
Works for all skin types
Safe to use on the body and face
Cons
Expensive
May cause scars that may take two to three months to fade away
Contains talc
Price at the time of publication: $84.99
AMZGIRL Skin Tag Remover is a portable pen that effectively removes skin tags, warts, dark spots, nevus, tattoos, and moles. It offers 9 adjustable strength modes to give you an easy and painless experience for different skin issues. It comes with one big and one small needle to effectively remove small or large spots/ tags and also has a spotlight for precise removal. Additionally, the rechargeable pen has a LED display of strength mode, making it convenient for use and travel.
Pros
Rechargeable
Portable
Comes with additional needles
Offers 9 strength modes
Versatile for different skin concerns
Cons
The Compound W Skin Tag Removal is a DIY skin tag removing device that removes skin tags without harming the surrounding skin tissue. The TagTarget adheres lightly to the surrounding healthy skin, protecting it from scarring. The foam-tip applicator is pressed on the skin tag. You may apply light pressure on the applicator tip and hold it in place for forty seconds. It removes the skin tag without causing any scarring. You may feel a slight tingling sensation.
Pros
Does not harm the surrounding skin
Does not cause scarring
Works fast
Effective and safe
It can be used on the body and face
Cons
Price at the time of publication: $44.9
The SkinPro Skin Tag Remover &Mole Corrector is infused with medical-grade 17% salicylic acid. It is among the fastest-acting skin tag and mole removers. The bottle contains an ultra fiber brush applicator. Applying this solution twice a day helps dry out the skin tag. The tag then falls off naturally in twelve weeks without causing any pain. The tea tree oil in the solution helps reduce skin redness and swelling. The solution is easy to use, does not cause scarring, and works on flat moles a well.
Pros
Contains tea tree oil for better results
Contains an ultra fiber brush applicator
Fast-acting skin tag and flat mole remover
Painless
Works on body and face
Reduces skin redness and swelling
Cons
Not suitable for people with sensitive skin
Price at the time of publication: $30.97
The Meoly Skin Tag Removal Kit includes 1 band applicator, 1 band remover cone, 12 cleansing wipes, 24 micro bands, 36 skin repair patches. It is suitable for tags measuring 2mm-6mm in size. It also includes a manual to guide you through the process easily and painlessly. It is suitable to be used on all body and facial areas except for the sensitive eye. The Kit claims to remove skin tags in 7-15 days.
Pros
User-friendly
Easy and safe to use
Comes with a manual
Painless
No scarring
Cons
Price at the time of publication: $16.99
The Tagrid Skin Tag Remover Cream is a gentle and safe formula made with all-natural ingredients. This easy-to-use formula is a perfect home solution to remove skin tags, moles, spots, warts, and nevus. This effective cream targets the root of the skin tag and removes it in just 2-3 weeks. This formula is also safe to use on children above six years of age.
Pros
Made with natural ingredients
Safe and gentle
Quick results in 2-3 weeks
Safe to use on children
Cons
None
Price at the time of publication: $19.99
Dr. King's Natural Medicine Skin Tag Remover is a homeopathic topical skin tag remover. It is natural, gentle, and safe. It does not cause any scarring or pain. The brush applicator in the kit makes the application of the tag remover easy.  The remover is safe for sensitive skin. It works by drying the skin tag. The skin tag falls off in a few days. The cedar leaf oil heals and smoothens the skin.
Pros
It is natural, gentle, and safe.
It does not cause any scarring or pain.
Comes with a brush applicator
It is safe for sensitive skin.
Cedar leaf oil heals the skin tag lesions and smoothens the skin.
Cons
May be too slow to work on larger skin tags
Price at the time of publication: $15.95
The best way to remove skin tags without expensive surgeries, or painful methods, is to invest in quick, safe, and effective skin tag removing products. There are many skin tag removers in the market from creams to needle removal devices and serums that instantly remove your tags, making it hard to pick the right one. For your convenience, here's a buying guide to help choose the best skin tag removers that you can use at home.
How To Choose The Best Skin Tag Removers For Use At Home
1. Types Of Treatment
There are different types of skin tag products in the market ranging from topical creams to repair patches, medical grade serums, rechargeable plan, and even DIY kits. Choose the right one based on your preference:
Topical Creams: Topical cream tag removing formulas, effectively help remove skin tags, spots, moles, warts, and even nevus. They are either chemical-based or made with natural ingredients, and can clear the tags in just 2 to 3 weeks.
Tag Removal Kit: Tag removal kits often consist of repair patches and a remover band. These kits work by removing the skin tag in a six step process, without leaving behind any scars or causing irritation. The bands slowly dry out the skin tag by stopping blood supply, while repair patches heal the scar quickly.
Tag Removal Pen: A tag removal pen comes with different adjustable strands, and an LED display for effective removal of skin tags and dark spots. It comes with multiple precise needles that effectively remove skin tags, instantly and painlessly.
Medical Grade Treatment: Medical grade skin tag removal treatments contain formulas with tea tree oil, alcohol, or salicylic acid. This treatment targets the root cause of stubborn skin tags, and safely removes them within 12 days.
2. Size
It is vital that you consider the size of your skin tag before choosing a skin tag remover. Smaller tags can be easily removed at home with any of the products mentioned above, but if you have larger skin tags you must undergo a surgery or get it removed by a dermatologist.
3. Skin Type
When going for topical formulas or serum treatments, go for a gentle and skin safe formula with all natural ingredients, especially if you have sensitive or eczema prone skin.
These are the fifteen skin tag removing products. But is a skin tag remover necessary? Let us find out. 
Is A Skin Tag Remover Necessary?
A skin tag remover could be necessary if the skin tag is bothering you. Certain skin tags are large or could be on the face or neck. These could be annoying. A skin tag remover serves as an effective, quick, and inexpensive way of removing such tags.
In the following section, we have listed the factors you need to check for before purchasing a skin tag remover.
Tips To Choose The Right Product
Size – Depending on the size of the skin tag, choose a product that can effectively remove it. Larger skin tags may need to be removed by a dermatologist.
Preference – Do you want an ointment, a skin tag removing band, or a cryo-freeze device? Ointments can be applied topically. The other types of skin tag removers may cause a slight tingling sensation.
Healing Time-While some skin tag removers take seven days to remove the tags, others take about three weeks. Choose a skin tag remover based on this need.
Why Trust StyleCraze?
The author, Oyendrila Kanjilal, is a certified skin care coach. With her in-depth knowledge and expertise in this domain and studying a big pool of user feedback, she has created this list of best skin tag removers to help you get rid of those annoying skin tags. These products are easy to use, durable, affordable, and work effectively and painlessly.
Frequently Asked Questions
Does a wart remover work on removing skin tags?
Yes, wart removers may work on skin tags.
Can you remove skin tags at home?
Yes, you can remove skin tags at home. Use any one of the products mentioned above to get rid of skin tags safely and quickly at home.
How do I remove a skin tag?
You may use a device with cryo-freeze technology, physical bands, or homeopathic topical creams to remove skin tags at home. However, you may also opt for surgery. The method you adopt depends on the severity of your skin tags.
Can skin tags grow back? If yes, how can I stop that from happening?
Skin tags usually may grow in areas with a higher chance of skin chafing – armpits, inner thighs, under the breasts, etc. However, once a skin tag is removed, it may not grow back. But the evidence is limited in this aspect. Consult your doctor.
What causes skin tags?
A skin tag results from skin friction caused by either skin folds in obese people or clothes. Also, hormonal changes can trigger skin tags in pregnant women. Older people with type 2 diabetes are more likely to develop skin tags.
Is skin tag remover the same as wart remover?
No, skin tag removers cannot be used to treat warts.
Does over-the-counter skin tag removal work?
Yes, OTC skin tag removers help treat skin tags effectively and safely.
How to use a skin tag remover?
•  Clean the skin around the tag.
•  Carefully place the remover solution on the targeted spot.
•  Wipe off the solution after two minutes.
•  If the skin turns red, the procedure is successful.
•  Continue this for the next couple of days.
•  The red spot will darken and get dissolved in a week.
Recommended Articles