16 Best Skin Tightening Creams That You Must Try In 2023
Restore your skin's firmness by preventing sagging with these affordable creams. As you age, you see a lot of changes in your skin. Most people brush them off, thinking they cannot be reversed. But, what if we told you that you can restore your skin's natural firmness? Some of the best skin tightening creams on the market can do this miracle for you. Be it wrinkles, fine lines, sagging, or crepey skin – you can use these creams to reverse these signs of aging. These are anti-cellulite, anti-wrinkle, and anti-marks creams formulated to make you look more confident and young. We know age is just a number, and these marks are just signs that come along with it. But if you have not used a skin tightening cream before and are clueless about choosing one that suits you, you have reached the right place. We can help you.
This article lists the best 15 skin tightening creams that can help you regain your youthful and radiant skin. Keep scrolling to check them out!
Top 16 Best Skin Tightening Creams To Fight Cellulite And Wrinkled Skin
Pros
Tones skin
Firms the cellulite
Repairs cracked skin
Eliminates skin-damaging bacteria
Prevents and heals UV damages
Plant-based and cruelty-free
Suitable to use from head to toe
Cons
It may not show results instantly.
Price at the time of publication: $9.95
Pros
Improves skin's texture
Leaves skin firmer and smooth
Hydrates and nourishes instantly
Suitable for maturing and aging skin
Cons
Price at the time of publication: $12.0
Pros
Cruelty-free
Fragrance-free
Non-comedogenic
Clinically-proven
Suitable for sensitive skin
No synthetic colors
Refreshing formula
Cons
None
Price at the time of publication: $59
Don't sulk over baggy skin; reshape, firm, and tighten it with this collagen, chamomile, and aloe vera blend. Yep, this full-body cream does not joke when it claims to leave your skin smoother, supple, and silky soft. And given how intense hydration is IMP to keep your skin fresh and younger-looking, this cream will boost the levels up to 88%! Many reviewers have mentioned that this cream provides extreme hydration and may give you visible results in 30 days. Also, are you dealing with stretch marks, scars, or sun damages? Then consider the skin tightening body cream to take care of your body!
Pros
Vegan and cruelty-free
Restores natural glow and softness
Tightens loose jowls and eases the crease
Repairs cracked heels and fades discoloration
Improves skin elasticity and eliminates cellulite
Combats fine lines, skin dimples and wrinkles
Paraben-free, sulfate-free, alcohol-free, and more
Cons
Thick consistency and may not absorb quickly
Price at the time of publication: $15.99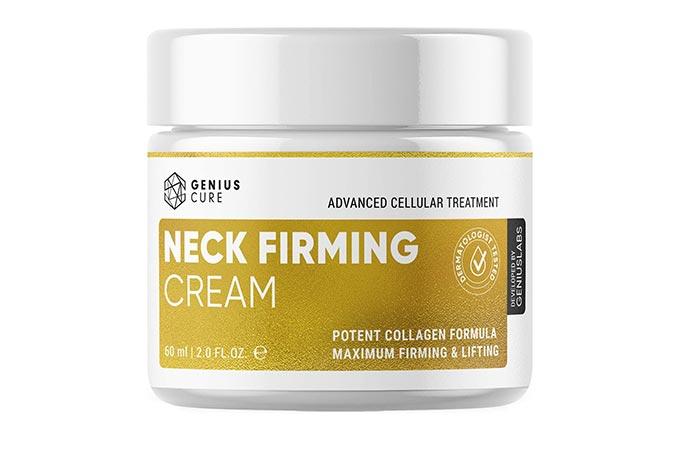 Calling this one a genius won't be wrong, for it claims to be the double chin reducer! Also, consider the necklines, crepe skin discoloration, and loose skin tightened and repaired— all thanks to the skin-benefiting formula. Packed with potent collagen, a blend of peptides, plant extracts, and advanced anti-aging ingredients, it ensures visible improvement. Yep, ready to witness your timeless glow again? This peptide-rich cream also moisturizes and hydrates intensely to eliminate creases, improves skin tone, and combats wrinkles and fine lines. Try it!
Pros
Slows down aging signs
Ensures maximum lifting and firmness
Brightens skin, promotes elastin, and improves elasticity
Stimulates skin renewal, encourages collagen, and soothes dryness
Ideal for neck skin folds, sagging, and decolletage area
Cruelty-free, non-GMO, and fragrance-free
Paraben-free, sulfate-free, and gluten-free
Suitable for everyone and all skin types
Cons
This season, go crepe-less with the best! Why let your skin give away your age when you can restore the firmness with this organic treatment? Sometimes lack of moisture and hydration can accelerate dryness, dullness, and aging signs too. So, what the crepey skin on your arms, neck area, or body needs is intense nourishment to revive and tighten again. And this clinically-backed skincare formula with hyaluronic acid and antioxidants promises the same— it diminishes wrinkles, smoothens crepe skin, and improves elasticity with every use. Still, want to miss it?
Pros
All-natural ingredients
Minimizes wrinkles
Hydrates intensely
Leaves skin plump and healthier
Ensures tighter skin around neck and arms
Cons
Not suitable if you are sensitive to smell
Price at the time of publication: $35.45
Let's banish the turkey neck, shall we? Blissava Neck Firming Cream with jojoba oil, hyaluronic acid, glycolic acid, vitamin C, green tea extract, royal jelly, and more will make your skin glow with youthfulness. And the best part is, it guarantees long-lasting effects and is not tested on animals! So, whether you are dealing with crepe skin, wrinkles, necklines, sagging skin, double chin, or any other stubborn aging signs, Blissava will fight it all for you. Worth a try, isn't it?
Pros
All-natural formula
Ideal for men and women
Cruelty-free and free from harsh chemicals
Slows down early signs of aging
Boosts collagen and elastin, and improves elasticity
Hydrates intensely and repairs damaged areas
Smoothens and tightens chest area, leg, elbow, and more
Suitable to use for neck and decolletage regions
Cons
Not suitable if you prefer fragrance-free products
Price at the time of publication: $24.95
How about battling aging signs with aromatic therapy? A great option for those who fancy massage oils, this one is a little different as it fights aging signs and reduces cellulite too! Packed with all-natural ingredients such as lemon peel, grape seeds, eucalyptus leaf, and mineral oil, this massage oil will relax your mind and tackle cellulite on thighs, belly, and other areas. So, if you are looking for an all-natural belly skin tightening cream, this option will be ideal. If you are still unsure about this skin tightening cream from HoneyBull, you can check this personal review video of a tester's experience.
Pros
No burning sensation
Improves elasticity
Leaves skin soft and plump
Tightens and smoothes skin
Moisturizes, hydrates, and nourishes intensely
Minimizes appearances of wrinkles and fine lines
Cons
May take longer to reduce cellulite
Price at the time of publication: $5.99
Sometimes manual massage may not be enough to ease the fine lines and wrinkles, which is why you need this ultra-relaxing tool. Offering the benefits of a professional massage, it not only improves elasticity but accelerates cream absorption too. Packed with skin-benefiting plant extracts, a few moments with this V-shaped tool can help repair dull skin, neck fold, double chin, discoloration, creasy and flabby skin too. Besides this, it contains elastin and collagen as well to rejuvenate and tighten skin with every use. Do not skip it!
Pros
99% all-natural ingredients
Good skin rejuvenation
Nourishes and moisturizes intensely
Brightens and repairs crepe skin
Relaxes, smoothens, and refreshes skin
Ideal to use on the forehead, nasolabial folds, and other neck areas
Suitable for everyone and all skin types
Cons
May take longer to show results
Price at the time of publication: $15.99
Treat your concerns of saggy neck and double chin with the Pharma Pulse Neck Firming Cream. This cream effectively reduces aging signs while nourishing and moisturizing your skin. It is packed with retinol, nourishing oils, and collagen to effectively reduce wrinkles, sculpt the jawline, and tone the neck skin. The cream penetrates into the skin tissues and renews the cells to make your crepey skin firm and toned.
Pros
Lightweight
Designed by medical experts
Suitable for sensitive skin
Targets crepey skin
Unisex product
Cons
Takes time to show results
Price at the time of publication: $18.98
Our neck and decolletage area is among the first areas to show signs of aging. The Si Doux Neck Firming Cream tones the skin by promoting cellular renewal to make it firmer. It contains keratin-boosting Niacinamide that helps to tighten the skin, while jojoba oil and hyaluronic acid plumps the facial skin and restores elasticity. Retinol, peptides, and collagen present in the cream deeply nourishes and improves skin metabolism to make it supple and youthful. Moreover, it claims to reduce wrinkles by stopping the nerve signals that cause the muscle contraptions to form wrinkles and lines.
Pros
Suitable for all skin types
Fragrance-free
Silicone-free
SLS/SLES-free
Paraben-free
Cruelty-free
Mineral oil-free
Cons
None
Price at the time of publication: $18.99
Pros
Transdermal cream
Converts fat to energy
Ensures dimple-free skin
Penetrates deep and enhances the skin's texture
Restores collagen and improves elasticity
Fills in uneven tissues on biceps, abs, thighs, and more
Suitable for men and women
Cons
Not suitable for sensitive skin
Price at the time of publication: $39.99
Improve your skin texture with the Fitwell Lipoxy Derm Firming and Defining Lotion. It is formulated with 7 powerful skin-firming ingredients that minimize the appearance of stretch marks, stubborn cellulite, and tightens your skin to make you look youthful. You can now stop worrying about the loose skin after the birth of your baby. The scientifically-backed ingredients such as gotu kola, caffeine, aminophylline, glycolic acid, yohimbe, etc, boosts collagen, increases blood flow to specific parts, and breaks down fatty deposits to give you a clarified and firm skin tone. Additionally, this cream helps athletes to get a toned look to flaunt in professional competitions.
Pros
Fragrance-free
Non-greasy
Non-tingle
Suitable for sensitive skin
Unisex
Cons
Price at the time of publication: $59.95
Pros
Lightweight
Improves surface texture
Long-lasting hydration
Makes skin radiant and smooth
Absorbed quickly
Cons
Price at the time of publication: $88.0
Here's a moisturizer for dry and mature skin that can fight aging signs too. Wear it alone or wear it under makeup, its all-natural, organic, and vitamin C blend promises a visible glow up with the power of 4! It diminishes dark spots, moisturizes intensely, tightens skin, and smoothes wrinkles, all in one go. A great option to reduce sunspots, this hyperpigmentation treatment. This vitamin C cream for the face will be a great addition to your skincare routine. Try it!
Pros
Vegan and cruelty-free
Lightweight and absorbs quickly
Improves skin's texture and tone
Reduces blemishes and minimizes scar spots
Non-greasy and hydrates intensely
Suitable organic skin tightening cream for face and neck regions
Not tested on animals
Free from sulfate, parabens, alcohols, gluten, and more
Cons
Price at the time of publication: $29.97
Pros
Lifts and tones skin
Improves elasticity and texture
Hydrates and protects intensely
Heals and stimulates cell renewal
Minimizes the appearance of crepe and fine lines
Boosts collagen and skin's hyaluronic acid to reduce wrinkles
Suitable for everyone and all skin types
Cons
Changes may show up gradually
Price at the time of publication: $12.99
Still, want to accept those fine lines and wrinkles now? There you go; those were the 15 best skin tightening treatments that you must try in 2021.
Dr. Ahmad Fayyaz Chaudhry, house physician, Medical Unit 3 Allied Hospital, Faisalabad, opines, "Skin tightening cream can help improve the appearance of loose, sagging skin. When applied correctly, the cream can help lift and firm the skin, giving you a more youthful appearance. To apply the cream, start by cleansing your face with a gentle cleanser. Then, apply a small amount of cream using light circular motions with the help of your fingertips. Once the cream has been evenly applied, massage it into your skin using upward strokes. Allow the cream to sit on your skin for several minutes before rinsing it off with lukewarm water. For best results, use skin tightening cream on a daily basis. With regular use, you should start to see a noticeable difference in the appearance of your skin within a few weeks."
Do you need more assistance with choosing the right skin tightening cream or wondering how to use it? We've explained it all in the buying guide below.
Buying Guide:
Look out for the following features in the product before buying it:
Skin type: Mature skin users do not forget to prioritize skin type while choosing the cream. A skin tightening cream for dry skin may not show fruitful results on oily skin and vice versa.
Boost hydration: When your skin loses moisture, it turns dull, dry, and begins to sag or lose its elasticity. Hence, hydration is indispensable when it comes to keeping your skin supple, firm, and younger-looking always.
Skin tightening formula: Inspect the ingredients and techniques used to formulate the cream and also if it has skin tightening benefits. You can look for video and website reviews that describe the consistency and formula of the product.
Boost Collagen & Elastin: Either pick a cream with infused collagen or the one that will boost collagen and elastin production as they both help in cell renewal and fighting aging signs.
Anti-wrinkle, anti-crepe, and anti-cellulite: Pick a skin tightening cream that ensures anti-wrinkle, anti-cellulite, and anti-crepe skin benefits for the best experience. You can check some tester's experience videos to properly understand how the cream works.
Easy! Take a pea size amount and gently massage it on the problematic area until it has absorbed completely. Although it may differ from cream to cream, it is ideal that you massage the cream on the skin by gently tugging the skin upwards to help with the lifting and firming process.
With that, we bet you are on the way to restore your youthful glow!
Why Trust StyleCraze?
Krati Darak, the author of this article, is a skin care enthusiast. She browsed hundreds of reviews and checked various trusted online forums to learn more about the products recommended in this article. She also conducted deep research about skin care products to provide you with the best skin tightening creams. These products minimize the visibility of aging signs, make your skin firmer, and repair cracked skin.
Frequently Asked Questions
Do skin tightening creams work?
Yes, absolutely! Skin tightening creams tackle aging signs like crepey, sagging, and wrinkled skin to leave a healthy, firm, and supple glow.
Is skin tightening cream safe?
Yes, skin tightening creams are absolutely safe and intensely nourishing too. Pick the one that suits your skin type and condition for the best experience.
Can a cream tighten loose skin?
Yes, a skin tightening cream can make loose and sagging skin appear firmer and smooth after constant use. For example, Genius Cure Neck Firming Cream is best known for tightening loose skin.
Does lotion make your skin tighter?
Shrink Toning Lotion can make your skin appear tighter, smoother, and cellulite-free with every use. Try it to witness the difference!
Does coconut oil tighten skin?
Though coconut oil has skin tightening properties, it may take ages to show desired results. Hence, you can use skin tightening cream infused with coconut oil such as the Estetist Firming Neck Cream for the best experience.