The 9 Best Skin Care Products For Women Over 50 – 2023
Bring your glow back with these effective products meant exclusively for mature skin.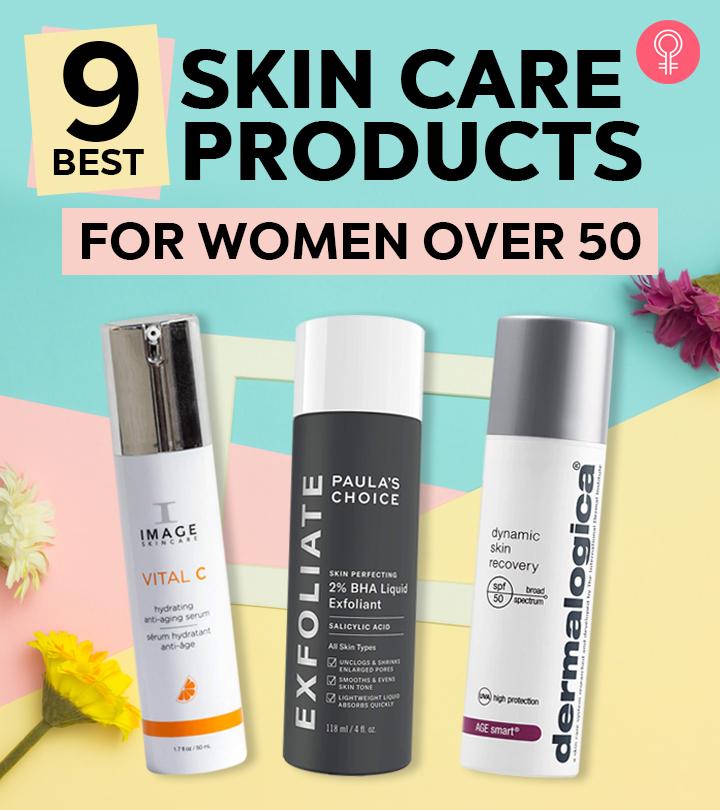 As you age and reach around the age of 50, your skin demands more care. All your skin-related issues change – your focus shifts to reducing the aging signs and bringing back the youthful resilience and glow you once had. For that, you need to switch to the best skin care products for women over 50. These products are specially formulated for this age group to help them regain suppleness and a youthful look.
During menopause, women experience several changes in their skin texture due to a reduction in estrogen levels and other hormonal changes. It results in the loss of collagen and moisture in the skin. So, it is best to maintain regular skin care practices to manage sagging skin, fine lines, and wrinkles. Here, we have curated a list of the 9 best skin care products for women over 50. Check them out!
9 Best Skin Care Products Women Over 50
Paula's Choice Skin Perfecting 2% BHA Liquid Exfoliant improves the skin resilience and texture to give you radiant and even-toned skin for visible results. Salicylic acid (BHA) stimulates the natural exfoliation process of the skin by shedding the layer of dead skin cells and unclogging the pores. This exfoliator must be included in your over-50 skin care routine as it diminishes enlarged pores, smoothens out wrinkles, and brightens and evens out the skin tone. It also helps tackle other skin concerns like breakouts and fine lines. This scientifically-formulated leave-on exfoliant also hydrates the skin and makes it soft and supple. Check out this honest review on YouTube for a better understanding of the Paula's Choice Skin Perfecting 2% BHA Liquid Exfoliant.
Pros
Suitable for all skin types.
Reduces wrinkles
Shrinks pores
Reduces blackheads
Non-abrasive
Evens out the skin tone
Brightens the skin
Moisturizes and rejuvenates the skin
Soothes redness and skin irritation
Fragrance-free
Paraben-free
Affordable
Cons
Price at the time of publication: $34.0
The DONGINBI Red Ginseng kit has everything you need for smooth, silky, and wonderfully radiant skin. It is made from Korean red ginseng water and vinegar. It helps to calm the skin for optimum oil and water balance, boosting skin moisturization and smoothness. It also aids in the reduction of skin irritation, itching, and loss of skin suppleness. Red ginseng water instantly reduces fine wrinkles and moisturizes dry, dehydrated skin, while Moist Cera RGTM provides your skin with a healthy, bright appearance. It aids in the prevention of wrinkles and is not tested on animals.
Pros
Moisturizing and nourishing
Reduces wrinkles and fine lines
Repairs the skin
Cruelty-free
Sulphate-free
Suitable for all skin types
Cons
Expensive
Price at the time of publication: $109.99
If you are struggling with dry and dehydrated skin, try the WOW Skin Science Hyaluronic Acid Water Gel to revive your skin's natural moisture and radiance. It is a dermatologically-tested, lightweight cream enriched with hyaluronic acid to deliver and lock in hydration. Additionally, hyaluronic acid stimulates collagen production, which is especially beneficial for individuals over 50 who experience declining collagen levels due to factors like age and sleep deprivation. In addition, it has pro-vitamin B5 and vitamin E to stimulate cell renewal and fade dark spots. The formula also protects against free radicals and pollutants that cause aging.
Pros
Ultra-moisturizing
Quick- absorbing
Lightweight
Non-greasy
Pleasant fragrance
Paraben-free
Silicone-free
Mineral oil-free
Color-free
No synthetic fragrance
Cons
None
Price at the time of publication: $12.95
Image Skincare's Vital C Hydrating Anti-Aging Serum smoothens wrinkles, replenishes collagen levels, and shields the skin against sun or pollution damage to deliver visible results. The clinically-backed skincare product contains algae extract that helps in tightening the skin, while hyaluronic acid binds moisture to the skin to create an intense plumping effect. Vitamin C has the highest bioavailability, and vitamins A and E retain the skin's radiance and combat the visible signs of stress and fatigue. For a quick reviewer's experience of the Image Skincare Vital C Hydrating Anti-Aging Serum, go ahead and check out this video.
Pros
Reduces the wrinkles and fine lines
Prevents sun damage
Hydrates the skin
Makes the skin firm and supple
Suitable for all skin types
Safe for acne-prone and sensitive skin
Reasonably priced
Pleasant fragrance
Cons
The pump dispenses more quantity than required
Price at the time of publication: $63.2
Forget dull skin, uneven skin tone, and dark spots once you use the TruSkin Vitamin C Facial Serum. The formula combines vitamins C and E, hyaluronic acid, and MSM, boosting collagen synthesis and brightening the skin. It uses an effective and mild form of vitamin C, sodium ascorbyl phosphate, to fight signs of aging and hyperpigmentation. The mix of hyaluronic acid and MSM imparts radiance and nourishes your skin. Additionally, vitamin E helps prevent free radical damage. It is best to use it as part of your morning routine along with sunscreen for skin tone improvement. It is not tested on animals and according to reviewers, offers visible results.
Pros
Reduces wrinkles
Scientifically formulated
Brightens skin
Dermatologist-tested
Vegan
Paraben-free
PEG-free
Sulfate-free
Cruelty-free
Phthalate-free
Cons
None

Price at the time of publication: $38.99
Physical exfoliation has never been easier and gentler with the M3 Naturals Himalayan Salt Body Scrub. This multi-purpose gentle formula functions as a body, hand, face, or foot scrub and is not tested on animals. It is enriched with antioxidants and lychee oil that adds moisture, balances skin pH, and instantly whisks away dead skin cells. The scrub is also infused with stem cells and collagen that boost skin cell renewal and natural collagen synthesis to minimize signs of aging. Regular use can reduce the appearance of cellulite, acne, blackheads, stretch marks, dark spots, age spots, spider veins, and shaving bumps.
Pros
Softens skin
Melts into the skin
Non abrasive
Pleasant fragrance
Non-greasy
All natural ingredients
Antioxidant-rich
pH balanced
Cruelty-free
Cons
None
Price at the time of publication: $26.61
Dermalogica Dynamic Skin Recovery SPF 50 is a professional-grade and clinically-proven moisturizer that helps in combating the signs of skin aging. It helps in minimizing skin-aging triggers and neutralizing free radicals to protect your skin from the harmful UV rays. The unique polypeptide present in this emollient moisturizer helps in boosting collagen production. This amazing "over-50" skin care product is not tested on animals, and provides long-lasting hydration along with smooth blending for a perfect finish.
Pros
Broad-spectrum SPF 50
Hydrates the skin
Reduces fine lines
Boosts collagen production
Suitable for all skin types
Vegan
Cruelty-free
Paraben-free
Gluten-free
Affordable
Works well as a primer under makeup
Cons
Unsatisfactory quantity
Greasy finish
Price at the time of publication: $22.5
The BEAUTY JLO The JLo Starter Kit is a moisturizing, brightening, and tightening trio with a full-size JLo Beauty eye cream, small serum, and hydrating cream for an all-day glow. It contains tri-fermented essence, which combines three bioactive fermentations to brighten, tighten, and balance out skin tone noticeably. The patented peptides diminish fine lines and wrinkles while lifting the skin and restoring elasticity, while hyaluronic acid gives long-lasting moisture for plumped, dewy skin. The trio kit is dermatologist-tested to be safe for all skin types and offers clinically-proven results.
Pros
Long-lasting hydration
Cruelty-free
Natural ingredients
Visibly lifts and tightens skin
Soothes redness and skin irritation
Cons
None
Price at the time of publication: $69
The ELEMIS Pro-Collagen Marine Cream SPF 30 is an ultra-light anti-aging cream with sun protection benefits. It is clinically proven and infused with potent brown algae, padina pavonica, which offers deep hydration, and green microalgae, called chlorella, which boosts skin firmness and nourishment. This age-defying day cream also contains a plant-based active, ginkgo biloba, that provides antioxidant benefits. When used daily in the morning, it can even out the skin tone and protect it from environmental stressors.
Pros
SPF 30
Lightweight
Smoothes skin
Non-greasy
Highly nourishing
Absorbs quickly
Cons
In this age of beauty influencers, it is far easier to just go along with the crowd and pick skincare products that have a dedicated fan base than to try to figure out which ones would work best for us individually. But that isn't always the smartest option. There is no one-size-fits-all approach to skin care. So, keep the following pointers in mind before investing in a skincare product.
What To Look For When Buying Skin Care Products If You Are Over 50
Since your skin starts to age after 30, it is important to test and go for products that will keep wrinkles and fine lines in control. Also, aging skin starts to get drier, so look at products that have deeply hydrating ingredients.
Those with acne-prone or sensitive skin need to be especially wary of the substances in skincare products. Those of us who have oily skin have a lot of choices. When applied to oily skin, many compounds that might cause breakouts or irritation on dry or normal skin are tolerated without issue. A trip to the dermatologist might help you determine your skin type if you are unsure. After learning more about one's skin type, one may begin making more informed product selections.
Avoid products with paraben and other harmful chemicals. Any damage to the skin at 50 will be hard to repair, so stick to basic ingredients. Always go for a non-comedogenic and non-irritating formula if you are prone to breakouts or have sensitive skin.
If you want to give your skin an extra boost, go for creams that contain ingredients including vitamin C or hyaluronic acid to enhance collagen production.
If you have issues like blackheads, dullness, dark circles, puffiness, uneven or sagging skin, opt for products especially meant to eradicate these issues. Women over the age of 45 often experience skin redness and irritation. If you are facing these issues, choose a holistic skincare product that will soothe your skin.
In case you have fine lines around the eyelids and eyes, opt for a hydrating and plumping eye cream. The area around the eyes is the most delicate and may need some extra TLC.
Stick to fragrance-free products whenever possible, especially if your skin tends to be dry or sensitive. At 50, women need a lot of hydration for the skin – and the scented ones tend to dry the skin out.
There is nothing as satisfying as a good skin care regimen to ensure the well-being of your skin, especially when you are over 50. It helps keep your skin firm, wrinkle-free, and radiating. By following a simple skin care routine, you can grow old gracefully and beautifully. These 9 anti-aging products for women over 50 are definitely worth investing in. Grab some now to take care of your skin!
Why Trust StyleCraze?
The skin requires special care after 50 to maintain a youthful glow. Shiboli Chakraborti, the author of this article, is a certified skin care coach. After extensive research, she has prepared a list of the best skin care products for women over 50. Shiboli has discussed the ingredients of each product for your quick reference. She has also mentioned the pros and cons of each product to help you find what best suits your skin type.
Frequently Asked Questions
How can I improve my skin at 50?
Here's a comprehensive list of what to include in your skin care routine to keep your skin radiant and promote youthfulness:
Water-based products: Include products that are light, water-based, and extremely hydrating. Water-based products don't clog your pores and lock in moisture.
Ingredients: Pick products with exfoliating acid like salicylic acid, vitamins C, A, or E, hyaluronic acid, and retinol. These ingredients boost the collagen level while controlling fine lines and wrinkles to make your skin look firm and radiant.
Sunscreen: No matter what, you need to include sunscreen in your routine every single day! Get a sunscreen with broad spectrum SPF 30 or higher to ensure that it protects your skin from environmental damage. Sunscreens not only protect your skin from damage but also keep your skin hydrated.
Serums: Serums contain concentrated ingredients that evenly and quickly penetrate deep into your skin. The brightening serums help keep the skin healthy and fight wrinkles and fine lines effectively.
What is the best skin care step for older skin?
Following a thorough skin care routine is essential to maintain the natural radiance, firmness, elasticity, and texture of your skin. Out of all the skin care steps, the most essential one for women over 50 is moisturizing.
What is the best skin care regimen for a 50-year-old woman?
The best skin care routine for a woman over 50 is:
• Cleansing thoroughly
• Moisturizing the skin
• Applying serum
• Using eye cream
• Applying sunscreen
Which face cream is the best for a 50-year-old woman?
The Drunk Elephant A-Passioni Retinol Cream is the best for 50-year-old women. This cream boosts collagen production and makes the skin supple and soft. The cream also reduces the appearance of wrinkles.
Should I use retinol in my 50s?
Yes. Retinol deeply nourishes mature skin and is highly effective in treating wrinkles and fine lines. Retinol also reduces hyperpigmentation and brightens your skin tone.
How often should women over 50 use retinol?
You can use retinol daily on your mature skin, provided you are not sensitive to retinol. Be mindful of the quantity of retinol in the product. A high concentration of retinol can dry mature skin.
What is the best moisturizer cream for 50+ women?
The Derma-nu Miracle Skin Remedies moisturizing cream is the best for 50+ women. It improves skin density and elasticity and boosts collagen production in the skin.
How can I get glowing skin in the 50s?
• Drink at least 1.5 liters of water to hydrate your skin and eliminate the toxins from your system.
• Add lots of vegetables and fruits to your diet for optimum skin nutrition.
• Cleanse and exfoliate your skin. Use gentle cleansers to deep clean your pores and exfoliate the dead skin cells away to retain the natural texture of your skin.
• Use moisturizers and retinol. Moisturizers are essential to nourish your dry mature skin and retinol is helpful in diminishing fine lines and wrinkles.
• Practice massaging your skin. This will lift your skin and increase blood circulation.
Recommended Article