The 9 Best Skin Care Products For Women Over 50 – 2022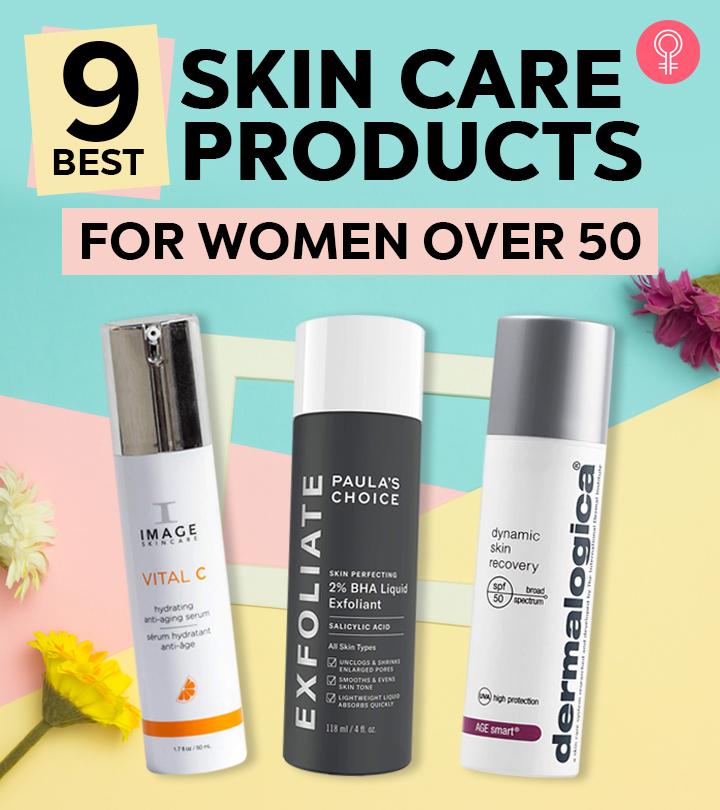 As you age and reach around the age of 50, your skin demands more care. All your skin-related issues change – your focus shifts to reducing the aging signs and bringing back the youthful glow you once had. For, that you need to switch to the best skin care products for women over 50. These products are specially formulated for this age group to help them regain suppleness and a youthful look.
During menopause, women experience several changes in their skin texture due to a reduction in estrogen levels. It results in the loss of collagen and moisture in the skin. So, it is best to maintain regular skin care practices to manage sagging skin, fine lines, and wrinkles. Here, we have curated a list of the 9 best skin care products for women over 50. Check them out!
9 Best Skin Care Products Women Over 50
Paula's Choice Skin Perfecting 2% BHA Liquid Exfoliant improves the skin's texture to give you radiant and even-toned skin. Salicylic acid (BHA) stimulates the natural exfoliation process of the skin by shedding the layer of dead skin cells and unclogging the pores. This exfoliator must be included in your over-50 skin care routine as it diminishes enlarged pores, smoothens out wrinkles, and brightens and evens out the skin tone. It also helps tackle other skin concerns like breakouts and fine lines. This leave-on exfoliant also hydrates the skin and makes it soft and supple. Check out this honest review on YouTube for a better understanding of the Paula's Choice Skin Perfecting 2% BHA Liquid Exfoliant.
Pros
Suitable for all skin types.
Reduces wrinkles
Shrinks pores
Reduces blackheads
Non-abrasive
Evens out the skin tone
Brightens the skin
Moisturizes the skin
Soothes redness and skin irritation
Fragrance-free
Paraben-free
Affordable
Cons
Exfoliating, cleansing, anti-aging, and moisturizing – this 4-piece set by Olay Pro-X is perfect for women over 50. It includes an exfoliating cleanser, a deep wrinkle treatment, a wrinkle and fine line smoothening cream, and an age repair lotion with SPF 30. The entire kit helps in gently exfoliating the skin while cleansing it to make sure that it renews your skin's texture for a youthful, radiant, and supple feel. The Deep Wrinkle Treatment cream is formulated to target specific areas of your face to help it in combating fine lines and wrinkles. The Wrinkle Smoothing Cream hydrates the skin and diminishes wrinkles to leave your skin feeling plump and supple. Finish off your regimen with the age repair lotion to moisturize and protect your skin from harmful UV rays.
Pros
All-in-one skin care kit
Hydrates the skin
Suitable for dry and combination skin
Delivers positive and visible results
Cons
Slightly expensive
Not suitable for oily skin
Estee Lauder Advanced Night Repair Eye Supercharged Complex is renowned for its quick and visible results. This eye cream helps in repairing the visible effect of sleep deprivation, UV damage, pollution impact, and blue light around your eyes. It is clinically proven to heal, brighten, hydrate, and visibly revive the eye area. It locks in moisture and nourishment for 24 hours with hyaluronic acid. The texture of this eye cream is extremely lightweight, silks, and gel crème-like. It does not feel heavy or greasy on the skin. It has an 8-hour antioxidant effect that fights against pollution agents to keep your skin naturally healthy. Check out this video to learn more about the Estee Lauder Advanced Night Repair Eye Supercharged Complex.
Pros
Repairs the skin
Hydrates the skin
Brightens the skin
Prevents dark circles
Reduces dullness and fine lines around the eyes
Reduces dark circles and puffiness
Lightweight
Non-sticky
Ophthalmologist-tested
Dermatologically tested
Promotes the skin's natural repair process
Prevents pollution damage
Visible results within weeks
Cons
Leaves an oily residue
Might not suit sensitive skin
Image Skincare's Vital C Hydrating Anti-Aging Serum smoothens wrinkles, boosts collagen levels, and shields the skin against sun or pollution damage. It contains algae extract that helps in tightening the skin, while hyaluronic acid binds moisture to the skin to create an intense plumping effect. Vitamin C has the highest bioavailability, and vitamins A and E retain the skin's radiance and combats the visible signs of stress and fatigue. For an honest review of the Image Skincare Vital C Hydrating Anti-Aging Serum, go ahead and check out this video.
Pros
Reduces the wrinkles and fine lines
Prevents sun damage
Hydrates the skin
Makes the skin firm and supple
Suitable for all skin types
Safe for acne-prone and sensitive skin
Reasonably priced
Pleasant fragrance
Cons
The pump dispenses more quantity than required
Drunk Elephant A-Passioni Retinol Cream is perfect for women over 50 as it helps in restoring the skin's youthfulness. This effective wrinkle cream is formulated with vegan and gluten-free ingredients that help in boosting the natural suppleness of your skin. The extracts of passion fruit, apricot, and jojoba oil moisturize and hydrate your skin to combat environmental damage. This cream scented with just the fragrances of its natural ingredients. This video review will help you better understand the Drunk Elephant A-Passioni Retinol Cream.
Pros
Cruelty-free
Vegan
Gluten-free
Natural ingredients
Hydrates the skin
Boosts collagen production
Reduces wrinkles
Improves the skin texture
Evens out the skin tone
Soothes environmentally-damaged skin and redness
Suitable for sensitive skin
Cons
May cause slight irritation
The Derma-nu Anti-Aging Skin Care Kit contains 3 skin care products that tackle wrinkles and maintain the youthfulness of your skin. These skin care products are efficient enough not only for reducing and controlling fine lines and wrinkles but also for slowing down the aging process by fighting free radicals. The kit includes the Derma-nu Firming Serum that boosts collagen production and gives your skin a youthful appearance by reducing dark circles, puffiness, and wrinkles. The Youth Activating Eye Gel reduces fine lines and wrinkles in the sensitive areas around the eyelids and eyes. The Youth Regenerating Moisturizing Cream locks in hydration and improves the skin's elasticity and collagen level. Loaded with concentrated doses of hyaluronic acid, this 3-in-1 kit improves your even tone and heals and replenishes your skin cells with its antioxidant properties to improve your skin texture.
Pros
Affordable
Paraben-free
Non-comedogenic
Boosts collagen production
Gives your skin an instant glow
Reduces fine lines and wrinkles
Reduces dark circles, puffiness, and wrinkles
Suitable for sensitive skin
Non-greasy
Lightweight
Cons
Slightly unpleasant fragrance
Eye gel might cause a slight itching or burning sensation
Dermalogica Dynamic Skin Recovery SPF 50 is a moisturizer that helps in combating the signs of skin aging. It helps in minimizing skin-aging triggers and neutralizing free radicals to protect your skin from the harmful UV rays. The unique polypeptide present in this emollient moisturizer helps in boosting collagen production. This amazing "over-50" skin care product provides long-lasting hydration and blends smoothly into your skin for a perfect finish.
Pros
Broad-spectrum SPF 50
Hydrates the skin
Reduces fine lines
Boosts collagen production
Suitable for all skin types
Vegan
Cruelty-free
Paraben-free
Gluten-free
Affordable
Works well as a primer under makeup
Cons
Unsatisfactory quantity
Greasy finish
Derma-nu Retinol Skin Care Kit contains anti-aging products for reducing wrinkles and maintaining youthful skin. The products are made with all-natural ingredients and retinol, which works as an anti-aging element to keep your skin firm and wrinkle-free. Retinol has a tiny molecular structure that allows it to penetrate into the skin to smoothen wrinkles and improve skin texture. It also controls acne, unclogs pores, and rejuvenates the skin. Thus, it gets rid of wrinkles, reduces pores, and corrects dark spots.
Pros
Aids skin rejuvenation
Boosts collagen production
Reduces fine lines and wrinkles
Natural and organic ingredients
Suitable for all skin types
Promotes even skin tone
Smoothens and tightens the skin
Affordable
Cons
Might lead to skin drying
Unsatisfactory quantity
Lilian Fache AM/PM Anti-Aging Wrinkle Complex is a moisturizer that is infused with the richness of ultra-fine diamond dust. Diamond dust is claimes to promote youthfulness and radiance at every age. This luxurious day and night cream rejuvenates and heals damaged skin. It also boosts collagen and reduces fine lines and uneven skin tone by as much as 50% while restoring the skin's elasticity, radiance, smoothness, and moisture.
Pros
Rejuvenates and replenishes the skin
Brightens the skin
Suitable for all skin types
Affordable
Moisturizes the skin
Makes the skin supple and soft
Cons
Unpleasant fragrance
Unsatisfactory texture
There is nothing as satisfying as a good skin care regimen to ensure the well-being of your skin, especially when you are over 50. It helps keep your skin firm, wrinkle-free, and radiating. By following a simple skin care routine, you can grow old gracefully and beautifully. These 9 anti-aging products for women over 50 are definitely worth investing in. Grab some now to take care of your skin!
Why Trust StyleCraze?
The skin requires special care after 50 to maintain a youthful glow. Shiboli Chakraborti, the author of this article, is a certified skin care coach. After extensive research, she has prepared a list of the best skin care products for women over 50. Shiboli has discussed the ingredients of each product for your quick reference. She has also mentioned the pros and cons of each product to help you find what best suits your skin type.
Frequently Asked Questions
How can I improve my skin at 50?
Here's a comprehensive list of what to include in your skin care routine to keep your skin radiant and youthful:
Water-based products: Include products that are light, water-based, and extremely hydrating. Water-based products don't clog your pores and lock in moisture.
Ingredients: Pick products with hyaluronic acid, salicylic acid, vitamins C, A, or E, and retinol. These ingredients boost the collagen level while reducing fine lines and wrinkles to make your skin look firm and radiant.
Sunscreen: No matter what, you need to include sunscreen in your routine every single day! Get a sunscreen with broad spectrum SPF 30 or higher to ensure that it protects your skin from environmental damage. Sunscreens not only protect your skin from damage but also keep your skin hydrated.
Serums: Serums contain concentrated ingredients that evenly and quickly penetrate deep into your skin. It keeps the skin healthy and fights wrinkles and fine lines effectively.
What is the best skin care step for older skin?
Following a thorough skin care routine is essential to maintain the natural radiance, firmness, elasticity, and texture of your skin. Out of all the skin care steps, the most essential one for women over 50 is moisturizing.
What is the best skin care regimen for a 50-year-old woman?
The best skin care routine for a woman over 50 is:
Cleansing thoroughly
Moisturizing the skin
Applying serum
Using eye cream
Applying sunscreen
Recommended Article