17 Best SkinCeuticals Products Of 2022 To Tackle Your Skin Concerns
When your skin needs some intense pampering sessions, make sure to have the right skincare essentials at hand.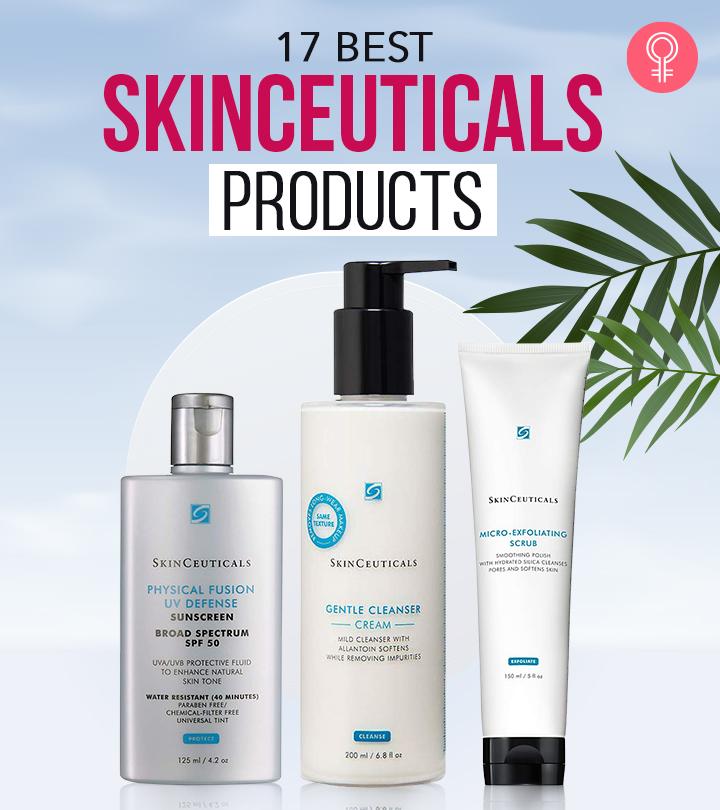 One of the foremost advanced skin care brands to be aware of is SkinCeuticals. It makes its own skin care products and formulations with the help of experienced and well-known dermatologists based on scientific research and data. Keep reading to check out the best SkinCeuticals products for your skin. They have bridged the gap between pharmaceuticals and cosmetics, creating a new niche for themselves called 'cosmeceuticals'.
SkinCeuticals products are made with exclusive formulas that treat early signs of aging, prevent future skin damage, and protect healthy skin. They encourage having a customized skin care regimen consisting of products made with active elements like topical vitamin C, vitamin A, hyaluronic acid, Phloretin CF, and ferulic acid. These ingredients contain antioxidant benefits that protect the skin by improving its texture and repairing the skin barrier function. In addition, this brand is committed to making products that reduce skin cancer risk by providing photoprotection. The best part is that SkinCeuticals keeps learning and making new products to keep up with evolving science. So, scroll down and have a gander at 17 of the best SkinCeuticals product must-haves.
17 Best SkinCeuticals Products Available Right Now
SkinCeuticals A.G.E. Eye Complex has a good mix of antioxidants, peptides, and sunscreen that work to reduce fine lines and puffiness and prevent the visible signs of aging around the delicate eye area. It also contains optical diffusers that are designed to redirect light and immediately improve the radiance around tired-looking eyes.
Pros
Prevents fine lines and wrinkles
Reduces puffiness
Lightens dark circles
Reduces crow's feet
Alcohol-free
Dye-free
Cons
SkinCeuticals Retinol 1.0 Maximum Strength Refining Night Cream is formulated with the highest concentration of pure retinol. This night cream is ideal for sun-damaged or problematic skin that has been preconditioned with retinol 0.5. It is proven to reduce the appearance of fine lines, blemishes, wrinkles, and age spots by stimulating cell regeneration and building collagen.
Pros
Lightens blemishes and age spots
Reduces the appearance of wrinkles
Non-comedogenic
Boosts collagen production
Paraben-free
Fragrance-free
Cons
Not suitable for all skin types
SkinCeuticals Micro-Exfoliating Scrub contains 2% concentration hydrated silica, glycerin, and aloe extract that provide mild and even exfoliation. This helps to clean pores and improve the skin tone and texture. This scrub is soap- and paraben-free and suitable for all skin types, except sensitive skin. It is gentle enough to be used daily.
Pros
Promotes healthy cell renewal
Unclogs pores
Improves skin tone
Improves skin texture
Alcohol-free
Dye-free
Fragrance-free
Paraben-free
Suitable for oily, dry, normal, and combination skin
Cons
Not suitable for sensitive skin
SkinCeuticals Daily Moisture Lightweight Pore-Minimizing Moisturizer is formulated with an exclusive blend of pure vitamin E, Brazilian sea algae extract, and a mix of seven botanical extracts that protects the skin from environmental damage and leaves it with a soft and non-greasy finish. It is an ideal moisturizer for people with normal to oily skin.
Pros
Minimizes pores
Softens the skin
Nourishes the skin
Lightweight
Suitable for normal or oily skin
Non-greasy finish
Cons
SkinCeuticals Hydrating B5 Gel is an oil-free moisturizer that is a blend of vitamin B5 and hyaluronic acid, the body's natural hydrator. It replenishes the skin nutrients and locks in moisture, leaving your skin feeling soft and looking younger. It does not contain parabens, alcohol, dye, or fragrance and is suitable for all skin types.
Pros
Moisturizes the skin
Imparts a radiant glow
Smoothens the skin
Fragrance-free
Paraben-free
Dye-free
Suitable for all skin types
Cons
SkinCeuticals Retexturing Activator Replenishing Serum is a revolutionary bi-functional resurfacing and replenishing serum. It uses patented technology to stimulate the enzymes that help break the bonds that bind dead cells to the surface of the skin. Thus, it reduces the appearance of fine lines and makes your skin look smoother. It not only replenishes the skin but also improves its radiance and complexion. If you want to find out more about this product and its usage, make sure to check out this review on YouTube.
Pros
Exfoliates the skin
Hydrates the skin
Diminishes the appearance of lines and wrinkles
Improves radiance and skin tone
Oil-free
Non-irritating
Cons
SkinCeuticals Physical Fusion UV Defense Sunscreen is a lightweight fluid that combines 100% mineral filters with translucent color spheres to provide broad spectrum UVA/UVB protection and boost daily radiance. It is also water-resistant for up to 40 minutes. It is both paraben- and fragrance-free and ideal for all skin types, including very sensitive skin.
Pros
Broad spectrum SPF 50
Water-resistant
Imparts radiance
Suitable for all skin types
Paraben-free
Non-comedogenic
Cons
SkinCeuticals Advanced Pigment Corrector targets skin pigmentation caused by years of sun exposure, hormonal shifts, and the natural aging process. Its multi-layer comprehensive technology exfoliates and corrects skin discoloration, prevents its reoccurrence, and improves radiance. It is fragrance- and paraben-free and ideal for all skin types, except very sensitive skin.
Pros
Reduces stubborn discoloration
Improves skin tone
Imparts radiance
Prevents recurrence of discoloration
Non-comedogenic
Fragrance-free
Cons
Not suitable for very sensitive skin
SkinCeuticals Resveratrol B E is a first-of-its-kind night treatment that combines 1% pure resveratrol with 0.5% baicalin and 1% alpha-tocopherol (vitamin E). It neutralizes age-accelerating free radicals and supports your skin's natural antioxidant defenses. It also improves skin elasticity and density and is ideal for normal, combination, and dry skin types.
Pros
Prevents skin damage
Improves skin elasticity
Anti-aging formula
Paraben-free
Suitable for normal, combination, and dry skin types
Cons
Not suitable for sensitive skin
SkinCeuticals Triple Lipid Restore 2:4:2 is an anti-aging cream that contains a unique blend of ingredients like 2% pure ceramides, 4% natural cholesterol, and 2% fatty acids that are proven to replenish skin and correct the signs of aging. It also keeps your skin hydrated for up to 24 hours and improves the skin texture, firmness, laxity, pore size, and overall radiance.
Pros
Offers long-lasting hydration
Reduces fine lines and wrinkles
Improves skin firmness and texture
Reduces pore size
Increases overall radiance
Paraben-free
Dye-free
Suitable for all skin types
Cons
SkinCeuticals Correct H.A. Intensifier Serum is a multifunctional serum that is proven to help amplify the skin's hyaluronic acid levels by 30% in 4 weeks. It uses key ingredients like 10% proxylane, botanical extracts of licorice root, and purple rice extract that work together to increase the hydration of the skin and encourage the production of collagen and hyaluronic acid.
Pros
Offers long-lasting hydration
Improves skin texture
Suitable for all skin types
Correct the signs of aging
Paraben-free
Dye-free
Cons
None
Skin Ceuticals Gentle Cleanser Cream is formulated with an emollient-rich surfactant and 3% concentration of key ingredients combining orange oil, glycerin, and allantoin that soften and restore the skin's surface. It efficiently removes impurities and face and eye makeup without leaving any traces of residue. Your skin is left feeling soft and moisturized after using this cleanser.
Pros
Mild formula
Softens the skin
Non-comedogenic
Removes makeup
Non-foaming
Paraben-free
Sulfate-free
Cons
Not suitable for oily skin
SkinCeuticals Antioxidant Lip Repair Restorative Treatment contains two powerful antioxidants – vitamin E and silymarin – neutralize free radicals and soothe dry and irritated lips. It also contains glycerin and hyaluronic acid that help retain water to rejuvenate the lips. Special botanical emollients hydrate and heal dry and cracked lips.
Pros
Heals cracked lips
Relieves lip dryness
Replenishes the lip tissue
Suitable for all skin types
Cons
SkinCeuticals Phyto Corrective Gel is a complexion calming gel with an advanced formula to lighten discoloration of the skin. It helps to improve the overall health of the skin. This calming gel is known to hydrate, calm, heal and improve the appearance of the skin. The gel is infused with hyaluronic acid, cucumber, thyme, and other botanical ingredients that make an ideal moisturizer for sensitive skin.
Pros
User-friendly
Travel-friendly
Suitable for all skin types
Non-comedogenic
Cons
None
SkinCeuticals Serum 10 AOX+ is formulated with 10% pure vitamin C and 0.2% ferulic acid that help neutralize damaging free radicals which contribute to the aging of the skin. Also, this serum helps reduce the appearance of fine lines and wrinkles. It is ideal for people with sensitive skin as it is free of dye, alcohol, and fragrance.
Pros
Prevents skin damage
Reduces fine lines and wrinkles
Suitable for sensitive skin
Alcohol-free
Paraben-free
Cons
May create a slight tingling sensation
SkinCeuticals LHA Cleanser Gel features a conditioning surfactant and a 12% concentration of key ingredients comprising lipo-hydroxy acid, glycolic acid, salicylic acid, glycerin, and sorbitol that remove excess oil and brighten your skin. It is a targeted exfoliating cleanser that gently refines the appearance of congested pores and helps reduce blemishes without drying out your skin.
Pros
Unclogs pores
Exfoliates the skin
Removes excess oils
Reduce blemishes
Removes makeup
Suitable for aging and oily skin
Paraben-free
Cons
SkinCeuticals C E Ferulic Combination Antioxidant Treatment is a night care treatment formulated for normal, dry, and sensitive skin. It contains L ascorbic acid, alpha-tocopherol, and ferulic acid that neutralize free radicals to protect the skin from oxidative stress. It boosts collagen production, reduces the loss of elasticity and hyperpigmentation, for healthy, youthful, and radiant skin.
Pros
 Eliminates loss of elasticity
 Neutralizes free radicals
 Strengthens skin
 Boosts collagen production
 Makes skin look younger and radiant
Cons
None
SkinCeuticals products protect the skin from oxidative stress and offer anti-aging benefits. They make you look fresher and more youthful. Grab some of the products listed above to take your skin care routine to the next level.
Why Trust StyleCraze?
Shiboli Chakraborti, who wrote this article, is a certified skin care coach and our skin expert. Shiboli recommends using SkinCeutical products based on their dermatologist recommendations and the scientific research and data that has gone into making each individual product. She agrees that finding a good skin care brand, like SkinCeuticals, is the answer to resolving your skin issues. Make your skin healthy and beautiful with these products.
Frequently Asked Questions
Are SkinCeuticals products worth the money?
SkinCeuticals have products with unique formulations. These high-quality products are efficient, non-toxic, and safe to use on sensitive skin. They are definitely on the higher side of the price range, but the results they offer are well worth the money.
Is SkinCeuticals owned by L'Oreal?
Yes, L'Oreal acquired SkinCeuticals in 2005.
Are SkinCeuticals considered medical-grade?
Yes, SkinCeuticals is dedicated to using only pharmaceutical-grade chemicals and the strictest medical-grade formulation requirements.
Does SkinCeuticals CE Ferulic get rid of dark spots?
Yes, it helps with enhancing skin texture and reducing hyperpigmentation.
How long do SkinCeuticals products last?
Unopened SkinCeuticals products last up to 3 years, while opened seals last for upto 6 months after seal.
Can you use SkinCeuticals CE Ferulic under the eyes?
Yes, they enhance the skin and helps in treating fine lines and wrinkles around the eyes.
Are SkinCeuticals products safe during pregnancy?
Yes, SkinCeuticals products are safe during pregnancy.
Recommended Articles
What Is Ferulic Acid And Why Does Your Skin Need It?