The 15 Best SKINFOOD Products To Try In 2023
Feed your skin with these products enriched with the goodness of healthy edibles.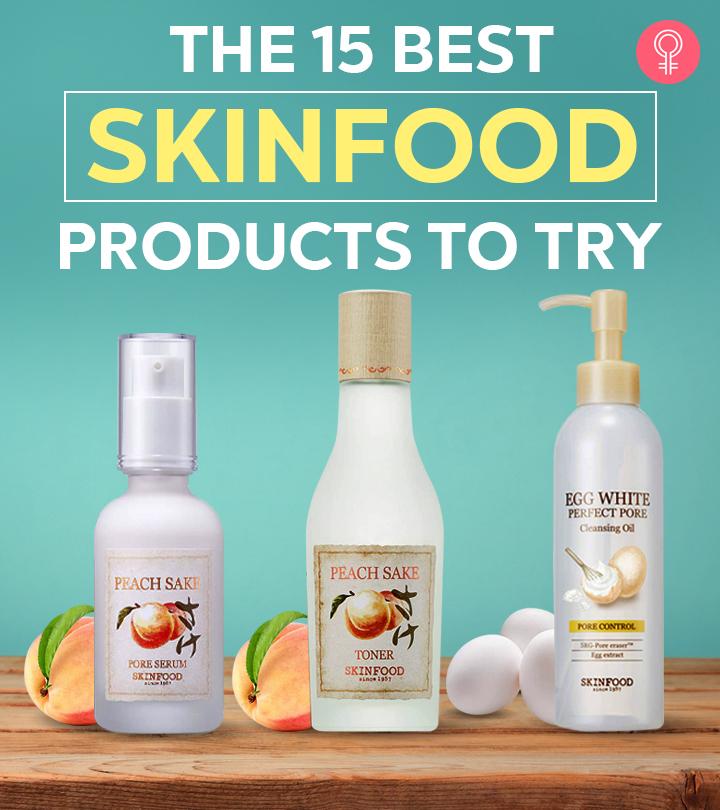 K-beauty enthusiasts don't need an introduction to SKINFOOD products. The goal of this brand is to deliver nutritive food results in nutritive beauty. The best SKINFOOD products are made with cucumber, lettuce, peach sake, black sugar, egg white, avocado, black sugar, tomato, Yuja, rice, gold caviar, and black pomegranate which effectively nourish the skin. This brand offers a wide range of approximately 1000 products to satisfy the diversified needs of each skin type.
In this article, you will find a compilation of the 15 best SKINFOOD products that add value to your skin care routine when used regularly. Keep reading to learn more about them!
The 15 Best SKINFOOD Products Of 2023 – Reviews
The SKINFOOD Black Sugar Mask Wash Off is one of the brands bestsellers. This exfoliating skin mask wash off works well for dry skin. It features Brazilian black sugar granules that are rich in minerals and vitamins and restore the skin's natural moisture and brightness. The mask's grainy texture helps dislodge tough dirt and clear clogged pores but does not damage the skin or irritate it.
This wash off mask is rich in vitamins like riboflavin, pantothenic acid, and niacin that nourish the skin and keep it healthy for a long time. Minerals like calcium, phosphorus, potassium, and iron smoothen the skin and even its tone with extended use. The granules are great in helping you get rid of stubborn blackheads and whiteheads that refuse to leave your face. Check out this video on YouTube for a detailed understanding of the product.
Pros
Reduces blemishes on the face
Makes the skin soft
Eliminates blackheads and whiteheads
Brightens the skin
Evens out the skin tone
Cons
Contains parabens
Not suitable for acne-prone skin
Price at the time of publication: $6.99
Strawberries are known for their anti-inflammatory and antioxidant properties. They are not only extremely tasty but also work wonders on your skin. The SKINFOOD Strawberry Black Sugar Wash Off Mask contains Brazilian Black sugar and strawberry seed oil. The minerals (calcium, phosphorus, iron) and vitamins (niacin, riboflavin, pantothenic acid) in black sugar help brighten the skin tone and eliminate blackheads and whiteheads.
Wild berry seeds have antioxidant and skin-conditioning properties. They exfoliate the skin without damaging it. Strawberry seed oil is rich in omega-3 and 6 and other essential fatty acids that keep the cell membranes healthy. They also help synthesize ceramides that strengthen the skin barrier function and nourish and hydrate the skin. If you want to know more about this product, check out this video on YouTube.
Pros
Amazing smell
Moisturizes the skin
Makes the skin soft
Brightens and clears the skin
Suitable for sensitive skin
Cons
May cause rashes and breakouts
Price at the time of publication: $9.99
The SKINFOOD Egg White Pore Foam contains egg albumen (white part). It is an excellent cleanser that helps clear clogged pores, control sebum production, and eliminate blackheads. This product is best suited for dull and oily skin types.
Albumen also firms the skin, makes it plumper, and reduces enlarged pores. Other ingredients like niacin, riboflavin, calcium, and phosphorus nourish and hydrate your skin and make it look bright and healthy. Along with albumen, they promote collagen production and increase skin elasticity to smooth fine lines and reduce aging signs. Go ahead and check out this YouTuber's video for more details about the product.
Pros
Gentle
Eliminates blackheads
Minimizes pores
Makes the skin smooth
Cons
Very strong smell
May dry out the skin
Price at the time of publication: $9.99
The SKINFOOD Egg White Perfect Pore Cleansing Oil is perfect for people with oily skin. It removes makeup and softens the skin without feeling greasy. This cleansing oil offers a 5-in-1 action – it deep cleanses the skin, absorbs sebum, removes impurities, and purifies and refines pores.
The albumen, along with egg yolk, absorbs excess sebum from your face and makes it look more vibrant. The hot spring water helps smoothen your skin. This product cleanses your face gently without irritating any hard acne on your face.
Pros
Removes blackheads and whiteheads
Mineral oil-free
Reduces pore size
Suitable for sensitive skin
Cons
Very drying
Less dense foaming
Stings the eyes
Price at the time of publication: $20.4
The SKINFOOD Peach Pore Serum contains peach extracts and Japanese wine sake extracts that keep your face moisturized and smooth throughout the day. Peach extracts are rich in vitamins A and C and silica that nourish and protect the skin and reduce enlarged pores and sebum production.  The Japanese wine sake extract shrinks the pores and makes them less conspicuous. It also makes your skin soft and smooth. After using a toner, dab a few drops of the serum on your face and neck and pat it gently until it is absorbed into the skin.
Pros
A little goes a long way
Brightens the skin
Moisturizes the skin
Reduces pore size
Can be used as a makeup base
Cons
Overwhelming aroma
Not for sensitive skin types
Price at the time of publication: $9.99
Honey has been a popular skin care ingredient for ages. It is considered to have moisturizing, anti-aging, and antiseptic properties. The SKINFOOD Royal Honey Propolis Enrich Essence contains black bee propolis, royal jelly extract, and black honey extracts that strengthen the skin barrier and make it radiant. It nourishes and moisturizes the skin and is quickly absorbed without leaving an oily and sticky residue. This product is recommended for dry and sensitive skin types.
Pros
Lightweight
Non-greasy
Moisturizes the skin
A little goes a long way
Can be used as a primer under makeup
Cons
Very slow results
Expensive
Price at the time of publication: $22.99
The SKINFOOD Egg White Pore Mask contains egg white or albumen that is a superb source of protein. Albumen contains amino acids that nourish your skin and make it healthy. This mask improves skin elasticity and reduces pores and sebum production. Other ingredients like vitamins B2 and B3, calcium, selenium, magnesium, and phosphorus also nourish the skin. This mask strengthens the skin barrier and minimizes pore size.
Pros
Tightens the pores
Increases skin elasticity
Brightens and smoothens the skin
Gets rid of stubborn blackheads
Cons
Thick consistency
Contains alcohol
Price at the time of publication: $6.99
The skin around your eyes needs a lot of care, as it is the most vulnerable and sensitive. The SKINFOOD Royal Honey Essential Eye Cream contains fermented honey and glycerine that have powerful moisturizing effects. It is gentle on the skin and helps lighten dark circles. The vitamins and minerals make your skin glow and look healthy. Honey also has antiseptic properties that help reduce pimples and breakouts. Regular use of this eye cream will brighten the under-eye area.
Pros
Easily absorbed
Gentle
Anti-aging properties
Cons
Contains alcohol
Stings the eye on contact
Price at the time of publication: $20.0
The Royal Honey Essential Queen's Cream from SKINFOOD is the best product for dry skin that ends up looking dull and lifeless. It has royal jelly that boosts the skin's hydration and, along with propolis extract, acts as a strong barrier to protect the skin's membrane from free radicals. The aged honey and glycerine have moisturizing benefits. Nutrients like sodium and arginine help brighten the face and make it look refreshed and glowing. This cream is easily absorbed into the skin and does not leave any greasy residue.
Pros
Lightweight
Moisturizes the skin
Anti-aging action
Easily absorbed
Non-greasy
Cons
Not suitable for oily, acne-prone skin
Price at the time of publication: $24.79
This toner contains peach, which is a rich source of vitamin C that fights harmful free radicals. It reduces the size of the pores and leaves your skin looking supple. A good toner also acts as a good base for effective makeup. The presence of vitamin A and Japanese wine sake extract helps to smoothen the skin, reduce sebum production, and unclog the pores. The SKINFOOD Peach Sake Toner is a great addition to your skin care routine. If you have white patches or pigmentation, this toner can help lighten them to a great extent.
Pros
Makes the skin supple
Imparts glow
Minimizes pores
Pleasant smell
Cons
Very drying
Not suitable for oily skin
Price at the time of publication: $9.99
This ultra-fine finishing powder absorbs excess sebum and keeps the skin fresh and silky soft. It contains sake and peach extract that relieve skin issues caused due to excess sebum production. The powder gives a matte finish and prevents your makeup from looking patchy. It can also be used as an under-eye powder as long as you don't let it enter your eyes.
Pros
Matte finish
Long-lasting
Controls oil
Hides pores
Smells great
Cons
Works only for fair skin tones
Price at the time of publication: $18.49
Rice water is a Korean beauty staple due to its amazing benefits for the skin. The SKINFOOD Rice Mask Wash Off contains Cheorwon Odae rice bran water that brightens the skin tone. Rice is rich in linolenic acid and vitamin E, which nourish, soften, and protect the skin. The antioxidant, anti-inflammatory, and healing properties of rice make it an excellent ingredient for fighting acne. This product mildly exfoliates your skin and makes it radiant. This face mask also acts as a scrub and eliminates stubborn blackheads and whiteheads to make your skin clear and smooth.
Pros
Brightens the skin
Moisturizes the skin
Makes the skin soft and smooth
Fights acne
Cons
Contains parabens
Slightly runny consistency
Price at the time of publication: $6.99
This product has received some rave reviews – and all for the right reasons. Unlike the usual creams, the SKINFOOD Peach Sake Emulsion is easily absorbed into the skin. Peach, in combination with Japanese sake,  helps reduce sebum production, control large pores, and shrink the existing ones. It also has antioxidant properties that protect and brighten the skin. This emulsion makes the skin resilient. It is best to use a SKINFOOD cleanser followed by toner before applying this emulsion evenly on your face.
Pros
Moisturizes the skin
Minimizes pores
Controls sebum
Makes the skin soft
Cons
Contains alcohol
Not suitable for super sensitive skin
Price at the time of publication: $9.99
Along with the skin on your face, you should also pay proper attention to your lips. This scrub does a good job of getting rid of dead and flaky skin from your lips. It contains avocado that deeply moisturizes and nourishes the lips with vitamins, minerals, and natural fats. This scrub makes your lips smooth, soft, and naturally pink.
All you need to do is massage the scrub onto the lips in a circular motion and remove the excess with a wet cloth.
Pros
Deeply nourishes the lips
Sweet scent
Cons
Price at the time of publication: $21.99
This gel contains 93% aloe vera leaf extract that calms, soothes, and moisturizes the skin. It provides a cooling sensation and is perfect for soothing irritated skin in summers. The gel soothes sunburns, rashes, and dry skin. Other ingredients like witch hazel extract, birch sap, sodium hyaluronate, and beta glucan keep the skin moisturized and supple. They also fight against factors that cause skin aging and reduce skin elasticity. You can use it both on the face and the body.
Pros
Soothes the skin
Moisturizes the skin
Suitable for all skin types
Makes the skin soft
Cons
SKINFOOD products are very well-known among K-beauty lovers. The brand's mission is to provide essential nutrients to the skin, resulting in healthy-looking skin. To assist you in selecting the best SKINFOOD product, here is a buying guide to consider several criteria before making the purchase.
Things To Look For Before Buying The Best SKINFOOD Products
Knowing your skin type is the most significant step in building a skincare regimen. Skinfood provides several products that fit various skin types and concerns. For instance, look for products that prevent irritation if you have sensitive skin. On the other hand, if you have dry skin, you may benefit from products that keep your skin moisturized for an extended time. Lastly, look for oil-free products for oily skin that won't clog your pores.
When purchasing a SKINFOOD product, look for natural ingredients such as cucumber, lettuce, egg white, avocado, tomato, yuja, rice, gold caviar, and black pomegranate that work for the skin. In contrast, avoid harmful ingredients such as parabens, phthalates, formaldehyde, triclosan, sodium laureth sulfate, toluene, mineral oil, oxybenzone, and petroleum derivatives since they may hurt the skin.
As your needs vary, so will your skin care products. So, decide what you want to achieve with your skin care products. For example, you may use it to treat sunburn, blemishes, and acne and give you an instant glow, to name a few. So, pick a SKINFOOD product according to your skin's needs.
SKINFOOD offers a wide range of products. Skin care product prices vary based on quality, packaging, and the components used. Your budget will limit your pricing range for skincare goods. Keep your eye on discounts to get the most value for your money.
Why Trust Stylecraze?
The author, Shiboli Chakraborti, is a certified skin care coach with a consistent focus on helping her readers find the right products for their skin type. She listed the best SKINFOOD products made with all-natural ingredients. Her review process involves researching each product's features, benefits, and key ingredients. Also, she went through the user reviews across major e-commerce websites and trusted online forums before shortlisting these products.
Frequently Asked Questions
Is SKINFOOD cruelty-free?
No, Skinfood is not completely cruelty-free though they mostly prefer not to test their innovations on animals.
Is SKINFOOD a Korean brand?
Yes, SKINFOOD is a popular Korean brand.
Is SKINFOOD good for acne?
Yes, SKINFOOD masks and other products help to reduce acne.
Do SKINFOOD products expire?
Yes. SKINFOOD mentions the expiration date under the manufacturing date on the product labels.
Are SKINFOOD products good for sensitive skin?
Yes. SKINFOOD products are free of petrochemical and nano allergens. Therefore, they are safe and suitable for sensitive skin. However, it is recommended to conduct a patch test before using any products.
Are SKINFOOD products organic?
Yes. SKINFOOD is a 100% organic and vegan brand. The products are free of preservatives and synthetics.
Recommended Articles