10 Best Slam Balls For Beginners That Will Level Up Your Workout – 2023
Follow a proper exercise routine to build muscles and keep your body in shape.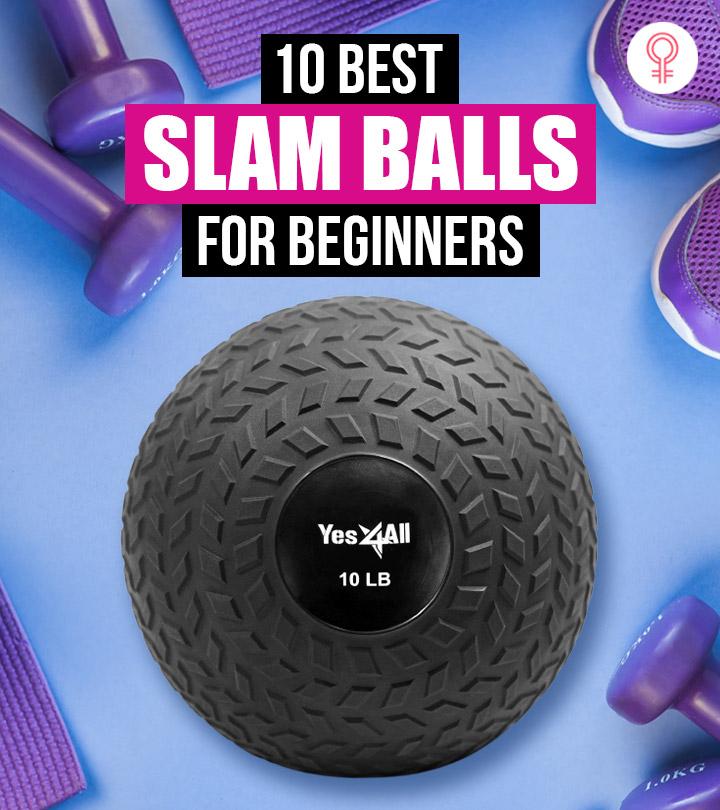 The best slam balls help strengthen your body muscles and keep your body in shape. They are versatile and can easily be incorporated into your regular exercise routine. These balls are so effective that you can see the change in your body after each workout session. However, using the right slam ball is necessary to boost your shoulder, chest, biceps, and upper back. Choosing the option that suits you most from the wide range of products available on the market can be tricky. Thus, we bring you a guide and a list of the best slam balls available online. Keep scrolling to check them out!
What Are Slam Balls?
Slam balls are weighted, rubber-coated balls that can be used in a range of exercises to define and condition your muscles. They have a thicker surface that makes them an ideal choice for high-impact throwing exercises. Slam balls can fit easily into your gym plan especially if you are into resistance training. You can simply use them as free weights or incorporate them into cardio exercises.
Let us now read about how a slam ball can be a game-changer for your core training exercises.
Why Do You Need Slam Balls?
Slam balls promise enormous potential for athletes and fitness enthusiasts. There are many good reasons to add this workout tool to your exercise routine.
 They offer maximum core control. Slam balls can be used in a variety of angles and positions that force your abs, obliques, and deep abdominal walls to work together through a full range of motion. The balls can boost power and spinal stability and are a perfect choice for powerlifters and other sports athletes. They also maximize core control and improve one's functional movements.
They improve muscle power. Slam balls are used for challenging movements that will force your heart to pump faster. They challenge your muscles by exhausting their abilities and making them stronger.
 They increase cardiovascular endurance. Slam balls, if used correctly, increase cardiovascular endurance. Moreover, they train your muscles to work together and help repair poor posture and restricted joint mobility.
Below is a list of the 11 best slam balls that you can try to kick off your exercise routine.
10 Best Slam Balls For Beginners
The Yes4All Slam Ball is a high-density slam ball that boosts your aerobic capacity and enhances coordination between your hands and eyes. It features a resilient softshell that is rotationally molded for durable construction. It is grooved and textured with polyvinyl chloride that allows a firm grip even with sweaty hands. The inner cavity of the ball is filled with sand to maintain the balance and firmness of the ball while preventing it from bouncing or rolling. This ball is specifically designed for CrossFit exercises.
Specifications
 Material: PVC filled with sand
 Weight Options: 10 lbs, 12 lbs, 15 lbs, 20 lbs, 25 lbs,
Pros
 Excellent grip
 Thick, seamless design
 Available in different shell colors and textures
Cons
None
Price at the time of publication: $28.99
The TRX slam ball is filled with sand to maintain its shape, weight, and sturdiness. Its outer shell is made of top-grade rubber that makes it grippy. You can lift it overhead and slam it either on the ground or sideways into the wall to amp up the rotational fire. It does not bounce back and can easily withstand wear and tear. This slam ball is suitable for all sorts of weight exercises.
Specifications
 Material: Rubber
 Weight Options: 6 lbs, 8 lbs, 10 lbs, 15 lbs, 20 lbs,
Pros
 Ultra-durable
 Ideal for a full-body workout
 Easy grip
Cons
Price at the time of publication: $39.99
The Trademark Innovations Slam Ball is ideally designed for core development. The outer shell of this ball is made of slip-resistant PVC material, and the inner cavity is filled with sand to absorb the shock from the slam. This is why the ball does not roll away or bounce back. It allows overhead throwing, back-to-back passes, and twisting exercises. Thus, it assists in improving muscle mass, cardiovascular endurance, and hand-eye coordination. It is 9-inches in diameter and easy to hold.
Specifications
 Material: PVC
 Weight Options: 15 lbs
Pros
Cons
Price at the time of publication: $29.8
The Fitness First Slam Ball is engineered with professional-grade synthetic materials to keep it from bouncing back or rolling away on hard surfaces. This sand-filled ball has a brilliant texture that helps you retain a firm grip even when you are sweating profusely. It is a perfect weighted accessory to enhance cardiovascular strength and can be used in several ways in your everyday workout routine. The sand shifts inside the ball with barely any sound. Its ultra-durable construction makes it a perfect choice for slamming exercises. It does not rip even after thousands of throws.
Specifications
 Material: Synthetic
 Weight Options: 6 lbs
Pros
 Ergonomic texture for great grip
Cons
 The sand inside the ball moves.
Price at the time of publication: $22.95
The SPRI Dead Weight Slam Ball has a pliable and easy-to-grip textured surface. It is easy to grip and does not bounce back when slammed. The heavy-duty rubber-like shell adds to its grip and durability. It is perfect for re-bouncer, wall, and floor slams. Its seamless design retains shape and does not break even when you slam the ball on the ground a thousand times. This slam ball comes with a high-quality, downloadable exercise guide.
Specifications
 Material: Textured rubber-like PVC, sand-filled shell
 Weight Options: 12 lbs, 15 lbs, and 20 lbs
Pros
 Textured surface
 Ideal for total body workout
Cons
None
Price at the time of publication: $49.99
The Everlast Flex Slam Ball comes with a flexible rubber casing for shock absorption. The inner cavity of the ball is filled with sand to retain the shape and to maintain proper balance. The ball also has foam cushioning for strike absorption. This product is put through hundreds of slam tests to ensure its performance over time. The molded rubber construction with channels enables excellent grip and makes the ball bounce-resistant. The ball is perfect for boot camps, HIIT workouts, and cross-training.
Specifications
 Material: Rubber
 Weight Options: 10 lbs, 15 lbs, 20 lbs, 25 lbs
Pros
 Dissipates impact
 Ideal for a full-body workout
Cons
None
Price at the time of publication: $59.99
The Titan Fitness Rubber Slam Ball is mainly designed for athletic training. It increases muscle mass, improves hand-eye coordination, and enhances cardiovascular endurance. It has a textured exterior shell made of rubber that ensures a firm grip and prevents blowouts when slammed to the ground. This is perfect for a range of exercises such as overhead lunges, Russian twists, thrusters, squats, sit-ups, and so on. The diameter of this ball is 11 inches, which is slightly higher than that of normal slam balls. It stands the test of time and doesn't rip or break even after thousands of throws.
Specifications
 Material: Rubber
 Weight Options: 25 lbs
Pros
 Ideal for throwing, slamming, and catching
 Textured surface
Cons
 Could be too large for some
Price at the time of publication: $39.99
The Ader Fitness Slam Ball features a black textured shell that helps you take grip of and control the ball while working out. It is a soft, sand-filled ball that retains its normal shape even after slamming on the hardest surfaces thousands of times. Since it is available in different weights ranging from 10 to 50 pounds, this slam ball is an ideal choice for all, be it a beginner or a professional. It comes with a dead bounce that makes it perfect for CrossFit, strength training, and other general athletic training exercises.
Specifications
 Material: Rubber
 Weight Options: 10 lbs, 15 lbs, 20 lbs, 25 lbs
Pros
Cons
None
Price at the time of publication: $43.9
The Lifeline Slam Ball is designed to add resistance to bodyweight workouts while building muscles and improving aerobic capacity. It comes with a flexible plastic exterior shell that withstands high-impact exercises and stays usable for years. It allows fast and dynamic exercises such as slams, passes, swings, and throws. The textured surface of this slam ball allows you to have full control of the ball. It prevents slips and mishaps while working out.
Specifications
 Material: Plastic
 Weight Options: 10 lbs, 20 lbs, and 30 lbs
Pros
Cons
Price at the time of publication: $39.99
The BalanceFrom Slam Ball features a rugged, textured surface for a secure and sure-handed grip. Exercising with this ball is an excellent way to build strength, power, and stability. The ball comes with a uniform wall thickness that gives superior balance. The durable, heavy-duty rubber construction makes it sturdy enough to handle rigorous throws while its density allows it to withstand heavy workout sessions. It gives almost zero bounce back.
Specifications
 Material: Rubber
 Weight Options: 4 lbs, 6 lbs, 8 lbs, 10 lbs, 12 lbs, 15 lbs, 18 lbs, 20 lbs, 25 lbs
Pros
 Thick and ultra-durable
 Textured surface
 Doesn't roll away
Cons
 Could be too big for some
Price at the time of publication: $31.52
You now have a fair idea of how slam balls work. But slam balls are often confused with medicine balls. How are the two different?
Slam Balls Vs. Medicine Ball
 Design: The most significant difference between slam and medicine balls is their design. Slam balls are generally made of a tough rubber so that they can handle the high-velocity impact against hard surfaces. These balls have a thicker surface than medicine balls. Medicine balls, on the other hand, are made of plastic, leather, and rubber. They also often come with handles.
 Application: Slam Balls are usually designed for overhead slams, lateral throws, broad jumps, and chest passes. They chiefly strengthen your core. On the other hand, medicine balls are used for wall tosses, diagonal chops, pushups, and partner drills. They are used for muscle toning.
 Other Factors: Medicine balls are quite softer and have a larger diameter than slam balls. They are bouncy in nature and immediately bounce back when slammed to the floor or tossed against the wall, unlike slam balls.
Certain users feel that working out with a slam ball could be easier than purchasing one. That is because one needs to consider several factors before buying a slam ball. Let us understand more.
What Factors Should You Consider When Choosing The Best Slam Ball?
 Weight: The weight of the slam ball depends on the sand or dust used for filling the diameter and the inner cavity. A 20- or 30-pound slam ball will be a perfect choice if you are a beginner. However, you can go for heavier options if you have been using this accessory for a while and would like to practice high-impact exercises for muscle growth.
 Surface Design: Slam balls come with different surface textures. Some balls have a plain surface that offers a smoother grip for lighter exercises, while some have a textured surface design with grooves to increase friction and to offer a firmer grip throughout the workout. Buy what you like the most.
 Level Of Bounce: Slam balls are mainly used for resistance training and heavy exercises and, thus, should be less bouncy to prevent accidents or mishaps while working out. Choose a denser ball to ensure it does not roll away or bounce back when slamming against the floor or any hard surface.
Material: The quality of material decides the durability of this accessory. The outer surface of these balls is generally made of rubber or PVC material that has high endurance against wear and tear.
Slam ball exercises can be really beneficial if you do them right. However, mishandling the ball can lead to injuries as well. Understand the precautions you must take to reduce the risk of any mishaps.
What Are The Precautions That You Should Take While Exercising With A Slam Ball?
 Slam balls are heavy. Therefore, you must use them away from children.
 Make sure that the surface texture of the ball is not too slippery for you. Be careful not to let the ball slip your grip.
 If your ball is bouncy, maintain the right posture to prevent getting hurt by its bounce-back.
 Always choose the slam ball that you can handle easily. A heavy ball can strain your lower back and arms while increasing the chances of injury. Talk to your trainer to know the best weight for you.
Why Trust StyleCraze?
The author Aditi Naskar has a diploma in Health & Wellness. Her knowledge and unbiased recommendations help users make the right decision for their fitness goals. This list of slam balls was curated by taking users' reviews from trusted online platforms. Users will be able to choose from an extensive range of slam balls of different weights and prices to improve muscle tone, strength, and power.
Frequently Asked Questions
How do I know what size slam ball to get?
Know the size of the slam ball you need based on your level of agility and strength. If you are a beginner, start using a 10lb slam ball and slowly increase its range.
How do you maintain a slam ball?
•  Clean the shell of the slam ball with a mixture of alcohol and wintergreen oil.
•  Rub vaseline on the entire shell.
•  Use a dry cloth and wipe off the excess product.
How heavy is a slam ball?
Slam balls are available in various weights. Some are around 5 kg while others are around 15 to 20 kg.
Can you use slam balls on concrete?
Yes. Slam balls exert less impact on the concrete floor and help you build your core strength.
How much air should be in a slam ball?
Fully inflate your slam ball or pump them to 3PSI maximum.
Can I use a slam ball as a wall ball?
No. Slam balls slide down a wall and become challenging to handle. Do not use them as a wall ball.
Do slam balls bounce?
No. Slam balls have little to no bounce effect. They are designed to be lifted and slammed on the ground.
Recommended Articles