8 Best Sleep Masks For Side Sleepers (2023), According to Reviews
Keep the light away from your eyes and enjoy a good night's sleep with these sleep masks.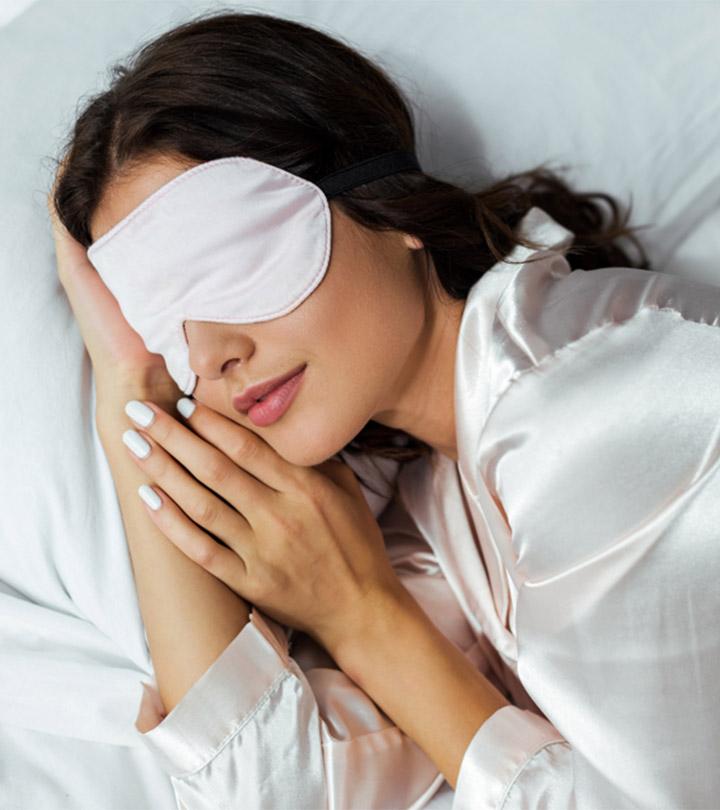 Sleep is something that we all need and can't live without, and you get the finest sleep when the room is dark and you're in your preferred sleeping position. If you're a side sleeper, it's a good idea to invest in the best sleep mask for side sleepers. A good night's sleep is beneficial to one's mental and physical health, and a sleep mask is the greatest answer for people who are unable to achieve those necessary hours of sleep owing to artificial light in the room. The greatest masks are able to totally block out light while also fitting snugly around your head. Check out our selection of the top 8 sleep masks for side sleepers made with top-quality materials.
How Are Sleep Masks For Side Sleepers Different?
They are wider and broader than regular masks to account for any shifts in position.
They have adjustable straps with Velcro fastening at the back for a snug fit.
They are not bulky on the sides to allow your head to rest comfortably on the sides without any pressure.
The closure is always on the back of the head and never on the side.
Now that you know how sleep masks for side sleepers are different from regular ones, check out the best ones available right now below.
8 Best Sleep Masks For Side Sleepers
Pros
Lightweight
Deep molded cups
Ergonomic design
Adjustable Velcro closure
Rub-free
Cons
Price at the time of publication: $17.95
Pros
Adjustable strap
Elastic-free
Cold and warm options
Machine-washable
BPA-free
Cons
Does not retain warmth or cold for long
Price at the time of publication: $34
The portable TXFHLXW Cotton Sleep Mask is handcrafted from 100% organic cotton and has smooth seams with a soft finish. Its natural fabric is breathable and designed to offer minimal rubbing and no pressure in all sleeping positions. It is fitted with a broad adjustable strap that features concealed Velcro that does not entangle the hair while it wraps around the head lightly to provide a secure fit. This hypoallergenic mask is suitable for all head sizes, broad enough to block out all visual stimuli, and has a nose notch to prevent light from slipping in. It comes with a set of earplugs and a travel pouch.
Pros
Lightweight
Breathable
Adjustable strap
Fits all head sizes
Handmade
Earplugs and travel pouch included
Cons
Price at the time of publication: $23.99
The calming Samadhaan Mulberry Silk Sleep Mask has a cooling effect on your eyes. It is designed with a padded nose wing to block all light and offer complete blackout. Its upgraded broad Velcro strap is adjustable to all head sizes and sleep positions while keeping your hair tangle-free. Its naturally breathable fabric protects the delicate under-eye area and reduces wrinkles, facial stress, and other signs of aging. In addition, it causes minimal rubbing and compression for an irritant-free and comfortable sleep.
Pros
Hypoallergenic
Prevents the signs of aging
Lightweight
Biodegradable
Fully adjustable
Ergonomic design
Breathable
Washable
Cons
None
Price at the time of publication: $34.99
The refreshing CenYouful Mulberry Silk Sleep Mask is crafted from natural silk fabric with an anti-aging effect. Its skin-friendly fabric causes less friction and static to protect the skin and hair. This sleep mask's Velcro strip and large size fit all head sizes and provide a slip-proof fit. The broad wraparound design of the mask ensures to put no pressure on the ears and shuts out all noise. It features a soft nose pad that contours around the face to prevent light from entering from the bottom. In addition, it has moisture-wicking properties to keep your eyes dry and comfortable while reducing under-eye puffiness.
Pros
Prevents the signs of aging
Portable
Protects the ears
Fits all head sizes
Lightweight
Breathable
Cons
Price at the time of publication: $8.99
Pros
Lightweight
Hypoallergenic
Soft and supple
Washable
Cons
Straps may get tangled in the hair
Price at the time of publication: $17.99
The ZanLLW Silk Sleep Mask is fabricated from 100% organic mulberry silk on both sides to relax the eyes and offer a wrinkle-free design. This fully adjustable mask features an elasticized Velcro-free strap to prevent hair tangles and provide a secure fit in any sleep position. The large pad area covers the eyes completely, and the form-fitting shape ensures no light seeps in from the top or the bottom. In addition, the natural fabric of this mask is breathable and ventilated to tackle dry skin and dry eyes.
Pros
Lightweight
Breathable
Hypoallergenic
Organic fabric
Fit all head sizes
Adjustable elastic strap
Cons
The 10 mm deep contoured cups on the Zizwe Sleep Mask protect the delicate under-eye skin while keeping your eye makeup intact and allowing free eye movement. The inner side of this mask is crafted from breathable, soft, and skin-friendly silk that prevents under-eye bags and wrinkles. Its ergonomic nose flap and cushioned memory foam offer a 100% blackout design to keep all light out while providing restful and relaxing sleep. It is fitted with a fully adjustable elastic headband to give a customized and secure fit in any sleep position.
Pros
Lightweight
Machine-washable
Adjustable elastic strap
Breathable
No pressure
Ergonomic design
Cons
Not suitable for slim faces
Price at the time of publication: $14.99
There are many important factors to consider before you choose a sleep mask if you are a side sleeper. Listed below are the key points to keep in mind while selecting a good-quality mask.
How To Select The Best Sleep Mask For Side Sleepers
Sleep masks are made of different materials with various benefits, but it is important to choose the one that feels the most comfortable against your skin. For example, silk has a luxurious feel and is lightweight, whereas cotton is more breathable and easier to maintain. Polyester fabrics can mimic the feel of silk while being lower in price and easier to clean. Foam masks offer more contouring and ensure your eyelids and eyelashes are not constricted.
Size is an important factor as it a sleep mask for side sleepers should be wide enough to cover the entire eye area to account for movement and change in positions.
Choose a mask with secure Velcro fastenings or adjustable elastic straps. Check that there are no side buckles that can put pressure on your temples.
A contoured mask can work for side sleepers as long as the contours fit the eye area perfectly and do not extend onto the temples.
Bulky styles are not suitable for side sleepers as they may bunch up on the sides and cause discomfort. It is recommended to choose slim and lightweight masks so that they don't leave any indentations and lines on your face.
Extra features – like weights that apply gentle pressure on the eyes, cooling gels to soothe the under-eye area, noise cancellation, and heating for relaxing the muscles – make sleep masks more efficient in promoting restful sleep.
Why Trust StyleCraze?
The author, Aditi Naskar, has a diploma in health and wellness. She conducted thorough research and read hundreds of reviews online to know more about the best sleep mask for side sleepers. She carefully picked a list of sleep masks that are machine washable and have adjustable straps. Apart from supporting undisturbed sleep, they can also prevent wrinkles and under-eye bags.
Frequently Asked Questions
Is it good to sleep with an eye mask?
Yes! The use of an eye mask results in an increased amount of REM sleep, which elevates melatonin levels. It allows you to get quality sleep in disruptive environments. Good-quality sleep helps in improving your concentration, short-term memory, mood, awareness, and reaction times and decreases the risk of cardiovascular disease.
Can a sleeping mask be used daily?
Yes, you can use a sleeping mask every day. It helps reduce insomnia, improves sleep quality, and is a safer alternative to medication.
Does sleeping with an eye mask help prevent wrinkles?
Yes. Sleeping with an eye mask helps protect the skin around the eyes, and prevent the formation of wrinkles. However, the results are temporary.
How tight should a sleep mask be for side sleepers?
The sleeping eye mask must not be too tight or too loose. If the eye mask is too tight, it will press the eyes. So, choose an eye mask that fits around your eyes, features a firm nose bridge grip, and slides freely.
Are weighted sleep masks good?
Yes, weighted sleep masks are suitable for meditation, yoga, and travel. They help you relax and induce sleep.
Do sleep masks damage the hair?
No. There is no evidence that sleeping masks cause hair damage.
Do sleep masks help with puffy eyes?
Yes. A weighted eye cooling mask helps reduce puffiness or swelling around the eyes.