10 Best Sleep Masks You Can Buy In 2020 – Reviews And Buying Guide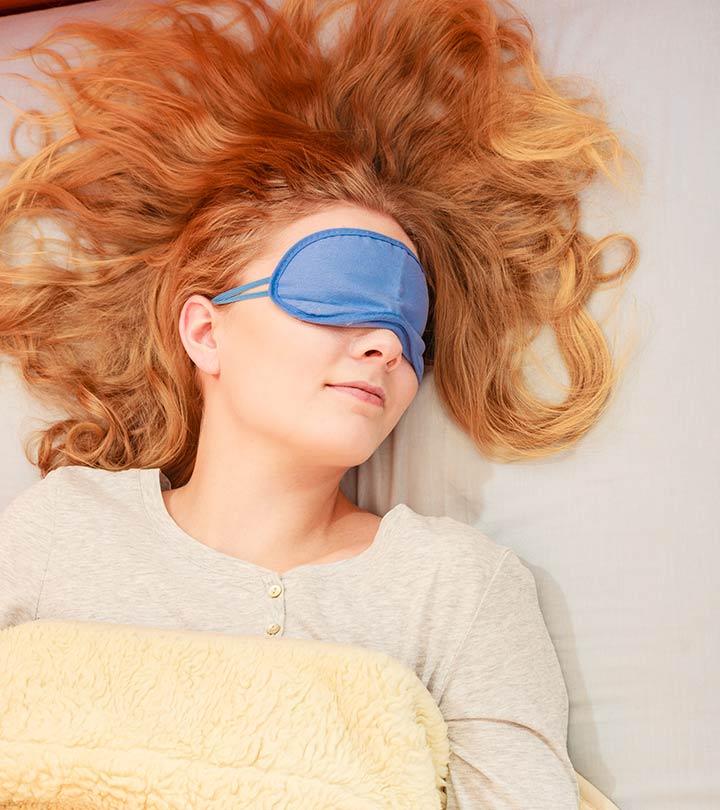 Did you know that a chaotic environment, harsh lights, and an unhealthy lifestyle could influence sleep (1)? People who work in the graveyard shift especially find it extremely difficult to sleep in the morning. Although not all external factors are under our control, making little changes to our sleep regimen can help improve the quality of our sleep. By little changes, we mean sleep masks.
For all the night owls out there, these masks are your best bet as the masks can fake darkness and make you fall asleep even when the sun is out and blazing. If you are still doubtful about how these little masks help you sleep better, check out some of their benefits below.
Benefits Of Sleep Masks
May Help Improve Melatonin Levels
Since eternity, we humans are wired to associate darkness with sleep. This is because of the secretion of melatonin (a hormone that controls our sleep cycle). It is produced in the absence of light, which is why, as sunlight fades away, we are naturally driven to sleep.
Since your brain associates darkness with sleep, using a sleep mask will make it impossible for your eyes to get exposed to light. This way, your brain senses the absence of light and produces melatonin.
Sleep masks can be of great help to people who are incapable of shutting their eyes fully while sleeping. Persistent exposure to air and light can cause dryness in the cornea. Hence, by creating darkness around the eyelids, these masks will keep your eyes shut and lubricated throughout the night.
Sleep masks block out light and mute the noise, triggering your brain to secrete melatonin. This will make you fall asleep instantly. With regular melatonin secretion, you will experience more restorative sleep.
Sleep masks prevent the formation of new wrinkles around the eyes. Some sleep masks come with soothing gel. These can reduce puffiness and minimize the inflammation to a great extent.
Now that you are aware of the benefits, let's not keep you waiting. Here's the list of the 10 best sleep masks available on the market right now.
Top 10 Sleep Masks To Buy In 2019
This super-soft and a breathable eye mask are made of 100% top-quality natural silk. It is one of the best soothing masks in the world. It lies smoothly against your skin and is great for people with sensitive skin. The easy-to-adjust headband stays in place at the back of the head without sliding or tangling.
Pros
Suitable for side sleepers
Does not tangle hair
Can accommodate earplugs
Keeps dry air out
Suitable for kids and adults
Cons
This contoured eye mask is designed for comfort and relaxation. Unlike traditional eye masks, this design is much more comfortable and easy to use. It does not shut your eyes completely. It gives you the freedom to open your eyes to an effective REM sleep cycle. It is the perfect eye mask for blocking out the light without putting pressure on the eyelids. Bedtime Bliss sleeping mask best eye mask for sleeping.
Pros
Great for travel
Lightweight
Washable
Includes earplugs
Perfect for shift workers
Fits all head sizes
Cons
This eye mask is Nidra's patent design. It is a contoured eye mask that fits your face and eyelids perfectly without sliding. The deeply molded cups are placed at the perfect distance from your eyes and eyelashes. It keeps your eyes protected from light without smudging or compressing your face. It also has nose pieces to ensure a 100% right fit. It is the best sleeping mask as it is easily adjustable.
Pros
Blocks out the light effectively
Easily adjustable
Allows you to blink your eyes freely
Travel-friendly
Cons
The elastic band loosens after a while.
This sleep mask is designed especially for rub-free comfort. Besides shielding your eyes from the light, it lies smoothly on the eyelids without compressing your face or eyelashes. The adjustable and pain-free strap fits your head perfectly without moving or falling off in the middle of the night. The 100% fine silk material naturally soothes your skin and enhances your sleep. Jersey Slumber is 100% most comfortable sleep mask.
Pros
Breathable material
Allows oxygen flow
Keeps dry air out
Easy on your eyes
Reduces puffiness
Cons
This ultra-comfortable eye mask provides extra protection to the eyes against the light, making it an ideal product for airplane naps. It has elastic straps with a buckle for 100% adjustable fit. The breathable and lightweight material soothes your eyes and provides seamless comfort.
Pros
Blocks light completely
Adjustable straps
Washable
Durable
Travel-friendly
Cons
Material quality is not great.
This eye mask is perfect for soothing tired and puffy eyes. It conforms to your face and blocks out the light completely. This eye mask/pillow is ideal for jet lag. The breathable cotton material is comfortable to wear for long hours. The ergonomic design applies pressure on the sinuses and relieves headaches instantly. If you want to relax after hours of traveling or working on the computer, this product is the best!
Pros
Washable
Absorbent material
Durable
Gentle on your eyes
Cons
This plush and oceanic sleep mask is designed using pure silk that sits comfortably on your delicate eyes. It blocks out the light effectively by enveloping your eyes gently without compressing them. Experience undistracted sleep with the help of this mask. It fits all head sizes effortlessly.
Pros
100% silk
Adjustable straps
Washable
Cons
It doesn't stay in place.
This new generation 3D eye mask offers plenty of room for free eye movement. The rebound memory foam allows you to rest peacefully without putting pressure on your eyes and helps in relieving Insomnia. It has an adjustable buckle strap that keeps the mask in place without moving. This eye mask perfectly fits the bridge of the nose, allowing you to breathe without any difficulty.
Pros
Fits all head sizes
Effectively blocks out the light
Comfortable on eyes
Cons
This sleep mask was created to fit the bridge of the nose naturally. It has a hollow space right at the center to avoid putting pressure on the eyes and eyelashes. The mask won't budge or rub against your eyelids. The breathable material allows air permeability. Since the bedding of the mask is thick, it blocks out the light completely.
Pros
Soft and comfortable material
Easy to adjust
Ideal for flight journeys
Cons
This 3D mask is made from premium memory foam with silk lining. The breathable and comfortable material fits the bridge of the nose perfectly. The 3D structure is specially designed for free eye movement. The pack also includes two earplugs to cancel the noise. This eye mask is ideal for men, women, and kids.
Pros
Shuts out light completely
Stays in place
Comfortable for long wear
Cons
The strap gets tangled in your hair.
Those were the top 10 sleep masks available on the market. But how do you choose one? How do you know which eye mask is perfect for you? Read on for the buying guide.
Buying Guide – Things To Consider While Buying A Sleep Mask
Here are the important features to look for in a sleep mask:
1. Material
(i) Silk
Silk is a luxurious material known for its durability. It is comfortable and soft and blocks light effectively. Silk is one of the top choices for sleep masks.
(ii) Memory Foam
Memory foam sleep masks are usually 3D structures. They are designed specially to fit your eyes and the bridge of the nose. Masks made of memory foam are best for people who tend to blink a lot or have long eyelashes.
(iii) Polyester
Masks made of polyester are lightweight and breathable. They remain cool and allow maximum air permeability. But the downside is that they tend to stain quickly.
(iv) Satin
Satin is a blend of cotton, silk, and polyester. Satin masks remain in place without slipping.
2. Comfort
Choosing an eye mask that allows you to slip into a deep sleep is your top priority. Check for a sleep mask that offers an adjustable strap to avoid putting too much pressure on your eyes. Also, make sure that the buckle is situated at the back of the head and not at the side.
If you are a side sleeper, get a flat silk eye mask so that it stays on an entire night.
For people who do not want even a ray of light, memory foam sleep masks work best.
3. Portability
If you are a frequent traveler, purchase a sleep mask that weighs less than a pound. You can look for masks that are foldable or come with a case.
With these amazing sleep masks, quality sleep is just a click away! If you haven't tried them yet, you should! Pick your favorite product from the list and let us know if it worked for you by commenting below.
Recommended Articles
References
"External Factors that Influence Sleep" Division of Sleep Medicine, Harvard Medical School