9 Best Sleep Trackers Worth Trying In 2020 For A Good Night's Sleep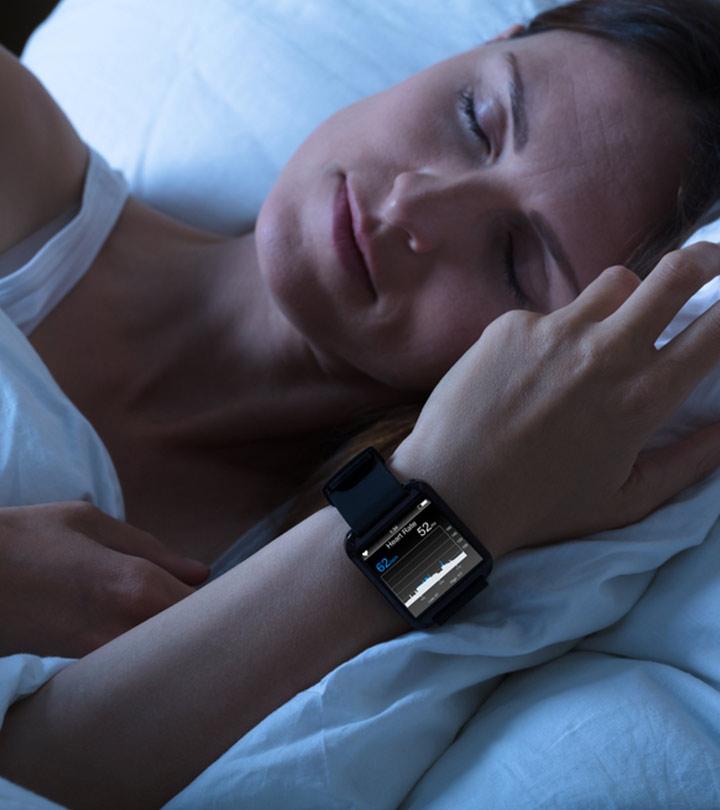 A good night's sleep ensures you stay productive, active, and alert all day long. However, if you do not get good quality sleep all night you can wake up feeling tired and groggy and it slows you down for the entire day. If you have been experiencing low energy when you wake up in the morning you may want to start tracking your sleep cycle. How may you do so?
It is very simple and effortless and all you need to do is literally get your hands on a sleep tracker. Most sleep trackers come with a sleep tracker app that even lets you share information with your friends and family. The 9 best sleep trackers are listed below with the help of which you will be able to identify the most favorable sleeping conditions for yourself and improve the quality of your sleep.
9 Best Sleep Trackers You Should Consider Getting Right Now
The Fitbit Versa 2 Health And Fitness Smartwatch is an activity and sleep tracking smartwatch that even comes with a built-in Alexa system so you can have access to information, news, and weather on the go. It also lets you set alarms and timers as well as control devices in your home by using voice recognition. This sleep monitor watch gives you a sleep score that it calculates with the help of your heart rate, the amount of time you were asleep for and how restless you were when sleeping, all of which is monitored by the sleep tracker in this smartwatch. Keep a tab on your sleep quality each night with the help of this sleep tracker which is one of the best Fitbit for sleep tracking. This sleep tracker also tracks for how long you slept lightly, deep, or in REM stages which lets you gain personal insight on your sleep cycle. What's more, the display size on the screen can also be increased so even if you wake up in the middle of the night you don't have to look for your glasses before reading what is on your sleep tracker smartwatch.
Pros
The battery can last for up to 6 days
Lets you track heart rate 24/7
Tracks exercises and sets goals
Can be synced to devices owned by friends and family.
Lightweight, doesn't feel like a heavy item on the wrist.
The screen has great contrast, vivid colors and is visible even in harsh sunlight.
Cons
You may have to pay extra on the app for the music to play from your sleep tracker.
The Apple Watch Series 3 is more than just a smart watch sleep tracker and has plenty of features to offer. GPS data, retina display, emergency SOS and music are some of the most useful apps on this smartwatch. The optical heart sensor built into this wearable sleep tracker is what lets the smartwatch monitor your sleep cycle, motions and disturbances at night while you sleep. This Apple watch is powered with an S3 chip and dual-core processor that works like magic and offers you a multi-faceted device on your wrist. With the help of this sleep tracker you can track your sleep even if you are at a sleepover at someone else's house or are staying at a hotel, so that you never lose a single day of sleep data. In addition to sleep, it also tracks your fitness and activity with a separate feature for cycle tracking as well.
Pros
Swim-proof
Walk around with Siri on your wrist at all times.
Interchangeable bands are available for a new look every day.
Lets you make and receive calls, text messages, Facebook messages, tweets and Instagram posts.
Cons
The edges of the sleep tracker may be a bit too sharp.
The Withings Steel HR Sport Hybrid Smartwatch is from the house of Nokia and is an activity and sleep tracker that you can wear on your wrist. This Withings sleep monitor can track your heart rate even when you are working out and provides in-depth reports along with daily as well as overnight heart rate. When tracking your sleep, it lets you wake up to a well assessed sleep score that is based on your deep and light sleep cycles, how often your sleep was interrupted, the regularity and depth of your slumber and how much you moved around. IT also features a silent vibrating alarm so that your partner sleeping next to you will not be disturbed by your 6 AM wake up sound. How considerate is that? This sleep tracker also has a 20 day reserve of power which is amazing since sleep trackers need to be on all night and it is possible to forget to charge it all the time. You can also sync all this data with the free Health Mate app that connects to your phone via Bluetooth.
Pros
Water-resistant up to 50 m
Has a battery life of 25 days.
Features a durable stainless steel casing.
Changeable wristbands available separately.
Operating temperature is 10-45 degree Celsius.
It can also assess your cardiovascular capacity, fitness level and how much oxygen you consume.
Receive calls, texts, apps and event notifications from your Smartphone on this smartwatch.
Cons
The time may be a little hard to read on this sleep tracker.
The Withings Sleep Tracking Pad is a non-wearable sleep tracker that can be placed right under your mattress. This easy to set up sleep tracking device monitors sleep and also detects snoring along with disturbances in breathing. It can track your sleep cycle, heart rate and uses algorithms created by sleep experts to analyze data. With the help of this sleep monitoring pad you can wake up to a sleep score daily so you can understand if you had a good night's sleep and based on the conditions you slept in, you can ensure to recreate them. Data like this helps you improve your sleep quality which in turn can improve life quality. This sleep tracker also runs on a sensor via IFTT that can be set to act as an automated sensor for home devices. It can also detect any disturbances in breath that can be used to monitor or identify sleep apnea. When you wake up in the morning you can simply reach out for your phone to find results in the app.
Pros
Compatible with Alexa
Can be used under a mattress between 4 to 15 inches thick.
Compatible with iOS 10 and higher and Android 5.0 and higher.
Can easily connect to your Wi-Fi at home and to the Health Mate app.
Cons
The sensor may be a little weak in this sleep tracking pad.
The Fitbit Charge 3 Fitness Activity Tracker is a good option if you are looking for a reasonable fitness and sleep tracker all in one. This wristband for sleep tracking even measures how many calories you burn, helps you understand your heart rate at a resting position and checks your heart beat 24/7. The sleep tracker in this activity band automatically records the amount of time you spend in deep, light and REM stages of sleep. It gives insights on health, activity trends and personalized guidance in a single place. The wristband is compatible with iOS 11 and above and Android 7.0 and higher. This swim proof fitness tracker is resistant to 50 meters water and can be worn in the shower as well. Connect your Fitbit to your Smartphone GPS in real time with Bluetooth 4.0. You can also receive texts and notifications on the smartwatch for all your daily needs right on your wrist.
Pros
Has a battery life of up to 7 days.
Can be fully charged in a maximum of 2 hours.
Operates well in temperatures between 10 and 45 degree Celsius.
Made using aerospace grade aluminum and corning gorilla glass 3.
Includes more than 15 modes for exercise that can help your workout get better.
Cons
The step counts may be a bit inaccurate.
The Beautyrest Sleeptracker Monitor is powered by AI and is the first sleep tracking device that is Alexa-enabled so that it can fit right into your smart home. This Beautyrest sleep tracker immediately makes your bed a smart bed. This Wi-Fi enabled sleep monitor has accurate sensors that monitor and analyze heart rate and respiration and unique behaviors of sleep like wakefulness and body movement. The intuitive app provides readings that are precise and translates them into personalized sleep data. The "sleep cycle alarm" sets the most suitable time for you to wake up. Powered by a brilliant processor, the sleep tracker constantly learns your sleep rhythms and patterns and reposts updated information so that you can be sleep-coached effectively.
Pros
Product size is 3.5 x 3.25 x 1 inch.
Monitors breathing and heart rate as well.
Can monitor sleep activity ranging from deep, light and REM sleep.
Can monitor 2 sleepers independently and report their data separately.
Cons
The sleep tracker may not be able to distinguish if you are sleeping or just resting in bed.
The EMFIT QS Under Mattress Sleep Tracker With HRV features a medical grade under mattress sensor that can help you eventually sleep better and live a healthier life. Knowledge is power and with the knowledge of your sleep habits you can improve the quality of your sleep and manage the sleep cycle better. Lower the risk of health problems by measuring your sleep by using this under mattress sleep tracker from EMFIT. This non-wearable sleep tracker provides a detailed description of sleep quality and recovery progress. A preferred choice for athletes this contact-free sleep monitor records your sleep cycle all night and also offers an analysis. This easy to set up sleep tracker doesn't even need to be turned on or off. It constantly works even if you forget about it. It is only 1 inch thick and can be slipped under the mattress. Get accurate data on your device which is synced with the sleep tracker that measures your breathing and heart rate as well.
Pros
Can last for many years without the need to replace the pad.
Only the pieces that are placed on the floor use electric supply and the pad has a Wi-Fi transceiver.
The electro-active material used in the sleep tracker is self biased and does not need electric power.
Cons
It may take a little long to set up the sleep tracker under the mattress.
The Xiaomi Mi Band is only a 22 gram full color sleep tracker with a touch display. Made using AMOLED and rubber, this wearable smart watch sleep tracker counts your steps as well when you are active. Use it to track running and other sports activity as well as your sleep all night. This smartwatch sleep tracker allows you to play and listen to music as well while you participate in activities hands free. This smartwatch activity tracker also recognizes 5 varied styles of swimming and can record 12 data sets that include stroke count and swimming pace. The sleep tracker feature tracks deep and light sleep very accurately and can also check your heart rate while you are sleeping so you can adjust your sleep patterns in the future based on the information and data it provides
Pros
Features a 3-axis gyroscope and a 3-axis accelerometer.
Water-resistant up to 50 meters, waterproof level 5 ATM.
Can go on for up to 20 days without having to charge again.
You can receive calls, texts and other app notifications on the smartwatch.
Cons
The app for this sleep tracker may have lots of ads.
The Lintelek Fitness Tracker is an all day and all night activity and sleep tracker that looks extremely sleek and stylish to wear. It can monitor your heart rate as well as your sleep continuously. When you are done exercising the full heart rate graph can be presented to you. Similarly when you wake up in the morning a comprehensive sleep analysis is reported. This activity tracker records day activities like distance, steps, calories burned and night activities like sleep status, heart rate while sleeping and breathing rhythms. It also sends you reminders about important events and dates and can be easily charged with the built in USB plug. When it is done charging a red light turns on and you can get about with your daily activities. The USP of this fitness tracker is an advanced heart rate sensor that will help you monitor your cardiac health. This sleep tracker can be worn in the rain as well as in the shower.
Pros
Lightweight weighs only approximately 29 grams.
Can be fully charged in a maximum of 2 hours.
Can work for up to 5-10 days depending on multiple conditions.
Lets you remotely take pictures by controlling the camera remotely on the smartwatch screen.
Features a wrist sense that automatically lights up the screen when the wrist is turned towards you.
Cons
The app may not be very user-friendly.
Sleep trackers help you to find out what is causing your sleep to be so disturbed. With so many options available today, let us help you make the right choice for your sleep tracker.
Buying Guide For Best Sleep Trackers
One would assume there cannot be too many options and variety in sleep trackers. Apparently there are many different types, and some with focused functions. This buying guide will help you narrow down to the ideal sleep tracker for you which will give the exact information you are looking for about your sleep pattern.
How To Choose The Best Sleep Tracker
Before buying a sleep tracker and committing to it, look for the following features:
When looking to buy a sleep tracker, look for one that does not require too much maintenance, comes with a warranty and can last you for many years without having to replace it for a new sleep tracker.
Some sleep trackers are very sensitive to the slightest of movements while some may not be able to record minor changes. The sleep tracker should not be very sensitive and very insensitive as both can provide misleading information.
This mainly applies to sleep trackers worn on the wrist. If possible you must try on the sleep tracker and check if it fits your wrist well, does not cause any allergy and doesn't hurt your wrist area when participating in different types of activities, especially when you are sleeping.
It would be annoying to have a sleep tracker that you have to constantly keep charging specially because you need it to work for a good 7-8 hours at a stretch each night. Mattress pad sleep trackers can also be power based, but in such cases you need to ensure there is a power socket close to your bed.
Which Type To Choose – Wearable or Non-wearable?
Sleep trackers can be divided into two main types, wearable and non-wearable. While wearable sleep trackers can give you a lot more than just tracking your sleep, they may not always be the most precise tracking device. Non-wearable tracking devices are known to be more efficient however sometimes they may require an elaborate setup. Let's help you choose what will work best keeping in mind your personal needs.
Wearable:
Wearable sleep trackers mainly consist of sports, activity and fitness bands. Most wearable sleep trackers offer following features:
In addition to tracking sleep, you can use the same tracker to give you data about your active hours too. Based on this, the tracker can analyze how you slept after a long adventurous day.
The vibration feature is available in most wearable sleep trackers and can remind you for appointments as well as act as an alarm to wake you up.
They may even offer features that are often found on smart watches like connection to apps, music and contactless payment.
You can wear it to track your sleep even if you are not sleeping in your own home or bed, however it may irritate your wrist.
Needs to be charged regularly as it is used throughout the day.
Non-wearable:
Non-wearable sleep trackers include tracking mats that you can place under your bed or a device that you can keep on the bedside table. They have the following features:
Most non-wearable sleep trackers need to be installed only once after which it will automatically track your sleep every time you are in your bed.
If you are not looking for a device that tracks your regular activities as well, this may be a good option.
While sleeping on a sleep tracker, you will be free from wearing any device on your body.
If you are sleeping in bed with a partner the data may be affected and miscalculated.
A high end non-wearable sleep tracker may still be more affordable than a high end wearable sleep tracker.
How To Use A Sleep Tracker?
You do not have to do more than installing or wearing your sleep tracker before using it. Once set up, all you have to do is be. Use the sleep tracker to monitor how disturbed your sleep is at night; how many times you shift in bed and how often you wake up.
How Do Sleep Trackers Work?
Sleep trackers work using the technology called actigraphy that senses every motion you make and also includes a heart rate sensor to check your heart rate at all times.
How Accurate Are Sleep Trackers?
Most of the sleep trackers can only guess to estimate your sleep activity. However sleeping pads that you can place under your mattress are known to be more accurate than wearable sleep trackers.
As most business analysts say, having access to data is the key to success, the same way having data about your sleep cycle and sleeping habits can help you develop healthy and comfortable sleeping situations. The knowledge of which condition you sleep best in can be provided with the help of sleep trackers with which you can start sleeping more soundly each day. Based on your comfort level, you can choose wearable or non-wearable sleep tracking devices and find out which is the best sleep tracker specifically for you. Let us know in the comments section below what is the longest you have slept for without being disturbed!
Expert's Answers For Readers' Questions
Do sleep trackers actually work?
Sleep trackers actually work to provide you with data about your sleeping habits however they will not improve your sleep quality, but only provide information about what goes on when you shut your eyes.
Who needs sleep trackers?
If you wake up each morning after 6-7 hours of sleep and still feel tired, have dark circles or find difficulty in breathing, you may want to test out a sleep tracker to find out what your body is up to and reacting to when you are trying to sleep.
Can sleep trackers detect sleep apnea?
Some sleep trackers are equipped with the technology to detect sleep apnea that can in the long run help you tackle it in a more sustainable manner.
Are sleep trackers good for you?
Sleep trackers are a good idea because we do not have any other way of finding out how well we are sleeping at night, what our oxygen levels are and if we are facing any difficulty in breathing. Knowledge is always power and sleep trackers provide us with the data we need to rectify our bad sleeping habits.
Are Fitbit sleep trackers accurate?
Fitbit sleep trackers can be decently accurate and can be dependable to quiet an extent without much lag in the data provided.