15 Best Slip-On Sneakers For Women On The Go – Stylecraze
Convenience meets style with this footwear that ensures you remain comfortable all day.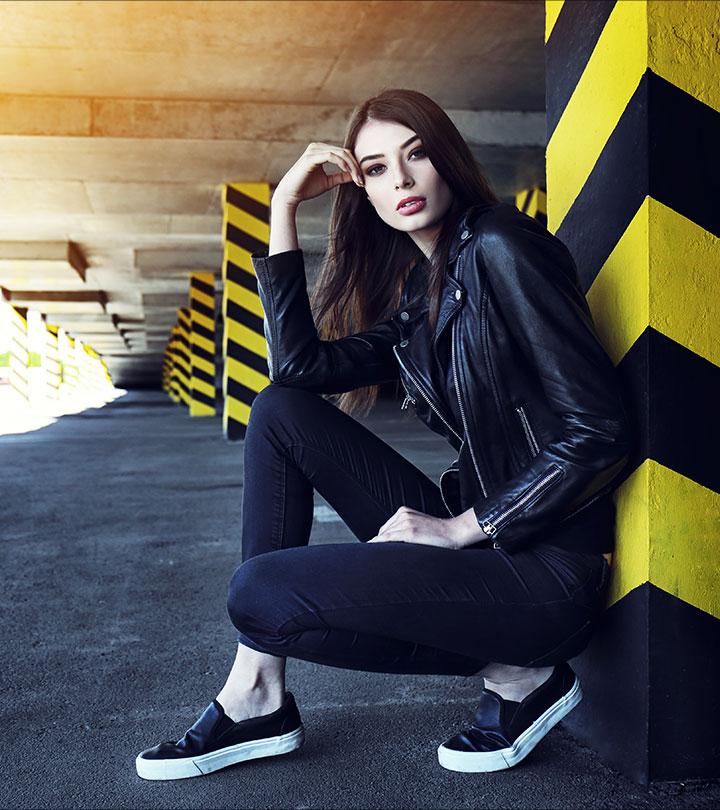 If you are a fan of practical and functional shoes, the best slip-on sneakers mentioned in our list will be your favorites. They are not just convenient but also stylish and ideal for those who love being active. Slip-on sneakers are available in wide array of designs and colors to choose from. They complement various outfits and help you make a style statement without experiencing any discomfort. Raluca Oita, a fashion designer, says, "Slip-on shoes are still in attendance and that's not changing anytime soon. They are typically low, lace-less shoes, with a moccasin construction. They open up a lot of opportunities to be matched with a wide variety of outfits. A great addition to any shoe wardrobe." After extensive research, we have curated a list of 15 slip-on sneakers that have the best reviews. Swipe up for more information and grab the pair your like!
15 Best Slip-On Sneakers For Women
These casual and comfortable slip-on sneakers from Soda Tracer are convenient to wear and take off. The non-slip sole is made of premium quality, soft, and durable rubber. The upper portion has a perforated detailing that makes the shoe breathable. The long tongue covers more than half of your foot to provide a comfortable fit. The padded collar prevents blisters and gives a soft feel. These slip-on sneakers enhance your casual day style.
Pros
Vegan
Comfortable
Breathable
Soft
Lightweight
Cons
Price at the time of publication: $19.92
These canvas slip-on sneakers are lightweight, breathable, and comfortable to wear. The broad-toe design provides enough room to wiggle your fingers. The outsole is made of thermoplastic elastomers to prevent slipping and provide a firm grip. These shoes from Beneker look cute and fashionable and can be worn with or without socks to go with any outfit, such as jeans, skirts, capris, shorts, or dresses.
Pros
Ergonomic design
Lightweight
Moisture-wicking
Anti-slip sole
Cons
Price at the time of publication: $24.99
These casual, cute-looking loafers from STQ are made with polyester and synthetic material and can be paired with any outfit. The memory foam insoles of these slip-on loafers are soft, cushiony, and comfortable. The outer rubber soles have a non-slip design and offer full traction while walking or running. These slip-on sneakers are available in four classic colors – white, black, gray, and olive. The quilted design makes these shoes look premium and classy, while the side elastic gores offer a snug fit and ease of wearing.
Pros
Soft padded collar
Non-slip rubber sole
Unique quilt design
Snug fit
Cruelty-free
Easy to clean
Flexible
Cons
May not be suitable for narrow feet
Price at the time of publication: $29.99
The delightful canvas sneakers from Soda are casual style slip-on for running errands. The insole is made of memory foam gel that cradles your foot for comfortable stretch and maximum comfort. The laces are just a design add-on. These durable sneakers offer good traction and go well with all outfits.
Pros
Soft insoles
Lightweight
Flexible movement
Easy to wash
Comfortable
Cons
Price at the time of publication: $19.5
The Lamincoa Women's Walking Shoes are ideal for walking, running, sports, traveling, and workouts. They are made with lightweight and breathable mesh-knit design that provides comfort and elevates your style. The extended pull tab allows you to wear and remove the shoes quickly. The shoes have memory foam insoles that offer comfort and wick moisture to keep your feet fresh and odor-less. The MD outsoles provide full traction to perform different activities, while the anti-collision toe-tabs prevent toe injuries.
Pros
Lightweight
Breathable
Good traction
Anti-skid sole
Durable insole
Absorbs sweat
Flexible
Shock-absorbing
Stretchable
Suitable for wide feet
Cons
Less ankle support
Not for running or intense workouts
Price at the time of publication: $36.5
These fashionable sneakers from Jenn Ardor have high platform heels that offer a little height. They can be paired with jeans, shorts, dresses, and casual wear. The shoes are extremely breathable and provide comfortable and supportive insoles. The flexible rubber soles offer full traction to avoid slipping while walking. The stretchable elastic panels on the sides prevent the need for fastening and makes the sneakers easy to wear.
Pros
Non-skid sole
Easy to clean
Comfortable
Breathable
Flexible
Durable
Soft sole
Cons
Runs narrow towards the toe
Price at the time of publication: $32.99
The Staragon Women's Sneakers have a mesh-knitted upper with 10,000 holes that keep your feet comfortable and well ventilated. The ultra-lightweight design makes you feel like you are barefoot. The shoes have high elastic cotton insoles that are soft and skin-friendly. They absorb high impact force to reduce pressure on the balls and heels of the feet.
The non-slip MD outsoles offer full traction, support, and durability. The sneakers are scratch-resistant and have anti-slip and anti-twist properties. The S-shaped design on the soles produces friction that prevents injuries. The pull-on tabs at the ankles allow ease of wearing and removing them.
Pros
Ideal for sports
Lightweight
Durable
Non-slip sole
Snug fit
Soft insole
Breathable mesh design
Cons
None
Price at the time of publication: $21.9
These slip-on sneakers from Frye are made of leather and elevate your look instantly. They have a ballet-flat design and low-profile soles for stability. They are stitched perfectly and made true to size. The shoes have padded leather footbeds that provide comfort while walking, while the elastic gore trim gives your feet a snug fit. These shoes capture the essence of American style and are available in a range of chic colors.
Pros
Stylish
Padded sole
Fine stitching
Sleek design
Cons
Expensive
Runs narrow towards the front
Price at the time of publication: $129
This sneaker is made of canvas that is easy to wash and maintain. Its eyelet design without laces and distressed look looks classy and stylish. It features a rubber outsole with a ½-inch heel to increase your height. The hidden elastic in bed with cushioned footbed provides a comfortable fit and support.
Pros
Cushioned support
Easy to wash
Non-skid outer sole
Moisture-wicking
Skin-friendly
Cons
Price at the time of publication: $36.88
These functional and stylish platform sneakers are available in multiple colors and go well with most of your outfits. They are made with 100% manmade synthetic fabric. The padded collars provide absolute comfort and prevent any blisters while walking. The rubber outsoles have great traction and help maintain stability while walking on uneven areas. The platforms measure 1.25 inches, and the double-cushioned insoles offer maximum comfort and support.
Pros
Platform heels
Flexible
Rubber outsole
Double-cushioned support
Snug fit
Cons
Price at the time of publication: $25.77
The Puma Women's Bari Slip on Sneakers are designed to give you a cushioned ride through every step of your day. The upper canvas and vulcanized midsole design makes these shoes lightweight and flexible. They feature sock liners with soft foam to provide maximum comfort. The rubber outsoles provide firm grip and flexibility to the shoes. These white sneakers are a perfect combination of style and comfort.
Pros
Lightweight
Cushioned footbed
Flexible collar
Comfortable
Cons
Price at the time of publication: $53.71
These beach-inspired easy-going traveling shoes provide breezy comfort and can be worn all-day long. The slip-ons can be folded to a compact size for easy packing. The washed twill uppers offer a casual look, and the cushioned footbeds provide all day comfort. The shoes have textured rubber soles to provide a firm grip while walking. They featuring foam insoles and textile uppers to offer cushioned support and breathability. The herringbone toe bumpers protect your toes from getting hurt. These shoes can be handwashed and air dried.
Pros
Soft and breathable lining
Easy to pack
Cushioned footbed
Stretchable rubber sole
Washable
Foldable
Cons
None
Price at the time of publication: $38.03
These slip-on platform sneakers from Roxy are made of faux leather, look unique and stylish, and go well with skirts, dresses, and jeans. The mesh eyelets on the front and sides add a design element and keep the shoes breathable. The padded collars offer increased comfort while walking, and the heel pull tabs are for ease of wearing. These slip-on sneakers feature platform rubber outsoles for flexibility in movement. The insoles have cushioned support and terry cloth lining with moisture-wicking properties to keep your feet fresh.
Pros
Platform heels
Breathable
Durable
Easy to wear
Cons
Price at the time of publication: $30.99
These shoes from Jenn Ardor are made of synthetic material and add height to elongate the legs. The upper layer of these comfortable walking sneakers is breathable and features fine contrasting stitching that looks attractive. The anti-slip thick rubber soles are safe and prevent injuries, while the soft insoles are cushioned and supportive. These slip-on sneakers go well with most of your outfits, including shorts, jeans, short dresses, and more.
Pros
Unisex
High-quality material
Lightweight
Soft insole
Non-skid sole
Cons
Price at the time of publication: $30.99
These shoes from Olukai Pehuea Li feature dual-tone mesh and synthetic suede with accents of leather. They can be your perfect companion in terms of both style and comfort. These sneakers feature a drip-in heel design for both slide wear and shoe functionality. You can fold the heels and convert them into convenient slip-on shoes. The PU footbeds provide comfort, and the shoes also have removable and washable single layer mesh footbed covers. The rubber outsoles provide comfort and support.
Pros
Lightweight
Stylish
Long-lasting
Fine stitching
Breathable mesh design
Cons
Narrow towards the toe area
Price at the time of publication: $100
In the section below, we will guide you about the benefits of slip-on sneakers before you decide to buy one.
What Are The Benefits Of Using Slip-On Sneakers?
Save Time: Slip-on shoes can be worn without the fuss of Velcro, laces, or zips. They are easy to wear – all you need to do is slide your feet into them, and you are all set to go. These shoes are easy to remove at the airport security check and save you much time.
Comfortable: These shoes are an absolute delight to wear as they are made with rubber soles that are flexible and comfortable.
Versatile: You can pair these sneakers with any of your outfits without any worry. They complement your overall look perfectly.
Lightweight: Slip-on shoes do not have the burden of heavy insoles or long shoelaces and are generally made of soft breathable material. This makes them lightweight. They can be worn comfortably while traveling or when you need to be on your feet for long.
Let's move on to things to consider before buying slip-on sneakers.
How To Choose The Best Slip-On Sneakers
Activity: Consider the type of activities you will be involved in while wearing the sneakers. If you want a pair for jogging or walking, go for shoes with anti-slip outsoles and padded insoles for grip and comfort, respectively. Ensure the shoes are moisture-wicking and fit your feet snugly. If you want to run errands, you can go for any of the lightweight and casual options.
Material: Check if the material used is breathable or has a mesh design to absorb sweat and allow air circulation and keep your feet odorless, healthy, and dry.
Fit: Most slip-on sneakers come without shoe laces. Some have laces, but only as a design element. While purchasing slip-on sneakers, ensure that the upper is long enough to cover your feet, and the material is stretchable enough to provide a snug fit.
Size: Ensure that the shoes fit your feet correctly and do not run small to avoid blisters and discomfort.
Reviews: It is always advisable to go through the reviews of fellow buyers for the particular brand you have chosen. This will help you in narrowing down your search.
Why Trust Stylecraze?
Baishali Bhattacharya, is our in-house image consultant who has the required expertise in helping people look and feel their best irrespective of their body size and shape! She also has in-depth knowledge of which attire suits what place and occasion. She has extensively researched and personally tried on a few different types of these sneakers, to bring you this selection of nothing but the best. These are not only easy to slip on and take off but provide you with the right comfort, grip, and support to take you through the errands of your day seamlessly.
Frequently Asked Questions
Are slip-on sneakers still in style?
Yes, slip-on sneakers are still in style. They are mostly worn with casual clothes.
Are slip-on sneakers good for walking?
Yes, slip-on sneakers offer extra arch support and good shock absorption.
Are slip-on sneakers business casual?
Yes, slip-on sneakers are business casual if worn with a casual blazer and jeans. However, they look odd if paired with tuxedos.
Do you wear slip-on sneakers with socks?
Yes. Wearing slip-on sneakers without socks may lead to blisters, discoloration, and painful chafing.
Can you run in slip-on sneakers?
Yes, slip-on shoes are great for running and offer sufficient stability and comfort.
How long do slip-on shoes last?
Slip-on shoes last for six months to a year depending upon your usage.
Recommended Articles