10 Most Comfortable Slippers For Women 2019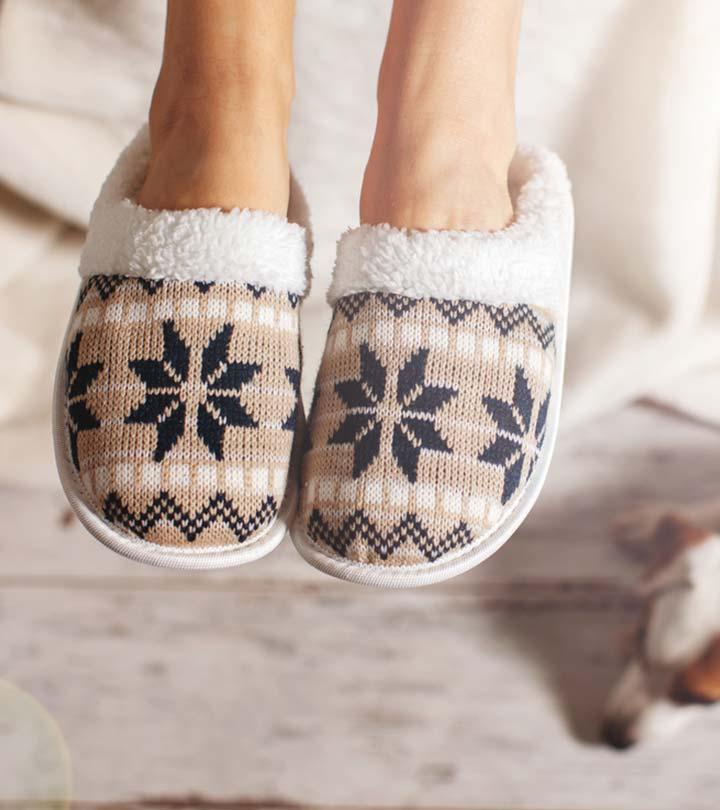 Slippers are our saviors. No matter how many Christian Louboutins or Brian Atwoods we own, we all come back home to our slippers, slip-ons, and flip-flops. Most of us wear slippers at home. But we also run errands and practically live our lives in these, so they better be comfortable and supportive. Otherwise, over time, you will end up with calluses, heel pains, and other uncomfortable issues you should never be putting up with. We did some research on the best slippers for women and have the results for you. Check them out!
10 Most Comfortable Women's Slippers
Memory foam is not just for the comfort of your sleep. Your feet need it too. Coming back home after a long day at work in winters with your feet packed in sturdy boots means they need a breather. Of course, it would be ideal to go around in shorts and flip-flops. But, since we do not live in a perfect world, let's consider sandals that protect your feet and give them the comfort, love, and warmth they need. These memory foam slippers are highly rated and sought after.
Acorn Spa Slider Slippers are one of the softest, plushest, and most comfortable slippers you can find in the market right now. They are soft inside and out, entirely cushioning your feet. The soles are skid-resistant and suitable for all kinds of weather. They are designed with Cloud Contour Memory Foam Technology and arch support for your feet to keep up with movement. Did you know that astronauts on NASA expeditions, sherpas in Mount Everest, and famous athletes swear by Acorn Slippers? If that doesn't say enough about them, I don't want what else will. Their price is not even steep. Grab 'em!
Summers mean short dresses, minimal clothing, breathable footwear, bikinis, tan lines, and all the good things that the sun brings along. If you are looking to buy sandals or flip-flops that are feminine, comfortable, and stylish, go for slippers like these. With a soft rubber sole and satin back stitching for added comfort and support for your feet, these are a steal deal. Not to forget the cute bow that marries it all together!
These soft, breathable, and comfortable cotton house shoes are fully encompassing and keep your feet protected. The elastic trim on the outer layer of the shoes makes them easy to slip on. The soles are anti-skid while being soft – both on the carpet and hardwood floors. They can be washed in a machine or by hand and are so lightweight that you can carry them around while traveling for work.
Come winters, and UGGs are our rescue rangers. We all have at least one pair of their boots in our shoe closet. But what if we told you that your favorite brand makes slippers too? They come with a rubber sole, leather insole, and a lining that keep your feet comfortable. The cross strap and faux fleece take care of the aesthetics of the slippers. Going on a holiday? These are just perfect.
In peak winter months, you know just slippers and warm socks won't cut it anymore, at least not for most of us. But we can't live in sturdy boots all day long. Therefore, we have these feather-like bootie slippers. These slippers are designed with patented footbed technology that relaxes your feet, hugs them softly, and provides them with the love they need in winters. These Isotoner bootie slippers are made of the highest quality materials inside-out.
We all know that linen, cotton, and other airy materials get us through the summer months. And we are not complaining. But, you can use these linen slippers in monsoons too because they are waterproof and skid-proof. They are perfect for beach holidays and resort vacations. The materials used are of highest quality and durable too.
Bring spa vibes to your feet without having to go to one. This is why investing in a good pair of slippers goes a long way. The insoles are made of high-density premium memory foam that soothes your feet and relieves those painful and fatigued heels at the end of a long working day.
Sketchers are keepers, we all know that. They are our go-to for active wear, winters, and just about anything else. Here's another reason you should go back to Sketchers. These slip-ons are sturdy and can be worn both indoors and outdoors – even in the harshest of winters. When you want to step out to take out the trash, collect letters, or take a walk around the community, these slippers keep you warm, soft, and fully protected.
Every second person is wearing these slip-on sandals because they are oh-so-comfortable. Brands like Puma, Adidas, and other activewear companies started these, and a lot of smaller brands followed suit right after. But we suggest you go for good quality, durable, and comfortable slip-ons to protect your feet from fatigue. Whether it is a beach holiday, a cruise, running errands, or everyday swimming, these go a long way.

Slippers are more than just your one-dollar flip-flops. And as much as we love the cutesy designs they come in, they're just not worth it. Besides, these slippers are not too much of a stretch and definitely in the affordable range. What do you look for when you look for slippers? Does comfort matter? Or style? Let us know by dropping in a text in the comments section below.