28 Best Small Gift Ideas To Show People How Much You Care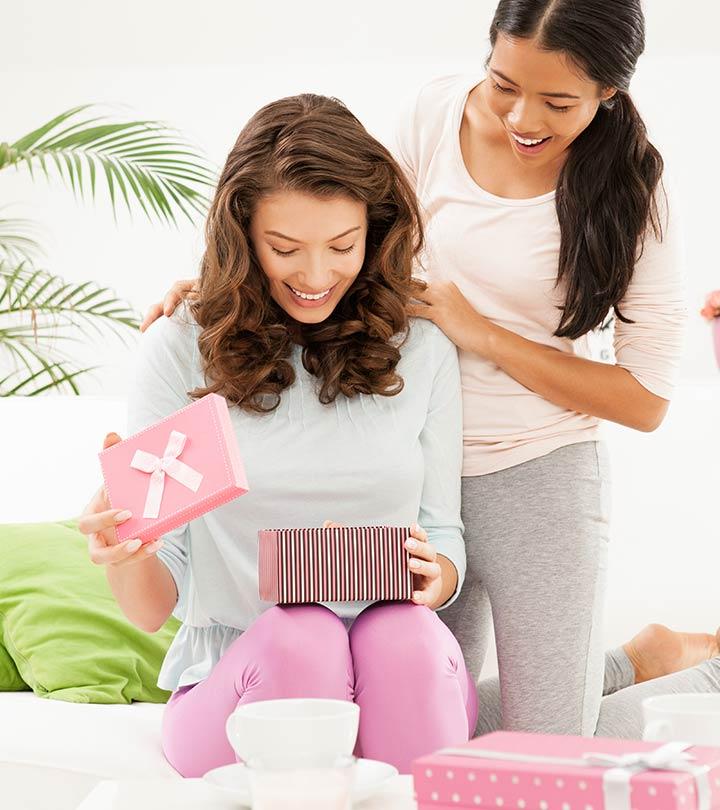 Sometimes, the smallest things have the greatest impact. Like gifts.
The general notion is that gifts have to be expensive to be valued. The truth is, gifts don't always have to be expensive; they only need to be well-thought-out to make the recipient feel special.
We've compiled a selection of small thank you gift ideas that are either small – in size or in price. These quirky items will are sure to brighten up the recipient's day. From infusion water bottles and cell phone stands to bath bombs and blanket scarves, we have listed a range of options for you to choose from. Scroll down to get started!
28 Best Small Gift Ideas
You will be impressed by the clear design and stylish visual aspect of the Lamicall Cell Phone Stand. It is a convenient way of charging your phone through an opening hole on its back. This is a perfect gift for a dynamic, modern person who uses a cell phone for work or wishes to catch a movie in a comfortable position.
Key Features
It offers a suitable height and a perfect viewing angle when using FaceTime and YouTube. It also makes it easy to read messages, Facebook, and emails.
The material used is a black aluminum alloy, which is simple, with smooth edges. It is lightweight and works well with smartphones.
Special technology makes it stable and protects the phone from scratches and sliding.
This stand is compatible with all major phone brands and is meant for use in offices, on a kitchen counter, or even on a nightstand.
This tire pressure gauge helps you maintain the correct tire pressure to prevent the wear and tear of tires and extend their life. The AstroAI Digital Tire Pressure Gauge is battery operated and ergonomically designed. It can be carried in a trunk or a bag. This is a perfect gift for a person who travels a lot by car, who gives importance to the maintenance and overall performance.
Key Features
Integrated digital display reads results instantly and clearly.
Super easy to handle for both men and women due to its ergonomic design.
The lighted nozzle is for visibility in dimly lit areas, and the accurate, easy-to-read digits help to measure the vehicle's tire pressure.
Usable in harsh weather conditions, from -5℃ to 50℃ (23℉- 122℉).
These are highly polished cuff bracelets with a shiny surface. They are very smooth, with rounded edges to avoid scratching the wrist. They also have an uplifting and easily-read engraved message. Joycuff comes with a cute gift box, bringing along positive energy that reinforces your wishes. This bracelet makes for a truly meaningful gift, with a constant reminder of valued friendship. These meaningful small gift ideas for friend will mean a lot to him/her.
Key Features
Joycuff bracelet is adjustable and will fit most wrist sizes.
Beautifully designed and is of solid quality.
If properly cared for, the bracelet will remain in the original state for a long time (surgical grade 316L stainless steel materials).
Very nice finish, classy looking, substantial but lightweight, comfortable for daily wear.
These wine tumblers, with their vivid and brisk colors, will bring joy and light to any home or workplace. The stylish and elegant design, combined with high-quality material, makes them perfect for any occasion. If you are looking for a gift that evokes serenity, these tumblers will work out great.
Key Features
The insulated double-wall technology keeps things hot and cold longer.
Premium lightweight and lead-free material ensures durable quality
Rust-proof, sweat-proof, and easy to wash.
Curved body for easy holding and eco-friendly lid.
The advanced structure keeps drinks cold for 9+ hours and hot for 3+ hours.
This is a scented candle that you can actually smell! It is not only beautiful but also affordable and makes for a perfect small birthday gift idea. The Buttercream Vanilla Cupcake candle will help you appreciate the importance of taking time off and just relaxing.
Key Features
Made with eco-friendly soy wax.
Vegan, paraben-free, and cruelty-free.
This candle has the longest burn time among its segment in the market.
Carefully selected quality scents.
Clean and slow burn.
This water bottle can be a great small gift idea for coworkers. We are aware of the importance of drinking more water, and the Savvy Infusion Water Bottle helps you make this lifestyle change. It is a uniquely designed innovative water bottle with leakproof twist-cap lids, along with a center core for adding fruits, vegetables, or herbs for endless flavor options for your water.
Key Features
The 24oz and 32oz bottles are designed with a superior and unique handled cap with a silicone seal that screws on tight, which means it's 100% leakproof and carbonated water-friendly.
It is a BPA-free bottle made of premium crafted shatterproof Tritan plastic, which means it is built to last.
Reusable and provide a healthy and inexpensive alternative to soda, juice, and sports drinks.
Bonus eBook with tasty infusing tips and recipes.
The RAK Magnetic Wristband is a must-have tool for both the professionals and hobby "fixers." It is perfect for home improvement, construction, carpentry, auto repair, and many other DIY projects. The receiver of this gift will be very grateful and begin happily fixing ceiling fans, recessed lighting, HVAC systems, and more.
Key Features
The wrist band is for everyone; the size fits most.
10 embedded strong magnets surround almost the entire wrist for holding screws, nails, bolts, washers, and drill bits.
Perfect for home improvement, construction, carpentry, auto repair, sewing, and other DIY projects.
Saves time by providing a third helping hand when needed.
If you are looking for small gift ideas for a friend, coworker, or family member, this one might be it. You'll show consideration for a person's well-being and health when you gift them a premium filtering water bottle. It keeps tap water tasty and can be brought along everywhere.
Key Features
The bottle filters as you drink and reduces the chlorine (taste and odor) found in tap water.
Fits car holders
Perfect for use at home, office, a sporting event, or on a trip abroad.
Easy to clean even in a dishwasher.
This handmade bubble bath bomb gift set can be a great wedding gift. The therapeutic and moisturizing bath bombs contain carefully selected premium oils, like grape seed oil, shea butter, and coconut oil. They will help the newlyweds unwind after all the stress and running around on the wedding day.
Key Features
It contains four small boxes, each with 6 different colors and fragrances.
Good bubbling and floating effect.
Long storage time because of natural materials.
All ingredients are made from natural organic oils to improve skin texture and make it smoother and softer.
These Sun-E miniature garden fairy ornaments can be used in any miniature garden, dollhouse, or plant decoration. When searching for small Mothers Day gift ideas, you should consider this cute-sized and widely usable owl pot ceramic set. It imparts a pleasant visual effect to any mini garden or terrarium.
Key Features
Fresh and modern design for any home, garden, or glasshouse.
Beautifully glazed with an elegant, attractive color plant pot, made of ceramic.
6 pieces in one box.
Perfect for bonsai and decorated cactus.
During the research of small gift ideas for women, you probably came across some manicure sets, but ESARORA Professional Manicure Kit stands out for its quality and vast usability. Any woman will be charmed to have this functional, elegant, aesthetic, and stylish kit.
Key Features
The Esadora Kit contains 18 pieces of nail and toenail tools for three functions, including hand care, facial care, and foot care.
100% stainless professional surgical grade steel.
It comes with a portable, lightweight synthetic leather case that is easily opened with the push of a button.
Successfully passed testings about high strength, toughness, and abrasion resistance.
This mini crossbody purse is meant to be used while walking, camping, shopping expeditions, travel, and even for daily use. It is also a great idea as a small gift for women.
Key Features
Very durable
Made of high-density cotton canvas and metal zips.
Highly compatible with smartphones.
A total of 3 pockets – 2 main pockets, 1 zipped pocket, and a spacious room.
Multifunctional – can be used as a shoulder bag, crossbody bag, phone purse, or wallet purse.
Yinuo mirror scented candles gift set has four sensual and calming fragrances, including rose, lavender, lemon, and Mediterranean fig that arouse a relaxing atmosphere. This is a perfect gift that brings along best wishes and energies for someone close to you.
Key Features
Made with 100% natural soy wax
Evenly burn and produce no black smoke.
Long-lasting aromatherapy, relief, and relaxation.
Very attractive look and can also be used as a home decoration.
Portable design
If you are looking for small gift ideas for men, this one is definitely a winner. We all know about men and boys and their "special time." Jokes apart, this toilet light can be very useful for toddlers while being potty trained or for bigger children going to the toilet half asleep. It is also a great solution for people with disabilities and the elderly.
Key Features
Motion-activated LED sensor will allow you to go to the bathroom without turning the lights on and disturbing the sleeping cycle.
Sanitary design makes the toilet light easy to clean.
8 single colors "feel" you and gently light up, leading you right to the spot, no bumping in the dark, and stay on for a minute to help you find your way back to bed.
Easily operated by three AAA changeable batteries.
The COAWAG cup is a strong choice to consider when hunting for small Mother's Day gift ideas or gifts for your teacher or grandma. This glass mug has a chrysanthemum flower design and delicate rhinestones that lend it an aesthetic appeal and make it an exciting addition to any home, restaurant, or office.
Key Features
The glass material of the cup is glittering, translucent, and easy to clean.
The flower teacup can be used for warm or cold tea, coffee, milk, juice, soda water, and vegetable juice.
Doesn't discolor, does not retain smells, and does not leach into drinks.
These trendy blanket scarves are functional, durable, and fashionable. If you are looking for the best small gift ideas for girlfriend or any other precious woman in your life (mother, grandmother, or aunt), these blanket scarves are your best bet.
Key Features
Multiple color options to choose from.
Suitable for any season and applies to the body without bunching.
Fine, stretchy jersey knit material
Easy to wash and dry.
Manufactured according to the highest quality standards.
If you are looking for small gift ideas for boyfriend, then this necklace might just suit your purpose. The writing is inspiring, motivational, and a daily reminder of one's strength when things aren't going as planned. The pendant serves as a powerful mindset reinforcement.
Key Features
3 different materials to choose from – stainless steel, zinc alloy, and crystal.
Made of non-toxic materials that don't distort or rust.
Engravements are customizable.
This cup could be a great idea for a Christmas gift. Entertaining the entire family in front of a fireplace will bring joy while building things and drinking tea. These funny cups are great to bring out the child in an adult.
Key Features
Compatible with most bricks like Lego, PixelBlocks, Mega Bloks, KRE-O, or K'NEX Bricks.
The mug is highly safe and made of the best BPA-free grade plastic.
This multipurpose pocket survival tool is suitable for your uncle, father, or boyfriend. It is basically an all-in-one survival tool. It can pull you out of many inconveniences and hardly requires any space.
Key Features
It contains 11 tools: can opener, cutting edge, flat screwdriver, ruler, beer bottle opener, 4 position wrench, butterfly screw wrench, saw blade, direction ancillary indication (water compass), 2 position wrench, keychain or lanyard hole.
Includes protective case for wallet or purse and a tool identification card.
Made of high-quality stainless steel, so it will not bend, break, or rust.
Weighs only about 30 g.
This one definitely wins in the category of small birthday gift ideas for someone's 50th birthday. It is suitable for both men and women and will bring a smile on many faces. The funny engravement will dissolve the fear of growing old and instead ignite an appreciation for wisdom accumulated over the years.
Key Features
High quality, large, 17 oz stemless wine glass.
The text is engraved by hand and will never wear off.
Individually gift boxed
Dishwasher safe.
This one should capture your attention while searching for small engagement gift ideas. It is a practical gift and is also appropriate for bridal showers, engagements, weddings, and anniversaries.
Key Features
A large capacity of 16.9 oz/500 ml
Easy to use, clean, and store.
Strong and durable stainless steel cups
This retro-looking hot dog toaster stands out for its design. This toaster serves as a fast meal solution for the family. It comes with mini tongs to remove the hot dogs. It is the small gift ideas for wife to ease daily routine.
Key Features
Toasts up to 2 delicious, regular-size or extra-plump hot dogs and two buns at the same time.
LED lighted adjustable toasting.
Works with pre-cooked chicken dogs, turkey dogs, veggie dogs, sausages, and brats.
The funny and long-lasting mug is a top choice for small gift ideas for coworkers. This rustic stainless steel mug can be a great trigger for storytelling about pioneers, late at night around the campfire.
Key Features
Stainless steel campfire enamel mug.
Lead-free
Cadmium-free
Conforms to food grade requirements of FDA, LFGB, EEC.
Resistant, durable, and easy to clean.
This Bath & Body set is one of the smartest small Christmas gift ideas for women. With this gift, you'll show her how special she is and that it is ok to take time off from the daily routine and just relax.
Key Features
Soothing
Includes shower gel, bubble bath, body lotion, bath salts, body scrub, bath sponge, wooden massager, and reusable wire basket.
Contains skin-loving ingredients like shea butter and argan oil.
The shower gels and body lotions are hydrating, nourishing, and make skin glow.
These are the powerful small business gift ideas for men that evoke a sense of safety and strength. Our primal instinct is to protect ourselves and our loved ones, and this pen will come in handy in any adverse situation.
Key Features
Rugged and heavy-duty.
It offers a discreet and practical way to stay ready for anything.
Made of aircraft-grade machined aluminum.
Includes ballpoint pen, glass breaker tip, LED tactical flashlight, bottle opener, 2 x extra refillable ink cartridges, and extra flashlight battery.
This could be the winner among small birthday gift ideas. It will create a hilarious atmosphere at the celebration. The facts are that many men love golf; they consider themselves golf specialists, and they spend enormous amounts of time in a bathroom. So, can you imagine a better gift for a golf enthusiast?
Key Features
Quick set up.
It doesn't need much space.
Fun play for the whole family.
Comes with a putting green, 2 practice golf balls, putter, flag, and a door hanger.
It feels great having pleasant, humorous, and positive coworkers. The beautifully designed pad heads have funny sayings like Bull Sheet or Bunch of Crock! It will encourage a stress-free and positive office atmosphere.
Key Features
Each pad measures 4.25 x 5.5 inches and has 50 sheets.
For the office, home, or just for fun.
Matte paper finish.
After all the celebrations and holidays, this book is a lifesaver. This is a great small gift idea for men, women, and the younger ones. You can give it as a present everywhere and for any occasion.
Key Features
128 pages hardcover
Dimensions: 5.3 x 0.7 x 7.3 inches.
#1 Best Seller in Breakfast Cooking.
There's a perfect gift for every occasion and every person. But thankfully, we don't have to be perfect at all times. The above-listed small gift ideas are suitable for your friends, family, coworkers, or your favorite teacher. But, of course, there's no greater gift than showing a person how much you care for them and appreciate all their efforts.
Which of these gifts would you pick? Do share by leaving a comment in the box below.
Recommended Articles