10 Adorable Small Tattoo Ideas
As we all know, tattoos come in all sizes. There are big tattoos, full body tattoos, and then there are the small ones. Usually people opt for small tattoos because they look cute, elegant and enhance the beauty of the part where they are placed. The advantage of small tattoos are that they are less painful (as they are done over a small area), yet they are appealing and trendy.
Let's Take A Look At A Few Small Tattoo Designs That Are Currently In Vogue:
1. Heart Tattoo:
Heart tattoo is one of the most desired and the most common designs in the small tattoo segment. It depicts love and showcases your romantic side.
2. Feather Tattoo:
Not just birds, but even feather tattoos are very popular. The elegance and charm of a person is represented by a feather tattoo . A feather tattoo looks fab anywhere – be it on your belly, wrist, arms or ankles.
3. Music Tattoo:
These small designs show one's love for music or musical instruments. This tattoo can be done on a small portion of the hand, behind the ear or on any other body part. A small musical tattoo would be the perfect little thing to show that music is your first love.
4. Text Tattoo:
These small tattoo designs give a simple and straight-forward message with a single word. Words like faith, free, freedom, life, love etc. are the most common and preferred choices. It is a special favourite among women – and a personal favourite too!
5. Family Love Tattoo:
People search for creative ways to express their love for their family – parents, spouse or children. Engraving the family members' name in some other language is one such way. The design shown below is a perfect example of this elegant and beautiful tattoo type.
[ Read: OM Tattoo Design ]
6. Holy Symbols Tattoo:
These also make good small tattoos. The general examples include the cross, the words 'Om' or 'God', or any other relevant holy image. Take a look at this elegant representation of faith.
[ Read: Dragon Tattoo Designs ]
7. A Birdie Tattoo:
Some people like to get a small tattoo of a cute bird or a flock of flying birds. These tattoos give a simple yet trendy look. They are also very appealing and eye-catching. These little bird designs enhance the beauty of the body part where they are engraved.
[ Read: Maori Tattoo Designs ]
8. Star Symbol Tattoo:
Stars are a symbol of glamour. A star tattoo symbolizes richness and resource. Be a single star or many, these tattoos send a clear message that you are a star and need not be tagged!
[ Read: Butterfly Tatoo Designs]
9. Floral Tattoos:
These small tattoo designs are always in vogue and can be done on hands, feet, neck, shoulders and at times near the navel as well. Check out the design in the image below. Floral designs look elegant and feminine. They prove that women love flowers!
[ Read: Guitar Tattoo Designs]
10. A Bow Tattoo:
Some people like cute designs like a simple bow. These small tattoo designs are different, trendy and have no specific meaning but are eye catching and glamorous. They are small but are very appealing. Mostly women go for these abstract designs. Take a look at the design below and you can see why bows are so charming.
Want to get a small tattoo done? Just choose a tattoo from the above designs – one that you most relate to. Oh, and don't forget to let us know which one you chose! You can comment in the box below.
Image: 1 , 2 , 3 , 4 , 5 , 6 , 7 , 8 , 9 , 10
Recommended Articles:

The following two tabs change content below.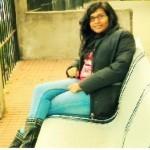 Latest posts by Anamika M (see all)