10 Best Smartwatches For Women – 2020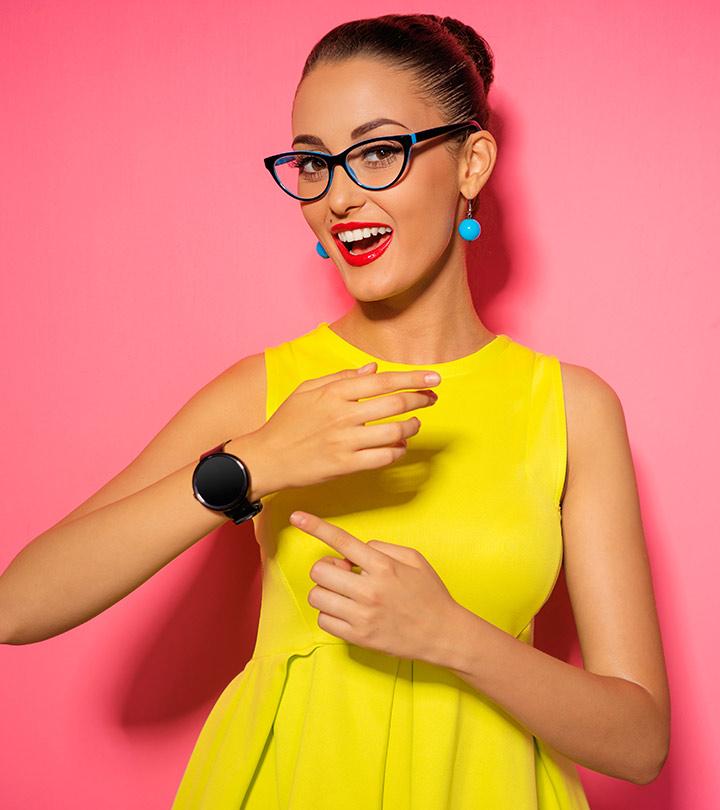 A smartwatch does more than just telling time. It acts as an extension of your phone and serves as a personal assistant, health coach, and travel guide. These gadgets are slowly becoming an indispensable part of our lives.
The earlier smartwatches for women were bulky, boring, and absolutely non-stylish. As time passed, smartwatch manufacturing companies started to combine utility and style and came up with sleek designs with amazing features. In this article, we have compiled a list of the best smartwatches for women, what features you need to look for, and a buying guide. Take a look.
What Can A Smartwatch Do?
Smartwatches can accomplish various tasks – from location tracking to monitoring heartbeat and sleeping habits to counting steps while walking. They are compatible with varieties of apps.
While the functions and features of smartwatches vary greatly depending on the brand, manufacturer, model, and other factors, some common functions that you will find in most smartwatches are:
GPS: GPS and navigation help in location tracking and sending out alerts. This feature can help mountain climbers and hikers to set a location and track their routes. It also helps to keep a record of distances covered during walking or running.
Notifications: There are various types of notifications in a smartwatch. When your smartwatch is connected to the smartphone, it pushes notifications in the form of text messages, emails, or alerts.
Media Control: Smartwatches that are connected to phones are capable of managing media playback. You could change tracks, control audio, and do much more with this feature.
Fitness And Activity Tracking: You can measure and track your activity and fitness goals with smartwatches. These wearable devices can track heartbeat or pulse rate, distance covered during jogging, calories burnt in activities, etc.
How Does a Smartwatch Work?
A smartwatch's life depends on its battery. All smartwatches come with rechargeable batteries and have dedicated operating systems. For example, several smartwatches use Tizen, a Linux-based operating system. Wear OS, formerly known as Android wear by Google, and watchOS in Apple smartwatches are other common operating systems.
Many smartwatches cannot operate on their own. Instead, these are connected to Bluetooth-enabled smartphones or other devices that have a network to keep them running.
With so many different types of smartwatches on the market with tons of different features, you could get confused. Here is a list of the essential features that would help you narrow down your choices. Take a look.
What Features Should You Consider When Buying The Best Smartwatch For Women?
OS And Device Compatibility: As you need to connect the smartwatch to your phone, it is important that the device is compatible with your phone. For example, Fossil Women's Gen 4 Venture HR smartwatch is compatible with Android and iPhones, but it may not work well with other operating systems.
Design And Personalization: If you like to customize your smartwatch straps to match your outfit or occasion, it is good to check if the smartwatch you are planning to buy offers interchangeable straps. Also, if you like analog watches but want to enjoy other features of a smartwatch, it is better to go for a hybrid design.
Notifications And Alerts: While most smartwatches offer notifications and alerts for incoming calls and text messages, you may also want to receive notifications for your social media accounts. Check if your smartwatch offers this feature.
Heart Rate And GPS: Features like heart rate tracker, sleep monitor, and calorie counters are useful and will help you monitor your well-being. GPS and distance tracker help you know how much distance you have covered. Look for these features in your smartwatch.
Battery Life And Charging: A smartwatch cannot operate with a battery, and extended battery life is what you need when you are out hiking or mountain climbing. If you like to go out often, pick one with a very good battery life for uninterrupted support. Also, check how long it takes to recharge the battery.
Here are the 10 best smartwatches for women. Take a peek.
10 Best Smartwatches For Women
Apple Watch 3 is one of the finest smartwatches made by Apple. It is powered by WatchOS 5 and comes in two dial sizes – 38mm and 42mm. Apart from the usual Apple smartwatch features, the Watch Series 3 comes with easy-to-understand features. Some users choose the Apple Watch 3 GPS version over the GPS+cellular version because the latter requires you to pay a little extra for services like answering calls and replying to text messages while your iPhone is away.
It has a heart rate monitor that uses an optical heart sensor and an alarm, social media notifications, and, most importantly, Siri. This smartwatch is encased in an aluminum body and is strong and durable. It is available with interchangeable bands. You can enjoy running on tracks or exploring new ways and track the distance you have walked/jogged.
Display Features
Touchscreen
Waterproof/swimproof
Digital crown
Special Features
Siri
GPS
Optical heart sensor
Accelerometer
Gyroscope
Pros
Supports an array of apps
Sends social media notifications
Users can set alarm and do other common tasks
Optical heart sensor to detect heart rate
Cons
Battery life could have been better.
Samsung Galaxy Smartwatch is a stylish military-grade durable wearable device with interchangeable straps. The display design is classic, but you can rotate the bezel to view other screens. Many people consider this the best smartwatch for women for its array of features and functions. You can do almost everything and enjoy the same benefits as that of a smartphone.
The US version smartwatch has built-in Samsung Pay. Connect it to your smartphone using Bluetooth and send and receive text messages and place calls. Rotate the bezel to go to other screens and view notifications or customize the status panel. To play or listen to music, connect the watch to a Bluetooth-enabled headset.
You can also connect it remotely when Bluetooth connection is not available. For text message inputs, either speak or type using the watch keyboard. In addition to these, you could set your smartwatch to various modes – theater mode or goodnight mode. The watch is waterproof. Select "water lock mode" to protect it from potential damage, and choose 'eject water' to get rid of accumulated water from the speaker. It comes with a Samsung Health app that tracks your sleep habits, heart rate, steps, and many other fitness parameters.
Display Features
Touchscreen
40 mm round dial
Embedded stones on its watch bezel
Waterproof
Special Features
Wireless charger
Samsung Health app that tracks heart rate, steps, sleep pattern, exercise
Samsung Pay
Remote connection in the absence of Bluetooth
Do not disturb mode
Water lock system
Voice inputs
Notifications
Music apps
Pros
Send and receive text messages
Make and receive phone calls
Both voice and keyboard inputs along with handwriting mode
Send SOS requests in case of emergency
Read and send emails
PPT control to help you remotely control a slideshow
View and manage images
Scratch-resistant with Corning Gorilla Glass DX+
Cons
Not suitable for scuba diving.
Are you looking for an affordable but top-quality smartwatch for women? Go for the Amazfit Bip Smartwatch by Huami that gives you the feel of an expensive smartwatch with its enhanced features.
This device makes for a perfect gift for a birthday, anniversary, Christmas, or any other occasion. It helps you stay updated on social media posts, track daily activity, and receive notifications on incoming calls and text messages. The optical heart rate sensor makes it easy to monitor your heart rate as you walk, run, or do exercises.
It comes with automatic activity tracking and keeps you updated on the calories you have burned and the steps you have taken. You could use this timepiece to know your sleeping habits. While most of the smartwatches are either bulky or low on battery life, the Amazfit Bip is lightweight and comes with long battery life. The smartwatch is also GPS-enabled.
Display Features
Touchscreen
Scratch-resistant screen protected by Corning Gorilla glass
Color LCD
Waterproof and dustproof
Special Features
GPS
Sleep monitor
Optical heart rate tracker
45 days of battery life
Ultralightweight
Pros
Set daily fitness goals
Check achievements
Track heart rate and sleep pattern
Check social media, call, and text message notifications
Receive weather reports
Ultra-lightweight
Cons
You cannot make outgoing calls or respond to text messages.
If you want to buy a smartwatch that comes at an affordable price and offers some of the best features, go for this one. This smartwatch from SkyGrand is compatible with all smartphones and operating systems.
With advanced technology, this smartwatch monitors heart rate and sleep patterns and analyzes data for sleep quality. It supports 14 sports modes and captures data accurately from all-day activities, such as distances covered in a day, calories, steps, and so on. You also get regular features that other expensive smartwatches offer – like social media notifications and call and text message alerts.
The battery life is unbeatable. It comes with a rechargeable battery that lasts 15 to 30 days, depending on the use. Buy this if you are looking for the best Android smartwatch for women.
Display Features
Color LCD screen
Touchscreen and digital display
Square, waterproof dial
Special Features
Real-time heart rate monitoring
All-day activity tracking – number of steps, calories burned, distance covered
Sleep monitor
Menstrual reminder
Pros
Compatible with major types of smartphones with different operating systems
Superb battery life
Cons
Fossil smartwatches are one of the most sought after timepieces in matters of style and technology. The Gen 5 Julianna 44 mm smartwatch is packed with endless newest technology trends to make your life easier. You can also make a style statement with the stone embedded bezel and band. For the minimalists, there are other designs.
The design is sleek and simple, and the features are easy-to-use. The screen is waterproof (up to 30 m) and is supported by Wear OS by Google. Fossil Gen 5 Julianna smartwatch is compatible with Android smartphones and iPhones.
It offers notifications from social media, SMS messages, and calls. It comes with a more efficient heart rate tracker and built-in Google Pay. Moreover, you could also use the speaker in the watch, thanks to Google Assistant.
Display Features
44 mm touchscreen
Swimproof
Stone embedded dial
Custom dial
Special Features
Built-in Google Pay and Google Assistant
GPS
Comes with a speaker and microphone
Improved heart rate tracker
Music control functionality
8GB of storage and 1GB RAM memory capacity
Smart battery modes to conserve battery life
Pros
Better and improved heart rate monitor
Built-in Google Pay
Has Google Assistant
Can wear it while swimming
Outgoing and incoming phone calls and text messages
Cons
If you like Apple's smartwatch but have a limited budget, give this smartwatch by Yamay a try. Many buyers have actually recommended this product over other expensive brands and models.
By pushing the bezels to the edge, just like Apple Watches, this Yamay 020 Smartwatch has created more room for accommodating a large screen with an unrestricted view. The watch casing is made of anodized aluminum. The battery lasts for about 7 to 10 days once fully charged and gives uninterrupted service. With this, you can track heart rate, sleeping habits, activities, and a lot more. It has an LCD touchscreen.
It automatically detects steps, calories, and other factors we tend to ignore but play a major role in keeping us healthy. Yamay 020 smartwatch is equipped with a GPS tracking system, and it also has female health management apps. Connect it to an Android phone or an iPhone and start receiving notifications on the smartwatch.
Display Features
Rectangular display
Waterproof
3″ TFT LCD color screen
Special Features
Female health tracker with reminders
Sleep tracker
Fitness tracker
GPS
Automatic screen brightness adjustment
Pros
Big screen
Can receive notifications on call, text messages, and social media channels
Extended battery life (lasts 7 to 10 days)
Waterproof
Can be worn during swimming
Con
Cannot make calls or reply to text messages.
Clean look, minimal design, and a smooth finish – that's the Apple Watch in a nutshell. This smartwatch is powered by Apple WatchOS. It is redesigned and re-engineered to provide a better experience.
The design has pushed the bezels to the edge, creating more space for the screen and display. Apple Watch Series 4 comes with an emergency SOS feature and fall detection. Very soon, users will also have access to ECG (Electrical heart sensor), which will track and send notifications on high heart rate and irregular rhythm.
Apart from these features, you can use the watch for activity tracking. The best part is the cellular service. You can use this smartwatch as a standalone device when away from your iPhone and connect it to Wi-Fi. You can make calls, send and receive text messages, and do almost everything that is possible with a phone.
Display Features
LTPO OLED Retina display
Bigger display
Ion-X strengthened glass
Special Features
Emergency SOS
Fall detection
Automatic workout detection with pace alerts
Heart rate monitor with alerts
Activity tracker
Pros
High resolution and big display
Highly advanced wellness tracking
Superior quality Digital Crown with haptic feedback
Compatible with previous Apple Watch bands
Superfast operation with 64-bit dual-core processor
Built-in cellular, so you can make calls and send text messages
Media and music control
Standalone smartwatch
Cons
Poor battery life
Does not work with any other smartphones.
If you love the classic analog watch design with minimal notifications on the display, this hybrid model from Garmin is the best for you. This unisex smartwatch comes with a discreet display. It is compatible with Android, Windows, and iOS. Connect this device to your smartphone and use features like call notifications, reminders, and text messages.
Garmin Vivomove HR comes with a bunch of wellness monitoring tools, like heart rate monitor, all-day stress tracker, relaxation timer, sleep monitor with REM sleep, in addition to steps, distance, and calories counting.
It comes in both premium and sports models and has stainless steel bezels. The premium version has a stainless steel casing, while the sports version has a polymer casing. This is, by far, the best Garmin smartwatch for women.
Display Features
Touchscreen and discreet display
Night-readable display
Round dial
Special Features
Wellness monitoring tools like VO2 max and fitness age
Wrist-based heart rate monitoring with intensity minutes
Sleep tracker with REM sleep
Relaxation timer
Shows steps, distance, and calories
Pros
Hybrid smartwatch
Excellent battery life (5 days on a smart-mode, 2 additional weeks in watch-mode)
5 ATM
Music control
Cons
Can view notifications but cannot respond to any.
This smartwatch is the perfect combination of style and technology. It has a 40 mm touchscreen and built-in Google Assistant and is compatible with various apps, including third¬-party apps. The smartwatch operates on Wear OS and connects to Android phones and iPhones easily.
You can track heart rate and activities with Google Fit. For an easy checkout, you could use this smartwatch for payment, thanks to Google Pay integration. Among other features, some noteworthy ones are calendar management, LED flashlight, media/music storage, and control, customized goal setting, weather updates, and time zone settings.
It has interchangeable straps. The battery lasts for about 24 hrs, but you can extend it for two more days if you switch to the low-power mode. Fossil Women's Gen 4 Venture is encased in stainless steel and is swimproof.
Display Features
40 mm round dial, encased in stainless steel
Touchscreen
Swimproof up to 30M
Classic design
Special Features
Built-in Google Pay
GPS and Barometric Altimeter
LED flashlight
Built-in Google Fit
4 GB internal memory
Notifications and alerts
Customizable screen
Weather updates
Stopwatch and alarm
Wireless syncing
Social media updates
Pros
Can view and reply to incoming text messages
Can make calls with Google Assistant
Comes with a bunch of useful sensors
Has a microphone
Allows users to set the time zone
Cons
Message reply not available for iPhone.
This model from Michael Kors is a glamorous smartwatch that uses the latest technology to give you the best experience. This 42 mm touchscreen smartwatch is encased in stainless steel, which makes it durable. The round dial offers a clear vision and is decorated with embedded stones on its bezel.
It is compatible with Android OS and iOS. The Michael Kors Access Sofie model has Bluetooth along with Wi-Fi connectivity options. It comes with various features, such as notifications and alerts, fitness tracking, and media control. The multiple display faces and interchangeable straps make it easier for you to customize as per your liking.
Display Features
Analog and digital display with touchscreen
Round dial
Crystal clear display
Stone embedded watch bezel
Special Features
App notifications
Email alerts
Social media notifications
Media control
Pros
Cons
1 ATM, hence not ideal for swimming.
Now that you know about the best smartwatches for women, let's understand what you need to look for to zero in on one.
How To Choose The Best Smartwatch
Here is what you need to look for when buying a smartwatch:
1. Smartwatch Operating System And Compatibility With Your Smartphone
As mentioned before, smartwatches need to be connected to your phone for operation. Hence, you need to ensure device compatibility and if your smartwatch supports the phone's OS and vice versa.
Some common smartwatch operating systems are:
Wear OS: This is powered by Google. This smartwatch operating system in wearable devices is compatible with Android and iPhones.
Apple WatchOS: Apple smartwatches use WatchOS for their operation. It is compatible with iPhones but not with Android smartphones.
Tizen: Tizen is a Linux-based mobile operating system that is used in many smartwatches. For example, Samsung Galaxy Watches have Tizen OS and are also compatible with Android and iOS phones.
Fitbit: Fitbit OS is found in Fitbit wearable devices and is compatible with Android, iOS, and Windows phones.
Garmin: Garmin smartwatches come with this operating system and is compatible with Android, Windows, and iOS.
Pebble: It is developed by Pebble Technology Corp. and is compatible with Android and iOS.
2. Activity Tracker
The activity tracker is one of the most important things you need to look for in your smartwatch. See what kind of activity tracking features it offers and if that's all you need.
Some common activity tracking features in smartwatches include the following:
Pedometer: Walking is one of the easiest and best ways of staying healthy. A pedometer with its motion sensors helps to detect and measure steps to keep you updated on how far you are from your daily fitness goal.
Sleep Monitor: The sleep monitor collects data on your sleeping habits and patterns and helps you with an analysis. That way, you would know whether your sleeping habits are healthy or need a change.
Heart Rate Monitor: See whether your smartwatch comes with a heart rate tracker. Detecting patterns of heart rate helps you know whether your heart is healthy.
Relaxation Timer: Many smartwatches come with this innovative feature that helps you keep track of relaxation and ensure you take proper rest at timely intervals.
Blood Pressure Monitor: The blood pressure monitor can record patterns in your blood pressure.
Elevation Tracker: A handful of smartwatches allow you to track elevation. If this is something you want, check out the product description.
Calorie Tracker: A calorie tracker helps to monitor how many calories you burned during the day or when exercising.
3. Style and Display
If you are fashion conscious and like to wear a watch that matches with your outfit and personality, look for these features:
Watch Bands: Check whether your smartwatch comes with interchangeable straps. Another important thing to look at is the strap material. There are various types – metallic, silicone, fabric, etc.
Display Features: Display features collaboratively refer to the dial face or screen and its specialties. For example, whether the display is scratch-proof and water-resistant or swimproof.
4. Interface
How do you operate your smartwatch? It's an important question that will help you know what features you can control using the digital display and what settings can be changed through the buttons.
Smartwatches allow you to operate through these options:
Touchscreen: All smartwatches allow you to operate and change settings through the touchscreen.
Buttons and bezels: Buttons have their respective functions, while rotatable bezels often help you swap or change screens or watch face.
5. Notifications
Notifications are an integral part of a smartwatch's feature. While some of the devices only let you view notifications of email arrivals, incoming calls, and text messages, some superior-quality smartwatches also allow you write and send replies, make phone calls, and receive incoming calls. Social media notification is another important feature that many buyers look for.
Calls: See whether the smartwatch you are planning to buy has this feature. Some only show the incoming call notification, while others also let you make outgoing calls.
Social media posts: If you are a social media buff, check for this option. If your smartwatch has dedicated apps for Facebook and Instagram, it might help you receive immediate notifications on these social platforms.
E-mails: Check the product details and find out if your smartwatch is capable of receiving email notifications and if you can also reply to emails using your smartwatch.
Text messages: Does your smartphone give you notifications of incoming text messages? If yes, can you only view messages or respond to them as well?
Reminders: There are models that send you repeat reminders about unseen notifications.
6. Special Features
Every brand and model has its special features. Here are some of the most popular features:
Bluetooth And Wi-Fi Connectivity: A smartwatch connects through your phone either through Bluetooth or Wi-Fi.
Voice Control: Certain smartwatch models support voice commands and inputs. For example, Samsung Galaxy Smartwatch has a voice input facility with which you can write and reply to text messages.
Music: If you want to play and control media and music using your smartwatch, check if the device has music or media control options.
GPS: This is one of the most important features of a smartwatch. Almost all the smartwatches we discussed above are GPS-enabled, which means these devices can track location and distance.
7. Budget-Friendly
Decide on your budget. Some brands are expensive, while some not-so-famous brands offer feature-rich smartwatches at a cheaper rate. The more the features, the higher the price. Hence, go for a smartwatch that offers features that make sense to you. There is no point in buying an expensive smartwatch with dozens of features that you would hardly use.
We hope our buying guide helps you choose the best smartwatch suiting your needs. Browse through our list and pick one that resonates with you.
Frequently Asked Questions
Does a smartwatch work without a SIM card?
Major smartwatches in the market do not need a SIM card. Smartwatches are mainly connected to a network-enabled smartphone through Bluetooth. It's rare, but you may still come across brands that have a special slot for the SIM card.
Does a smartwatch work without a phone?
There are not many smartwatches that are stand-alone devices, which means they cannot operate without being connected to a phone. That is because smartwatches need a network connection to function properly. However, certain models and brands allow you to remotely connect to a device so that you do not need to carry your phone.
How to connect a smartwatch?
If you want to connect your smartwatch to a network and it supports network connection, locate the Wi-Fi option and turn it on. But if your watch does not support Wi-Fi, you need to connect it to your smartphone using Bluetooth. In this case, your smartwatch would use the network connection via your phone.
How to insert a memory card in a smartwatch?
Switch off the smartwatch, then carefully open the steel case on its back. Locate the memory card slot and place the card on the tray. Gently push the tray back in and put the steel casing back. Switch on the device and use it.
How to connect a smartwatch to Wi-Fi?
Not all smartwatch models are Wi-Fi-enabled. If your smartwatch has this feature, you can directly turn it on. But if your watch does not support Wi-Fi, pair it up with your smartphone via Bluetooth. Once the pairing is successful, the smartwatch will start using your phone's network connection.
How to connect a smartwatch to an Android phone?
Find out if your device is compatible with Android. If the smartwatch operating system supports Android, it is good to go. Locate the Bluetooth option in your smartwatch and turn it on. Pair it with your Android phone. Also, you must ensure that the smartwatch is compatible with that specific Android version.
What type of sleep activity is being tracked?
How your smartwatch monitors your sleep habits and patterns is completely model-specific. In most cases, smartwatches monitor when you go to sleep, what time you wake up, the duration of sleep, eye movements, and light and restful sleep. The tracker in your smartwatch uses the accelerometer, which tracks movements. You would also find this term "gyroscope" in the product description. Gyroscope tracks rotation and orientation. Another way to detect sleeping habits is by wrist movements, and this process is called actigraphy.
How long will a smartwatch battery last?
The battery life varies from model to model. While some fancy smartwatch batteries last for about 24 hours on the regular or active mode, you would also find brands and models that come with extended battery life and work for days and weeks uninterrupted. If you want your smartwatch battery to last long, switch to watch-mode or airplane mode and use apps only when needed.
How do I know if my smartwatch battery is low and needs to be replaced?
When the smartwatch battery cells are nearing an end, it will prompt you to recharge. You can recharge and use it again. But there could be a time when the battery does not hold its charge for long, and that is when you need to replace it. For best results, always go for original batteries from the same brand.
Recommended Articles