10 Best Smelling Body Lotions Available In India
Smell as good as you feel and enjoy skin soft and supple skin with fragrant body moisturizers.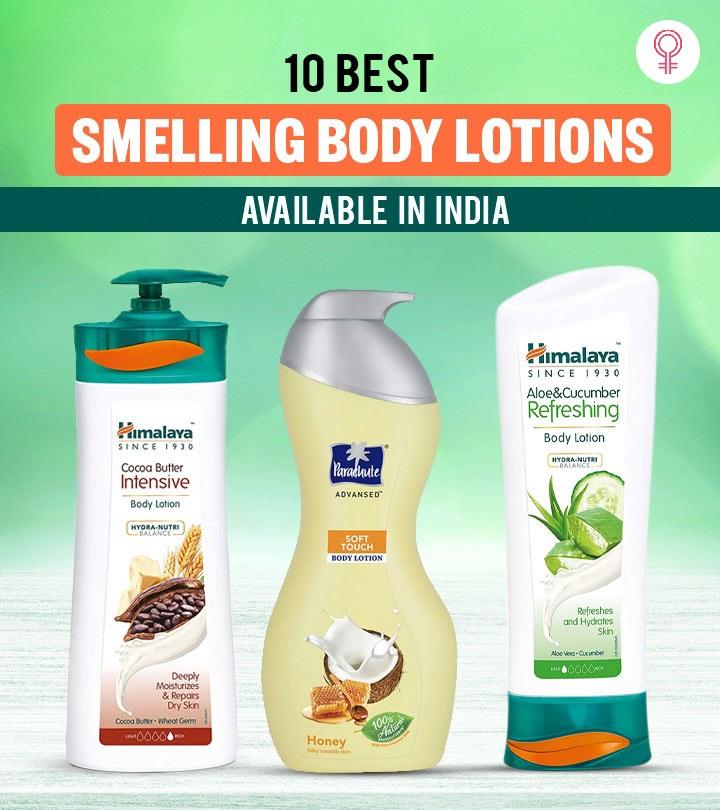 Body lotions are an essential part of every woman's skincare regime. They help in moisturizing dry skin and keep it hydrated, smooth, and healthy. While there are countless options available on the market, there are some amazing body lotions that keep your skin fragrant for a long time. Yes, we are talking about the fragranced formulas that moisturize your skin and add a pleasant smell to it. We have put together the list of 10 best smelling body lotions available in India. Check them out below!
10 Best Smelling Body Lotions Available In India
The Cocoa Butter Intensive Body Lotion by Himalaya Herbals is enriched with the goodness of wheat germ oil and cocoa butter that soothes flaky and dry skin by making it soft and smooth. It penetrates deep inside the skin, restores its lost moisture,  improves skin texture, and makes it look radiant and healthy. In addition, it leaves a lingering cocoa butter scent on your skin that stays for several hours.
Key Ingredients: Cocoa butter and Wheat germ oil
Pros
Long-lasting fragrance
Gets absorbed quickly
Paraffin-free
Sulfate-free
Allergen-free
Cons
Contains paraben
Contains alcohol
The Parachute Advanced Soft Touch Body Lotiongives smooth and soft skin, adds moisture to it, and prevents dryness.It is formulated with powerful ingredients like honey and coconut milk, known for their nourishing effects on the skin. Both ingredients moisturize the skin, make it smooth, and improve its elasticity. This non-sticky lotion spreads evenly, gets absorbed easily, and keeps your skin hydrated for 5-6 hours. Its potent formula contains 100% natural ingredients. Additionally, it has a sweet coconut smell that makes you feel refreshed for a long time.
Key Ingredients: Coconut milk and Honey
Pros
100% natural ingredients
Lightweight
Non-sticky
Gets absorbed quickly
Sulfate-free
SLS-free
Mineral oil-free
Artificial color-free
Phthalate-free
Petroleum-free
Cons
The Himalaya Aloe & Cucumber Refreshing Body Lotion is non-sticky and gets absorbed fast. It contains aloe vera that has regenerative properties to keep your skin smooth and soft. The cucumber extract in the formula maintains the required moisture level of the skin. The lotion is developed with moisture lock technology and contains white lily and licorice extracts that repair the skin and prevent sun damage. It provides intense nourishment and leaves a pleasant and refreshing cucumber smell that lasts for several hours.
Key Ingredients: Aloe Vera and Cucumber extracts
Pros
Contains herbal ingredients
Non-sticky
Lightweight
Cruelty-free
Cons
Contains parabens
The Nivea Oil In Lotion provides long-lasting moisturization to the skin and is perfect for dry skin. It is enriched with the nourishing benefits of rose extract and argan oil. Its thick and creamy texture gets absorbed quickly into the skin, locks in moisture, and keeps your skin nourished for up to 24 hours. In addition, the body lotion has a delicate floral fragrance of rose, which soothes and refreshes the mind and the body.
Key Ingredients: Argan Oil and Rose extract
Pros
24-hourhydration
Lightweight
Gets absorbed quickly
Dermatologically approved
Cons
The Enchanteur Romantic Perfumed Body Lotion has a moisturizing and pleasantly scented formula that ensures nourished skin. It is formulated with aloe vera and olive butter and contains fragrances of jasmine, rose, violet, and vanilla. This blend of natural ingredients keeps your skin soft and glowing, while its romantic fragrance refreshes your senses. This lotion has a non-greasy formula that repairs damaged skin and prevents dryness. It is suitable for all types of skin.
Key Ingredients: Aloe Vera and Olive butter
Pros
Lightweight
Non-greasy
Long-lasting fragrance
Cons
None
The Wow Skin Sciences Shea Butter and Cocoa Butter Moisturizing Body Lotion is known for its intensely nourishing and hydrating properties. It contains shea, cocoa butter, argan and sweet almond oils, and beetroot extract. This non-greasy lotion helps the skin retain moisture, repair damage, boost collagen production, and soothe irritated skin. Its lightweight formula is suitable for regular use and gives you velvety smooth, and younger-looking skin.The body lotion does not contain any harmful chemicals.
Key Ingredients: Cocoa butter and Shea butter
Pros
Paraben-free
SLS-free
PEG-free
Mineral oil-free
Artificial color-free
Silicone-free
Polyethylene glycol-free
Cons
Not effective on extremely dry skin
Unpleasant fragrance
The Nivea Oil In Lotionhas an aromatic formula known for its long-lasting moisturization effects on the skin. It is infused with jojoba oil that provides intense hydration to dull and dry skin. The thick and creamy texture of the lotion deeply penetrates your skin and offers instant results. It keeps your skin moisturized and hydrated for up to 24 hours, and the pleasant cherry blossom fragrance gives a soothing and refreshed feeling.
Key Ingredients: Cherry Blossom and Jojoba oil
Pros
Dermatologically approved
Long-lasting effect
Gets absorbed quickly
Cons
Contains Sulfate
Contains Parabens
The Softening Coconut Milk and Orchid Body Lotion by ST. Ives provides you healthy and hydrated skin. It is infused with coconut milk and orchid extracts that heal and hydrate the skin. Coconut milk contains nourishing properties that soothe the skin, while the orchid extracts leave behind a pleasant floral scent to refresh your mind, body, and soul.The lotion also contains antioxidant properties that control skin pigmentation.
Key Ingredients: Coconut milk and Orchid extracts
Pros
Non-sticky
Dermatologically tested
Paraben-free
Phthalate-free
Cons
The Mamaearth Coco Body Lotion provides deep moisturization to the skin. It is fortified with coffee, cocoa, shea butter, and olive oil. The coffee extract reduces the appearance of cellulite, cocoa butter prevents free radical damage, while shea butter provides intense moisturization. Olive oil in the formula protects and nourishes the skin. This non-greasy lotion doesn't feel heavy on your skin and gets absorbed easily. It has a mild fragrance of cocoa and shea butter that stays on your skin for several hours and gives you a soothing and refreshed feeling.
Key Ingredients: Coffee, Cocoa butter, Shea butter, and Olive oil
Pros
Non-sticky
Lightweight
Gets absorbed quickly
Paraben-free
Mineral oil-free
SLS-free
Artificial preservative-free
Petroleum-free
Cons
May not be effective on extremely dry skin
The mCaffeine Naked & Rich Choco Body Lotion has a non-greasy formula that soothes and moisturizes dry skin. It contains pure cocoa butter that heals dry patches. The formula also contains shea butter that improves skin texture, while caramel enhances skin softness. Caffeine extract in the formula helps in toning your skin and balances skin moisture. The lotion has a mixed fragrance of shea and cocoa butter, which stays on your body for several hours.
Key Ingredients: Cocoa butter, Shea butter, Caffeine, and Caramel
Pros
Non-sticky
Lightweight
Gets absorbed quickly
FDA approved
Paraben-free
Mineral oil-free
SLS-free
Cruelty-free
Cons
The fragrant body lotions keep your skin moisturized and your mind refreshed. But here are a few points that you should consider before buying a lotion.
 How To Choose The Best Smelling Body Lotion
The first thing you need to consider is your skin type before settling for any body lotion. If you have dry skin, choose a lotion with plant-based oils. However, if you have oily skin, choose a water-based body lotion with soothing ingredients like aloe veraand honey.
Make sure you check the list of ingredients while buying a body lotion. Avoid buying one that contains added chemicals, artificial fragrances, or dyes. Ideal body lotions are formulated with natural ingredients and free from harsh chemicals like parabens, phthalates, SLS, etc. These ingredients may irritate the skin.
Pick a body lotion that has a long-lasting effect on your skin and can keep it hydrated and moisturized for several hours.
All the above-listed products contain ingredients that can help prevent skin dryness and flakiness skin. These lotions have an intense formula and provide deep nourishment to keep the skin soft and plump. Moreover, their long-lasting and heavenly fragrance stays for several hours on your skin. So, explore the list and choose a lotion that suits your skin type.
Frequently Asked Questions
1. Are there different scents available in body lotions?
Yes, there are numerous scents available in body lotions including floral, oriental, spicy, and sweet fragrances. Check the ingredients list and try smelling a sample product to choose one according to your preference.
2. What are some tips for maximizing the fragrance of smelling body lotions throughout the day?
Selecting a long-lasting and skin-friendly formula, applying it right after showering, and layering with similar scents (perfumes) focusing on pulse points can help extend the longevity of the fragrance.
3. Does the body lotion smell dominate my natural scent?
It depends on factors such as the strength of the fragrance, formula, amount applied, and skin type. If you want to prevent your body lotion from overpowering your natural scent, go for subtle scents and apply smaller amounts.
4. Should I use body lotion every day?
Yes, it is recommended to use body lotion after a shower every day to achieve optimum hydration, maintain the skin moisture barrier, and prolong the scent.
5. Can I apply body lotion on my face?
It is not advisable to use body lotion on the face as it has a thicker formulation and facial skin is thinner and more sensitive.