13 Best Smelling Body Washes Available In India
Enjoy rejuvenating bathing experience and keep your skin silky and odor-free.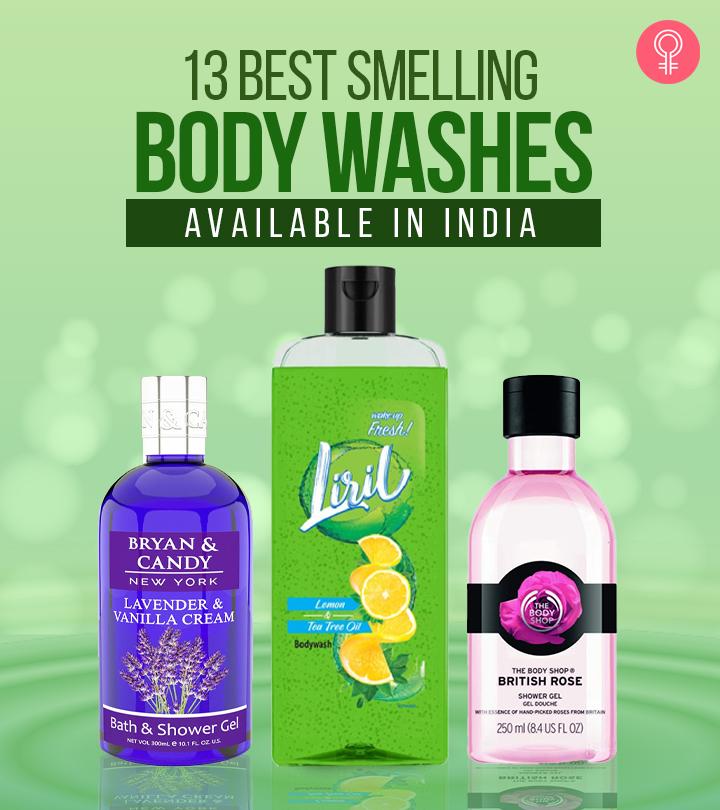 Are you tired of using your regular body wash? Switch to a sweet-smelling body wash that cleanses thoroughly and exudes a lingering fragrance. If you are looking for products that do not have a medicinal or chemical smell and help you indulge in showers on a refreshing note, then you have arrived at the right place. In this article, we have curated a list of the 13 best-smelling body washes available in India. Scroll down to pick yours!
13 Best Smelling Body Washes Available In India
The Liril Lemon & Tea Tree Oil Body Wash has a soothing formula that makes you feel refreshed and invigorated with a blissful shower experience. It is infused with the goodness of lemon, ylang ylang essential oil, and tea tree oil. The lemon in the formula scrubs away impurities and reduces hyperpigmentation, while ylang-ylang essential oil offers cleansing properties and tea tree oil calms inflammation and reduces breakouts. The gel body wash has rich foam that wraps you with a blast of citric sweet lingering fragrance.
Skin Type: All
Key Ingredients: Lemon and Tea tree oils
Pros
Gentle
For daily use
Non-irritant
Soothing
Mild fragrance
Lathers well
Cons
Fragrance doesn't last long
The Palmolive Aroma Absolute Relax Shower Gel is enriched with exotic ylang-ylang essential oil and delicate iris extract. The iris extract rejuvenates your skin, while the ylang-ylang essential oil helps you relax for a blissful bathing experience. The formula gives soft, supple, and glowing skin all day long. The gel-based formula is 100% natural and does not strip away the skin's natural oil.
Skin Type: Normal
Key Ingredients: Ylang ylang essential oil and Iris extract
Pros
pH balanced
Soap-free
Paraben-free
Silicon-free
Cons
The Pears Naturale Brightening Pomegranate Body Wash is dermatologically tested and crafted with handpicked natural ingredients for visibly brighter skin. It is enriched with a blend of pomegranate and rose extracts and pure glycerin. Antioxidant-rich pomegranate in the formula brightens the skin while anti-aging rose extracts offer a soothing effect during bath time. The glycerin in the formula improves hydration and relieves dryness. The rich lather gently cleanses the skin, leaving it soft, smooth, and glowing.
Skin Type: All
Key Ingredients: Pomegranate, Glycerin, and Rose extracts
Pros
Dermatologically tested
Non-Comedogenic
Mild
Paraben-free
Soap-free
Cons
The Body Shop British Rose Shower Gel is infused with the essence of organically grown roses handpicked from Britain. This 100% vegetarian body wash gives an irresistibly dewy fragrance that tantalizes your senses and fetches you plenty of compliments. The soap-free formula deeply cleanses your pores without over-drying the skin. Essential oils used in the blend moisturize, nourish, and soften the skin for long-lasting effects.
Skin Type: Dry
Key Ingredient: Rose extracts
Pros
Soap-free
Rich lather
Gentle
Cruelty-free
Cons
The Dettol Energize Hygiene Body Wash contains IMA-recommended formula that gives trusted germ protection with each wash. It is infused with naturally derived ingredients like satsuma and orange extracts that hydrate and energizes the skin. The soap-free formula contains plant-based cleansers to leave the skin feeling soft and nourished. Its citrus fragrance gives long-lasting protection from odor for up to 12 hours.
Skin Type: All
Key Ingredients: Satsuma and Orange extracts
Pros
Dermatologically-tested
pH balanced
Soap-free
Triclosan-free
TCC-free
IMA recommended
Long-lasting
Cons
The Nivea Clay is one of the best smelling body washes in India that offers a balance of rejuvenating freshness, cleansing, and skin care. It is enriched with the power of natural clay, known for its deep cleansing ability, and the combination of hibiscus and grapefruit extracts for rejuvenating freshness. Its luxurious lather ensures hygiene with every drop by ensuring effective and gentle cleansing. The product suits all skin types, leaving them soft and well moisturized. It has a refreshing jasmine aroma that invigorates the senses and lifts the mood.
Skin Type: All
Key Ingredients: Natural Clay, Hibiscus, and Grapefruit extracts
Pros
Dermatologically-tested
Gentle
Rich lather
Value for money
Cons
The Sirona Spring Wild Hasayan Rose Body Wash brings the healing power of flower extracts, essential oils, and vitamins to your shower. The wild spring Hasayan rose extracts offer healing, hydrating, and cleansing properties to the body wash, leaving a healthy glow to the skin. Essential oils and vitamins in the formula nourish your skin. The body wash exfoliates the skin without any moisture loss and gives a luxurious, de-stressing shower experience. Its floral fragrance has a calming effect and the product is gentle enough for daily use on all skin types.
Skin Type: All
Key Ingredients: Hasayan rose extracts and Essential oils
Pros
Hypoallergenic
Mild
Paraben-free
Sulfate-free
Value for money
Cons
The Palmolive Aroma Sensual Shower Gel is enriched with exotic ingredients and gives a seductive spell of aroma with each wash. This aromatherapeutic body wash relaxes the body, rejuvenates skin, and uplifts your mood. The rose extracts in the blend offer deep cleansing and toning benefits to your skin. The age-defying ingredients in the formula include orange essential oil that has brightening benefits and ginseng extract that offers antioxidant protection. This luxurious formula is perfect for daily use and offers soft, radiant, and beautiful skin.
Skin Type: All
Key Ingredients: Rose flower, Orange essential oil, and Ginseng extract
Pros
pH balanced
Botanical ingredients
Sensual fragrance
Soothing
Anti-aging
Paraben-free
Value for money
Cons
The WOW Skin Science Japanese Cherry Blossom Foaming Body Wash is enriched with skin-friendly bioactives and has a luxurious fruity-floral fragrance. It contains a blend of shea butter, rich in essential fatty acids, and vitamin E to nourish, tighten, and moisturizes the skin. Argan oil in the body wash enhances skin complexion for a natural glow. The body wash also contains glycerin and aloe vera to hydrate your skin and improve smoothness without making it greasy. It makes your bath-time delightful and leaves your skin feeling pampered.
Skin Type: All
Key Ingredients: Japanese cherry blossom, Shea butter, and Vitamin E
Pros
Dermatologically-tested
Long-lasting
Vegan
Rich lather
Gluten-free
Paraben-free
Sulfate-free
Mineral oil-free
Silicones-free
Color-free
Salt-free
Cruelty-free
Cons
The Fiama Scents Juniper & Geranium Body Wash cleanses your skin effectively and surrounds you with the exotic fragrance of juniper berry and geranium. The body wash deeply conditions the skin to keep it soft and moisturized. It has touch-activated fragrance technology that unlocks when you rub it, releasing a refreshing fragrance that lasts up to 8-hours after you shower. This body wash is also ideal for germ protection.
Skin Type: Sensitive
Key Ingredients: Juniper and Geranium extracts
Pros
Dermatologist-tested
Mild
Eliminates body odor
Long-lasting
Cons
The Silk Beauty White Glow Body Wash from Oriflame cleanses the skin, leaving a silky smooth visible white glow. This fragrant body wash for women is formulated with silk proteins that penetrate deep into the skin to improve skin elasticity. It also contains white mulberry extract that evens out the skin tone. The body wash has antioxidant properties that protect the skin against damage and a sensuous cherry blossom fragrance to indulge your senses.
Skin Type: All
Key Ingredients: Silk protein, White mulberry, and Cherry blossom extract
Pros
Long-lasting
Paraben-free
Sulfate-free
Cons
The Fiama Scents Mimosa & Neroli Body Wash is specially crafted to offer a long-lasting fragrance. This shower gel wraps you in the mood-enhancing scent of mimosa and neroli extracts that soothe your skin and relax the senses. The innovative Touch-activated fragrance technology of the product releases the fragrance once you rub it on your skin and lingers for up to eight hours after your shower. This body wash conditions and moisturizes your skin with every wash.
Skin Type: All
Key ingredients: Mimosa and Neroli extracts
Pros
Dermatologically-tested
Mild
Long-lasting
Fruity fragrance
Rich lather
Cons
The Lavender & Vanilla Cream Bath & Shower Gel by Bryan & Candy washes off impurities without stripping your skin's natural oils. The combination of lavender oil and refreshing vanilla cream in the body wash offers a lingering perfume that uplifts your mood and lasts throughout the day. The body wash contains anti-inflammatory aloe vera to soothe and hydrate your skin. It is also infused with natural skin conditioning ingredients like lemon, lavender, and jasmine oils to rejuvenate skin improve with every bath.
Skin Type: Normal
Key Ingredients: Lavender and Vanilla cream
Pros
Dermatologically-tested
Hypoallergenic
Cruelty-free
Paraben-free
Long-lasting
Rich lather
Cons
There are several features that you need to look out for when choosing the best smelling body washes. Read the key points given below to make a smart purchase.
How To Choose The Best Smelling Body Washes
Ingredients: The ingredients in the body wash formula are the first things you need to check out. You can find them on the product labels. Choose ingredients like tea tree, salicylic acid, glycolic acid, peppermint oil, rosemary, etc. Stay away from any additives that you might be allergic to and opt for those matching your skin type.
Also, avoid ingredients like alcohol, SLS, SLES, paraben, sulfate, and phthalates to avoid any skin-damaging side effects.
Moisturizing Formula: Let's not be carried away by all the enticing fragrances. Choose a shower gel that cleanses and moisturizes the skin well, leaving it squeaky clean. Look for moisturizing agents like plant oils and glycerin to prevent dryness.
Undernotes And Fragrances: Most of these products have added fragrances. Pick those that suit your preferences, whether it is an intense fragrance, light, or delicately scented.
Also, opt for a body wash with a long-lasting effect. The formula should be capable of blocking out strong body odor, enveloping you with a lingering sweet scent for hours.
The above-listed 13 best smelling body washes make you smell delectable even after you have toweled off after your bath. Ditch your regular shower gel and opt for a gentle and fragrant cleansing body wash from the list to make your daily showers enjoyable.

Recommended Articles