11 Best-Smelling Dry Shampoos In 2022 You Should Try
Enjoy manageable and sweet-smelling hair all day long with just a few sprays.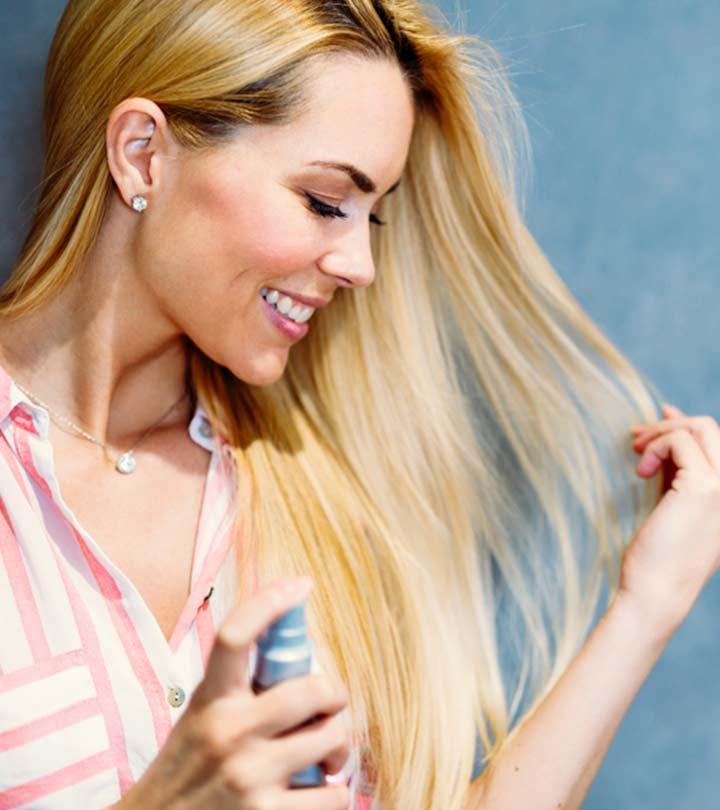 Looking for the best smelling dry shampoo that makes your day better? We have just what you're in search of. We love dry shampoos, mainly because of how convenient they are. No matter how tired you are to shampoo your hair for real or how late you are to that date, a few works of sprays will help you get the bouncy locks in no time. They deserve a permanent place in your handbag! The biggest bonus associated with using a dry shampoo is getting a sweet-smelling one that will make everyone turn their heads towards you. While the market is full of dry shampoos that promise to be the best at their job, we have 11 bestselling dry shampoos made with the most aromatic scents to keep your hair fresh and bouncy always. By getting yourself the best can of dry shampoo, you can make sure your hair is always sweet-smelling and gorgeous to begin your day with! Read on to know more about it.
Top 11 Dry Shampoos That Will Leave Your Hair Smelling Lovely
Rejuvenate your hair with the smell of the tropics with this OGX Refresh & Restore + Coconut Miracle Oil Dry Shampoo. Powered with the essence of tiare flower, vanilla bean extract, and coconut oil, this dry shampoo is a hearty blend of fragrance from that memorable summer vacation around the beach. Soak in the goodness of this nourishing formula for that perfect party look. Check this video to learn more about the product.
Pros
Calms frizz
Tames flyaways
Adds bounce and shine
Great for second-day style
Cons
A good-smelling dry shampoo is a must in every makeup kit. Keep your mane smelling clean and lovely with this Living proof. Perfect Hair Day Dry Shampoo. Its patented Healthy Hair Molecule-powered formula keeps dirt off your hair. This product resists humidity from damaging your hair and keeps your hair silky to give that polished, sleek look. It has a lovely scent that makes your hair smell fresh 24 hours of the day. Take a look at this video to get more information on the product.
Pros
Cruelty-free
Silicone-free
Paraben-free
Phthalate-free
Smoothens hair
Cons
May leave a white residue
Indulge your hair in some much needed TLC (Tender Loving Care) with this Batiste Clean & Classic Original Dry Shampoo. With the original scent notes of bergamot, rose, and lily extracts, this formula not only leaves your hair smelling floral but also absorbs dirt and grease, adding life and volume to your tresses. This scented dry shampoo is extremely easy to use and does miracles to your hair-do. This video offers a more detailed explanation of the product.
Pros
Sulfate-free
Removes oil
Adds texture
No water required
Cons
May not be suitable for extremely fine hair
Infused with a blast of superfruit sea buckthorn berry extract, this amika: Perk Up Dry Shampoo formula adds life to dull hair. Made from rice starch, it absorbs oil and dirt with ease and does not cause build-up on the scalp. It is lightweight, adds to hair volume, and is safe to use on color, keratin, or Brazilian-treated hair. This clean-smelling shampoo is one of the best dry shampoos you'll find in the market that will leave you and your hair feeling refreshed.
Pros
Gluten-free
Mineral oil-free
Does not leave a white residue
Sulfate, paraben, and phthalate-free
Cons
Infused with eucalyptus dunnii, this exotic formula will not only make your hottest hairstyle last long but also refresh you with calming aromatherapy. The eucalyptus fragrance will soothe your soul. It absorbs excess oil, dirt, and sweat from your hair while adding texture and volume to it. With the goodness of jojoba oil, it will nourish your curly hair and transform hair from coarse to super soft texture.
Pros
Dye-free
Gluten-free
Cruelty-free
Free of parabens and sulfates
Cons
The fragrance may be a bit too overwhelming for some.
Regular dry shampoos making your head hurt with that chemical smell? Well, how about some fresh notes of Madagascar vanilla, jasmine, and sandalwood scents with this Drybar Detox Dry Shampoo. Powered with golden root extract and micro-fine rice powder, this formula absorbs oils, eliminates foul smell, and prevents dryness as well as breakage in your hair strands while also making your hair smell good.
Pros
Cruelty-free
Adds volume
Phthalate-free
Sulfate and paraben-free
Provides a matte finish
Cons
May not be suitable for darker hair color
As you may have already guessed, this dry shampoo has the classic Moroccan oil smell with hints of spicy amber, sweet floral, and musk. This MOROCCANOIL Dry Shampoo for Light Tones is an argan oil-powered formula, which is also infused with rice starch powder that absorbs excess oil and avoids product build-up. This dry shampoo works great on platinum, silver, and blonde hair. This formula has subtle violet undertones that will add an extra shine and help balance brassiness.
Pros
Nourishes hair
No dull residue
Enhances light color tones
Protection against UV damage
Cons
Add some bounce to your curls and polish those last-minute sleek straight hair looks with this Cake Beauty The 'Do Gooder Volumizing Dry Shampoo. Formulated with corn starch, it smells just like a cupcake. This formula readily absorbs oil and dirt, cleansing your hair and scalp. Reinvigorate your hair with this lovely blend of natural ingredients that add volume and shine within a few minutes of application.
Pros
Cruelty-free
Sulfate-free
100% vegan
Paraben-free
Mineral oil-free
Cons
The fragrance may not last all day long.
Jumpstart your hair routine with a citrusy punch that will keep you and your hair smelling fresh all day long. Get rid of that greasy, lifeless, and oily hair with a little help from this Suave Professionals Dry Shampoo. Its mineral clay formula absorbs dirt and oil from your hair and keeps it bouncy and glamorous for your favorite hairstyles. You don't have to worry about white residue with this product, and it is well suited for dark brown hair.
Pros
Adds texture
Easy application
Prevents greasy feel
Great for re-styling hair
Cons
May need to be washed off thoroughly with shampoo
Immerse your hair in fresh floral scents of this philosophy Pure Grace Dry Shampoo that cleanses your hair while also smoothening and adding shine. The brand uses cutting-edge research to device philosophy's brilliant formulas. Whether you have super curly hair or just straight jet black strands, it will lift your fine hair by adding volume and making it look fuller and incredibly stylish.
Pros
Lasts long
Adds texture
Subtle fragrance
Makes hair manageable
Cons
May not be suitable for sensitive scalp
Scented with clean and crisp apple tones, blended with a smooth jasmine undertone, this is one of the best dry shampoos you will find in the market. This ultra-fine formula absorbs oil quickly and gives you that instant freshly rinsed hair look with a lovely scent. This clean-smelling dry shampoo works on all hair types and does not leave a white residue.
Pros
Lightweight
Defines texture
Colorless formula
Adds instant volume
Works on all hair colors
Cons
Now that you are all caught up on some of the best dry shampoos in the market, let's take a look at how you can decide what would work for you.
How Do I Choose A Dry Shampoo With Fragrance
Here are a few things that you can keep in mind before making a purchase.
Ingredients: You do not want to end up having a rash or an itchy scalp because of your dry shampoo. Hence, always ensure you have taken a look at the ingredients to identify allergens before buying.
Scent: While you may want your hair to smell lovely, you do not want to end up with an overpowering fragrance that gives you a headache at the end of the day.
The formula: Make sure you do not pick a product with a formula rich in harsh chemicals. You would want to go easy on your hair and pick one with natural extracts.
While dry shampoos are a great alternative when you skip washing your hair, there are also other ways that you can keep your hair smelling fresh.
How Do You Keep Your Hair Smelling Good
Here are a few pointers that would help.
Regular hair washes: Nothing replaces cleansing your hair with a routine hair oil massage, followed by shampoo and conditioner. Etch it into your schedule and avoid missing any of these steps for clean and fresh-smelling hair.
Scented hair products: From hair detanglers to dry shampoos and conditioners and oils, pick products that have subtle fragrances in them.
Protect your hair: Wear a head wrap or a tie scarf around your head, especially if you are going to be dealing with strong aromas, be it food or cigarette smoke.
Clean brush: Keep your hair comb or brush clean by either replacing them with new ones once they have worn out or washing them regularly.
Pillowcase: Change your pillowcase regularly since you rest your head for long hours during the night, and a dirty pillowcase could add a peculiar odor to your hair.
Frequently Asked Questions
Is dry shampoo good or bad for your hair?
Well, this totally depends on your purpose. While there is no definite alternate to rinsing your hair with shampoo, dry shampoo is great to use for in-between washes when you want to step out without a wash. However, a dry shampoo only absorbs the oil and dirt and does not rinse it off like shampoo does. Hence, it should not be seen as a permanent replacement for shampoo.
Does dry shampoo make your hair smell better?
Yes, there are several dry shampoo formulas that are scented. You can pick from your choice of scent as long as you do a trial run before the actual event. You do not want to end up with an overpowering fragrance.
Is inhaling dry shampoo bad?
Use the dry shampoo sparingly. Do not inhale it directly through the dry shampoo spray.
How long does dry shampoo smell last?
Dry shampoo smells usually last for a day. It can last less depending on your lifestyle. However, many dry shampoos stay for two days.
Is it okay to use dry shampoo everyday?
No, dry shampoos can weaken your hair, leading to hair loss and scalp issues. Therefore, use dry shampoos not more than twice in a row.
Do smelling dry shampoos work on fine hair?
Yes, dry shampoos with fragrances work on fine hair. Dry shampoo is considered a quick way to add more volume to fine tresses.
Recommended Articles