11 Best-Smelling Dry Shampoos In 2023 You Should Try
Enjoy manageable and sweet-smelling hair all day long with just a few sprays.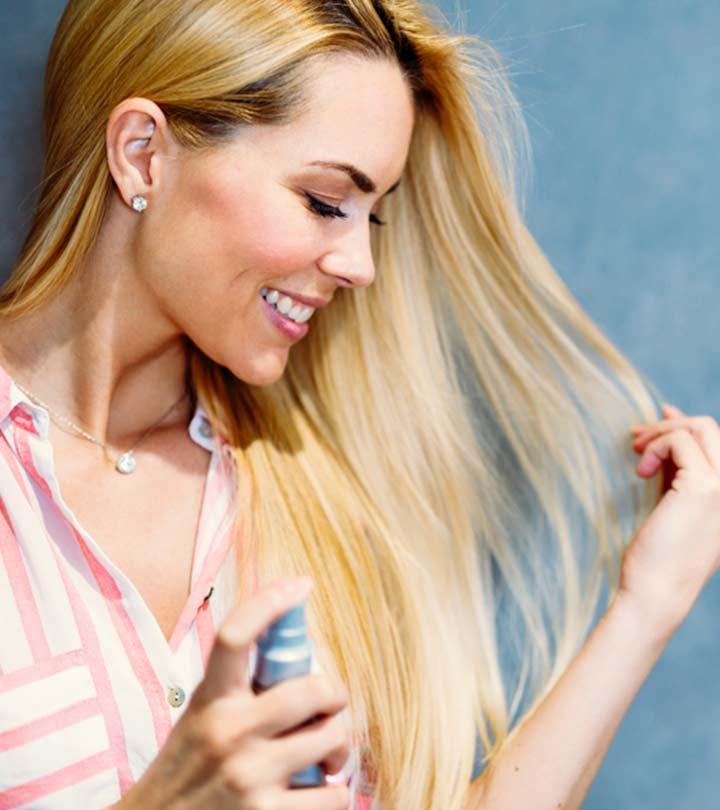 Looking for the best-smelling dry shampoo that makes your day better? We have just what you're in search of. We love dry shampoos, mainly because of how convenient they are. No matter how tired you are to shampoo your hair for real or how late you are to that date, a few works of sprays will help you get the bouncy locks in no time. They deserve a permanent place in your handbag! The biggest bonus associated with using a dry shampoo is getting a sweet-smelling one that will make everyone turn their heads towards you. Jill Turnbull, a hair stylist with 47 years of experience, states, " Dry shampoo is a time-saving essential for those who don't have the time or energy to wash their hair every day." While the market is full of dry shampoos that promise to be the best at their job, we have 11 bestselling dry shampoos made with the most aromatic scents to keep your hair fresh and bouncy always. By getting yourself the best can of dry shampoo, you can make sure your hair is always sweet-smelling and gorgeous to begin your day with! Read on to know more about it.
Top 11 Dry Shampoos That Will Leave Your Hair Smelling Lovely
Pros
Calms frizz
Tames flyaways
Adds bounce and shine
Great for second-day style
Cons
Price at the time of publication: $7.89
Pros
Cruelty-free
Silicone-free
Paraben-free
Phthalate-free
Smoothens hair
Cons
May leave a white residue
Price at the time of publication: $28.0
Pros
Sulfate-free
Removes oil
Adds texture
No water required
Cons
May not be suitable for extremely fine hair
Price at the time of publication: $7.99
Pros
Gluten-free
Mineral oil-free
Does not leave a white residue
Sulfate, paraben, and phthalate-free
Cons
Price at the time of publication: $26.0
Infused with eucalyptus dunnii, this exotic formula will not only make your hottest hairstyle last long but also refresh you with calming aromatherapy. The eucalyptus fragrance will soothe your soul. It absorbs excess oil, dirt, and sweat from your hair while adding texture and volume. With the goodness of jojoba oil, it will nourish your curly hair and transform hair from coarse to super soft texture.
Pros
Dye-free
Gluten-free
Cruelty-free
Free of parabens and sulfates
Cons
The fragrance may be too overwhelming for some.
Price at the time of publication: $23.98
Pros
Cruelty-free
Adds volume
Phthalate-free
Sulfate and paraben-free
Provides a matte finish
Cons
May not be suitable for darker hair color
Price at the time of publication: $26.0
Pros
Nourishes hair
No dull residue
Enhances light color tones
Protection against UV damage
Cons
Price at the time of publication: $26.0
Pros
Cruelty-free
Sulfate-free
100% vegan
Paraben-free
Mineral oil-free
Cons
The fragrance may not last all day long.
Price at the time of publication: $8.99
Pros
Adds bounce and shine
Great for styling hair
Does not leave a white residue
Pleasant fragrance
Sulfate, paraben, and phthalate-free
Cons
May need a thorough cleaning
Price at the time of publication: $8.06
Pros
Cruelty-free
No visible residue
Instant dry
Clan scent
Cons
None

Price at the time of publication: $11.98
Pros
Lightweight
Defines texture
Colorless formula
Adds instant volume
Works on all hair colors
Cons
Price at the time of publication: $25.5
Dry shampoos effectively refresh your hair while absorbing oil and greasiness from the scalp. It helps you appear clean and fresh without using a regular shampoo on your hair for days! However, you should make sure the dry shampoo you choose is suitable for your hair type and keeps your hair rejuvenated without any scalp irritation. Take a look at the buying guide to know further.
Points To Keep In Mind Before Buying A Dry Shampoo
Since dry shampoos remain in the hair for a long time, it is preferable to use ones without harmful ingredients. Stay strictly away from mineral oil, phthalate, paraben, silicone, and sulfate to prevent hair damage in the long run. Avoid products containing artificial dyes as well.
If you only wash your hair once a week or so, you should get a high-quality dry shampoo that will provide long-lasting results. Dandruff is caused by product buildup on the scalp and hair that occurs when you repeatedly use the same product without cleaning it off. That is why it is preferable to use a long-lasting dry shampoo. Those who work outdoors in the sun should opt for a product providing UV protection.
The dry shampoo you choose should match your hair color. Pick one that won't leave a whitish cast on your scalp and hair. Similarly, blondes should use a dry shampoo designed for light hair.
Keep in mind that the chemicals in a dry shampoo will come into contact with your scalp skin. If you have allergies, you should test the product first by applying a small amount on your skin. Make sure you are not allergic to dry shampoo, as doing so might cause extreme irritation in certain people.
Dry shampoos absorb the natural sebum and oil from your scalp and hair. However, this causes the hair to become dry and frizzy over time. Pick a product that works well with your hair type.
Those who have extremely fine, lanky hair should opt for products that add texture and volume. However, they will have to wash out their hair more often as there will be significant product-build up.
Dry shampoos should be used with caution by those whose hair and skin are excessively dry. If you use the product frequently, you should also clarify your hair twice a month and deep condition your hair once a week.
Now that you are all caught up on some of the best dry shampoos in the market, let's take a look at how you can decide what would work for you.
How Do I Choose A Dry Shampoo With Fragrance
Here are a few things that you can keep in mind before making a purchase.
Ingredients: You do not want to end up having a rash or an itchy scalp because of your dry shampoo. Hence, always ensure you have taken a look at the ingredients to identify allergens before buying.
Scent: While you may want your hair to smell lovely, you do not want to end up with an overpowering fragrance that gives you a headache at the end of the day.
The formula: Make sure you do not pick a product with a formula rich in harsh chemicals. You would want to go easy on your hair and pick one with natural extracts.
While dry shampoos are a great alternative when you skip washing your hair, there are also other ways that you can keep your hair smelling fresh.
How Do You Keep Your Hair Smelling Good
Here are a few pointers that would help.
Regular hair washes: Nothing replaces cleansing your hair with a routine hair oil massage, followed by shampoo and conditioner. Etch it into your schedule and complete all these steps for clean, fresh-smelling hair.
Scented hair products: From hair detanglers to dry shampoos, conditioners, and oils, pick products with subtle fragrances.
Protect your hair: Wear a head wrap or a tie scarf around your head, especially if you are dealing with solid aromas, food, or cigarette smoke.
Clean brush: Keep your hair comb or brush clean by replacing them with new ones once worn out or washing them regularly.
Pillowcase: Change your pillowcase regularly since you rest your head for long hours during the night, and a dirty pillowcase could add a peculiar odor to your hair.
Frequently Asked Questions
Is dry shampoo good or bad for your hair?
Well, this totally depends on your purpose. While there is no definite alternate to rinsing your hair with shampoo, dry shampoo is great to use for in-between washes when you want to step out without a wash. However, a dry shampoo only absorbs the oil and dirt and does not rinse it off like shampoo does. Hence, it should not be seen as a permanent replacement for shampoo.
Does dry shampoo make your hair smell better?
Yes, there are several dry shampoo formulas that are scented. You can pick from your choice of scent as long as you do a trial run before the actual event. You do not want to end up with an overpowering fragrance.
Is inhaling dry shampoo bad?
Use the dry shampoo sparingly. Do not inhale it directly through the dry shampoo spray.
How long does dry shampoo smell last?
Dry shampoo smells usually last for a day. It can last less depending on your lifestyle. However, many dry shampoos stay for two days.
Is it okay to use dry shampoo everyday?
No, dry shampoos can weaken your hair, leading to hair loss and scalp issues. Therefore, use dry shampoos not more than twice in a row.
Do smelling dry shampoos work on fine hair?
Yes, dry shampoos with fragrances work on fine hair. Dry shampoo is considered a quick way to add more volume to fine tresses.