Make Your Skin Feel Good With 11 Of Our Best Smelling Essential Oils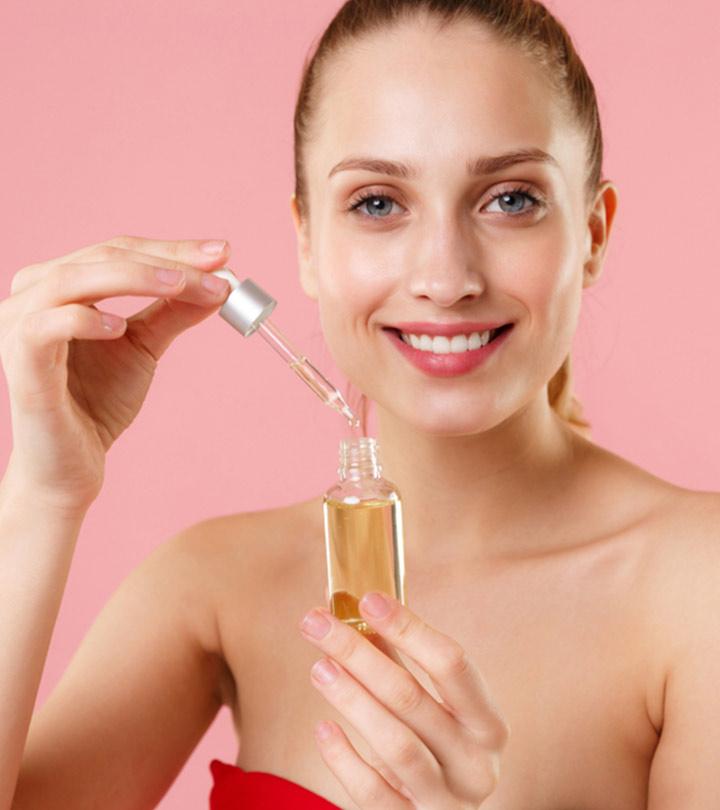 With demand for natural skincare skyrocketing with every passing year, there's also been an organic rise in need for the best smelling essential oils in the market. In our demanding lifestyles where we are often pressed for time, essential oil blends are the magic ingredients that can solve a host of woes, starting from acne and sebum-balance to just elevating our mood and making us feel good. Gone are the days when we designated essential oils only as products fit for aromatherapy, as a drop of the right kind can change the way we look and feel.
While how these magic oils can smell to each one of us may vary depending on personal preferences and needs, they usually serve their purpose by what they are made of, which also decides the smell they emanate. Botanical extracts make these effective, potent ingredients that determine their aroma. With our guide, pick out the best smelling essential oil for your skin.
11 Best Smelling Essential Oils For Great Skin
Made of a 100% pure concentration of ylang ylang, this is an essential oil that can be used on the skin for relaxation and rejuvenation. It is made of cananga odorata that gives it the right concentration. The undiluted formula is known for its ability to kill bacteria and reduce blood pressure. Working as pain and stress-relief agent are some of its additional qualities. Ideally, this should be used with a carrier oil before application on the skin. The brand uses a UV-coating on its glass bottle that protects the essential oil from getting affected by the sun.
Pros
Made of a 100% concentration
Comes in a glass bottle with UV-coating
Helps killing bacteria
Helps reduce blood pressure
Cons
Needs a carrier oil for application
Watch your beauty command attention wherever you go as you hone it with this little bottle of wonder! This herbal essential oil plumps up the skin and improves skin texture with its moisturizing properties and makes it radiant. It helps in cleansing and hydrating the skin, to make it look brighter. It also helps in hair growth and strengthening. It has a clean, herbaceous scent that leaves you asking for more. Dilute it with a carrier oil for topical use and watch how it adds a glow to your skin.
Pros
Great for cleansing the skin
Helps in moisturizing
Fresh, herbaceous smell
Great for hair growth
Plumps up the skin
Brightens complexion
Cons
Made of premium, therapeutic-grade handcrafted ingredients, this is made of a 100% pure sweet orange essential oil. It is suitable for blending with a number of other oils such as bergamot, cedarwood, clove, clary sage, geranium, helichrysum, lemon, neroli, patchouli, rose, rosemary, sandalwood and vetiver. Additionally, this is also free of sulfates and parabens. As a part of the brand's social responsibility, they also ensure sourcing their ingredients ethically. Its fresh, citrus aroma comes from the outer peel of oranges and this sweet smelling essential oil helps in enhancing the mood. It is also cruelty-free and is tested in an independent lab to ensure the authenticity of its ingredients.
Pros
Mood-enhancer
Made of ethically-sourced ingredients
Cruelty-free
Sulfate-free
Paraben-free
Cons
The scent may not be strong enough to use in diffusers.
Bottling the properties of tea tree oil, this is a power-packed fresh smelling essential oil. Made by the steam-distillation of the leaf, this is a 100% pure formulation with a camphor-like smell. Tea tree oil has many benefits, including controlling acne inflammation and cleansing the skin of unwanted oils. It is also great for the scalp and hair as it prevents excessive drying out while also keeping the roots clean. It has health benefits that prevent common ailments such as sore throat. This is also great for strengthening the nails.
Pros
Ethically made
Cruelty-free
Vegan
Suitable for daily use
Natural ingredients
Cons
Needs dilution for topical use
Might not be suitable for drier skin types
For those looking for purity of ingredients in their essential oil, it cannot get better than the floral scents of this USDA-certified organic lavender essential oil. Without any additives, alcohol, added-fragrance and dilution, this is a formulation that is as pure as it can get. Containing lavandula angustifolia extracts, this is made by the distillation of lavender flowers by steam. Lavender essential oil has a number of health benefits such as stress-alleviation, fighting signs of aging, and age-spots or to just help yourself and your surroundings smell good! It is also non-GMO project-verified and cruelty-free.
Pros
USDA-certified organic
Cruelty-free
Non-GMO project-verified
Fights aging
Blends with a number of ingredients
Cons
Some might not like the smell
A premium fragrance oil packed in a sun-protected amber bottle, this can fill your room with that fresh cotton smell that reeks of comfort and familiarity. It has many uses as it goes well as a fragrance for candles and perfumes as well as being perfect as an essential oil for home fragrance. Use it in a diffuser via reed or steam and get that perfect smell of fresh cotton. Some might also like to use it as potpourri, air fresheners or in cleaning products. The fresh cotton fragrance oil is also great for relaxing baths with bath bombs and soaps.
Pros
Works great as room fresheners
Can be added to cleaning products
Suitable for use in diffusers via both reeds and steam
Comes in an amber bottle with a dropper
Cons
The smell might not be strong enough for some.
Made by the steam distillation of the leaves of eucalyptus globulus, this clean smelling essential oil has a number of benefits for the skin, hair, and mood. Its balsamic, camphoraceous, cool and fresh smell helps in feeling revitalized and energetic. Meanwhile, mixing it with DIY masks, soaps, and lotions makes it beneficial for haircare and skincare. Adding it to the bath water helps in feeling relaxed after a long day. It also works great with a diffuser.
Pros
Refreshing balsamic, camphoraceous smell
Offers both skin and hair benefits
Revitalizes and energizes the mood
Can be used in DIY hair and skin masks and lotions
Cons
Needs to be used with a carrier oil for topical purposes
Made of a premium, therapeutic blend, this is beneficial for promoting relaxation, stress-relief and supporting the harmony of the body. It uses a 100% natural formulation sourced from France and can be used for a host of purposes by blending it with the right mix. From bath bombs and body masks and use in diffusers for a clean-smelling ambience, it works for a wide range of purposes. It is advisable to use a carrier oil for quick and effective absorption into the skin.
Pros
Premium therapeutic blend
100% natural formulation
Suitable for mixing with a wide range of products
Promotes good sleep and relaxation
Cons
The smell might differ from the traditional scent of lavender oil
Formulated from the highest quality, naturally-sourced available peppermint oil in east India, this is known for its versatility of use. Peppermint oil is known for its home and kitchen use as it works wonders as an all-purpose cleaner. It is known for its benefits such as reducing pain and skin irritation in the form of itching and rashes. It also kills germs if used with a cleaning product. When used in a diffuser, this helps in promoting relaxation and a feeling of natural coolness.
Pros
All-purpose house cleaner
Suitable for use in house and kitchen
Reduces pain
Reduces skin irritation
Cons
Some might not find the smell very intense.
Derived from the rind of a lemon, this is a citrus smelling essential oil. It has a host of benefits such as aiding in weight-loss, boosting immunity, and fighting odor that makes this one of the most popular essential oil scents. It also doubles as a great house cleaner when mixed with a good carrier. This formulation is 100% undiluted without any additives and harmful chemicals. GCMS test also guarantees the authenticity of the product. It also works wonders for dry skin and acne, when added to other ingredients such as coconut oil, jojoba oil, and sweet almond oil.
Pros
100% undiluted
No additives
No harmful chemicals
GCMS-tested
Works against acne and dry skin
Great for house-cleaning
Fresh, citrusy smell
Cons
More than just a few drops of this essential oil might be required for it to emanate a strong smell
Extracts from the leaves and flowers of the chamaemelum nobile derived by steam-distillation to ensure its purity, this bottle uses 100% undiluted chamomile essential oil. Blended for therapeutic uses, the Roman chamomile is known for its calming qualities and its suitability for kids alike. It has a sweet, soothing scent that lights up the mood by alleviating stress and fosters rejuvenation. It can also be added to other oils, especially lavender, for relaxing baths and see it work its wonders with its sedative effects. Roman chamomile also garners much popularity for its ability to improve skin and hair health.
Pros
100% undiluted
Premium quality
Suitable for use on hair and skin
Suitable for blending with other oils
Cons
Now that we have looked at our 11 best essential oils, here's looking at how to buy the right one.
How To Select Best Smelling Essential Oils
Select them on the basis of the ingredients you need –– for example, lavender for calming, tea tree for skin and eucalyptus for its house-cleaning properties. Each essential oil has a very specific use and it is good to pick one depending on what you need it for.
It must be remembered that the smell of each essential oil is subjective to each person. So, it is important to look at which one you like and need and how its ingredients have been sourced.
It's also advisable to pick an essential oil depending on the medium of use. Some are used best in a diffuser while others can be added to a number of products such as bath bombs, lotions and even cleaning products. Most, usually, need a medium for application.
Now that you know how to pick the best essential oil for yourself, here's a little guide on how to use an essential oil the right way.
How To Use Essential Oils Safely
Step 1: Most undiluted essential oils need to be used with a carrier oil or blended with other products to dilute them before usage. In a concentrated form, they might end up burning your skin.
Step 2: Essential oils are also great for using in diffusers or in limited quantities for monitored usage. It is always advised to look at each product's directions for usage.
Step 3: Use only a few drops or as advised on the label of the product. Consulting an expert is also advisable about the usage of essential oils.
Step 4: If you are using a diffuser, be careful about the duration of usage as prolonged exposure might lead to adverse effects.
So now that we have made your quest for picking the best smelling essential oil easier with our reviews and buying guide, go ahead and welcome the zillion benefits of these therapeutic oils into your life with gusto! Blend them, use them in DIY products, add them to a diffuser or sprinkle a few drops on your pillowcase before sleeping and see them work their magic on your mood, hair and skin. Each uses the power of nature to benefit our lives and the key is to pick out what we need and how we use it, in order to let them make a difference in the quality of our lives and skincare regimen.
Frequently Asked Questions
Do essential oils really work?
Yes, they are proven to work as they are based on natural science and are derived from botanical extracts. But one must use them persistently in the right way and for the right purpose.
Is smelling essential oils bad for you?
Essential oils have a host of aromatherapy benefits but they must almost always be used in limited quantities and with a diluting agent such as a carrier oil or a diffuser.
Is smelling essential oils safe for pregnancy?
Aromatherapy is an age-old traditional form of medicine and due to the use of botanical extracts, it is generally safe for use. However, we recommend that a doctor should be consulted regarding this.
Can Smelling essential oils make you sick?
Essential oils are not supposed to make you sick if done in the correct manner by using diffusers or a carrier oil. It is very important to read the directions of use for every specific product. Experts could also be consulted to figure out the right way of using these.