11 Best Smelling Perfumes For Women Available In India
From floral to fruity – own your signature scent with these exceptional fragrances.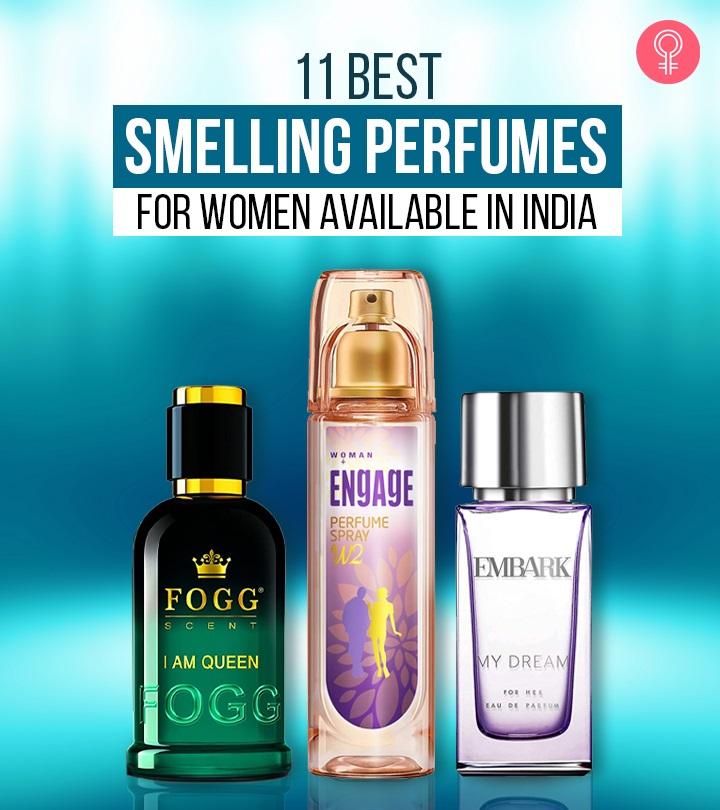 An enchanting fragrance often opens the door to a myriad of memories and experiences. On top of that, perfumes also leave a subtle hint of lingering freshness.While your choice of scent defines your characteristic and personality, the signature fragrances also offer a unique essence of sensuality. If you are yet to find your signature scent, we have a list of the 11 best smelling perfumes for women available in India.Scroll down and check them out.
11 Best Smelling Perfumes For Women Available In India
Engage W2 Perfume Spray has a feminine and elegant fragrance. This refreshing scent is a mellow blend of sandalwood, vanilla, mandarine peach, and rose. The refreshing aroma of fruits and flowers persists for an extended period. Each spritz of this 120ml bottle gives a classic fresh summery fragrance, and the formula is mild on your skin. The enticing fragrance of this perfume provides round-the-clock freshness, and its shelf life lasts for 24 months.
Price at the time of publication: ₹16.11
The I Am Queen Scent For Women from Fogg captures the essence of today's women who celebrates themselves every day. The enticing smell of this Eau de parfum leaves a lasting impression wherever you go. Each bottle of 100 ml ensures you 800 sprays. It has an intense base note which is a blend of rose, jasmine, ginger, bitter orange, honey-amber, and sandalwood. The gentle formula offers 12-hours of lasting fragrance and protection against body odor.
Price at the time of publication: ₹29.2
The Engage Yang Eau De Parfum has an irresistible fragrance and is perfect for bold and beautiful women. Its premium blend features a top note of fruity orange, while the middle note consists of the sensual aroma of jasmine,and the base note is infused with the lasting fragrance of vanilla. This refreshing perfume is an irresistible blend of floral, fruity, and gourmand that leaves a lasting impression.
The Miniso Lollipop Pink Eau De Toilette is a luxury blend of fresh and fruity fragrance. This signature perfume for women complements all occasions. The elegantly designed bottle consists of 50 ml of perfume. This gentle fragrance has a top note of orange conveying joy and spontaneity and the middle notes of cedarwood, jasmine, and muguet. The base note is an exotic blend of gourmand, musk, and vanilla that leaves behind a lingering earthy and musky fragrance long after the application.
The ShineEau De Perfume from The perfumer was voted the best fragrance for women and girls as it has a captivating fragrance that can last through the day.  One spritz from this 100 ml bottle revitalizes your senses. The premium fragrance features top notes of Calabria bergamot, Sicilian lemon, and mandarin. The seductive middle note consists of jasmine sambac, rose morocco, and caramel. The base note leaves you with the lasting aroma of patchouli, cedarwood, tonka beans, white musk, and sandalwood.
The Bella Vita Celeb Mist Body Perfume Spray is a luxury blend of naturally scented oils. The distinct aroma of this perfume displays the charming character of the wearer. The potent formula contains powerful antioxidants and vitamins to provide moisture to your skin with a lingering fragrance. It is infused with kokum butter that contains essential fatty acids to keep your skin soft and supple.
The Sweet Passion Eau De Parum from Body Cupid has a rich tantalizing floral woody fragrance. The divine notes symbolize the underlying femininity of an empowered woman. It encompasses the beauty of women with its top notes. The heart note consists of a mesmerizing blend of gardenia and orange blossom, and the base notes leave you with the seductive smell of vetiver, rose, and honey. The perfume comes in a 100 ml bottle and leaves you smelling fresh throughout the day.
The Envy Blush Perfume Spray has a non-irritating formula and is a gas-free product. It carries with it the sensuality of French perfumes known for their captivating fragrances for centuries. This 60 ml bottle of perfume contains a blend of floral and fruity fragrances with top notes of citrus fruit and raspberry. The seductive floral aroma of jasmine and rose in the middle note encourage intimacy. The base note has the soothing fragrances of sandal and amber. This enriching formula is free of parabens, sulfate, aluminum, and triclosan. The ingredients used in this ultimate blend are cruelty-free as they are never tested on animals.
Bombay Dreams Ajmal Eau De Parfum comes in an attractive and inviting golden bottle. Each spritz from this beautifully crafted 100 ml bottle will leave you with a pleasant smell for the rest of the day. The fragrance is an amalgamation of the delightful floral and fruity touch. The ingredients used in this fragrance embrace the wearer with its soothing aroma. The top notes feature a floral and fruity smell to cheer you up. The middle note boasts green aqueous, and the base notes of amber wood reveal a vibrant and contrasting fragrance.
The Skinn Amalfi BleuEau De Parfum by Titan has are freshing fragrance that reminds you of the clear water of Amalfi coast. It is infused with a combination of floral and fruity smell. The top note has the scintillating aromas of citrus, lavender, and galbanum. The middle note reveals the delicacy of vetiver and orange flower, while the intense base note is a blend of moss and musk. The refreshing and subtle fragrance feels uplifts your senses, and the formula is gentle on your skin.
The My Dream For Her Eau De Parfum from Embark has a well-balanced fragrance with floral and woody touch to heighten your feminine sensuality. It is crafted with the best essential oils, and its pleasant smell leaves you feeling refreshed for the rest of the day. The top note merges the floral and fruity smell of juniper berry and violet. The middle note consists of an enchanting smell of roses. The base note has a lingering smell of sandalwood enhanced with the tones of fine amber. The perfume has a non-irritating formula and is cruelty-free.
Consider these following features before you narrow down your search for the best fragrances.
How To Choose The Best Smelling Perfume For Women
The packaging alone should not be the sole criteria to buy. A good perfume should last up to four to five hours for a lasting impression.
A good lifespan of perfume indicates its quality. A good quality perfume can last for up to several years. Do not buy a fragrance that has a close expiry date.
While branded shoes, clothes, and makeup can make you look good, a signature scent adds to your exclusivity. It's an invisible accessory that boosts your confidence while keeping you feeling refreshed for the entire day. Go ahead and browse the list of our top perfume choices for women and pick one that suits your personality.
The following two tabs change content below.