10 Best Smelling Self-Tanners For A Radiant Look – 2023
Smell, tan, and look good all by yourself, so what else do you need now?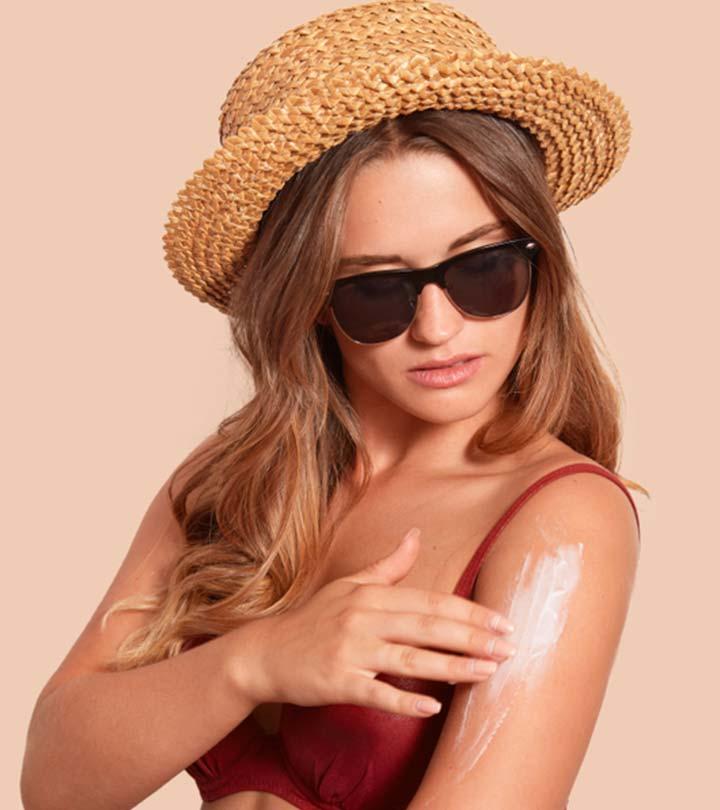 One of the most exciting things we do to welcome summer is get our tans on. Whether this means booking an appointment at a tanning bed or a siesta in the sun, you choose. Both these methods of achieving rich bronzy skin have been quite popular over the years. Recently, however, they've been getting bad press as the sun's rays can damage our health. They not only cause cancer but can lead to early onset signs of aging like wrinkles or fine lines. So the best way around this is sunless tanning, and our list of the best-smelling self tanners are here to help.
Delivering a coveted warm sun-kissed glow to your skin, these tanners don't have the usual chemical-like odor that most formulas do. They incorporate notes like florals, fruity, or woodsy, adding a sweet smell. Some products also work to moisturize skin and deliver a radiance you can't wait to show off!
10 Best-Smelling Self Tanners For Sweet Sun-Kissed Skin
One of the most popular self tanners you can find, Jergens' formula is your best bet to a gradual and natural-looking tan for the summer. With an airy texture, the mousse enhances your complexion and mimics the sun with a streak-free result. Drying within a mere 60 seconds, the Sunless Tanning Mousse can be applied precisely as it is tinted, developing within a couple of hours. Even if you happen to stay home during the hot days, the island-like tropical fruity scent is definitely a treat for your senses! This video gives you more information about the product.
Pros
Lightweight consistency
Quick-drying
Streak-free application
Natural-looking and gradual result
Dermatologist-tested
Cruelty-free
Cons
The consistency might be sticky.
Price at the time of publication: $17.96
Coco & Eve brings to you a good-smelling self tanner that transforms your skin from within. Raw virgin coconuts, amino acids, and botanicals are infused into this formula to blur out hyperpigmentation and stretch marks. To improve and lessen early signs of aging, the foam is enriched with Cellushape technology that contains figs, bananas, cocoa, and papaya. Orange and lotus flowers work to reduce cellulite while coconut and mandarin nourish skin. This antioxidant-rich formula combines guavas and mangoes to give you a scent that you can't get enough of! With no orange tones or streaks left behind, this tanner develops within 2 hours for a golden tan. Have a look at this video to learn more about the product.
Pros
No streaks or blotches
Lightweight
Minimizes signs of aging
Reduces the appearance of stretch marks and cellulite
Antioxidant-rich formula
Evens out skin tone
Cons
Might not be transfer-proof
Price at the time of publication: $34.8
If you've been on the hunt for a drugstore self tanner that smells good, L'Oreal Paris' mousse gives you a natural-looking even finish. Disappearing into the skin with a super lightweight consistency, the formula dries fast without leaving any streaks behind. Vitamin E and real coconut water are infused into the tanner to hydrate skin, leaving it soft and smooth. The transfer-resistant clear formula needs only 4 to 8 hours to develop for a sun-kissed look.Here is an informative video that tells you more about the product.
Pros
Invisible feel
Natural-looking even finish
Hydrates and softens skin
Transfer-resistant
Streak-free formula
Suitable for all skin types
Cons
Some might find the formula sticky.
Price at the time of publication: $11.97
Skinerals brings to you the best-smelling sunless tanner that is also very healthy for the skin without the use of any chemicals. This vegan solution has a light whipped mousse texture that goes on easily without giving you an orange tint. Acai berry and fig extracts are present to deliver antioxidant-rich benefits that lend your skin a youthful look. Along with a golden glow, you can also expect the reduction of blemishes and an even tone.
Pros
Aerosol-free
Paraben-free
Sulfate-free
Radiation-free
Cruelty-free and vegan
Lightly scented
Cons
Might not leave a long-lasting tan
Price at the time of publication: $29.99
The best-smelling tanning lotion by Bronze Tan has a sexy vanilla scent that is sure to make people turn around twice. Using only natural ingredients that are rich in antioxidants, aloe vera is also present in this salon-quality formula for a boost of skin moisturization. The airy texture glides smoothly across your skin to make application a breeze as the color develops within a single day.
Pros
Quick-drying
Warm vanilla scent
Moisturizes skin
Alcohol-free
Paraben-free
Cruelty-free
Cons
Price at the time of publication: $9.64
Exuding a glorious coconut scent, Tanceuticals' best-smelling gradual self tanner blends quickly and dries fast. A powerhouse of ingredients such as acai berry, vitamin E, and mango butter are used to improve the appearance of your skin with a smooth feel. Aloe vera, shea butter, sweet almond extract, argan oil, and cocoa seed butter help towards an intense moisturizing feel. There's no surprise that this tanning lotion is an award-winner as it doesn't contain any chemicals that can cause skin irritation.
Pros
Lasts for up to a week
Smooths down skin
Blends easily
Quick-drying
Doesn't leave stains
Cruelty-free
Cons
Might be streaky in application
Price at the time of publication: $29.95
This scented self tanner by Vita Liberata is enriched with organic and natural extracts to give you a toxin-free healthy-looking tan. With their unique Odor Remove Technology, all unpleasant smells are eliminated while the pHenO2 technology keeps the tan anti-fade and long-lasting. The Flash Dry Technology dries instantly upon application and absorbs quickly. Aloe vera, the main character, conditions the skin for a smoother texture and delivers anti-aging benefits as well.
Pros
Fast-absorbing
Quick-drying
Improves skin firmness
Anti-fade formula
Toxin-free
Makes for even application
Cons
Might be difficult to blend
Price at the time of publication: $54
With this nice-smelling self tanner by Control Your Glow, your own natural color is mimicked, lasting for up to a week. Not a single toxic ingredient is present in this formula and this helps keep your skin healthy along with a coveted sun-kissed glow. As it is white with no tint, natural DHA, using sugar cane, creates a shade that doesn't leave an unpleasant orange tint. Gentle enough for your face and even oily skin types, the light coconut smell is heavenly.
Pros
Non-comedogenic
Vegan
No parabens, sulfates, or gluten
Formaldehyde-free
Naturally-derived preservative blend
Free of petrochemicals, SLS, and artificial fragrances
Cons
Price at the time of publication: $18.99
Cocoa Brown's warm-smelling sunless tanner acts quickly and looks flawless once developed. Blending beautifully into your skin for a natural appearance, the formula uses vegetable-derived DHA with no parabens. The floral scent gives a boost to your feminine appeal and confidence levels. Fading in an even way, the mousse dries fast and doesn't have a sticky consistency either.
Pros
Paraben-free
Cruelty-free
Quick-drying
Vegetable-derived DHA
Blends easily
Streak-free application
Cons
Might not be very long-lasting
Price at the time of publication: $19.75
For a smooth streak-free coverage, Whish's coconut-smelling self tanner features natural ingredients to keep skin firm and tight. The hydration delivered gives you a radiant glow that as coconut oil, mango, shea butter, and organic aloe seeps deep into the skin for full-on moisturization. Kigelia African fruit, seaweed, and coffee Arabica extracts are powerful for skin-tightness while goji berry, soap bark, and organic pomegranate extract refine and clarify skin.
Pros
Cruelty-free
Paraben-free
Sulfate-free
Phthalate-free
Petrochemical-free
Streak-free
Cons
Might have an orange tint
Price at the time of publication: $36
Now that we've taken a look at some really nicely-scented self tanners out there in the market, let's learn how you can pick the right one.
How To Choose The Best-Smelling Self Tanner
People with light or fair skin would do well with gradual tanners as they can be applied every single day to build a tan that looks natural. They give off a subtle glow that suits pale skin, without looking too harsh or dramatic. But if you do want to make a bit of an impact, a developing solution will also work as they can be rinsed off when you are pleased with the color. A dark-toned self tanner can help you if you like the orange tint that comes after.
Medium skin tones or those that have an olive complexion can go for darker shades as the goal is to warm up their skin. This middle part of the spectrum can also choose a formula that is oil-based as the natural radiance can be highlighted.
Deep tones can opt for shades close to their complexion and those that contain light-reflecting particles for a serious glow. This deep and dark tan combined with a luminous finish works both night and day.
Contrary to popular belief, tanners must also go along well with your hair color as your mane frames your entire face. If you're not able to figure out what shade of tanner would look bomb on you, you can use your hair as a guide. If you have light or red hair, go for a light bronze as your eyes are brightened and your skin looks flushed in a healthy way.
Brown hair that is dyed or natural will look good with a deep bronze shade, something with an underlying green base to counter the orange tint. Rainbow-colored hair is trending now, and you need to stick to light to medium shades as the base of these hair colors is blonde or white. If your hair has cool tones of blue or purple, you can go light and a golden shade complements pinks or peaches well.
There are a variety of formulas available on the market and you can choose whatever gives you ease of application. Bronzers are different from self tanners in that you can see the color instantly and it can be washed off rather than wear away gradually. This option is best for people that want a tan quickly and for a short period of time like a couple of hours.
Gels are also available and you can reach for them if you have a bit of body hair. Their silky consistency makes contact with the skin, going past the hair follicles. Gels are a good choice if you have acne-prone skin. If you want something that hydrates your skin, lotions are your best bet. However, they take a long time to fully dry. This formula builds gradually as you can add a little every single day for the color to develop to your liking. You can opt for this if you are afraid of making any mistakes, as you can cover it up over the next few days.
Tanners in the form of mists are aerosol sprays or pumps which are the best if you want to save some time. It coats skin lightly, and even goes across your back easily, drying in merely a few minutes. Mousse has a whipped texture similar to your favorite dessert and it is also very popular as it spreads easily, making application a breeze. It even dries within 5 minutes!
After you've bagged a best-smelling self tanner you can't wait to flaunt for your beach vacation, it's time to learn how you can apply it for the best results!
How To Apply The Best-Smelling Self Tanner
Step 1: It is recommended to remove body hair before you tan and if you're going to wax or shave, do it 24 hours prior. If not, the formula might settle into hair follicles, giving the appearance of dots.
Step 2: As self tanners deepen skin tone with the presence of DHA, the buildup of skin on places like your knees and elbows can come off too dark. To prevent this, exfoliate your skin either manually with a scrub or use an AHA or BHA solution.
Step 3: You do need to moisturize skin in certain areas prone to dryness such as your hands, feet, elbows, and knees as this can make the tan even. But applying lotion all over can slow the speed of the color development.
Step 4: Begin the tanning process after a shower, but wait 10 minutes so your skin is dry and there is no moisture present.
Step 5: Use a moderate amount of product for a large area as if you take too little, you might rub it too much, causing streaks.
Step 6: Don't forget to use a mitt as it helps with even application, keeps your hands clean, and its opposite side can be used to buff out any mistakes.
Step 7: You can also use the contouring method for a visually-appealing look. Start with a light base and use a deeper tanning shade to build on it. You can do this on parts of the body that you want to tweak, like your abdominal muscles as this gives them more definition.
Step 8: Now you have to wait for at least 6 or 8 hours for your color to develop. This time mostly depends on the formula and brand you're using.
Step 9: After you're done, you can use a bit of highlighter or shimmer to make your collar bones, shoulder bones, and cheekbones pop a little.
Frequently Asked Questions
Can other people smell self-tanner on you?
No, other people won't be able to smell your self-tanner.
Are spray tan fumes harmful?
No, most of the tanning spray fumes are safe. However, some sprays might be risky to use due to excessive concentrations of some chemicals like DHA.
How do you breathe during a spray tan?
It's best to take a long breath before applying a spray tan. Alternatively, you can look away from the spray to avoid intaking it.
How do you get rid of the self-tanner smell?
You can simply shower with a good body wash or soap to eliminate the self-tanner smell.