15 Best Smokey Eye Palettes Of 2023, According To Reviews
For eye makeup that looks alluring and helps you make a statement every time. If you are looking for the best smokey eye palette, we have got plenty of product suggestions to help you nail the look. After all, nothing can transform your look than the smokey eye look. A good smokey eye look can add depth to your overall appearance. And when you pick the right eyeshadow palette, the colors can make your eyes pop and look intense. If you have always been obsessed with the smokey eye look, it is time you should get the sultry look right. However, you need to pick the right eyeshadow palette with the right mix of shades to get the right effect. If you are confused about which eyeshadow palette may work for you, we can help. Keep reading to check out our list of the 5 best smokey eye palettes and take your pick.
Top 15 Best Eyeshadow Palettes For Smokey Eyes
This eyeshadow palette from Lamora includes 16 colors of shimmery, metallic, satin, and matte earthy hues. The palette is crafted using high-quality ingredients of ultra-micronized formula that offer luxurious, intense pigmentation. All the light and dark shades in this smokey eye shadow palette are long-lasting with effortless blendability. It features a range of shades from rose gold hues to royally dark browns to create a natural shimmer or a dramatic glamorous look. The deep, rich colors offer a velvety smooth finish and they work well with a wet or dry brush . Create a look with soft beige, luscious chocolatey brown, or blend with strict black for that smokey, dramatic eye makeup look you always wanted to rock. This video featuring this reviewer's experience will help you understand more about the product.
Pros
100% vegan
Cruelty-free
Long-lasting formula
Easy to blend
Richly pigmented shadows
Cons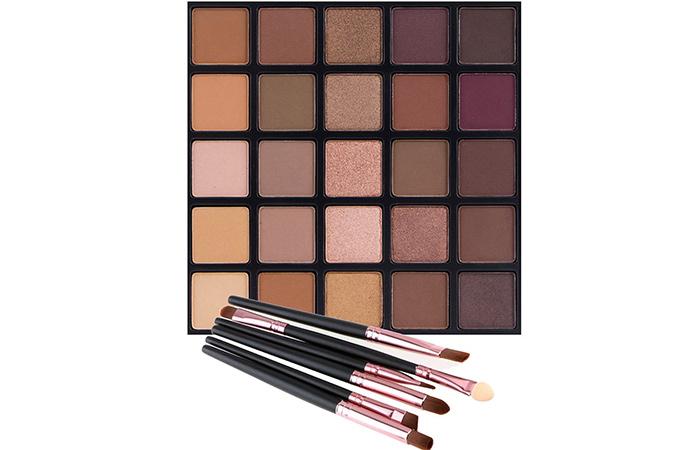 Featuring an extensive range of matte and shimmer eyeshadows, this eyeshadow palette has everything you need to make your eyes pop. This smokey eye kit includes a mix of neutral shimmers, and warm and cool mattes for natural daytime makeup or dramatic smokey eyes. The light colors are perfect for highlights whereas the dark colors are ideal for edgy looks and smokey eyes. All the colors featured in the eyeshadow palette offer great staying power and are highly pigmented. This smokey eyeshadow palette is one of the bests as it is ideal for normal and oily skin types, helps you easily create every eye makeup look that you can think of, and is great for a casual outing or a wedding party. This product also has multiple positive reviews on e-commerce platforms.
Pros
Portable design
Formulated using high-quality ingredients and without dyes
Water-resistant formula
Budget-friendly
The package comes with 6 eye makeup brushes set.
Cons
Not easily blendable compared to other brands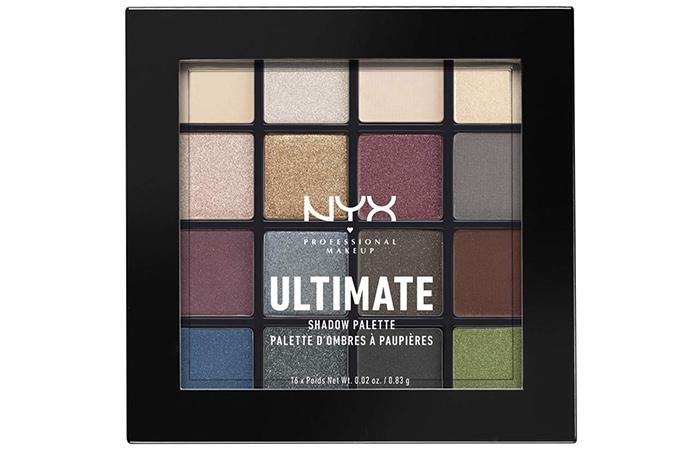 If you are looking for the best smokey eye palette for when you're on the go, then this smokey eyeshadow palette from Nyx Professional might be the best one for you. With 16 highly-pigmented colors to choose from, this eyeshadow palette is perfect for creating seriously gorgeous smoky eye look. The rainbow-inspired palette features a range of shades from shimmers and metallics to satins and mattes. The brand is PETA-certified and cruelty-free, giving us all the more reason to love this palette. So what are you waiting for? Grab this professional-grade palette to create the perfect smokey eyes. This product is not tested on animals, which makes it a good option for ethically conscious consumers.
Pros
Blendable shades
Highly-pigmented shadows
Features shimmer, metallic, satin, and matte shades
Cruelty-free
Cons
The colors are not waterproof.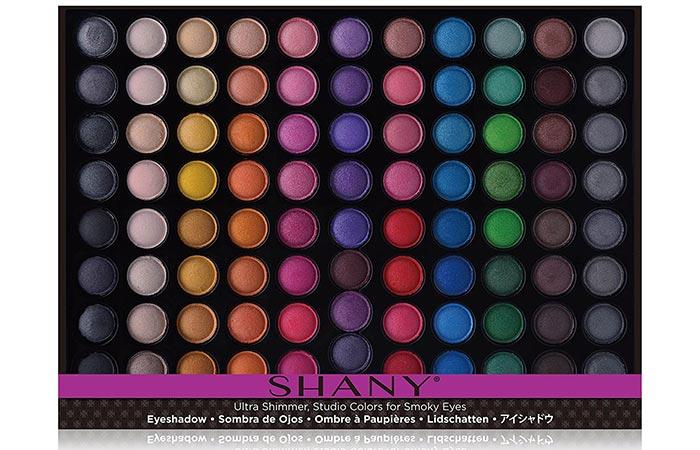 The Ultra Shimmer palette from SHANY is a hit because of its stunning range of colors and shades. The eyeshadow palette features 11 columns of richly-pigmented formulas to create a subtle smokey eye for the day or glamorous smokey eye makeup for the night. The palette includes shimmer and metallic colors for endless possibilities of eye makeup. What more? All the shades are long-lasting with a shimmer finish. The palette also features a built-in mirror and comes with 2 double-ended applicators that make it the perfect companion while on the road. If you are still unsure, check out this tester's experience and her honest review.
Pros
Good staying power
Offers rich pigmentation
Mirrored palette
2 dual-sided foam tip applicators included
The brand is PETA-certified.
Cons
Not ideal for those looking for a matte finish.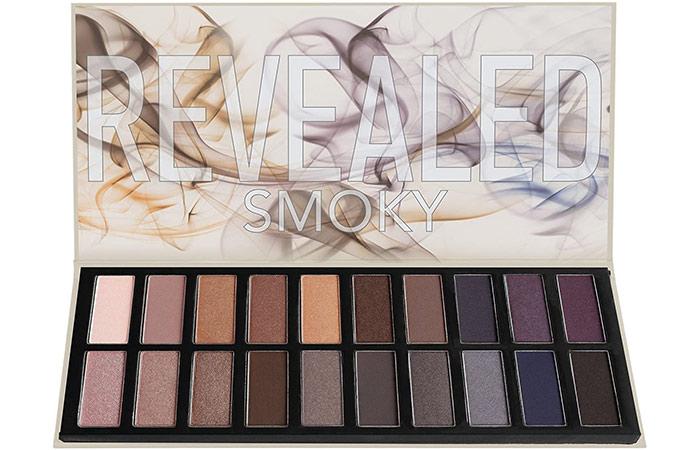 Why not take your smokey looks up a notch with the Revealed Smoky Eyeshadow Palette? This palette includes 20 exquisite eye shadows that offer seamless blendability which lets you create multi-dimensional looks. Featuring a stunning variety of textures and hues, it can be your go-to smokey eyeshadow palette for sultry, smoldering eyes. The palette has a convenient and portable design that's lightweight and travel-friendly. The unique formula is here to offer you long-lasting wear and high pigmentation with minimal fallout. Click this video to learn more about the product.
Pros
20 unique shades
Easy to blend
Sleek and travel-friendly design
Long-lasting formula
Smooth texture
Cons
Shimmery colors are slightly less pigmented than matte shades.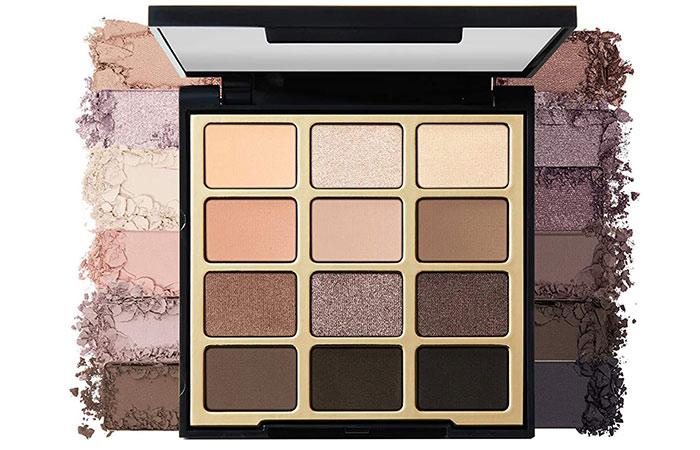 With the Milani Soft & Sultry Eyeshadow Palette, you are looking at one of the best drugstore eyeshadow palettes for smokey eyes. The smokey eyeshadow palette includes 12 velvety matte and shimmery shades to create subtle to bold smokey eye looks that are suitable for day and night. With a mix of smokey metallic shades and cool iridescent neutrals, this popular smokey eyeshadow palette offers endless opportunities to play around with different shades. The shades offer long-lasting wear and are highly pigmented to create a multitude of looks that will last all day long. The brand is also cruelty-free with their line of products built to suit different ethnicities.
Pros
Affordable
Features nudes and metallics
Easy to blend
Long-lasting formula
Doesn't test on animals
Cons
Doesn't come with a built-in mirror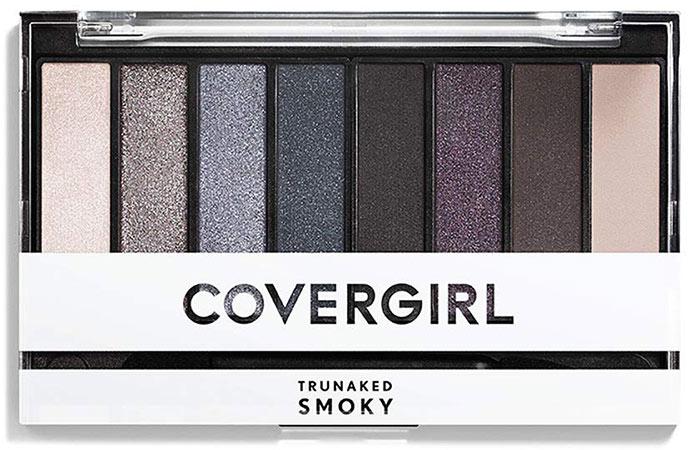 Universally flattering shades with excellent blendability is exactly what you get with this smokey eyeshadow palette from Covergirl. The palette offers endless possibilities as you can mix and match various shades to create flawless smokey eye looks. There are 8 shades in this palette that include glitter, matte, and shimmer eye shadows. The colors are intensely pigmented and dermatologically tested to prevent any allergic reactions. This smokey eyeshadow palette from the celebrity-endorsed brand also comes with a double-ended brush.
Pros
Highly-pigmented shades
Easy to blend
Features shimmer, glitter, and matte eyeshadows
Brush included
An affordable smokey eyeshadow palette.
Cons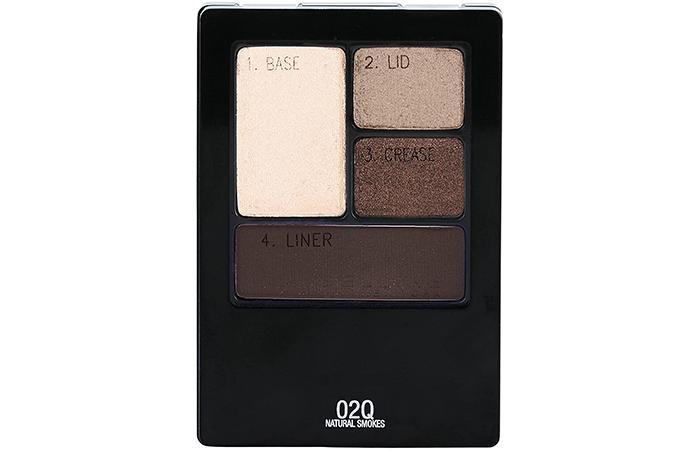 Four ultra-blendable, jet-milled pigments are combined in this smokey eyeshadow palette from Maybelline. The expertly crafted palette features a selection of four shades;one each for base, lid, crease, and liner. The colors have long-lasting wear of up to 12 hours and are perfect to pull off any look including casual days to dramatic nights. The shades offer a silky finish and are ophthalmologist-tested. The simple and compact design offers a no-fuss approach for anyone learning to master the art of smokey eyes.
Pros
Highly-pigmented
Ophthalmologist-tested
Lasts up to 12 hours
2 applicators included
Cons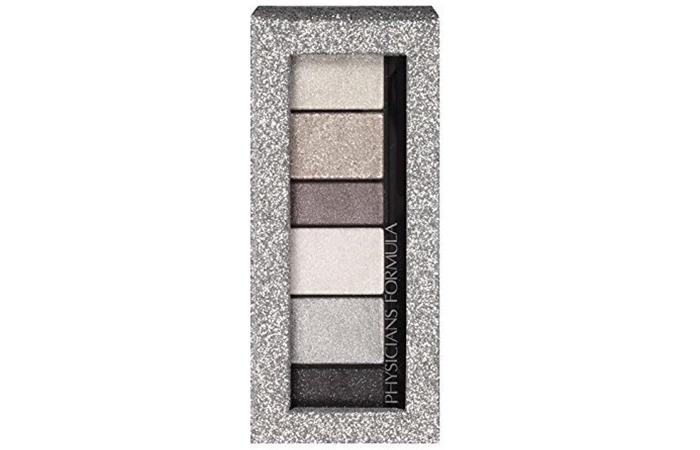 This smokey eyeshadow palette from Physicians Formula is as compact as it comes. The palette features 6 custom shades with a multi-reflective shimmer finish. The colors offer long-lasting wear and is your perfect companion for any glamorous occasion. The shades can be easily blended with each other to create varied makeup looks. The hypoallergenic formula is safe for sensitive eyes and people wearing contact lenses.
Pros
24-hour wear
Blendable formula
Hypoallergenic
Travel-friendly design
Brush included
Cons
The eyeshadow is more sparkly than shimmery.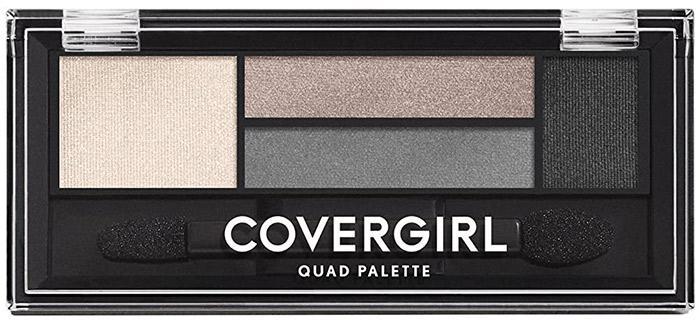 Another great pick from CoverGirl, the Quad Palette features 4 different colors to create stunning smokey eyes. The all-in-one palette offers luminous, high-pigmented shades ranging from subtle hues to bold dramatic ones. Though we are all for massive eye palettes with endless options, this palette is one of our favorites for its compact and simple design. Formulated using skin conditioners, the shades allow for a smooth and even application while offering buildable coverage at the same time. It is the best eyeshadow palette for smokey eyes, as it is reasonably priced, bags the spot. Several reviewers have praised the pigmentation of the colors.
Pros
Buildable shades
Intensely-pigmented
Compact design
Affordable
Cons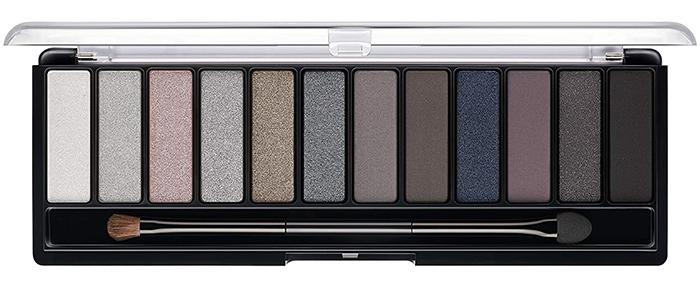 Next on our list of the best smokey eye palette is the Rimmel Eyeshadow Quad for smokey eyes. The eye palette features 12 pans of ultra-smooth and high-shimmer formula that's easy to blend. The palette allows you to mix and match various shades of mattes, satins, and shimmers to up your game of eye makeup. All the shades are formulated to complement a wide-range of skin tones and to provide long-lasting wear. The 12 color palette features crease-proof and smear-proof formula to create both bold and subtle smokey eyes. The brand does not conduct animal testing, which makes this product a fur-friendly option.
Pros
Easy to blend
Offers matte, satin, and shimmery finish
Looks flattering on most skin tones
Crease and smear-proof formula
Double-ended brush included
Cons
The pigmentation is not as high as the other brands.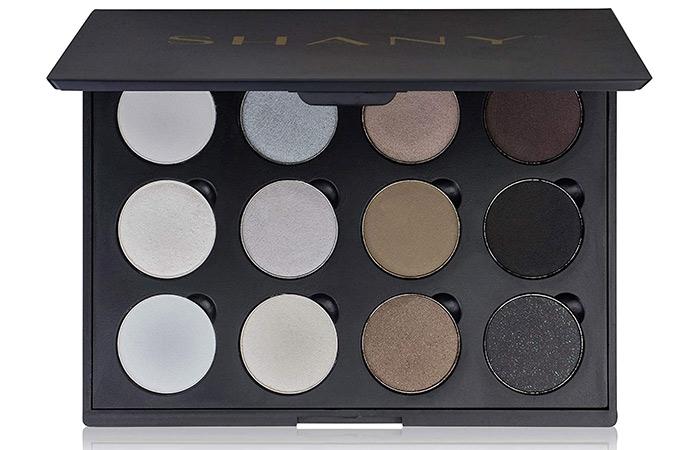 Looking for an eyeshadow palette with cool tones? Then this smokey eye palette is just what you need. The palette features 12 pans of highly pigmented eyeshadows to create the perfect smoky eye makeup. The eyeshadow kit includes a variety of shades such as peachy copper, gold, taupe, buttercup peach among other hues. The colors are highly pigmented to offer a smooth finish and come in a portable design that is ideal for travel. Each column of colors features different hues of white, silver, brown, and black. With plenty of options to choose from, this eyeshadow palette is the perfect pick for everyday makeup looks from day to night.
Pros
12 versatile colors and shades
Offers great pigmentation
Travel-friendly design
The brand is PETA-certified
Cons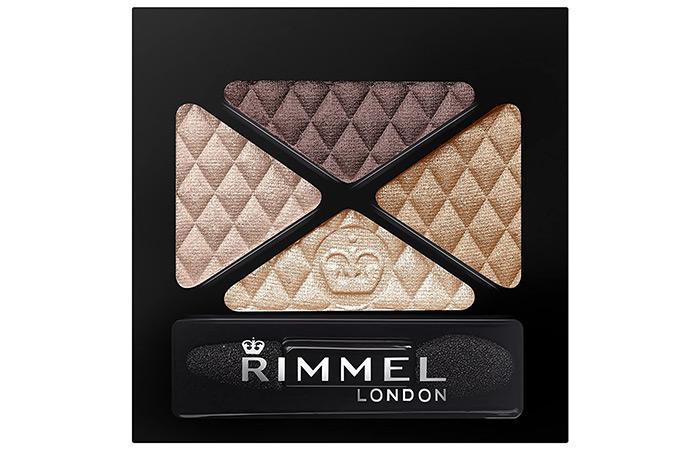 One of the best smokey eyeshadow palettes, the Rimmel Quad Eye palette features 4 bold shades that are housed in a sleek compact case. The moderately-pigmented shades are Dark Taupe, Champagne, Ivory-breeze, and Caramel-bronze. All the colors have a frosted finish except for Dark taupe which has a subtle shimmer to it. The easy-to-blend formula is suitable for all skin tones and offers long-lasting wear all day long so you don't have to worry about touching up your makeup every few hours. The palette also comes with a double-ended applicator that perfectly fits into the case. It is the best eyeshadow for smokey eyes.
Pros
Long-lasting wear
Compact design
Universally flattering shades
Easy to blend
Cons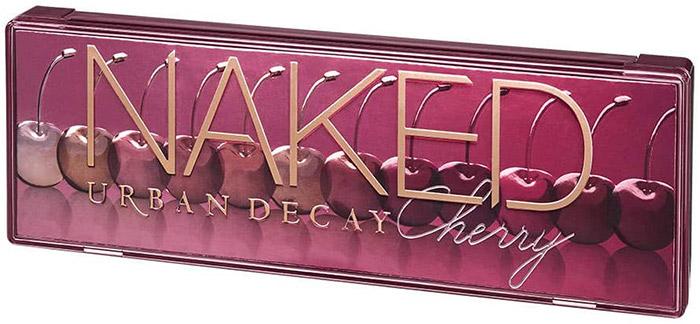 Fans were disappointed when this beauty brand discontinued their original Naked Palette. But we were delighted when they announced their new palette called Naked Cherry. The palette features a range of varying shades that includes black cherry, rose gold, and ivory. This palette has everything you need to create stunning smokey eyes from soft mattes to sizzling metallics. The richly-pigmented formula is easy to blend and has a soft velvety texture. Formulated without sulfates, parabens, or phthalates, they don't flake or fade out after a while. The crimson compact comes with a double-sided brush and a built-in mirror to make application easy while on the go.
Pros
Compact design
Highly-pigmented formula
Easy to blend
Free of parabens, sulfates, and phthalates
Brush included
Cons
Your favorite shades may empty really fast.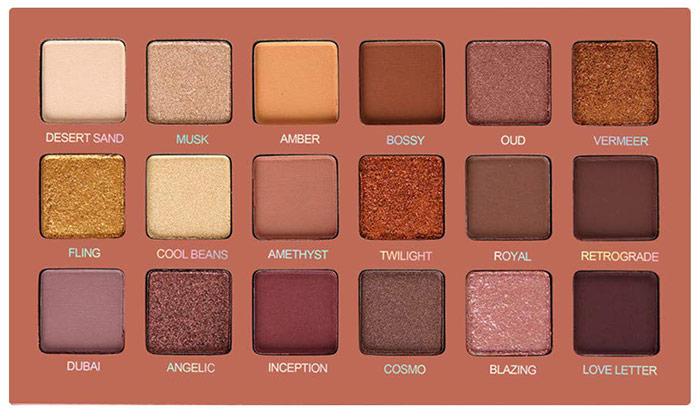 This eyeshadow palette from Seprofe is a must-have for every girl. Whether you want to go for a natural look or a dramatic one, this has it all. It consists of 18 warm shades that include a wide range of nude and golden colors. The shades are formulated with moisturizing ingredients that help achieve a long-lasting look. Created using natural mineral powder, the shades have a smooth texture and are easily blendable. It is the best smoky eye makeup palette that offers versatile finishes from matte to shimmer.
Pros
Smudge-proof formula
Comes in metallic, shimmery, and matte finishes.
Silky smooth texture
Can be applied wet or dry
100% vegan and cruelty-free product
Cons
*The prices provided in this article are based on the latest available information. However, they may vary due to changes in pricing by the seller and/or promotional offers.
Smokey eyeshadows create depth and define your eye structure. They enhance your overall appearance and help you make a statement. However, among so many smokey-eye look-appropriate palettes, choosing one is troublesome. So, we have curated specific points you can keep in mind while choosing a palette.
Things To Look For In Smokey Eye Palettes
Shades: When it comes to a smokey eye, the colors you choose are fundamental in getting statement-making results. Pick a palette containing a mid-tone, deep, and dark shade. They offer you varied options when creating your perfect smokey eye look.
Finish: Identify the finish you want for your eyeshadow. Matte shadows give you a more intense, smoldering look, while shimmery shadows add subtle sparkle to your smokey eye. Therefore, choose accordingly. However, there is nothing wrong with picking a palette that has a good mix of both finishes.
Highly Pigmented: Make sure the colors are highly pigmented and offer an intense color payoff. Do not believe a brand's claims, and check the reviews on pigmentation before purchasing a palette. A smokey eye look is meant to draw focus to your eyes, so choose vibrant shades.
Easy To Apply: When it comes to makeup, simplicity is the key. You want to ensure that the smokey eye palette consists of blendable shades that glide seamlessly on your lids.
Ingredients To Avoid: Avoid eye shadow shades containing harsh ingredients like parabens, phthalates, and sulfates. They irritate your lids and turn your eyes dry.
Long-Lasting: Opt for palettes containing shades that last on your lids throughout the day. Pick smudge- and crease-proof shades that stay for 12 to 24 hours and also offer exceptional results.
Ophthalmologist-Tested: Eyes are one of the most important senses of your body. Therefore, ensure to pick hypoallergenic shades that are ophthalmologist-recommended to avoid eye allergies.
Packaging: If you are always on the go, you need a compact palette. Choose one that features a mirror and a good-quality applicator to avoid taking these items separately.
What You'll Need To Create Your Own Smokey Eye Look
Creating a smokey eye look is not that hard if you have everything needed to create one. Using a primer allows your makeup to stay longer and to blend the shades easily. Use a concealer to even out the skin tone around the eyes. You'll need a maximum of only 3 shades— a mid-tone shade, a deep shade, and a dark shade. You could also add an eyeliner for a more dramatic look. Make sure to use an eyeshadow palette with easily blendable shades and a high-quality makeup brush for an everlasting look.
How Do You Do The Smokey Eye?
Make sure to always start with a clean base when you want to create a smokey eye.
Apply a primer for a long-lasting look. It also helps the shades to blend easily.
Start by using a lighter shade all over the lid – from the lash line to the crease.
Apply a deeper shade to the crease and the outer corner of the eye.
And finally, use the darkest shade for your lash line.
You could also use eyeliner on the rims and blend it out well for more drama.
Kerrin Jackson, 4-time Emmy nominated film and television makeup artist says, "As touched on in the article, a classic smokey eye makeup should be all about the eyes. Keep everything else subdued and really create a drama with your eye makeup! Lips can be neutral, cheeks barely there, and base flawless to really let the eyes pop."
How Do You Pick A Color For A Smokey Eye?
You can use any color that complements your skin tone as the light shade. This can vary from gold, bronze, and silver, to purple, pink, or even blue. Always make sure to use a darker shade that goes with the lighter tone.
Creating the perfect smokey eye makeup will no longer seem like a challenge when you have the best smoky eye palette by your side. Whether you are aiming for a more dramatic look or believe that less is more, these palettes can be your perfect companion in getting there. Which smokey eye palette from our list did you like the most? We would love to know.
Why Trust StyleCraze?
The author of this article, Chaitra Krishnan, is a makeup enthusiast with a keen eye for picking the best makeup products like smokey eye palettes. In this article, she lists the best smokey eye palettes that can make your eyes pop and look intense. She spent hours browsing through many reviews, selecting only the best for you. Each of these products will make your look long-lasting and offer effortless blendability, among other benefits.
Frequently Asked Questions
Does a smokey eye look good on everyone?
The smokey eye look will always be a classic. And it suits everyone provided it's done perfectly.
What color lipstick goes with smokey eyes?
It's best to opt for a softer lip shade such as pale, pink, or nude. This prevents taking attention away from the eyes to your lips.
Can you wear red lipstick with smokey eyes?
Red lipstick with smokey eyes need not be a strict no-no, provided you keep the rest of the make-up simple and toned-down. It's also best to go for a simple hairdo.
What eye shape is most enhanced with smokey eyes?
Monolid, almond-shaped eyes look the best with smokey eye makeup because they naturally have a lift.
How long can I keep an eyeshadow palette before it expires?
Eyeshadow palettes are best used within two years after opening.
Recommended Articles