10 Best Snail Skin Care Products For Beautiful Skin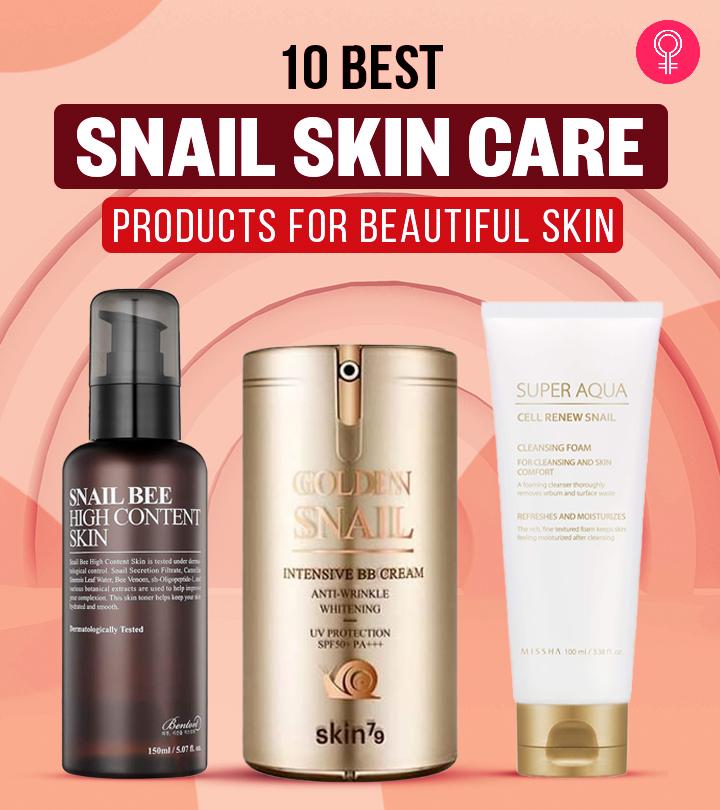 Snail mucin is considered the holy grail of Korean skincare. It is one of the most highly-rated ingredients loved by experts for its beneficial properties and its ability to restore your natural beauty. Snail slime moisturizes your skin, boosts collagen production, and has anti-aging benefits. If this has got you interested, check out our list of the 10 best snail skin care products for beautiful, radiant skin.
10 Best Snail Skin Products For Beautiful Skin
The All-in-One Anti-Aging Snail Repair Cream from Seoul Ceuticals is a skincare elixir. It contains the highest concentration of snail slime extract, vitamin E, vitamin B5, and organic green tea that repairs your skin and unwind skin aging. The organic aloe vera extracts, shea butter, and jojoba oil in this Korean face cream soften and moisturize the skin. Its citrusy aroma refreshes and rejuvenates the senses. This snail extract cream is suitable for oily, dry, combination, normal, and acne-prone skin types.
Pros
Fast-absorbing
Cruelty-free
Organic ingredients
Non-comedogenic
Cons
Expensive
Contains fragrance and alcohol
The Day/Night Cream from Yeouth is an organic facial moisturizer packed with snail extract, green tea, peptides, and other beneficial ingredients that bring out the best in your skin. Its active ingredients enhance skin elasticity, boost collagen production, fades fine lines, crow's feet, dark spots, wrinkles, blemishes, acne, and hyperpigmentation. This best Korean snail cream also contains hyaluronic acid that moisturizes your skin, keeping it fresh all the time. The antioxidants in green tea target the free radicals and help protect the skin against the signs of aging.
Pros
Perfect for day and night use
Quick absorbing
Ideal for sensitive skin
Long-lasting effects
Lightweight
Cons
Sticky and gummy texture
Can trigger allergic reactions
The Skin Regeneration Mask from La Pure is one of the best snail masks. It contains around 7000 ppm of snail secretion filtrate that reduces fine lines, wrinkles, spots, blemishes, dark circles and restores skin elasticity. Other ingredients like aloe vera, star anise, Panax ginseng, tea plants, cucumber, allantoin, enzymes, natural vitamins, and minerals nourish the skin. The sheet masks are made from 100% cotton and work well on dry skin types.
Pros
Easy to apply
Safe on the skin
Paraben-free
Alcohol-free
Cons
Benton's skin toner is one of the most enriching snail skincare products on this list. It aids in skin brightening and reduces the appearance of wrinkles. The main ingredients in this product include snail secretion filtrate, bee venom, camellia sinensis leaf water, and adenosine that remove skin blemishes and combat dryness.
Pros
Lightweight
Gentle
Mild fragrance
Dermatologically tested
Unscented
No harmful preservatives
Hypoallergenic
Cons
The multifunctional skincare kit from MIZON includes a foam cleanser, an intensive toner, essence, and repair cream. This foam cleanser works up a good lather and clears out excess oil, dead skin cells, dirt, and grime buildup from the face. This toner forms a protective layer on the skin, the essence helps improve skin elasticity, and the snail face cream hydrates and rejuvenates the skin. The products are infused with a high concentration of snail mucin that gently takes care of your skin, making it smooth and even out wrinkles, fine lines, and blemishes.
Pros
Hypoallergenic
Lightweight
Non-sticky
No artificial scents
Dye-free
Paraben-free
Cons
Expensive
Might cause skin irritation.
This cleansing foam from Missha deep cleanses your skin pores and the surface to eliminate dirt, grime, and dead cell buildup. It contains snail slime extract that infuses essential minerals and nutrients into your skin, while the botanical stem cell extracts to repair and help it recover from damage. Baobab extract and seawater hydrate the skin, and the botanical callus extract combats blemishes. This product is perfect for dry and acne-prone skin types.
Pros
Non-drying
Lathers well
A little goes a long way
Cons
Leaves a film on the skin
The Nature Republic's Snail Solution is a cult favorite skincare product. This skin toner contains about 90% of snail secretion filtrate that protects damaged skin and enhances its softness. Just apply a few pumps of the toner on a freshly cleansed face and watch the difference.
Pros
Quickly absorbed
Boosts skin elasticity
Ideal for daily use
Cons
The snail skin care product from Skin 79 is an intensive BB cream that repairs damaged skin, reduces wrinkles, scars, marks, blemishes, and lightens the skin tone. The cream contains SPF 50+ that prevents sun damage and provides UV protection. It hydrates and moisturizes your skin and contains 45% golden snail secretion filtrate, swiftlet nest extract, and red Ginseng that ensure healthy skin.
Pros
Gentle
Sweet fragrance
Easy to carry
Mess-free application
Cons
Expensive
Leaves a yellowish tinge
The Bellalussi cream is one of the best Korean snail creams. It tames skin problems like redness, inflammation, dark circles and spots, acne, fine lines, wrinkles, and blemishes. The formula contains highly nourishing ingredients that form a protective layer and trap in the skin's natural moisture. This eye and facial cream keep your skin safe from free radicals. It hydrates, smoothens, softens, and firms your skin by naturally improving elasticity and triggering skin regeneration. It is suitable for all skin types – normal, combination, dry, acne-prone, dull, or damaged skin.
Pros
Highly absorbent
Hypoallergenic
Chemical-free
Affordable
Cons
The bioactive skincare product from Organic Doctor is formulated to restore skin health. This snail gel rejuvenates the skin, visibly fades fine lines, uplifts the facial muscles, evens out the skin tone, and brightens it. It includes a signature ingredient secreted by snails – Helix Aspersa Muller – that promotes cell regeneration. This gel-cream makes your skin look and feel younger, well moisturized, and nourished.
Pros
Perfect for daily use
Non-sticky
Paraben-free
Cruelty-free
Phthalate-free
Cons
The History Of Snail-Based Products
Snail mucin has been used in skincare for centuries. Historical records point out how ancient Greeks used slimy mucins to treat various skin issues. Hippocrates, popularly known as the Father of Medicine, has mentioned using mucin to heal skin infections, redness, and inflammation.
In recent times, cosmetic brands have begun incorporating snail mucin or slime in their skincare formulas. While snail-based beauty products are a huge deal in the Asian markets, the US and European markets have also witnessed a massive demand for these products. Beauty enthusiasts and skincare experts have come to believe in the magic of snail mucin in treating skin issues, boosting elasticity, and restoring youthfulness. Moreover, it is an effective anti-aging solution for sagging skin, wrinkles, acne, pimple-prone skin, blemishes, marks, scars, crow's feet, and dark circles.
Why Should We Use Snail Mucin In Skin Care Products?
Snail mucin contains several enriching ingredients that enhance skin health and prevent damage. It helps tone down skin inflammation, redness, and rashes to make your face look clearer, smoother, softer, and radiant. Here are some of the reasons snail mucin is an excellent ingredient for the skin:
Deeply moisturizes, hydrates, and nourishes the skin
Fights allergies, inflammation, and skin irritation
Visibly reduces hyperpigmentation, fine lines, and acne
Kills bacteria that cause bumps and skin breakouts
Enhances skin texture, complexion, and tone
Promotes collagen production
Restores dull and lifeless skin
Imparts long-lasting glow
What Components In The Snail Slime Benefit Your Skin And How?
As you become older, your skin loses its natural ability to retain moisture and produce sebum, leading to dry skin, wrinkles, crow's feet, and fine lines. A great way to ensure your skin is not stripped of its natural nutrients and moisture is by using snail-based products rich in hyaluronic acid. With just a few applications, your skin feels smooth, younger, fresh, plump, and supple.
These compounds are the body building blocks that play a significant role in boosting collagen and keratin production. These short-chain amino acids help repair damaged cells, retain skin elasticity, and ensure your skin looks younger.
Allantoin, one of the key components of snail slime, is a highly nourishing ingredient. It gets rid of the dead skin cells in your pores and promotes keratin. It acts as a booster that helps amplify the healing and repairing effects of the other ingredients used.
Glycolic acid is a highly potent alpha hydroxy acid that lightens the skin tone, gets rid of dead skin cells, fine lines, wrinkles, and blemishes, leaving behind a smoother skin texture.
Antimicrobials neutralize bacteria, fungi, viruses, and other microorganisms that affect skin health. The presence of antimicrobial compounds in snail skin care products ensures that your skin stays protected from germs and speeds up the healing process. It also helps prevent the recurrence of skin infections and other related symptoms.
Free radicals damage your skin and make it vulnerable. Antioxidants play a major role in fighting free radicals and enabling natural skin care repair. These compounds are commonly found in abundance in snail mucin. They give your skin a youthful glow, soothe irritated skin, and reduce pigmentation and the occurrence of wrinkles, fine lines, dark circles, and other imperfections.
Snail skin care products are the latest trend for healthy, glowing, and radiant skin. Dermatologists have been using snail slime in beauty products for a long time for its benefits. Make a wise choice for your skin by taking your pick from our collection of the best snail skin care products.
Recommended Articles