6 Best Soaps For Keratosis Pilaris In 2023 – Reviews & Buying Guide
Soaps that gently exfoliate dry and scaly skin and leave it moisturized and smooth.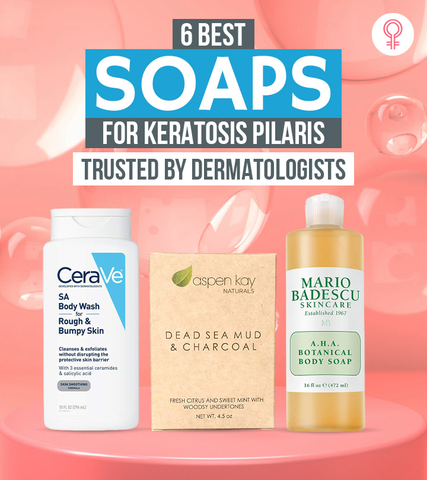 Keratosis Pilaris or KP are red bumps on the human body, also known as 'chicken skin.' KP is caused by excessive keratin buildup around the pores or the hair follicles, coupled with dehydrated skin and lack of exfoliation. But fret not, as the best soap for Keratosis Pilaris can help you get clear, soft skin with regular usage.
Generally, the red bumps show up on your upper arms, thighs, butt, and sometimes on your face. Certain active ingredients in soaps, like salicylic acid, lactic acid, or glycolic acid, act as chemical exfoliants for the skin to help remove the keratin buildup. Unlike regular comedones, KP appears as constant goosebumps on your skin. Although it is not a serious threat to one's wellbeing, it can get itchy if your skin gets extremely dry. In this article, we have listed the best soaps for Keratosis Pilaris that gently exfoliate and moisturize your skin. So, go ahead and check them out.
What Is Keratosis Pilaris?
Keratosis Pilaris, commonly referred to as 'Chicken skin' or KP, is a harmless skin condition often found in 50%-80% of adults. Purvisha Patel, M.D., notes that "KP is a keratin defect that prevents the skin from exfoliating, resulting in the keratin forming plugs over the hair follicles causing a prickly feel and appearance of the skin – like a nutmeg grater." It is caused by excessive keratin build-up around hair follicles. These tiny bumps can sprout on your upper arms, buttocks, cheeks, and even on thighs. Though it does not lead to any serious health complications, it can be itchy in winters and often seen in people with dry skin or eczema.
Despite being harmless, it's quite annoying as it affects your confidence. Would you like to know more about this? Keep reading!
What Causes Keratosis Pilaris?
This benign skin condition is caused due to keratin build-up in the hair follicles. The build-up blocks the pores and triggers bump sprouts. Lack of moisturization or dry skin can worsen the condition. In some cases, it naturally clears up when one reaches 30 years of age.
Dealing with bumpy skin is not a problem anymore. Here is our list of the 6 best soaps for keratosis pilaris for clear, soft skin. Take a look!
6 Best Soap For Keratosis Pilaris
Annoyed by rough, bumpy chicken skin? Try this dermatologist's developed body wash from CeraVe for treating keratosis pilaris. The ceramides in the formula restore the skin's protective barrier to make it silky, smooth. And patented MVE technology powered with hyaluronic acid provides 24-hours hydration to your skin. Niacinamide and salicylic acid calm and soothe irritation and help in eliminating dead skin cells. Moreover, CeraVe SA body wash is free from harsh microbeads that can irritate your skin.
Key Ingredients: Ceramides (1, 3, 6 II), Niacinamide, Hyaluronic acid, and Salicylic acid
Pros
24-hours hydration
Non-comedogenic
Non-drying
Non-irritating
Fragrance free
Paraben-free
Microbeads-free
Developed by dermatologists
Cons
Causes breakouts
May cause allergic reaction
Expensive
Price at the time of publication: $13.99
Want to enjoy a detoxifying bath in Dead Sea mud? Well, you don't need to land upon the Jordan Rift for that, as aspen kay has got it packed for you in its Dead Sea Mud & Charcoal Soap Bar. It is one of the best soaps for keratosis pilaris infused with mineral-rich dead sea mud and activated charcoal. This hand-crafted soap is rich in organic oils like olive oil, castor oil, sunflower oil, and 21 other minerals that nourish your skin. Additionally, the organic unrefined shea butter ensures deep moisturization and helps build the protective barrier of your skin. Besides, this vegan body soap offers a refreshing treat due to the presence of essential oils, lemongrass, peppermint, and eucalyptus that makes your skincare rituals way more enjoyable. Watch this YouTuber's honest review to get a better idea about the product and its functions.
Key Ingredients: Dead Sea mud, Activated charcoal, Lemongrass, Peppermint, Shea butter, Olive oil, and Coconut oil
Pros
Clears pores
Exfoliating
Non-drying soap
Psoriasis-friendly
Eczema-friendly
Cruelty-free
Vegan
Gluten-free
Great for oily skin
Refreshing fragrance
Comes with money back guarantee
Cons
Causes breakouts
Itchiness
Price at the time of publication: $9.85
Revitalize your skin after every shower with this vegan body wash from Mario Badescu infused with alpha hydroxyl acid. This best-selling product is designed to treat bumpy skin issues with potent natural ingredients. In this body soap, AHA, papaya, and grapefruit extract exfoliate dead skin cells, making your skin smooth and soft. The ginseng, linden flower extract, and oatmeal protein lock in moisture and slow down premature aging. This natural botanical extract-infused soap not just exfoliates but ensures acne-free, clear, and flawless skin. This video will give you a better insight into the qualities of the product.
Key Ingredients: Grapefruit, AHA, Ginseng, and Linden
Pros
Non-drying soap
Water-based formula
No breakout
Lathers well
Works as anti-acne cleanser
Antiaging benefits
Vegan
Paraben-free
Gluten-free
Refreshing smell
Cons
Caution
Avoid rubbing your skin too much with loofah or pumice stone because it can aggravate the skin and make the KP worse.
Price at the time of publication: $8.0
Natural exfoliating body wash from ReTone infused with glycolic acid makes this a great option to treat keratosis pilaris. The gentle apricot microbeads in the cleanser scrub off dead skin cells, boost cellular regeneration, and support collagen and elastin production. It is exclusively designed to get rid of rough, bumpy, and flaky skin, making it soft and supple. Benzophenone-4 in the formula protects the skin from UV rays and fight visible signs of aging to keep wrinkles, stretch marks, and fine lines at bay. Additionally, this soap also ensures an even and brighter skin tone by improving blood circulation.
Key Ingredients: Glycolic acid, Benzophenone-4, and Apricot powder
Pros
Reduce wrinkles
Diminishes dark spots
Moisturizes
Offers sun protection
Non-greasy formula
Paraben-free
Phthalate-free
Value for money
Smells great
Cruelty-free
Cons
Expensive
Can cause skin peeling
Price at the time of publication: $29.95
This glycolic acid-infused body wash unclogs your pores and renders even smooth skin. Besides fighting acne and erasing bumps, this exfoliating body wash refreshes and nourishes due to the presence of hydrating Ylang Ylang. And it keeps redness and bumps at bay, thanks to soothing tea tree oil. The soap is rich in anti-bacterial and anti-inflammatory agents extracted from willow bark, thyme, aloe vera, and lavender that fight acne, clear pores, and soothe irritation. Moreover, they revitalize your dull skin by scrubbing off dead skin cells and boosting collagen production.
Key Ingredients: Glycolic acid, Tea tree oil, Willow bark, Aloe vera, Thyme, Lavender and Ylang Ylang
Pros
Reduces sun damage
Hydrating
Protects from environmental aggressors
Clears pores
Lathering soap
Vegan
Cruelty-free
Sulphate-free
Smells incredible
Cons
Heighten skin sensitivity
Did You Know
People facing issues like dry skin and eczema have more chances of developing keratosis pilaris.
Price at the time of publication: $24.9
Clinically proven ingredients and innovative formulation make this body wash from Murad one of the best solutions for treating Keratosis pilaris. The intensive triple-action formula provides intense exfoliation that polishes dry and dull skin that adds radiance. The salicylic, lactic, and glycolic acid, an effective concoction of chemical exfoliants, improve cell generation and makes your skin smooth and soft. The jojoba beads scrub off dead skin cells without stripping your skin dry and open the path for hydration. Moreover, sodium PCA prevents moisture loss and renders a youthful glow. Besides, AHA and BHA penetrate deep into the skin without clogging your pores, preventing KP flares.
Key Ingredients: Salicylic, Lactic Acid, Glycolic Acid, and Jojoba beads
Pros
Sulfate-free
Phthalate-free
Gluten-free
Mineral oil-free
Formaldehyde-free
Oxybenzone-free
Petroleum-free
Promotes cell turnover
Does not clothes pores
Great for sensitive skin
Cons
None
Price at the time of publication: $16
Though the underlying causes are yet to be discovered for a complete cure, some treatments can slow down KP's severity. Here's how you can keep your skin bump-free!
How To Get Rid Of Keratosis Pilaris?
Warm Bath: Take a short bath in warm water to unclog or loosen pores. Rub your skin with a stiff brush to potentially remove bumps. Limit your time in the bath to avoid stripping your skin dry.
Exfoliate: Daily exfoliation improves skin appearance by removing unwanted bumps. Body soaps composed of chemical exfoliating like glycolic, lactic, and salicylic acid effectively unclog pores without aggravating your skin. For better results, you can use loofah or pumice stone and gently massage it on the skin for better exfoliation.
Apply Hydrating Lotion: Post bath, apply hydrating lotions to keep your skin moisturized and encourage cell turnover. Moisturizes tame irritation in your recently exfoliated skin due to and helps it to calm down. Lotions with Alpha Hydroxy Acid, glycerin, or rose water softens the bumps and soothe inflammation.
Avoid Wearing Tight Clothes: Wearing tight clothes may boost friction, further increasing skin irritation and redness.
Use Humidifiers: Humidifiers are a great option to add moisture to your skin. They release moisture into the room air, keeping your skin hydrated and preventing itchy flare-ups.
Apply Apple Cider Vinegar: Apple cider vinegar is a natural astringent with the innate ability to unclog and shrink pores. As a result, it keeps build-ups at bay, prevents dead skin cells from clogging your hair follicle, and offers anti-inflammatory benefits to soothe skin discomfort.
Although KP is harmless, your skin needs special products to deal with gently. Here is a buying guide that can help you with the job.
How To Choose The Best Soap For Keratosis Pilaris?
Exfoliating Ingredients: Keratosis Pilaris treatment demands effective exfoliation, and for that, the body soap must contain any of these three most important ingredients – glycolic acid, lactic acid, or salicylic acid. These chemical exfoliants not just remove dead cells but also unclog pores and reduce inflammation.
UV Protection: After exfoliation, skin becomes sensitive to sunburn. Therefore, the body soap must provide necessary sun protection to prevent worsening for KP.
Nourishment: Often, deep exfoliation tends to dry out the skin. Therefore, soap for KP must ensure a boost of hydration to make skin soft and supple.
Anti-Inflammatory Properties: Keratosis pilaris increases redness and irritation, and further exfoliation may make skin dry. Ingredients like coconut oil or olive oil are rich in anti-inflammatory agents that help deal with inflammation and irritation.
Infographic: Soaps For Keratosis Pilaris: Key Ingredients And Benefits
Keratosis pilaris can be very unpleasant in daily life. Regular bath soaps may irritate the skin further and accentuate this skin condition. But using mild soaps exclusively formulated to treat this condition can help smooth the skin. Check the below infographic to learn about the key ingredients in these soaps and their benefits.
Keratosis Pilaris commonly occur due to keratin build-up over the skin. This KP appears like red bumps. However, oaps formulated with glycolic acid, salicylic acid, and lactic acid can remove keratin build-up by exfoliating the skin. Although this condition does not cause serious health issues, it might irritate the skin due to dry winds. The best soaps for Keratosis Pilaris listed above provide day-long hydration, eliminate dead cells, soothe irritated skin, and nourish it. In addition, some products lock in the natural moisture and combat aging signs. These soaps provide UV protection and reduce inflammation. It would be of great help to invest in soaps formulated with chemical-free ingredients and avoid those that irritate your skin.
Why Trust StyleCraze?
The author of this article, Shiboli Chakraborti, is a certified skincare specialist who loves experimenting with different skincare products. She understands that one must be careful in selecting soaps if one is experiencing keratosis pilaris. She carefully read through reviews by customers and dermatologists online and curated this list of choicest and top-rated soaps for keratosis pilaris. These soaps are highly recommended by dermatologists and made of ingredients such as salicylic acid that gently exfoliate the keratin buildup in your skin.
Frequently Asked Questions
Is goat-milk soap good for keratosis pilaris?
Yes. Goat milk's proteins and fatty acids provide an excellent moisture barrier, encouraging deep hydration of your skin. Goat milk contains anti-inflammatory qualities that can help lessen the irritation and redness associated with keratosis pilaris and other sensitive skin disorders.
Can African black soap help with keratosis pilaris?
Yes, African black soap helps with keratosis pilaris. They have anti-inflammatory and moisturizing properties that can help soothe irritated skin.
Is sulfur soap good for keratosis pilaris?
When sulfur soap is mixed with salicylic acid, another keratolytic substance with anti-inflammatory qualities, you get a mild, yet highly efficient treatment for KP.
Is an antibacterial soap good for keratosis pilaris?
Keratosis Pilaris is not caused by bacteria or fungus. So, antibacterial soaps won't be useful. Instead, use mild soaps with anti inflammatory properties if you have keratosis pilaris.
Should I exfoliate kmy skin if I have keratosis pilaris?
Keratosis pilaris-affected skin can be gently exfoliated with a loofah, buff puff, or washcloth.
What age does keratosis pilaris go away?
Keratosis pilaris usually fades away by the age of 30.
Recommended Articles
The following two tabs change content below.