12 Best Soaps For Summer Available In India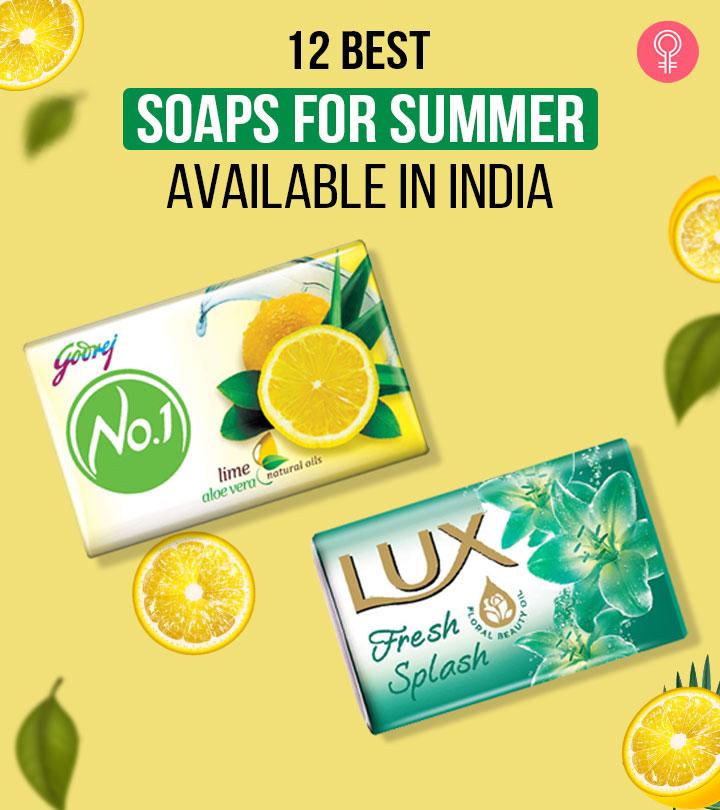 The scorching Indian summers can leave you feeling sweaty with a foul odor. A soap that is specifically formulated for summers fights the odor-causing bacteria and gives you a fresh feeling. Some of these soaps contain ingredients like sandalwood and turmeric, which can reverse tan and other damages caused by the UV rays. The Indian market has evolved in making soaps with luxurious ingredients that have hydrating, brightening, and anti-aging properties. To make your day easy, we have put together a list of the 12 best soaps available in India, perfect for the sweaty summers. Read on and take your pick!
12 Best Soaps For Summer Available In India
No matter what skin type or age group, this refreshing bath soap by Godrej is a must-have for summer. It is infused with natural oils that deeply nourish your skin and impart a healthy glow. The aloe vera extracts in the formula are rich in antibacterial and anti-inflammatory properties that soothe irritation and rejuvenate your skin. The lime extracts improve your skin tone and promote a youthful look. This soap has a zesty lime fragrance that leaves you feeling refreshed.
Key Ingredients: Aloe vera and Lime extract
Pros
 Pleasant scent
 Lathers well
 Non-drying
 For all skin types
 Long-lasting
Cons
None
Turn your regular bath into an Ayurvedic skincare ritual with this herbal soap by Medimix. The formula consists of 18 different herbs that help protect your skin against rashes, boils, pimples, blemishes, and other skin ailments. The antioxidant-rich ingredients help drive away bad body odor and leave you feeling fresh. The turmeric and sandalwood extract in the soap smooth your skin, impart a natural glow, and protect your skin from environmental aggressors. The rejuvenating scent of sandalwood uplifts your senses and soothes your mood.
Key Ingredients: Coconut oil, Vanardraka, Sveta sariva, Madhusnuhi, Nimba, Vaca, Usira, Devadaru, Jyotismati, Daruharidra, Guggulu, Bakuci, Upakunchika, Yasti, Vidanga, Svetajiraka, Rakta Chitraka, Sandal, and Turmeric
Pros
 Pleasant fragrance
 100% vegan
 Dermatologist-tested
 Lathers well
 Cruelty-free
 Paraben-free
Cons
If you find your skin feeling greasy or oily during summers, this soap by Santoor is a must-have! It contains natural ingredients like zesty lime, which removes excess sebum production and imparts glow. The aloe vera extracts in the formula reverses the signs of aging like dark spots, wrinkles, fine lines, and blemishes, while leaving you feeling fresh. It also possesses anti-inflammatory properties and has a calming effect on your skin.
Key Ingredients: Lime and Aloe vera extract
Pros
 Natural ingredients
 Refreshing fragrance
 Improves skin tone
 Value for money
Cons
The double protection formula by Himalaya purifies and cleanses your skin. It is enriched with powerful essential oils like turmeric and neem, which are rich in antifungal and antibacterial properties. They protect your skin from odor-causing bacteria and environmental aggressors, leaving it healthy. This soap contains 76% TFM, which ensures that your skin does not dry out.
Key Ingredients: Turmeric oil, Neem oil, and Lemon peel oil
Pros
 Lathers well
 Doesn't become soggy
 Moisturizing
 Value for money
Cons
Made with the goodness of a thousand neem leaves, this herbal soap by Margo ensures beautiful and healthy skin with its medicinal benefits. This nourishing formula intensely moisturizes your skin while reversing damages caused by pollution. It also contains vitamin C that leaves your skin soft and supple while protecting it from environmental aggressors.
Key Ingredients: Vitamin E and Neem
Pros
 Lathers well
 Moisturizing properties
 Affordable
Cons
Experience a relaxing and cooling effect with this germ protection formula by Dettol. It contains two times more menthol than other soaps, which adds a boost of freshness and calms down any irritation. The Intense Cool Soap protects your skin from odor-causing germs and over a hundred illnesses. The aloe vera extracts in the formula leave your skin feeling smooth, soft, and healthy.
Key Ingredients: Menthol and Aloe vera extract
Pros
 Long-lasting fragrance
 Moisturizes your skin
 Dermatologist-tested
 IMA recommended
Cons
The Lemon and Tea Tree Oil Soap by Liril offers a fresh hit of long-lasting zesty fragrance. It rejuvenates your senses and gives you a refreshing shower experience. This soap contains active ingredients and oils that retain your skin's natural moisture content. The tea tree oil in the soap maintains the oil balance in your skin, keeping it soft and hydrated. It foams into a thick lather for optimal cleansing, and the bar lasts for a long time.
Key Ingredients: Tea tree oil, Lime extract, and Glycerin
Pros
 Cool sensation
 Refreshing fragrance
 Hydrating formula
 Reasonably priced
 Dissolves slowly
Cons
This fragranced soap by Cinthol provides a long-lasting and rejuvenating fragrance. It is formulated with extra cooling menthol for a refreshing feeling. This quality grade 1 soap also has a high TFM rate and moisturizes your skin as well.
Pros
 Mild fragrance
 Value for money
 Gentle
 Non-drying
Cons
Are you not happy with the fragrance of your regular soap? Then, this perfume-infused soap by Lux is sure to make you smile. It is infused with floral oils that give you top notes of apple, citrus, and mint and base notes of musk, amber, vanilla, and woods. The mint and water lily extracts in the soap leave your skin feeling silky smooth and icy cool.
Key Ingredients: Water lily extract, Glycerin, and Mint
Pros
 Refreshing fragrance
 Makes the skin smooth
 Value for money
Cons
 Becomes soggy after a while
This mild soap by Hamam effectively cleanses your skin, leaving it squeaky clean. It is infused with natural ingredients like neem leaf extract, aloe vera extract, and essential oils, which have antibacterial properties and protect your skin. The formula also nourishes and moisturizes your skin, leaving it supple and smooth.
Key Ingredients: Glycerin, Aloe vera extract, Neem seed oil, Neem leaf extract, Camellia leaf extract, and Azadirachta indica seed extract
Pros
 Hydrating formula
 Imparts a healthy glow
 Rejuvenating fragrance
 Natural ingredients
Cons
None
Leave your skin feeling energized and refreshed with this natural soap by Lever Ayush. The formula contains the goodness of lemon grass and aloe vera, which provide a soothing and cooling effect to your skin. The soap also has antibacterial properties that protect your skin from odor-causing bacteria. With regular use, it leaves your skin clarified, radiant, and supple.
Key Ingredients: Aloe vera extract and Lemongrass
Pros
 Refreshing scent
 Hydrating formula
 Organic
Cons
None
During summers, the harsh UV rays can leave your skin tanned and dull. This handmade Ayurvedic soap by The Natural Wash contains natural ingredients like rice and potato that gently exfoliate your skin to remove tan, pigmentation, dark spots, and blemishes. The papaya extracts in the formula minimize the effect of open pores, and the cucumber extracts help control excess sebum. The potato extract, which is a rich source of vitamins C and B6, helps induce new cell growth. The rice extracts act as a natural toner, improving your skin tone and reducing inflammation.
Key Ingredients: Potato, Rice, Honey, Aloe vera extract, Cucumber, and Papaya extract
Pros
 Moisturizing formula
 Vegan
 Sulfate-free
 Paraben-free
Cons
None
Here are a few points to look out for while choosing a soap for summer.
How To Select The Best Soap For Summer
 Stay Away From Harsh Ingredients 
The ingredients play a major role in the results provided by a skin care product. Steer clear of any harmful chemicals or harsh ingredients like parabens, sulfates, silicones, phthalates, and mineral oils that can damage your skin. Also, look for ingredients that you are allergic to.
 Steer Clear Of Artificial Fragrances
A few soaps melt our hearts with their fruity and floral scent, but they contain artificial fragrances that can irritate and damage our skin. You can opt for soaps with natural fragrances derived from essential oils and fruit extracts to ensure gentle and damage-free cleansing.
The scorching hot summer can leave you soaking in your own sweat. It also becomes a breeding place for a lot of bacteria that can cause infection and irritation. When you are choosing a soap for summer, it is recommended that you choose one with ingredients like neem, aloe vera, turmeric, or ginger, which fight these bacteria and leave you smelling fresh.
There is a wide array of soaps for each skin type and texture. Get to know what your skin type is: oily, mature, sensitive, or dry. Choose a soap that benefits your skin's needs to ensure optimal results. For instance, if you have oily skin, the soaps loaded with essential oils can cause breakouts.
There was a time when soaps were meant only for the body and were quite harsh on the skin. The advancement in the soap industry has been phenomenal, and now, there are formulas that meet every need of every skin type. Some of these soaps are gentle enough to use on your face. The soaps in this article fight odor-causing bacteria and give you a fresh feeling. Now that you have an idea about the various soaps for summer, beat the heat with your favorite pick from our list!

Recommended Articles