Best Soaps Available in India – Top 21 Picks for 2023
Pamper your skin by giving it the ultimate care using the right skin care products.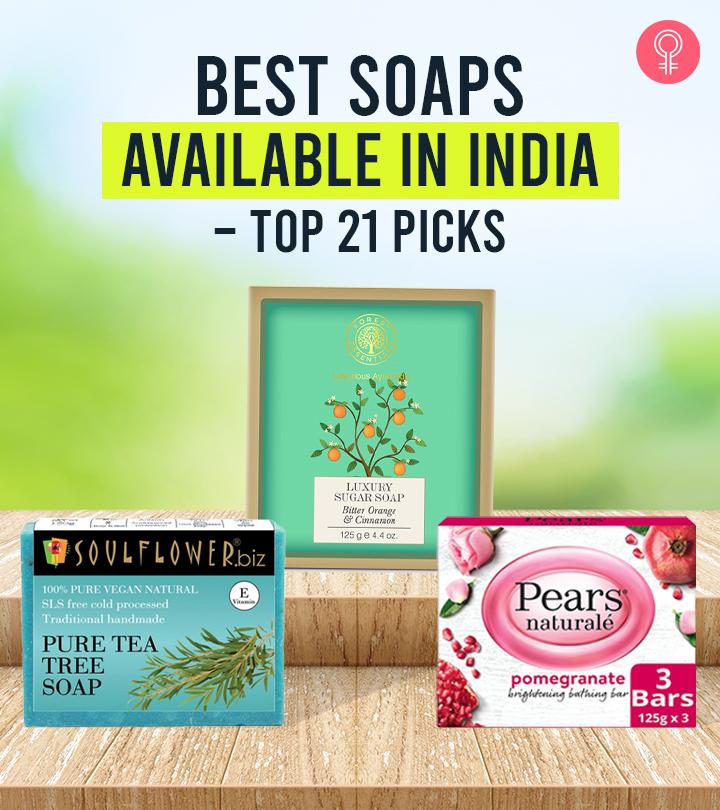 Soaps are a habit in India, despite the increasing demand for shower gels and body washes. The Indian market has evolved and is now making soaps with luxurious ingredients with a lot of beneficial properties like hydrating, brightening, anti-aging, anti-acne, etc. Carefully selecting a bar of soap that meets your skin's needs and suits your skin type is crucial.
To make it easy for you, we have put together a list of the 21 best soaps available in India. Scroll down to take your pick!
Top 21 Soaps Available In India
The Cream Beauty Bathing Bar by Dove is enriched with ¼ moisturizing cream and is a gentle cleansing formula recommended by dermatologists. It does not strip off the natural oils of your skin. The mild cleansing bar makes sure your skin does not feel tight and dry. It is great for sensitive skin as it does not cause any irritation. You can use this soap on your body and face as it is mild and pH-balanced.
Pros
Mild fragrance
Hydrating formula
Non-corrosive
No residue
Silky lather
Value for money
Cons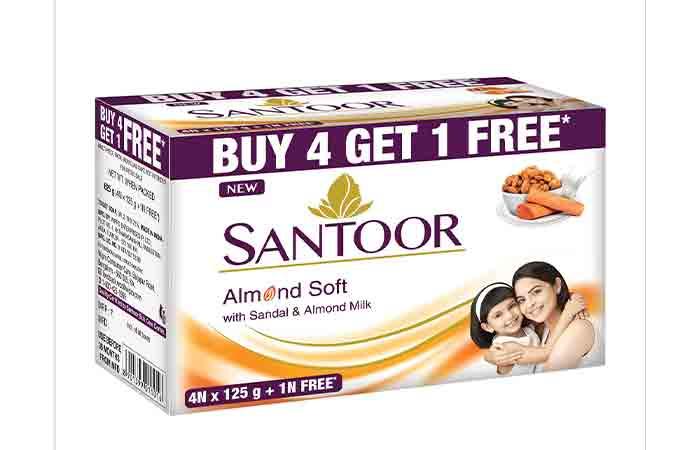 The SANTOOR Almond Soft Soap contains sandal and almond milk that keep your skin hydrated and moisturized. The sandal extract in the soap has antibacterial properties that help detoxify your skin and eliminate acne, blackheads, and skin allergies. The almond milk makes your skin soft and glowing, giving it a youthful look. This soap has an enchanting fragrance that makes you feel fresh and energized.
Pros
Non-drying
Long-lasting fragrance
No artificial colors
Reasonably priced
Not harsh
Cons
Price at the time of publication: ₹18.24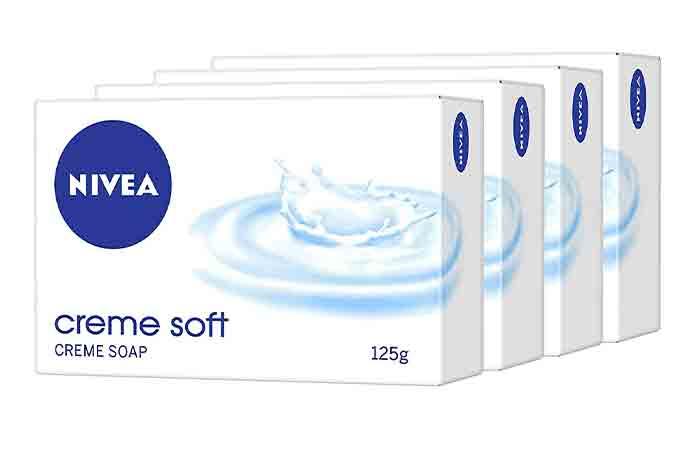 The Creme Soft Creme Soap from NIVEA is enriched with the goodness of rich almond oil, which hydrates your skin. The vitamin E, essential proteins, and antioxidants in this soap regulate your skin's oil balance and leave it soft and supple.
This soap is enriched with Hydra IO 24h and moisture technology that keeps your skin moisturized the entire day. The crème soap is suitable for sensitive skin as it does not cause any breakouts or allergic reactions. It does not dry out the skin as it has a total fatty matter of 75% and contains glycerin. 
Pros
Creamy texture
No residue
Gentle
Ideal for winters
Refreshing fragrance
Value for money
Cons
Price at the time of publication: ₹11.8
The Pears Soft And Fresh Soap is enriched with mint extracts that revitalize your skin. This paraben-free soap contains 98% pure glycerin and is very gentle on the skin. It effectively washes off dirt and germs without stripping your skin of its natural moisture.
Pros
Hydrating formula
Suitable for oily skin
Mild fragrance
Not harsh
Cooling sensation
Value for money
Cons
Dissolves rapidly
Breaks easily
Price at the time of publication: ₹25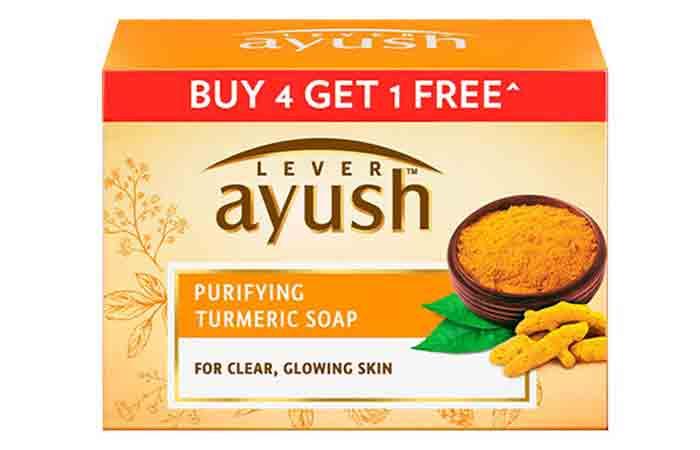 The Lever Ayush Purifying Turmeric Soap purifies and heals your skin. The antiseptic soap is enriched with nalpamaradi thailam, which is made of amla, vetiver, and peepal. This unique formula heals rashes and skin infections and is mild on the skin.
Pros
Good scent
Mild
Instant freshness
Lathers well
Value for money
Cons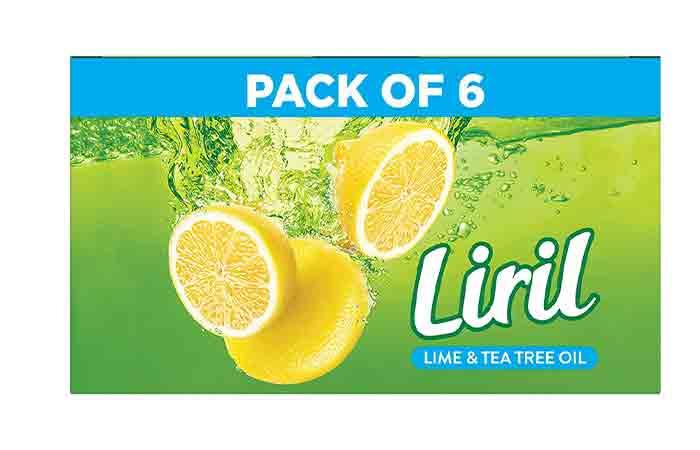 The Liril Lemon and Tea Tree Oil Soap gives you a refreshing shower experience with its long-lasting, zesty fragrance. It contains active ingredients that retain your skin's natural moisture. The tea tree oil in the soap maintains the oil balance in your skin, keeping it soft and hydrated. This soap lathers well for optimal cleansing and lasts for a long time.
Pros
Refreshing fragrance
Suitable for dry skin
Mild
Hydrating formula
Cons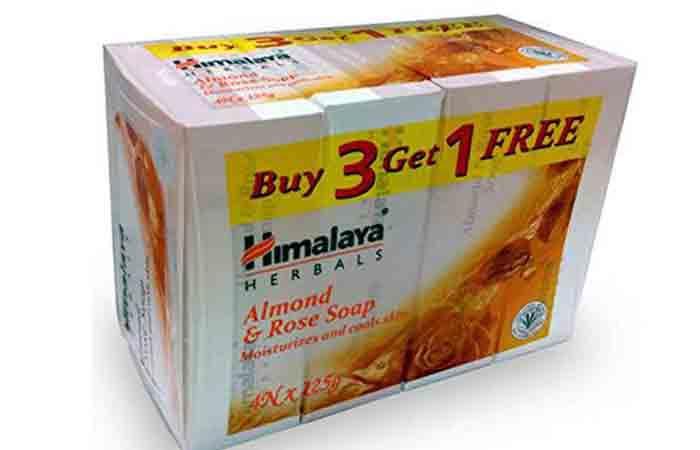 The Himalaya Almond and Rose Soap is organic and enriched with Persian rose and almond oil. The non-greasy formula leaves your skin even-toned. Its moisturizing properties penetrate deep into the skin and hydrate it. The Persian rose in the soap cools your skin without drying it.
Pros
Amazing fragrance
Improves skin tone
Mild
Non-sticky
Suitable for oily skin
Cons
The Bio Basil And Parsley Soap by Biotique Botanicals is an Ayurvedic formula. It is infused with a combination of coconut oil, parsley, and basil that help wash away impurities while maintaining the skin's pH balance. There are no hardening chemicals or dyes in the soap. It is clinically and dermatologically tested and recommended for sensitive skin. This body soap has the fragrance of sweet-smelling coconuts.
Pros
Hypoallergenic
Nice aroma
Gel-based
Lathers well
Dissolves slowly
Cons
The Pink/Rosa Beauty Bathing Bar by Dove is enriched with ¼ part moisturizing cream and has a pink hue. This pH-balanced, gentle cleansing bar helps replenish lost ingredients from your skin while cleansing it. It is good for sensitive skin as it does not cause dryness and irritation.
Pros
Gentle
Moisturizing formula
Mild fragrance
Non-corrosive
No residue
Silky lather
Value for money
Cons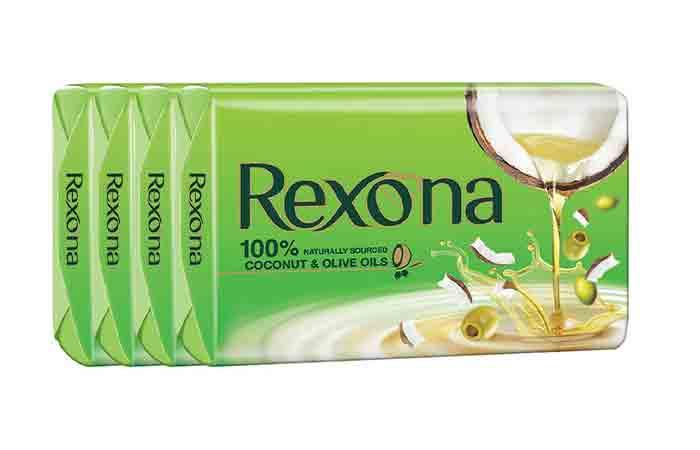 The 100% Naturally Sourced Coconut And Olive Oil Soap by Rexona makes your skin soft and supple. It is enriched with the goodness of coconut and olive oil, and it penetrates deep into your skin to hydrate skin cells.
Pros
Lathers well
Good scent
Gentle
Hydrating formula
Doesn't break
Cons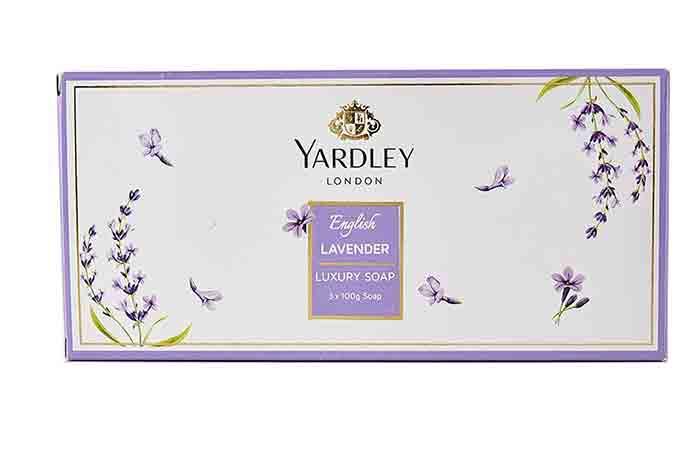 The Yardley London English Lavender Luxury Soap lends an enchanting lavender scent. The soap is processed three times to ensure quality and reduce the excessive use of water. It gives a creamy, rich lather and is exceptionally long-lasting. The floral fragrance lingers for a very long time.
Pros
Floral fragrance
Dissolves slowly
Does not dry skin
Lingering scent
Cons
Price at the time of publication: ₹10.35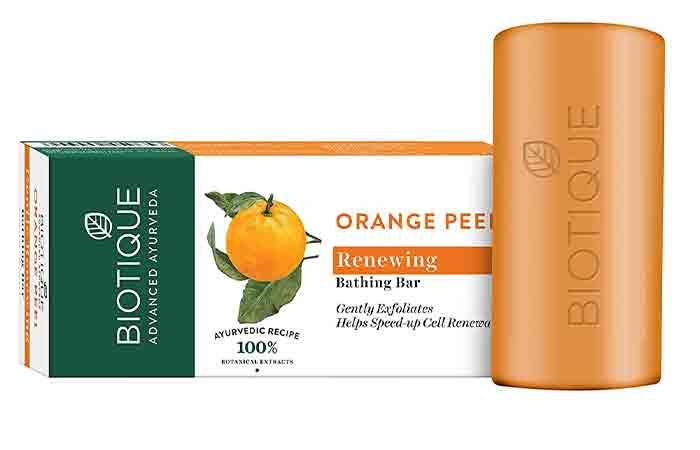 The Orange Peel Revitalizing Body Soap from Biotique Advanced Ayurveda gently peels your skin and speeds up cell renewal. It is infused with turmeric, soap nut, walnut, margosa, orange zest, and pure orange oil. This combination helps wash away impurities from your skin while maintaining its pH balance. The orange in the soap contains vitamin C, which helps brighten your skin.  There are no hardening chemicals or dyes in the soap, and it is clinically and dermatologically tested.
Pros
Smells great
Dye-free
No hardening chemicals
Hypoallergenic
Dermatologically tested
Cons
The Pure Tea Tree Soap by SOULFLOWER.biz is a 100% vegan handmade soap. It has a fresh minty fragrance that gives you a cooling, refreshing sensation after a shower. The soap is infused with natural ingredients and made with cold-pressed authentic tea tree oils. It does not have any artificial color or fragrance and is suitable for all skin types. This soap contains antibacterial properties and is proven to control acne.
Pros
Suitable for sensitive skin
SLS-free
Paraben-free
100% vegan
Value for money
Cons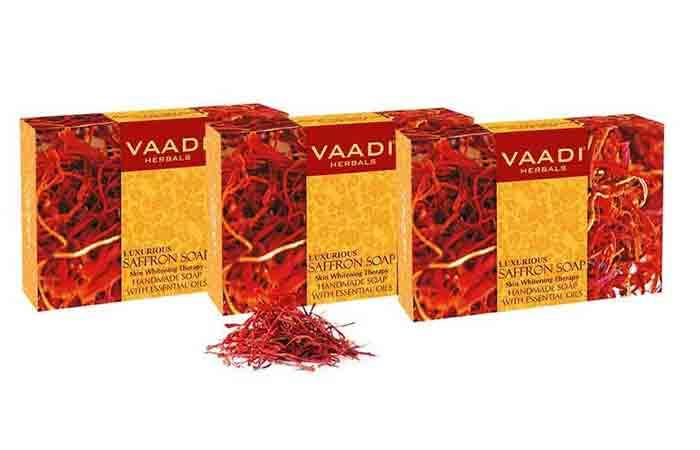 The VAADI Herbals Luxurious Saffron Soap is infused with rich ingredients like goat milk and saffron that help reduce blemishes and pigmentation marks on the face. It has rejuvenating and healing properties and treats allergies, rashes, and sunspots with regular use. The goat milk extract has alpha hydroxy acid, which aids in the regeneration of new skin cells, and its hydrating formula moisturizes the skin. This soap also contains coconut oil, jojoba oil, and patchouli and works well on dry and flaky skin.
Pros
Handmade
Natural ingredients
Mild
Exfoliating formula
Best for dry skin
No harsh chemicals
Sweet scent
Cons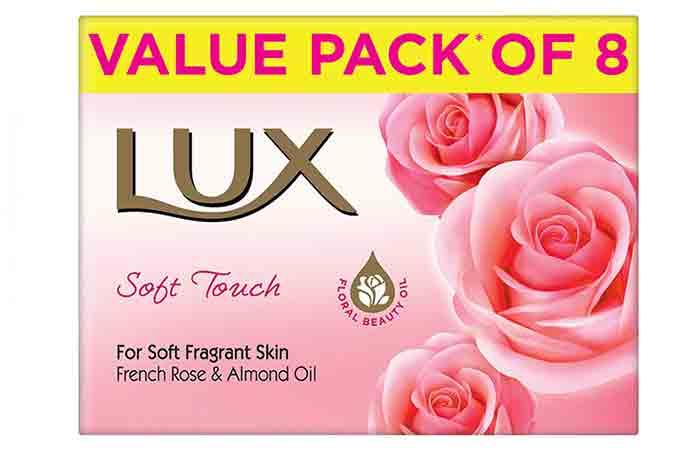 The Soft Touch French Rose and Almond Oil Soap by Lux is enriched with floral beauty oils. It has notes of bergamot and red fruits that offer a burst of freshness. French rose has skin-enhancing properties, while the vitamin E in the soap moisturizes your skin. It removes impurities from your skin with its rich and creamy lather. The almond oil hydrates your skin and reveals visibly glowing skin.
Pros
Long-lasting scent
Refreshes the skin
Hydrating formula
Value for money
Cons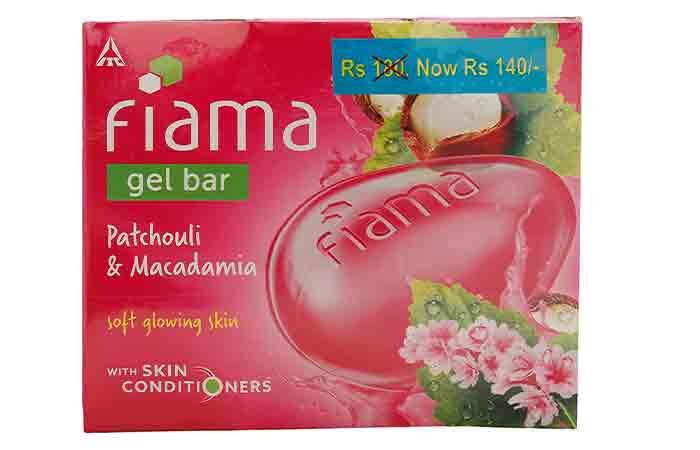 The Fiama Patchouli & Macadamia Gel Bar has a fruity and floral fragrance. It is enriched with skin conditioners that give you glowing and soft skin. This natural gel bar also keeps the skin moisturized.
Pros
Fantastic smell
Great for winters
Hydrating formula
Lathers well
Cons
The Rose Water Soap by Khadi Natural is enriched with rose oil, chandan oil, and geranium oil. The mild soap has antiseptic properties that purify and clear your skin gently. It contains tulsi that fights acne and excess sebum production. The rosewater used in this soap is made with carefully selected rose petals. This handmade soap is organic and vegan.
Pros
Suitable for all skin types
Non-drying
Mild fragrance
Lathers well
Cons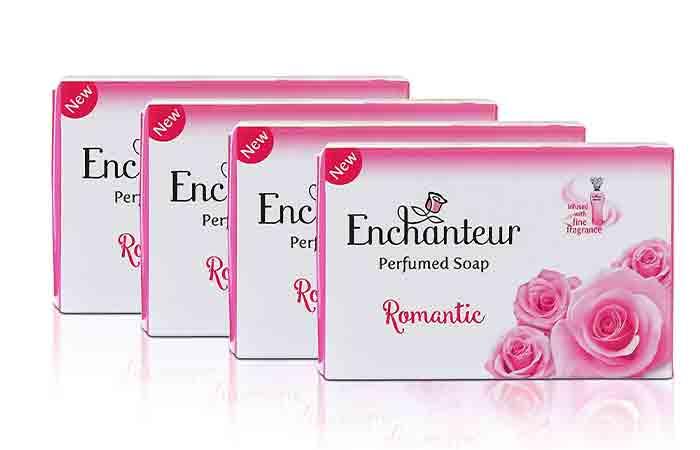 The Enchanteur Romantic Perfumed Soap is enriched with the fragrance of vanilla, violets, Bulgarian roses, and white jasmine. It has a creamy lather that gently cleanses your skin.
Pros
Sweet fragrance
Lathers well
Value for money
Cons
The Forest Essentials Bitter Orange and Cinnamon Luxury Sugar Soap is made with raw and unprocessed pure cane sugar, which helps your skin retain moisture. The luxurious soap is infused with fruit extracts and essential oils like palm oil, coconut oil, and vitamin E. These ingredients have antibacterial, anti-aging, and anti-inflammatory properties.
Palm oil is a natural antioxidant and contains moisturizing properties. The vitamin E in the soap protects your skin from harmful UV rays and pollutants. Bitter orange is blended with rich cinnamon for a warm and revitalizing fragrance. This soap is free of harsh chemicals like sulfates and parabens.
Pros
Calming fragrance
Gentle
Does not irritate the skin
SLS-free
Paraben-free
Vegan
Cons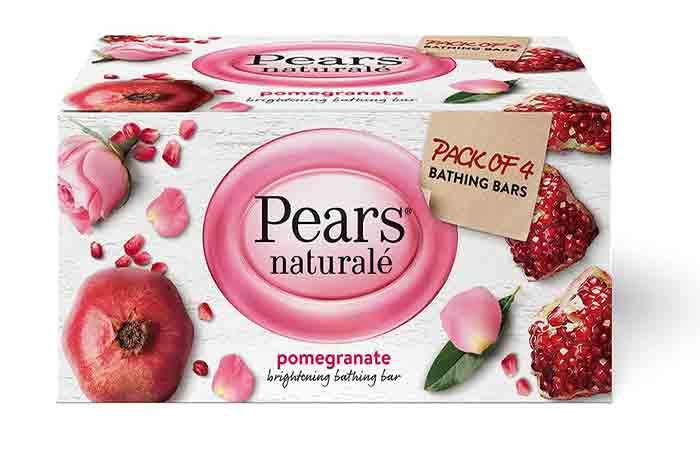 The Pears Naturale Pomegranate Brightening Bathing Bar is enriched with 100% natural pomegranate, which contains antioxidants, while the rose extract in the soap soothes your skin. It is mild and cleanses impurities very gently. This soap contains pure glycerin, which helps retain your skin's natural moisture. It does not contain harmful parabens and sulfates that irritate the skin.
Pros
Non-drying
Mild
SLS-free
Paraben-free
Lathers well
Cons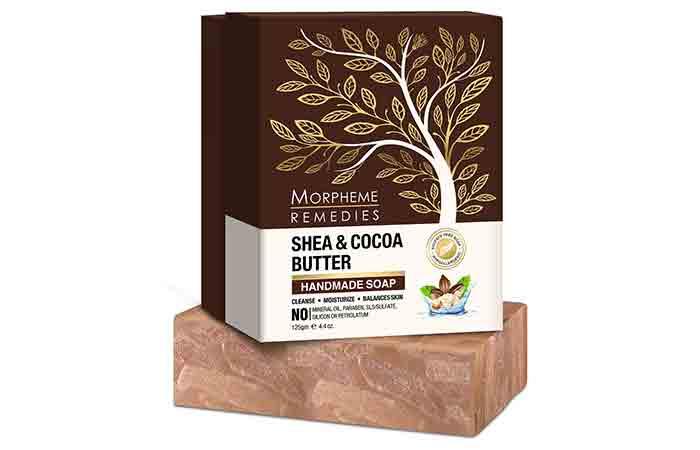 The Morpheme Shea & Cocoa Butter Soap is handmade and enriched with extra virgin olive oil, sesame oil, coconut oil, mahua oil, and castor oil. It helps balance the natural oils in your skin and improves its health. The shea and cocoa butter provide long-lasting moisturization. This soap is rich in antioxidants that help fight the signs of aging by nourishing your skin and preserving its elasticity, reducing fine lines and wrinkles.
Pros
Mild
Natural ingredients
Paraben-free
Mineral oil-free
SLS-free
Cons
The following section discusses the factors to consider while buying a soap.
Things To Consider When Buying A Soap
It is essential to know your skin type before buying any soap. For dry skin, glycerin-based soaps work the best as they moisturize the skin. Also, soaps with olive, jojoba, or almond oil are suitable for dry skin. For oily skin, opt for soaps with tea tree oil, oatmeal, berry extracts, brown sugar, or sea salt as they help balance the oils in your skin and remove dirt and impurities.
Choose a soap containing organic ingredients as it will be gentle on the skin and not cause an allergic reaction. Avoid buying soaps with alcohol and harmful chemicals like sulfates and parabens. They strip off natural oils from your skin and make it dry by disturbing its pH balance. Also, avoid soaps with artificial fragrances.
You can easily find good-quality soaps within your budget. However, beware of any low-quality product as it can damage your skin.
The soap industry has evolved at a phenomenal pace – there is a bar of soap that meets the needs of every skin type. Keep the points mentioned in the buying guide in mind and choose the one that best suits your skin.
Recommended Articles