11 Best Soaps For Dry Skin Available In India- 2023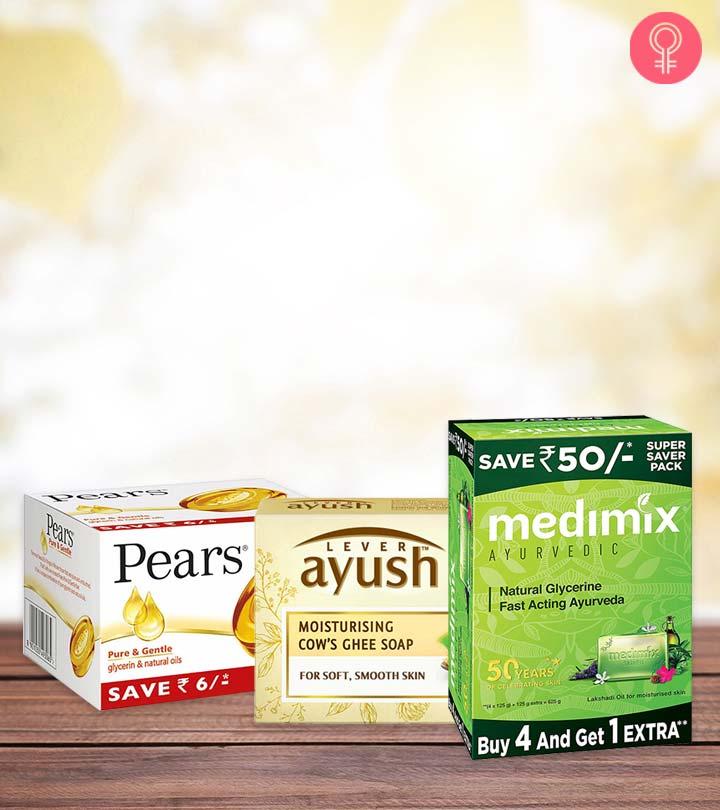 Dry skin is tough to deal with. Forget winter dryness – those who have dry skin can experience tightness and scaliness of skin even during summers! And warm showers coupled with the wrong soap can worsen things. You may be using an after-shower moisturizer and emollients to keep your skin hydrated. But, has it ever occurred to you that maybe your soap is worsening your problem?
Certain chemicals in soaps can strip the moisture from your skin. But that does not mean you should stop using soaps altogether. You only need to pick the right soap for your skin. Scroll down to find the list of best soaps for dry skin available on the market right now.
11 Best Soaps For Dry Skin of 2023
This soap has a very light and creamy formula that feels soft on your dry skin. It contains pro-vitamin and oils that don't dry out your skin or make it scaly. It also helps maintain the natural oil barrier of your skin and keeps it silky smooth. Although this soap is meant for people with dry skin, it is suitable for all skin types.
Pros
Smoothens and nourishes skin
Paraben-free
No mineral oils
Contains glycerin
Rich, creamy lather
Gentle formula
Cons
None
One-quarter moisturizing cream – that's what makes Dove soaps stand out from the crowd. This creamy bathing bar can be used on the face and all body parts as it is incredibly soft and gentle on dry skin. As the brand claims, it's not just a soap bar, it's a beauty bar.
Pros
Suitable for daily use
Rich and moisturizing formula
Cruelty-free (PETA-certified)
Does not irritate your skin
Cons
None
Price at the time of publication: ₹300
The Ancient Greek Remedy Nature's Moisturizing Soap comprises natural and organic formula. This face and body soap is infused with 4 unrefined and natural cold-pressed oils, namely, extra virgin olive oil, coconut oil, castor oil, and lavender oil. This blend of nourishing oils deeply moisturizes the skin, thereby calming irritation and inflammation. The soap is devoid of chemicals, additives, preservatives, and synthetic fillers. It comes with a gentle lavender smell and the pack includes two soap bars for effective cleansing. You may also use the soaps for regular hand cleansing to keep your skin from drying out.
Pros
Moisturizing formula
Hypoallergenic
Treats keratosis pilaris
Vegan
Paraben-free
No preservatives
Non-GMO
Pleasant fragrance
Cons
None
Price at the time of publication: ₹3022
The Santoor PureGlo Bathing Bar is enriched with glycerin, sweet almond oil, and honey. The soap is formulated to hydrate your skin, offer shine, and make it glow. Glycerin infused in the bathing bar revitalizes your skin, whereas almond oil nourishes your skin and restores its youthfulness. Honey fights against skin dryness and bacterial infections to keep it moisturized and healthy.
Pros
Dermatologically-tested
Lathers well
Pleasant fragrance
Value for money
Cons
None
Price at the time of publication: ₹31.94
Glycerin is one of the most common ingredients in soaps and body washes for dry skin. This is because it keeps your skin moisturized. Pears Pure And Gentle Soap is a glycerin soap containing natural oils that don't make your skin feel parched even long after you have taken a shower.
Pros
Dermatologist-tested
Contains 98% pure glycerin
Mild fragrance
Cons
None
Price at the time of publication: ₹185
This glycerin soap by Medimix is intended to provide deep hydration to your skin and make showers a pleasant experience. It is enriched with natural ingredients that help lock in moisture and refresh your skin every day.
Pros
Cruelty-free
Vegan formula
Ayurvedic ingredients
Mild and pleasant fragrance
Cons
None
Price at the time of publication: ₹241
This is a 100% natural cold-processed (handmade) soap. It contains natural oils, milk, and chocolate extracts along with vitamin E. It deeply moisturizes your skin and gives it a plump and dewy look. It can be used both on the face and the body and claims to minimize blemishes and dark circles.
Pros
Contains botanical extracts and essential oils
Vegan formula
SLS-free
No harmful chemicals
No synthetic color
No artificial fragrance
Cons
None
Price at the time of publication: ₹190.29
The Himalaya Herbals Almond and Rose Soap is fortified with the goodness of almond and rose to keep your skin hydrated and cool. Almond oil infused in the soap acts as a skin softener and nourishes your skin from within for a supple texture. Persian rose calms your skin and helps fight off infections. As a result, the soap effectively leaves your skin healthy, soft, and supple with a lingering rejuvenating fragrance.
Pros
Non-greasy
Provides long-lasting freshness
Pleasant fragrance
Cruelty-free
Cons
Price at the time of publication: ₹190.24
Enhance your bathing experience with the Rexona Coconut & Olive Oil Soap. The soap is packed with the goodness of naturally sourced coconut and olive oil. It is formulated to offer deep cleansing while being gentle. On regular usage, your skin gets rejuvenated, fresh, and feels pampered.
Pros
Naturally sourced oils
Suitable for daily use
Makes skin soft and silky
Pleasant fragrance
Cons
None
Price at the time of publication: ₹675
This soap can be used on both the face and the body and is formulated for dry and sensitive skin types. It keeps your skin hydrated and does not cause dryness and irritation. It moisturizes your skin and helps restore its protective oils.
Pros
Soap-free
Detergent-free
Gentle enough to be used on children
Non-comedogenic
pH-balanced formula
Dermatologist-recommended
Allergy-tested
Cons
Contains masking fragrance
Contains PEG
May contains sodium palm kernelate
Price at the time of publication: ₹178.5
The Fiama Gel Bar Peach and Avocado helps refresh and moisturize your skin. It is enriched with the goodness of natural ingredients and skin conditioners that make your skin soft and smooth. This soap also keeps your skin supple and firm, imparting a youthful glow.
Pros
Suitable for daily use
Fruity fragrance
Gentle formula
Long-lasting
Cons
None
Price at the time of publication: ₹19.99
The above listed are the best soaps for dry skin. But, there are a few things you need to consider before buying any of them. Check them out below. 
Things To Consider Before Buying Soap For Dry Skin
Soaps for dry skin should contain moisturizing agents such as glycerine, honey, and oils like almond oil and jojoba oil. Avoid using soaps that contain alcohol, chemicals, and fragrances.
Soaps are usually not expensive. Therefore, you can invest in any well-known soap brand that uses high-quality ingredients.
Balancing the pH of the skin is vital to keep it soft, supple, and hydrated. Look for a soap that has a low pH value so that it cleanses your skin without disturbing its natural protective barrier. Soaps with higher pH can make your skin dry and rough.
Dry skin demands extra care, which is why you should be careful while buying soap. Also, avoid taking hot showers, and never forget to use a moisturizing lotion on your damp skin to prevent dryness.
Have you tried any of these soaps for dry skin? How did your skin feel after using it? Share your feedback with us in the comments section below!
Frequently Asked Questions
Do soaps specifically formulated for dry skin have any additional benefits?
Yes, these soaps have moisturizing ingredients that help retain the skin's natural moisture and prevent it from drying out. Plus, they are gentler on the skin, reducing the risk of irritation and maintaining the skin's hydration levels.
How often should I use soap for dry skin?
You may use soap once a day to remove dirt and grime as excess washing may strip your skin of its natural moisture.
What are the key differences between regular soap and soap for dry skin?
Regular soaps lack moisturizing ingredients and can be harsh on the skin, whereas soaps for dry skin are gentle and moisturize the skin without stripping off the oil. Further, regular soaps may contain fragrances and additives that may irritate the skin, while soaps for dry skin are fragrance-free and gentler on the skin.
Can using soap for dry skin help reduce the appearance of flakiness or dry patches?
Yes, gentle and fragrance-free soaps may help moisturize and hydrate the skin, making it appear smoother and less dry.
Recommended Articles: