15 Best Soaps For Oily Skin For Summers In India – 2022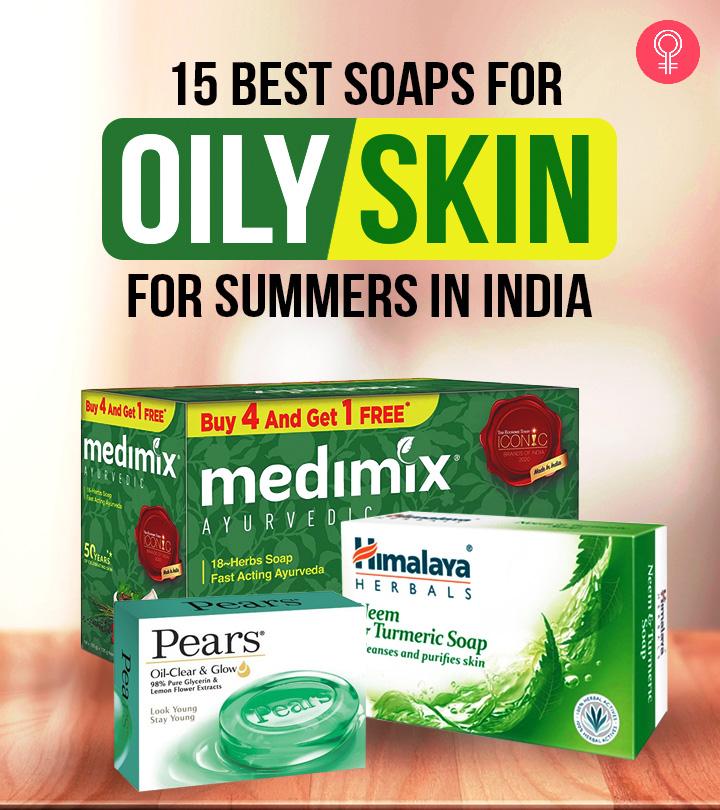 Caring for oily skin can be tricky. From acne breakouts to clogged pores, there is so much to address. Especially during summers, oily skin can give rise to a plethora of skin concerns. With increase in temperatures and humidity levels, your sebaceous glands tend to produce more oil and make you sweat more. Hence, you need to invest in a good soap that inhibits the over-production of oil while addressing other issues as well. We have rounded up some of the best soaps for oily skin in summer available in India. Go ahead and check them out below.
15 Best Soaps For Oily Skin For Summer In India
The Medimix Classic 18 Herbs Soap has a brightening and healing formula that targets skin concerns like acne, blemishes, spots, and dryness. It is enriched with a revolutionary blend of 18 Ayurvedic herbs and traditionally processed natural oils. These herbs help prevent body odor, make your skin smoother, and lighten dark spots, while the natural oils help hydrate the skin and lock in moisture. This soap is ideal for daily use to boost the skin's natural glow while keeping body odor at bay.
Key Ingredients: Ayurvedic herbs and Natural oils
Pros
 Non-drying
 Pleasant fragrance
 Paraben-free• Cruelty-free
 Vegan
 Dermatologically tested
Cons
None
Santoor is a cult-favorite soap brand in India. Its Aloe Fresh Soap helps you achieve rejuvenated and glowing skin. This soap is enriched with aloe vera that offers soothing and anti-inflammatory benefits and makes your skin glow for an overall youthful appearance. The lime in the soap imparts a refreshing scent to your skin.
Key Ingredients: Aloe vera and Lime
Pros
 Pleasant scent
 Imparts radiance
 Lathers well
Cons
None
The Himalaya Herbals Neem & Turmeric Soap purifies the skin and is ideal for all skin types. It is infused with the skin-friendly neem that alleviates dryness and provides soothing benefits. The soap also contains turmeric that has anti-inflammatory benefits for your skin. Both the ingredients have antibacterial and antifungal properties that help protect your skin.
Key Ingredients: Neem and Turmeric
Pros
 Non-drying
 Mild fragrance
 Imparts glow
 Organic
 Antibacterial
Cons
None
If you want a soap with a refreshing fragrance that lasts all day while keeping your skin healthy, try the Liril Lemon & Tea Tree Oil Soap. It is enriched with lemon and tea tree oil to maintain the natural oil balance, nourish your skin, and keep it hydrated throughout the day. This is an ideal pick for when you need a boost of freshness during the hot summer days in India.
Key Ingredients: Lemon and Tea tree oil
Pros
 Non-drying
 Pleasant fragrance
 Nourishes the skin
 Budget-friendly
Cons
None
The Lever Ayush Cool & Fresh Aloe Vera Soap features an authentic Ayurvedic recipe to keep your skin feeling cool and refreshed during hot summer days. It contains aloe vera that provides a cooling effect and hydrates the skin to make it look supple and radiant. It also contains lemongrass with antibacterial properties that lends freshness and protects your skin against harmful germs.
Key Ingredients: Lemongrass and Aloe vera
Pros
 Hydrating
 Cooling effect
 Makes the skin supple
 Mild fragrance
 Value for money
Cons
None
Experience a revitalizing bathing affair with the Godrej Cinthol Lime Refreshing Deo Soap, especially during summer. It is enriched with a refreshing lime fragrance that lasts throughout the day. This Indian staple deo soap is suitable for all skin types and age groups and gets rid of dirt, grime, and germs.
Key Ingredients: Lemongrass and Aloe vera
Pros
 Pleasant fragrance
 Smoothens the skin
 99.9% germ protection
 Revitalizes the senses
 Value for money
Cons
None
The Sebamed Cleansing Bar has a mild and deep cleansing formula especially made for oily skin. It has a skin-balanced pH of 5.5. It has intensely moisturizing vitamin E that makes the skin supple, amino acids that boost the protective barrier of the skin, and panthenol that nourishes the skin. The bar is specifically developed for sensitive and acne-prone skin.
Key Ingredients: Vitamin E, Amino acids, and Panthenol
Pros
 pH-balanced
 Moisturizing
 Soap-free
 Alkali-free
Cons
The 100% natural, cold-processed soap by Soulflower is made using traditional handmade techniques. It is enriched with the antibacterial tea tree leaf oil that inhibits the acne-causing bacteria and prevents body odor. The basil leaf in the soap tightens pores and reduces blackheads and blemishes, while vitamin E adds radiance and makes your skin look younger. The olive oil in the formula rejuvenates, hydrates, and softens the skin, while the castor oil nourishes the skin and targets the signs of aging. The combination of palm oil and palm kernel oil moisturizes the skin to restore its softness.
Key Ingredients: Tea tree leaf oil, Basil leaf, Olive oil, Castor oil, Coconut oil, Palm oil, Palm kernel oil, and Vitamin E
Pros
 Brightens the skin
 Pleasant fragrance
 SLS-free
 Cruelty-free
 Vegan
Cons
The TNW Potato Rice Soap has a handcrafted Ayurvedic formula that uses all natural ingredients. It contains potato enriched with vitamins B6 and C that aid in cell growth, diminish tanning, and regulate oil production in the skin. The rice in the formula keeps the skin cool, reduces inflammation, and brightens the complexion, while the cucumber extract reduces sun tan, calms irritation, and controls excess oil secretion. The soap also contains papaya that targets dark spots and minimizes enraged pores while nourishing the skin with essential vitamins and minerals. This soap can be used all over the face and body.
Key Ingredients: Potato, Rice, Cucumber extract, and Papaya
Pros
 Softens the skin
 Pleasant fragrance
 Paraben-free
 Silicone-free
 Colorant-free
Cons
The Glutalight Skin Whitening Soap resolves several skin issues like dark spots, freckles, age marks, and hyperpigmentation. It removes dead skin cells to reveal healthier and glowing skin. The soap is enriched with the antioxidant-rich glutathione that promotes cell regeneration while brightening your skin. The gentle formula heals and prevents acne without drying your skin out.
Key Ingredients: Glutathione
Pros
 Softens the skin
 Brightens the skin
 Gentle
Cons
None
Get oil-free, clear skin with the Pears Oil-Clear & Glow nourishing soap bar. It imparts a subtle glow and is specially formulated for oily skin. The soap is enriched with lemon flower extracts to restore the oil balance of the skin and target pimple breakouts. The glycerin in the bar hydrates your skin, leaving it feeling supple and soft.
Key Ingredients: Glycerin and Lemon flower extracts
Pros
 Adds glow
 Hydrating formula
 Smells good
 Lathers well
Cons
None
The Clinsol Anti Acne Soap is a godsend for people with oily and acne-prone skin. The gentle, antibacterial formula helps clear blackheads and whiteheads and controls excess oil production in the skin. The soap contains tea tree oil and vitamin E that reduce acne and prevent its recurrence and hydrate and condition the skin. It also has allantoin that soothes irritated skin and improves the overall skin texture.
Key Ingredients: Tea tree oil, Vitamin E, and Allantoin
Pros
 Hydrating formula
 Softens the skin
 Lathers well
 Value for money
Cons
None
The Hotglam Papaya Orange Skin Whitening Soap has a gentle formula that is suitable for all skin types and helps fight hyperpigmentation, acne, pimples, and signs of aging. It is enriched with papaya extract that exfoliates dead skin cells and unclogs pores while enhancing skin elasticity and the cell repair process. Papaya is also rich in vitamins A, C, and E that restores damaged skin, enhance cell regeneration, and lighten dark spots to add a subtle natural glow to your skin.
The soap also contains orange that nourishes your skin and provides antioxidant protection. This antiseptic ingredient fights skin problems like acne and excess oil and is gentle on the skin. The vitamin C in orange keeps your skin feeling hydrated and supple. This soap can be a great pick for anyone dealing with blemishes, breakouts, sun tan, and dull complexion.
Key Ingredients: Papaya and Orange
Pros
 Brightens the skin
 Oil-free
 Pleasant fragrance
Cons
The Vaadi Herbals Aloe Vera Facial Bar has an anti-wrinkle and anti-pimple formula that keeps your oily skin problems at bay. It is enriched with tea tree oil that diminishes acne-causing bacteria.
The aloe vera extract in the formula is rich in vitamins C and E that brighten the skin, improve blood circulation, and fight several skin infections. It also prevents acne breakouts, provides anti-aging benefits, and stimulates cell regeneration. This facial bar also contains honey that acts as a natural humectant that soothes and hydrates the skin and enhances its elasticity to diminish the appearance of wrinkles.
Key Ingredients: Honey, Aloe vera extract, and Tea tree oil
Pros
 Moisturizing
 Softens the skin
 Gentle
 Paraben-free
 Chemical-free
 GMP certified
 Certified organic
 Cruelty-free
Cons
None
The Forever Avocado Face & Body Soap has a nourishing formula packed with nutrient-rich ingredients. This gentle soap moisturizes your skin while imparting a fresh citrusy fragrance. It is also enriched with avocado that is rich in vitamins A, C, and E and gives you silky, smooth skin.
Key Ingredients: Lemongrass and Aloe vera
Pros
 Nourishing formula
 Improves skin tone
 Vegan
 Gluten-free
Cons
Oily skin is the result of excess sebum production by the sebaceous glands. While sebum is necessary for keeping your skin healthy, protected, and hydrated, too much of it may lead to clogged pores, acne, and oily skin. There can be many reasons that may cause the sudden onset of oily skin at any age. Let's take a look at them below.
What Are The Reasons That Cause Oily Skin?
 Stress: Increased stress may cause a rise in the stress hormone or cortisol levels, which, in turn, increases oil production, leading to oily skin and a myriad of other skin concerns.
 Genetics: If your parents have oily skin, you are more likely to inherit it. Large sebaceous glands that produce excess sebum tend to be a hereditary attribute passed down to generations.
 Climate: If you live in a cold climate, it may make your skin dry out, signaling your oil glands to go into overdrive. On the other hand, if you live in a hot or humid climate, you may experience excessive sebum production, leaving your skin feeling oilier.
 Over Exfoliation: Over exfoliation of your skin may lead to loss of natural skin oils, pushing your oil glands into overdrive.
 Hormonal Disorders: Many hormonal disorders and fluctuations during periods, pregnancy, and menopause may lead to an increase in sebum production.
 Poor Diet: A diet containing primarily refined carbohydrates, processed sugar, and dairy can be a trigger for excess sebum production.
 Insufficient Hydration: When your skin is dehydrated, the oil glands tend to compensate for the lack of hydration by overproducing oil.
Ensuring that you purchase the right soap for oily skin can be a bit challenging, so it is imperative that you look at the following factors that will make your decision easier.
How To Choose The Right Soap For Oily Skin
 Ingredients: When it comes to oily skin, go for natural, vegan, or organic products. Ingredients like the antibacterial turmeric and anti-inflammatory tea tree oil help deal with acne and excess oil. Other hydrating ingredients to look for are shea butter, coconut oil, and almond oil.
 Cost: Our list of the best soap contains soaps from different price ranges. Consider your requirements and check the reviews to invest in quality products that give you the most bang for your buck.
Make sure you keep these pointers in mind when you start looking for your ideal pick of the best soap for oily skin.
Oily skin can be a bit tricky to care for, so it is best to go for a soap that uses skin-friendly organic and natural ingredients. This will bring you a step closer to achieving healthy and glowing skin. Take your pick from the above list and bid goodbye to grease and breakouts.
Recommended Articles
The following two tabs change content below.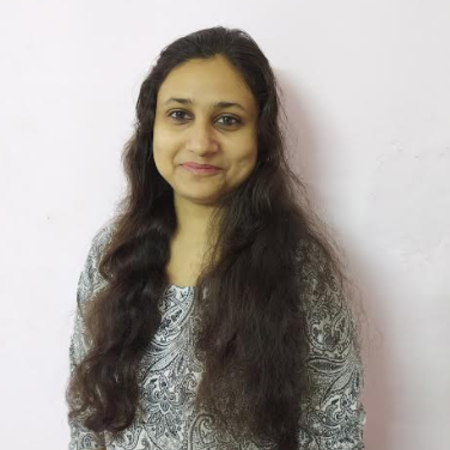 Shiboli has a master's degree in English literature from The English and Foreign Languages University, Hyderabad, and is a certified...
more