15 Best Soaps For Sensitive Skin In 2021- Reviews And Buying Guide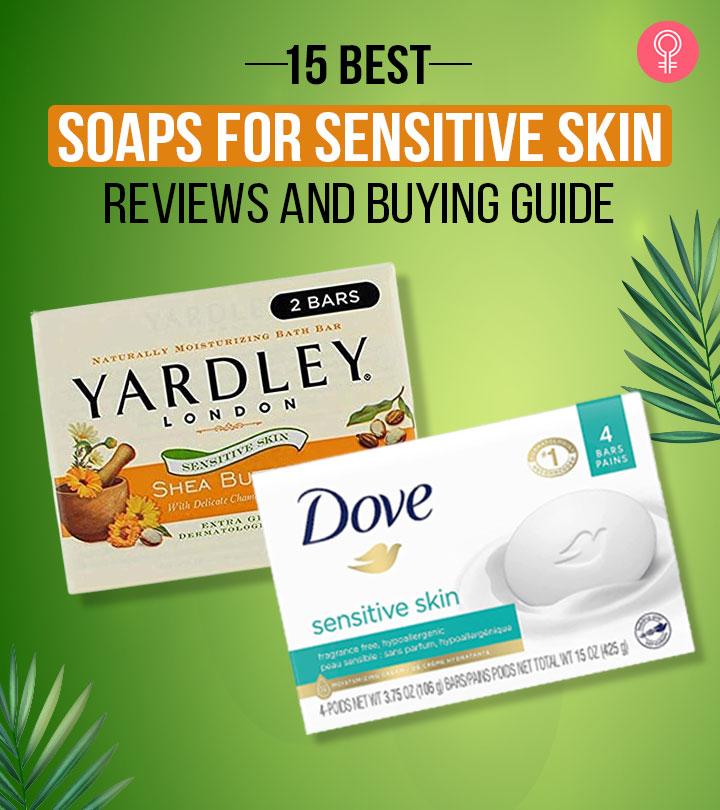 Do you always get itchy, red, dry, and inflamed after your shower? Women who have sensitive skin face a tough time dealing with these skin problems. A poorly formulated soap that has harsh chemicals can damage your skin, causing breakouts and dry patches. So, it is necessary to look for a soap that has been specially formulated for sensitive skin. Soaps with gentle formula have less astringent. In addition, they are enriched with natural plant-based ingredients that soothe all sensitive skin issues and protect the natural moisture barrier of the skin. This article discusses the 15 best soaps for sensitive skin that will give you irritation-free cleansing experience. Let's take a look at the list!
15 Best Soaps For Sensitive Skin
The Dove Sensitive Skin Beauty Bar effectively washes away all the dirt and germs. It feels mild on the skin that makes it perfect for sensitive skin. It has a ¼ moisturizing cream and a mild cleansing formula that helps retain skin moisture. This soap can be used on your face, body, and face. With regular use, the pH-neutral formula of this soap makes your skin feels nourished, delicate, and soft to touch.
Key Ingredients: Glycerin, Kaolin
Pros
Suitable for daily use
No synthetic fragrances
Chemical additive-free
Dermatologist tested
pH-balanced
Paraben-free
Sulfate-free
Hypoallergenic
Cruelty-free
Cons
Expensive
Fragrance might be overpowering
The Shea Moisture African Black Soap leaves your skin feeling soft and refreshed and is known for its cleansing and natural clarifying properties. It is a soothing soap bar formulated with organic shea butter, oats, and aloe vera that cleanses, moisturizes, and soothes irritated skin. It is formulated with palm ash, tamarind extract, tar, and plantain peel that help clear blemishes and calm troubled skin. If you have oily skin, this soap helps to absorb excess oil. It also helps to treat symptoms of eczema and psoriasis.
Key Ingredients: Organic Shea Butter, Oats, Aloe Vera, Palm Ash, Tamarind Extract, Tar, Plantain Peel
Pros
Suitable for daily use
Hypoallergenic
Non-drying
Cruelty-free
Paraben-free
Sulfate-free
Affordable
Cons
None
The Cetaphil Gentle Cleansing Bar is gentle but effective at cleansing and soothing your. It moisturizes your skin without stripping away its natural protective oils. Its soap-free and detergent-free formula rinses off easily, leaving behind soft, smooth, and hydrated skin. In addition, this powerful formula is mild enough to be used by children and adults alike.
Key Ingredients: Petroleum, Titanium Dioxide
Pros
Suitable for dry, sensitive skin
Ideal for daily use
Hypoallergenic
Dermatologist-recommended
Soap-free
Cruelty-free
Cons
Contains a strong artificial fragrance
May cause skin to break out
The Yellow Bird Soap Bar contains powerful ingredients that hydrate dry skin and provide nourishing benefits. It is enriched with activated charcoal that works like a magnet to extract all the dirt and oils from your skin. Lavender essential oil has antiseptic and antibacterial properties that removes acne, blemishes, and other skin issues. Lemongrass essential oil and shea butter, with naturally occurring vitamins and fatty acids, moisturize and nourish the skin. In addition, it is free from all the harsh ingredients that can potentially damage your skin.
Key Ingredients: Activated Charcoal, Lavender Essential Oil, Lemongrass Essential Oil, Shea Butter
Pros
Contains organic ingredients
No synthetic fragrances
Dye-free
Paraben-free
Sulfate-free
Non-GMO
Cruelty-free
Cons
Strong fragrance
Contains chemical ingredients
If you prefer liquid soap over soap bars, try out the Eucerin Advanced Cleansing Body & Face Cleanser. It has an advanced, mild, and gentle formula that preserves the natural pH level of your skin. It has a soap-free formula that does not allow your skin to dry out. It does not leave any residue and also preserves the natural protective barrier of your skin.
Key Ingredients: Citric Acid, Glycerin, Hydrogenated Castor Oil
Pros
Soap-free
Non-comedogenic
Fragrance-free
Dye-free
Cons
The Basis Sensitive Skin Bar promises to clean and soothe sensitive skin by giving it the purest and mildest cleansing. It contains chamomile and aloe vera extracts that calm and comfort inflamed skin. It has glycerin that provides the much-needed moisturization to dry skin and keeps it hydrated. This gentle formula can be used daily on both your face and body for clean and nourished skin.
Key Ingredients: Chamomile, Glycerin, Aloe Vera Extract
Pros
Suitable for daily use
Dermatologist tested
No harsh ingredients
Fragrance-free
Dye-free
Non-drying
Cons
Contains alcohol
Leaves behind a sticky residue
The Southern Natural Lavender Goat Milk Soap is handcrafted with natural ingredients and has lavender essential oil's delicate floral and herbal notes. It is enriched with palm oil and coconut oil that add lather and cleansing power to the soap. Olive oil (rich in vitamins A, E, and antioxidants) in the formula promotes youthful complexion and soothe dry, irritated skin. The lavender essential oil calms the skin, and the goat's milk moisturizes and protects the natural moisture barrier. It is an all-in-1 soap that can be used all over your body and face. It even helps treat eczema and other sensitive skin issues.
Key Ingredients: Palm Oil, Coconut Oil, Olive Oil, Lavender Essential Oil, Goat's Milk
Pros
All-natural ingredients
No harsh chemicals
Lathers well
Cruelty-free
Dye-free
Paraben-free
Cons
Might be a bit drying
Strong scent
Keeping your skin healthy and beautiful is easy with the Coconut & Shea Butter Soap by O Naturals. The formula of this soap is infused with coconut oil which works as an effective moisturizer and helps nourish dry skin without clogging pores. It has shea butter (rich in vitamin E) that has anti-aging properties and helps to soothe irritated skin. It also contains olive oil and avocado oil that boosts collagen and elastin production. This soap helps to maintain the natural pH balance of the skin and helps to restore moisture.
Key Ingredients: Coconut Oil, Shea Butter, Olive Oil, Avocado Oil
Pros
Non-comedogenic
Cruelty-free
Paraben-free
Sulfate-free
Non-GMO
Vegan
Cons
None
The Dial Basics Hypoallergenic Bar Soap keeps you fresh, clean, and active all day. It features non-irritating ingredients like glycerin that has moisturizing properties. It is hypoallergenic and suitable for everyday use. It effectively washes away all dirt, impurities, and unwanted body odor. The soap also contains 5 power berries, coconut water, omega moisture, white tea, and miracle oil.
Key Ingredients: Glycerin
Pros
Hypoallergenic
Dermatologist tested
Cons
Tom's Of Maine Natural Unscented Beauty Bar is the ideal bathing bar for sensitive skin. Its gentle formula is enriched with organic botanicals like virgin coconut oil, raw shea butter, and Moroccan argan oil. This soap bar is made without any artificial ingredients and is clinically proven to be gentle and pampering on the skin. With regular use of this soap bar, your skin will feel clean and fresh.
Key Ingredients: Coconut Oil, Raw Shea Butter, Moroccan Argan Oil
Pros
Natural ingredients
Hypoallergenic
Fragrance-free
Preservative-free
Paraben-free
Cruelty-free
No artificial colors
Dermatologist-tested
Cons
Leaves behind a slippery residue
May cause dryness
The Pure Coconut Oil Soap by Splendor is handmade with organic ingredients. It forms a rich, creamy lather on application. It has antibacterial, antifungal, and antiviral properties and is effective on psoriasis, eczema, and dermatitis. The formula is infused with anti-aging cocoa butter, which is rich in antioxidants. It has coconut oil that keeps the skin moisturized. The aloe juice prevents itching, boosts elasticity, and softens and soothe the skin. Cchamomile, colloidal oats, and organic calendula to improve the overall appearance of your skin.
Key Ingredients: Cocoa Butter, Coconut Oil, Aloe Juice, Chamomile, Colloidal Oats, And Organic Calendula
Pros
100% natural
Vegan
Alcohol-free
Paraben-free
Sulfate-free
Non-GMO
Phthalate-free
Gluten-free
Not tested on animals
Soy-free
No artificial colors
Cons
The Vanicream Cleansing Bar For Sensitive Skin is formulated without any skin irritants. It is only a mild and moisturizing bathing bar that you can use on your face, hands, and body. It soothes sensitive skin and calms conditions like psoriasis and eczema. It lathers well and gives you a rich bathing experience.
Key Ingredients: Glycol, Titanium Dioxide
Pros
Non-comedogenic
Soap-free
Gluten-free
Fragrance-free
Paraben-free
Cons
Does not rinse off easily
May cause dryness
Dissolves quickly
If you're looking for a soap with minimal ingredients, go for the A La Maison de Provence Bar Soap. It is made with the most skin-benefitting ingrediensts like water, palm oil, coconut oil, olive oil, vegetable glycerin, and Tocopherol (vitamin E). It effectively washes away all the dirt and impurities. It makes dry and lifeless skin soft and supple. This unscented soap is great for hands, body, and face.
Key Ingredients: Water, Palm oil, Coconut oil, Olive oil, Vegetable glycerin, and Tocopherol (vitamin E)
Pros
100% vegetable oils
SLS-free
Long-lasting
Paraben-free
Phthalate-free
Cruelty-free
Biodegradable
Hypoallergenic
Not tested on animals
Cons
None
The Sebamed Cleansing Bar is a moisturizing soap with an ultra-mild formulation that gently cleanses deep pores and does not cause any irritation or dryness. This soap-free cleansing preserves the natural protective layer of your skin. It maintains a pH level of 5.5. Developed by dermatologists, this soap deep cleanses the pores and does not cause any dryness or irritation. It is infused with a moisturizing complex of vitamins, lecithin, and amino acids that rinses away completely for naturally healthier and smoother skin.
Key Ingredients: Wheat Starch, Panthenol (Vitamin B5), Tocopheryl Acetate (Vitamin E)
Pros
Perfect pH balance
Non-comedogenic
Dermatologist recommended
Hypoallergenic
Cons
None
The Shea Buttermilk Sensitive Skin Naturally Moisturizing Bath Bar by Yardley London is a dermatologist-tested, hypoallergenic bath bar that makes the skin soft. It has a chamomile blossoms that leave your skin soft and nourished. It is enriched with shea butter and buttermilk proteins. It is perfect for those who have itchy, dry, and irritated skin. The pleasing scent of chamomile relaxes a tensed mind.
Key Ingredients: Shea Butter, Buttermilk Proteins
Pros
Dermatologist tested
Hypoallergenic
Paraben-free
Sulfate-free
Not tested on animals
Cons
None
These are the 15 best soaps for sensitive skin. However, before buying a product for sensitive skin, you need to understand and consider a few things. Let's understand those factors.
How To Choose The Best Soap For Sensitive Skin – Buying Guide
While buying soap for sensitive skin, the first and most crucial thing you need to do is go through the ingredients label. Soaps with artificial colors, additives, and fragrances can cause rashes and breakouts. Instead, choose a natural and mild soap that won't irritate your skin and efficiently eliminate all the dirt and oils. Generally, soaps that are exclusively meant for sensitive skin are made with natural ingredients like herbs, plant oils, and other natural ingredients on the skin.
Sensitive skin can be both oily and dry. Some people experience excessive oil production, which leads to acne. In such cases, it is important to use mild soaps regularly that contain oatmeal as their primary ingredient. On the other hand, if you have dry skin, your sebaceous glands are not producing enough sebum. Go for a mild soap enriched with glycerin, aloe vera, shea butter, coconut oil, or vegetable oil that can keep your skin moisturized all day long.
Some soaps are infused with ingredients like coffee, oats, ground almond shells, or other natural fibers to help exfoliate your skin. If you have sensitive skin, you should avoid these or opt for those that don't feel too rough while exfoliating your skin. Smoothness and texture are normally determined by touch and feel.
When choosing a soap for sensitive skin, you need to be extra cautious and learn about the things that you must avoid.
Things To Avoid
Always avoid soaps that have a high acidic content as they can damage your skin in the future.
Avoid soaps that contain a lot of chemicals for skin whitening. These chemicals can also have a damaging effect on your skin.
People with sensitive skin should also avoid soaps that are overly fragrant and contain synthetic fragrances. These types of soap bars can cause dermatitis and other skin irritations. So, pick a soap that has "fragrance-free" mentioned on the label.
Note: After buying soap for sensitive skin, don't forget to perform a patch test and wait for 24 hours to see the results. If you develop an allergic reaction, stop using the product immediately and go for a different soap.
If you have sensitive and irritated skin, you need to be careful before picking the right soap. All the products listed in this article claim to offer maximum benefits to soothe sensitive skin. So, explore the options mentioned above and pick the one that you think will suit you best.
Recommended Articles