11 Best Sofa Bed Mattresses – Reviews And Buying Guide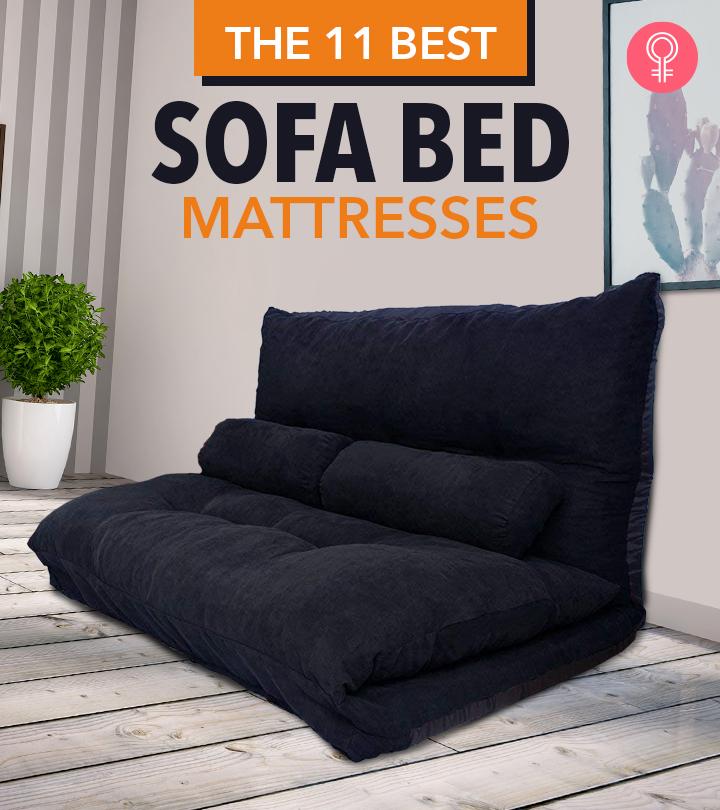 Sofa beds are superheroes. They are sofas by day and beds by night. That's what you need for surprise guest visits and sleepovers. But a major drawback has been their thin and uncomfortable mattresses. However, the market now has ergonomic and economic mattresses that are specially designed for sofa beds. These mattresses are cozy, foldable, and durable and work with a variety of sofa beds. Here, we have listed 11 best sofa bed mattresses for your consideration. Scroll down to seal the deal!
Top 11 Sofa Bed Mattress You Should Buy
The Diophros Folding Ottoman Sofa Bed is a 4-in-1 piece of furniture that saves space. Its adjustable backrest is as comforting as the soft lumbar cushion. This sofa bed is made of linen fabric with stereo lines and top padding with high-density foam. It can be used for sitting, reclining, foot-support, and sleeping. The core parts are durable, stable, and designed to support daily use. Its upholstery goes well with every kind of decor in the living room, office space, dorms, or vacation homes.
Features
Size: 37.4″ x 27.17″ x 16.93″
Material: High-density foam
Weight: 79.2 lbs
Thickness: ~3 inches
Pros
Versatile
Easy to install
Sturdy
Value for money
Cons
Weak joints
Might get squeaky
The Milliard Sofa Bed Mattress is a pullout sofa bed. It has a firm polyurethane foam base. The soft memory foam topping slowly conforms to your body contours and provides support to the spine and neck. It is strategically ventilated to allow the dissipation of body heat. Despite fitting in a foldable frame, this queen-sized foam mattress gives the highest priority to comfort. Its dimensions fit well with most major convertible sofas.
Features
Size: 73″ x 52″ x 4.5″
Material: Foam
Weight: 26.3 lbs
Thickness: 3.5" base +1" memory foam top
Pros
Soft
Comfortable
Ventilated
Sturdy
Roll-packed
Washable covers
Cons
Not flexible/foldable
Sizing variability
The Classic Brands Sofa Bed medium-firm mattress draws heat away from your body to provide maximum comfort while sleeping. This breathable memory foam is resistant to allergens, molds, bacteria, and dust mites. It folds easily into most sofa beds and maintains its original form even after many uses. The durability, longevity, and performance are certified by the CertiPUR-US program.
Features
Size: 58″ x 72″
Material: Gel-infused memory foam
Weight: 33.7 lbs
Thickness: 4.5 inches
Pros
Comfortable
Ergonomic design
Value for money
Tough
Tensile
Easy to fold
Hypoallergenic
Cons
Might feel heavy
Might not fit all sofa bed frames
The DynastyMattress is ideal for back pain or orthopaedic issues. The plush memory foam conforms to your body, supporting the neck and spine in every sleeping position.
This sofa mattress can be used in bunk beds, boats, and RV trailers. It can also double up as a mattress topper on existing mattresses.
Features
Size: 72″ x 58″ x 4.5″
Material: Gel-infused memory foam
Weight: 26.9 lbs
Thickness: 4.5 inches
Pros
Plush feel
Comfortable
Folds out evenly
Odor-free
Cons
The LUCID Sofa Bed Mattress creates a cool and comfortable sleep experience. This dense memory foam regulates the body temperature and increases circulation. It contains bamboo-charcoal that provides extra stability while keeping the mattress odor and allergen-free. It is vacuum-compressed and easy to carry. You can order it in different sizes to fit trundle beds, cribs, bunk beds, and twin beds. It comes with washable zipper covers to keep the mattress clean.
Features
Size: 74″ x 52.5″ x 5″
Material: Gel-infused, bamboo-charcoal memory foam
Weight: 19.1 lbs
Thickness: 5 inches
Pros
Versatile
Comfortable
Long-lasting
No flipping required
Cons
Might take time to decompress.
The MAXDIVANI Sofa Bed Memory Foam Mattress is multi-functional and travel-friendly. It is made of fire-resistant, high-density foam and sponge that provide back and neck support. This folding mattress is easy to tuck away and carry. It can also double up as a temporary sofa and comes with a removable and washable cover.
Features
Size: 8″ x 80″ x 16″
Material: Tri-fold memory foam
Weight: 42.8 lbs
Thickness: 8 inches
Pros
Lightweight
Versatile
Compact design
Value for money
Easy to clean
Space-saving
Cons
The Auwish Futon Sofa Bed Mattress can be used in your patio, deck, or garden. It can be moved easily and used as an armchair, lounger, or a comfortable bed. This futon sofa bed has a strong, durable stainless steel frame. It is safe for kids to play and elders to rest. It has attached padded pillows to provide safety and support.
Features
Size (expanded):75" x 47"  x 10"
Material: Polyester and sponge
Weight: 61.7 lbs
Thickness: 5-10 inches
Pros
Lightweight
Multi-functional
Durable
Easy to install
Space-saving
Suitable for indoor and outdoor use
Cons
The LZ Leisure Zone Sofa Bed is a multi-functional futon bed. It can be used in your living room, bedroom, office space, dorm, balcony, or lounge area. This comfortable sofa bed has a sturdy internal steel frame that supports your back and neck. With an adjustable backrest, you can convert this floor sofa to a sleeper bed easily. The futon has two pillows, and five adjustable positions to relax, sit, sleep, and additional support. The suede fabric is easy to clean and available in different colors.
Features
Size:70.86″ x 45.67″
Material: Suede and sponge
Weight: 31.2 lbs
Thickness: 3-5 inches
Pros
Easy to convert
Soft
Easy to maintain
Space-saver
Easy to assemble
Easy to clean
Available in various colors
Cons
Expensive
Might be small for adults and teens
The LINENSPA Mattress is comfortable, firm, and best for trundle beds, bunk beds, and dorm setups. It has a gel-foam base that maintains your body temperature while sleeping and supports all sleeping positions. It has breathable internal layers and is easy to use.
Features
Size: 53″ x 74″
Material: Gel memory foam
Weight: 11 lbs
Thickness: 5 inches
Pros
Easy to unpack
Thick
Comfortable
Odor-free
10-year warranty
Gel-foam design
Cons
This quilted sofa bed pad has a waterproof base and is filled with soft microfiber. It is designed to tug at your sofa bed with extra-firm, elastic anchor bands. These high-quality grips hold the quilted pad in its place to ensure it lies flat and folds in well with the mattress. The inner polyester filling is breathable and keeps the mattress allergen-free. It is also easy to maintain and machine washable.
Features
Size: 60″ x 72″ x 1″
Material: Polyester
Weight: 3.64 lbs
Thickness: 1 inch
Pros
Lightweight
Soft
Value for money
Long-lasting
Hypoallergenic
Easy to maintain
Machine washable
Cons
Might feel stuffy and sweaty
This floor sofa bed is a stylish and functional futon and ideal for small spaces. It can be used as a chair, lounger, chaise bed for sleeping, reading, or gaming. It has a durable steel frame, and the back can be adjusted from flat to upright in five different positions. This product comes with two pillows to support sleeping and sitting postures. It can be folded and moved around easily.
Features
Size: 43″ x 24.5″ x 20.5″
Material: High-density split foam
Weight: 40.17 lbs
Thickness: 13.5 inches
Pros
Easy to use
Easy to convert
Lightweight
Space-saving
Cons
Might be difficult to clean.
Each product in the above list has a unique set of features. However, there are a few important points to consider while shopping for a sofa bed mattress.
What Features Should You Look For While Buying A Sofa Bed Mattress?
Shape And Size: Before buying a mattress, check the dimensions of your sofa bed. See if it needs a full, queen, or a king-size mattress. Most mattresses are designed to fit in sofa beds of almost every known brand. Contact customer support or store helplines to confirm the mattress specifications.
Comfort: A sofa bed mattress should be as comfortable as your regular mattress. Pick the right level of firmness, especially if you have back or neck issues. Foam and gel mattresses provide maximum comfort and support in any sleeping position. They allow air circulation to maintain your body temperature while keeping the mattress layers odor and allergen-free.
Material: Foam, gel-foam, charcoal-foam, spring, foam-spring, foam-sponge, treater cotton, polyester, and glass fiber are a few common materials. Each imparts a different degree of firmness and ventilation to the mattress. Choose what suits your needs or go with the material of your regular mattress.
Thickness And Weight: Choose a mattress that thick and layered. If it is thin, the frame of the bed may jut out and cause discomfort to your back and neck.
However, a multilayer mattress adds up to the weight of the sofa bed, making it less mobile. Thus, check the weight limit of the sofa bed. Opt for a mattress that is thick within that weight range.
Ease Of Use: Your mattress should be flexible and foldable yet tensile to retain its shape and stability. It should not hinder the ease of using the sofa. A layered and well-compressed foam mattress should be ideal for most sofa beds.
Durability And Warranty: The sofa bed mattress should have a warranty on the product. Along with a warranty, the mattress should be made of good-quality materials for extended durability. This matters because your mattress will be subjected to repeated folding, pulling, and rolling on a sofa bed.
Another criterion that impacts the price and functionality of the mattress is the type of sofa bed. Based on the design and function, sofa beds come in the following types.
Types Of Sofa Beds
Traditional Pull-out Couch: A pull-out couch has the bed frame tucked underneath the seating. In such sofa beds, the mattress may have to be partially rolled to fit back.
Futon Beds: Futons are the simplest variety of sofa beds, inspired by the Japanese bedding design. They consist of a foldable, plush, single-cushion that sits on a metal or wooden frame. These are less expensive yet functional.
Daybeds: Think of a regular sofa but with a deep seat for sleeping. The frames are fixed and do not extend or collapse. Hence, daybeds are best for small spaces. If you like to sleep on the couch, daybeds are a good option.
Sleeper Chair: A sleeper chair is a plush chair that can open into a twin-sized sleeping area. This works for a single person in extra-tight spaces. However, a sleeper chair is not an ergonomic and comfortable option when compared to the rest, even if it is made of superior quality materials.
With design and technology expanding, new varieties of sofa beds are getting added to the list. But the critical functional component is the sofa bed mattress. Make sure you check if the mattress is designed to fit into your sofa bed type. Choose from our list and order a comfortable and tough sofa bed mattress.
Frequently Asked Questions
How are sofa bed mattresses measured?
Follow these steps to get the right dimensions of a sofa bed mattress:
Measure the frame that supports the sofa mattress.
Measure the length and width, using the inside measurements.
Round up to the nearest inch (for example, 52 3/4 inches is 52 inches).
Fold the sofa bed with your old mattress inside.
Measure the distance between the top bar and the bottom bar of the folded mechanism at the crease.
Divide the measurements by two, and you will get the maximum thickness of your sofa bed replacement mattress.
How often should you replace your sofa bed mattress?
Any time between 5-10 years, depending on the condition of your mattress. It could last longer or lesser, depending on the usage, weight, and maintenance.
Why does my sofa mattress smell after unboxing?
Most sofa bed mattresses made of memory foam will carry the smell of natural off-gassing. It dissipates within a few days. The mattress will also take its full shape and size during this period.
Can I put a regular mattress on a sofa bed or do you need a special mattress?
No, the regular mattresses will not work. Though they are similar in size, a regular mattress will interfere in the functioning of a sofa bed. It is not flexible and comfortable. Thus, you should get a mattress specifically for sofa beds.
Spring coil and foam mattresses fold easily, which makes them good choices for a sofa bed. A memory foam mattress may edge out an innerspring coil mattress because it retains its shape better.
How thick is a sofa bed mattress?
The average thickness of a sofa bed mattress is 4.5 inches. It can be half as thick as a good-quality standard mattress.
What is the difference between a sofa bed and a sofa sleeper?
One of the important differences between a sofa bed and convertible sofa sleeper is the direction in which the mattress unfolds when the bed opens. In a sofa bed, you sleep with your head towards one of the sofa arms and your feet pointing towards the other.
In sofa sleepers, you sleep with your head towards the wall with your feet pointing away. A sofa bed provides sleeping area for an individual while the sofa sleeper is bigger and can accommodate two people.
Recommended Articles
The following two tabs change content below.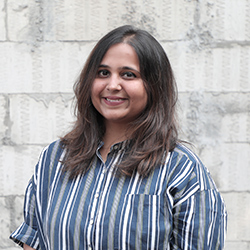 Swathi holds a master's degree in biotechnology and has worked in places where actual science and research happen. She has...
more