13 Top-Rated Basement Space Heaters in 2023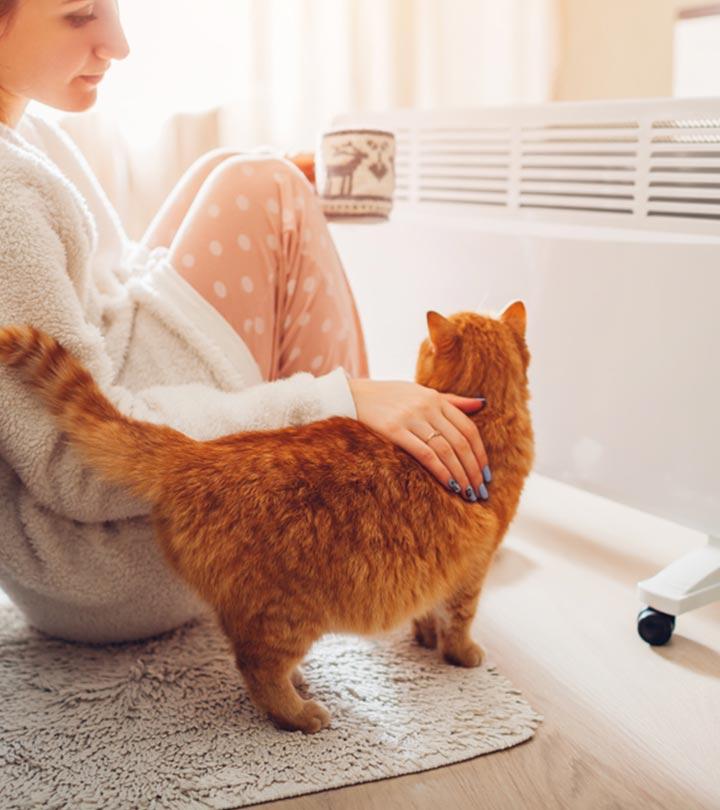 With winter on the horizon, it is the right time to have a game plan as far as heating options are concerned. While most homes have heating set up in the main rooms, the one room that gets neglected is the basement. Heating your basement, whether you are using it or not, is essential as you don't want to spoil your pipes from extreme cold.
If you plan to spend a good part of your winter in the basement, there is more reason to know what the best space heaters for basement temperature control are. The easiest way to heat your basement is by using a portable basement space heater. We have put together a list of 13 best space heaters for basement use that will be very helpful!
13 Best Basement Space Heaters in 2023
The Dr Infrared Heater Portable Space Heater has the capacity to heat a massive room in a very short period of time. This basement space heater has an Auto Energy Saving Model with a low and high feature. It also protects from overheating and from tip-overs. An infrared quartz tube and PTC make up the dual heating system and have a timer that automatically shuts off in 12 hours. The heater is light and weighs only 24 lbs and uses power of 12.5 A. The electric cord that comes with the heater is 72 inches long and the heater runs on 1500 W.
Pros
Includes an IR remote control
Equipped with castor wheels for easy movement
Includes an electronic thermostat which ranges from 50°F-86°F
The blower is barely audible with a sound level of only 39 db
Cons
The plastic in the plug may heat up and show signs of melting if used for a very long time continuously.
Price at the time of publication: $126.79
No products found.
This is a good space heater for basement use, especially a medium to small-sized one, because it was made keeping small areas in mind. The thermostat lets you adjust the 1500 W heating element made of ceramic to 11 temperature settings. With so many settings you are bound to find the perfect mode for your personal use. All that needs to be done is turning the dial to start enjoying some warmth. With built-in features for safety the space heater has an exterior that always stays cool and does not get overheated even after staying on for a long time.
Pros
Heats 300 sq. ft area perfectly
Includes 3 quiet settings— fan, low heat, and high heat
Equipped with a handle, making it portable
Does not require assembling or installation
Compact size
Cons
If the heater falls, it may still continue working that can leave some burn marks on your floor.
Oil-filled radiators are a great option for heating up a room in less time and by using less energy. The DeLonghi Oil-Filled Radiator Space Heater reduces energy bills as you can decide which room you want to heat and which one you do not. Simply by lowering the thermostat, electricity bills come down and you save the planet too! The wheels also help to move the space heater from one room to the other. It also reduces cost by maintaining power settings and optimal temperature.
Pros
No need to refill oil ever
Comes with SmartSnap wheels that are pre-assembled
Separate storage for power cord
Multiple heat settings makes the oil radiator ideal for space heating.
Includes 7 fins yet looks sleek and is easy to store.
Cons
The heater may make a loud whirring sound when in use.
LIFE SMART 6 Element w/Remote Large Room Infrared Heater can heat up a room with infrared technology. It features an almost silent scroll fan that circulates the heat efficiently. The cost of operation is also very low in this energy-efficient infrared space heater for basement which includes 3 different settings for energy-saving. One of these settings is an eco-setting that can heat up a relatively smaller room to 68°F by using as little as 500 W. The LIFE SMART heater also includes 6 quartz infrared elements and has settings for dual timer making it one of the most efficient space heaters for the basement.
Pros
Includes 12-hour stop and start timer
Releases odorless, clean, and toxin-free air
Heats only objects and people in the room and maintains moisture in the air.
Includes a remote control
The air filter is washable for lifetime.
E Z Glide castor wheels make it easy to move the heater.
Cons
It may consume as much electricity as old heaters used to.
Price at the time of publication: $149.99
With 3 heating options, the PELONIS Electric 1500 W Oil Filled Radiator Heater offers plenty of reasons to try it out in your basement. 5 temperature settings let you achieve a room temperature that works best for you. There is a power indicator that tells you when the unit is turned on and also a safety feature that shuts the radiator heater when it is overheated or when it falls down accidently. The medium for heat conducting is oil which makes the heater take a little longer to reach the desired temperature.
Pros
Remote-controlled
Not noisy
Includes programmable thermostat and 24-hour timer
Includes swivel castor wheels that can rotate 360 degrees
There is no bright light in the heater so you can sleep peacefully.
Cons
The thermostat on the heater is not accurate and may possibly heat the room a bit too much
No products found.
The ISILER Space Heater looks like one of the coolest space heaters out there, as far as appearance and aesthetics are concerned. This ceramic heater runs on elements of premium PTC ceramic heating which does not let it consume oxygen and produces no flames or even lights. It will automatically shut off if the temperature exceeds the limit value and back to work once it gets to a safe temperature inside. This space heater for basement use also features an adjustable thermostat with dial control and temperature range between 41°F and 95°F. It also takes mere seconds to heat up a room owing to its power rating of 1500 W.
Pros
Made using fire-retardant materials
Quickly heats area of 108 sq. ft
Includes self-regulating elements and automatic overheating protection.
Measures only 6 x 6.7 x 7 inches, very easy to store
Ergonomic handle makes it portable
Cons
The fan may possibly run all the time when on, even in heat mode.
A milk house heater is a space heater that uses electricity and converts it to heat. The Patton PUH680-N-U Milk-House Heater offers vintage charm owing to its steel housing. The design of this space heater for basement is rugged and includes a quiet fan. The heat settings vary from low to high and the machine shuts off automatically if it tips over. This space heater is ideal for basements owing to the heating capacity of 1000 W and 1500 W. The heater also includes a strong visibility power light so that even if you are at the other end of the basement you can tell if it is turned on.
Pros
Includes a large handle, making it easy to carry the heater
Uses a convection coil to heat which is fan-forced
Equipped with an automatic thermostat
Features manual controls that are easy to adjust
The front guards are reinforced with protection
Cons
This space heater may turn on and off in very short intervals.
The Heat Storm Phoenix Infrared Space Heater is ideal for heating your basement. It is portable and has an infrared heater with the power rating of 1500 W and a heat output of 5200 BTU. It also has a second power mode that uses only 750 W, making it energy-efficient. The patented HMS technology used for heat exchange uses the humidity present in your basement to generate heat without compromising on oxygen and humidity level. It is safe to touch and has a protection layer over the unit, so you will never burn your hands.
Pros
Includes safety features and is ETL safety certified
It can be attached to a wall as well
Includes LED screen for temperature control
The white color of the heater makes it aesthetically-pleasing and can fit all decors
Includes a remote control so that you can change settings even from a distance
Cons
The heater may give out a high-pitched sound when it is running.
Price at the time of publication: $119.31
The portable heater by Homegear is equipped with a dual heating system which combines mica with infrared heating tubes made of quartz. An LED display lets you easily monitor temperature and other modes of the space heater. This infrared space heater for basement requires a minimum of 13 A circuit, however, it works better with a 15 A one. This Homegear heater measures 12 x 13 x 17 inches and is very light weighing only 11.5 lbs. The cable length is long at 71 inches, making it easy to plug anywhere.
Pros
Heats medium and large rooms pretty quickly
Includes remote control
ETL-certified
Noiseless blower fan
Cons
The heater may not be very efficient in a very large room.
The Fahrenheat FUH Electric Heater is heavy duty and ideal for large and open spaces. This electric heater offers comfort for long term and has a built-in thermostat with a single post that can adjust between 45°F-135°F. The output of this heater is so powerful that it can even warm cold areas, service stations, shops, basements, etc. This heater is very easy to use and is equipped with adjustable louvers to control over where you want the heat to be aimed at. The thermostat also lets you customize the heat level.
Pros
Compatible with 208 as well as 240 V electrical system
Automatic cut-out to avoid overheating
Can be mounted on a wall or ceiling as well
Cons
The heater may not be turned off without cutting-off the power.
The Dyna-Glo RMC-95C6 Indoor Kerosene Convection Heater is a super heating machine and can heat up to 1000 sq. ft of area at once. This kerosene heater produces 23,000 BTU per hour and is economical when compared to other methods of heating. Moreover, this space heater heats only occupied areas which makes it a really good option for large basements. It is very convenient to use and has automatic ignition, is 100% portable, and can easily be moved from one place to another.
Pros
Suitable for daily use
Works without electricity, thereby saving money
One-touch shut button
Acts as a vintage-looking accent piece as well
Cons
The flame from the wick may be too small.
Price at the time of publication: $239.99
The Aikoper Space Heater is an energy-efficient heater that features a "fan only mode" and 2 heat settings— 900 W and 1500 W, so you can choose which setting works best for you. The timer provided can be programmed for 24 hours so you can control when the heater turns on or off. This space heater takes 3 seconds to heat a small room and has a ceramic heating technology which is very reliable. It is designed in such a way that it can be placed vertically as well as horizontally.
Pros
Eco settings help optimize energy consumption
Includes handle for easy transportation
Made using ABS which is flame-resistant
Automatically shuts off when overheated
Cons
The thermostat on the heater may not be accurate and could heat the room a bit too much.
The Cadet Electric Zone Heater is a baseboard heater with a power rating of 1000 W. This hardwire electric zone heater is 48 inches long and requires a thermostat to be installed separately. With a BTU of 3415 and a 20 gauge junction box, this baseboard heater for basement is powder-coated so that it matches well with the skirting in your room. It is best installed under a window, just a few inches above the floor. It heats a room very quickly and is a good permanent solution for your basement.
Pros
Made using 25 gauge steel
Not noisy
This heater is UL-listed.
Cons
The heater may get a bit too hot and discolor paint on the wall.
Let us now take a look at all the points to consider while buying a space heater for your basement.
How To Choose The Best Heater For Your Basement- Buying Guide
The list below will help you to identify what you need to keep in mind when getting a portable heater for basement use:
The space heater should be lightweight and the size should be such that the heater is easy to store and move around and carry down the stairs to the basement. If you are using the basement as a home office, the space heater should be one that can easily fit under your work table.
A space heater with wheels is the best if you have tiles on your basement floor. However, one with a handle to lift it up would be better suited for a carpeted basement.
Be aware of the size of the room or the space in your basement that you wish to heat. 1 W is needed per square foot for sufficient and energy-efficient heating of the room. Also remember, the higher the ceiling, higher the required wattage.
A space heater for cold basements should ideally have multiple safety features. The outer surface of the heater should not heat up too much and the heater should cut-off automatically when the room is heated to the temperature you need.
An ideal basement heater should consume less energy and have eco-mode options to run the heater on.
Choose a space heater that has all of the above features so that you save money in heating your basement and yet do not compromise on comfort and health.
Features To Look For In The Best Space Heaters For Basements?
There are plenty of options today when it comes to space heaters for basements. Some heaters have a special feature that another may not. Take a look at the main features mentioned below:
Space heaters mostly come with 2 fan speeds— high or low, and in some cases with 3 fan speeds— low, medium, and high. Choose one depending on the size of your basement and the distance you are sitting at from the heater.
A majority of space heaters are equipped with temperature control so that you can customize the temperature as per your need and comfort. A space heater with an LED or LCD display makes it easy to track the temperature.
Good basement space heaters often have an auto mode. This mode allows the heater to turn off automatically as soon as the room reaches the temperature you require, and also turns it on automatically when the temperature in the basement starts going down.
In this mode, the highest temperature you have set is achieved by using the least amount of power. This way the space heater turns on only when it is needed to run again.
If your basement space heater has this feature, the fan will move from one side to another spreading the heat evenly across your basement.
This feature lets you decide for how long you want the heater to run. Heaters, depending on their brand or model can let you choose the timer setting between 1 and 24 hours.
Just the way you can control your television from a distance, a remote feature in the heater lets you make changes to settings from across the basement.
Wi-Fi control in your space heater may let you control the settings on it from your smartphone or tablet.
Some space heaters have the added feature of wall mounting that lets you mount the heater to a wall. This also helps in avoiding any tripping or burning accidents and lets your floor space be free for other purposes.
This is a much needed feature in all space heaters that are free-standing. The tip-over protection switches off the heater as soon as it gets tipped off or falls down.
Types Of Heaters
Electric heaters are easy on the pocket and give quick relief from the cold, especially in large spaces.
Radiant heaters are different from electric heaters in the sense that radiant heaters only heat objects and people in the room instead of heating up all of the air. They are also almost silent when operating and can be an efficient heating option.
Propane gas heaters work best in a room that is within 300 sq. ft in area. Propane gas heaters are an electricity-free option which makes it work for people who may not want to engage a power socket in the basement.
Baseboard heaters need to be installed and fixed in a permanent location. If you live in a cold state and use the basement all year round, this may be a good option for you. They are best installed under windows or on a wall which is closest to your most used space in the basement.
Recommended Usage Area
The space heater is most efficient when it is placed about 3 feet away from you. This distance gives you the most amount of heat from it and yet is far enough to avoid any burning, dryness of throat, skin, etc. Make sure that the space heater is 3 feet away from furniture and other items too in the room, as the heat can cause burn marks or set an element on fire if it is kept too close. Space heaters for basement should never be kept near the staircase or in the doorway. It can be hazardous and anyone can trip or fall or walk right into the heater if they are not careful.
Permanent Vs Portable Heaters
The most confusing time, even before choosing the model of the space heater is the time you spend on figuring out what type of heater you need. The first and most important criteria you will stumble upon is based on the element of portability. The choice is always between permanent space heaters and portable ones.
Frequently Asked Questions
Should I heat my unfinished basement?
Yes you may definitely heat your unfinished basement. A cold basement has higher chances of mold growing in it. It can also result in pipes bursting and other maintenance equipment going bad. However before you heat your unfinished basement, make sure you at least get it insulated first.
Are infrared heaters good for basements?
Infrared heaters are great for basements because they maintain humidity and keep the air clean from chemicals and toxins. They also consume less energy than other space heaters and help you save on utility bills.
What temperature should I keep my basement at in the winter?
The basement should be kept at a temperature of 58°F-60°F. A very cold basement can cause mildew and mold to start growing which as we all know is very dangerous as far as health and safety is concerned.
Should you use more than one space heater for your basement?
This completely depends on your judgment. If you feel that your basement is too big for only one unit, think again. You could possibly be able to solve the problem by getting a space heater that can heat a larger room more efficiently than buying a second unit. More units will only ride your electricity bill up.
Can you leave a space heater on all night?
Space heaters, more often than not, are equipped with safety features such as tip over and overheat protection. Even so, you must not leave a space heater running all night as they have elements that can catch fire very easily.
What is the most efficient type of space heater?
Oil filled radiator heaters and infrared space heaters are the most preferred and most efficient type of space heaters. Infrared space heaters even have the capability to heat objects in the room while oil filled radiator heaters keep giving out hot air even if the oil cools down.
What are the other ways to heat a cold basement?
There are many other ways to heat a cold basement. Fire place, baseboard heaters, stoves and radiant floor heaters are just a few of the options apart from space heaters.
With working from home becoming more common these days, the basement is turning out to be a great place to shut yourself in and be disconnected from the rest of the house. If you do not plan to use it as a home office, perhaps you need extra room for your growing kids or simply a lounge room to chill with your boys. You may have been wondering how to heat a basement in winter so you can use it more efficiently this year and make the most of the space you already have, and now you are flooded with some great basement heater options. Let us know in the comments section which one you tried for your basement and if it worked well for the size of your personal dungeon.