11 Best Spanx Leggings For A Figure-Flattering Fit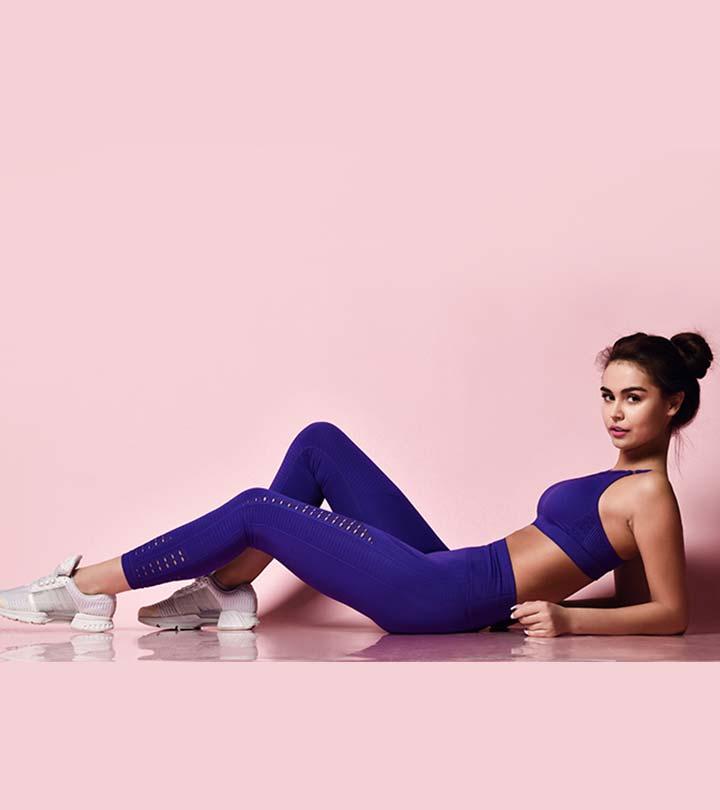 We're sure you've been living under a rock if you haven't heard of the world-renowned shapewear brand Spanx. Often referred to as the pioneers of flattering, slimming intimates, they've revolutionized how women wear clothing! Their leggings, in particular, have garnered attention from all over the globe, with their contouring fit that smoothes any bumps, creases, and wrinkles that you're afraid to flaunt. With high-waisted designs, ankle-length cuts, and tummy control waistbands, Spanx leggings offer a wide range of leggings that will ensure you are spoilt for choice.
While finding the perfect Spanx leggings can be as hard as finding the ideal soulmate, please don't despair, as we're here to help you. Explore our list of the 11 best Spanx leggings of 2021, and rest assured you'll find a pair that ticks all of your boxes. Our curated list has got you covered from comfort to flattering fits and vibrant patterns and colors that steal the show. So, scroll on, and we're sure you'll find the one!
11 Best Spanx Leggings You'll Love Wearing All Day!
If you aren't afraid of a few stares and don't mind all the attention coming your way, we've got the ideal Spanx seamless leggings for you. Undeniably flattering and comfortable, this pair has been crafted using flexible yarn that not only hugs your body like a second skin but moves like one too. The built-in slimming design hides creases and wrinkles, while the natural waistline with a smoothing waistband minimizes muffin tops and offers tummy control. The slight compression of these full-coverage leggings combined with the durable twill knit construction provides much-needed support and comes with a no-center seam, so you feel confident everywhere and anywhere.
Pros:
Full-coverage
No-center seam
Smoothing waistband
Made using flexible yarn
Slimming built-in design
Available in various sizes and colors
Cons:
Up your fashion game and slay every party you go to with these faux leather Spanx leggings. Made from a comfortable yet show-stopping polyester-blend fabric, you'll never want to take these leggings off! The high-waisted design offers unbelievable coverage, while the contoured power waistband ensures no sneaky muffin top is peaking through! If this was not all, the seam-free center means no more embarrassing camel-toe moments. The glossy finish is a real head-turner, and no matter where you go, you can be sure you'll have more than one compliment in the bag.
Pros:
Seam-free centre
Machine-washable
High-glossy fabric
High-waisted design
Contoured power waistband
Cons:
Must be washed with cold water on gentle mode to preserve the sheen
These versatile black leggings are a must-have wardrobe staple as they can be paired with trendy tank tops, fashionable tunics, or even be worn with your favorite moto-jacket! The in-built shapewear contours your body and enhances your assets so that you can take the streets on with sheer confidence! The double-layered waistband, along with the seamless yarns, smoothens any unwanted bumps while giving you the support and push for a flawless figure.
Pros:
Seamless
In-built shapewear
Soft and comfortable
Double-layered waistband closure
Cons:
The fabric may be slightly see-through.
The moto-inspired faux leather leggings come with a slick finish and are highlighted with seamed panels that will have all eyes on you. Along with the wide-shaping waistband that sucks in your tummy, it also includes a buttery-soft fabric that is oh-so-comfortable and stretchable. The breathable material ensures that you will love wearing these leather-like jogger leggings, whether to go to an awaited party or event or romantic date night.
Pros:
Seamed panels
Slick, smooth fabric
Wide-shaping waistband
Breathable and stretchable
Cons:
The sizes may run small. It is advisable to size up.
If you're on the prowl for a curve-hugging pair of leggings that has the additional advantage of a broad and flattering waistband, you've found your match. Distinguishing themselves from low-quality velvety pants, these classic leggings are designed using imported materials that offer structure and support. It effortlessly camouflages any bumps and prevents the unsightly camel-toe from peeping through. Lightweight and soft, these skin-friendly leggings are all you need!
Pros:
Curve-hugging
Lightweight and soft
Camouflages bumps
Broad and flattering waistband
Cons:
Where style meets comfort, the Spanx Ponte Leggings have been birthed into existence to become a crowd-favorite. The ankle-length cut and natural waistline ensure your body looks snatched, while the premium and super-smooth Ponte fabric give you long-lasting comfort. With 2 inseam lengths and a tapered leg design, these high-waisted Spanx leggings are everything anyone needs to look and feel in vogue. The tummy-sucking waistband is also a bonus!
Pros:
High waisted
Natural waistline
Ankle-length cut
2 inseam lengths
Contoured power waistband
Cons:
They may be baggy at the end for some.
Ditch your uncomfortable pair of jeans and swap it with these ultra-smooth jean-ish leggings from Spanx. The perfect amalgamation of jeans and leggings, these Spanx jeggings don't compromise on comfort nor the classic style that has been praised for decades. The shaping panel controls the undeniable food belly and comes with firm control to slim the hips and thighs. In addition, the functional back pockets allow you to carry anything from your phone, keys, and even your treasured lipstick. Made from a coveted polyester blend, you must grab these Spanx cropped leggings before it's too late.
Pros:
Cropped style
Offers firm control
5-pocket jean design
Shaping panel waistband
Made from a poly-blend fabric
Cons:
The waistband may seem too thin and narrow for some.
Still no luck with finding a snug pair of leggings that you would love to lounge in all day? Well, now you have! The lightweight construction coupled with the capri-length style of this Spanx tummy-control leggings offers everyday comfort for a pair you wouldn't want to take off. The premium material offers enough stretch while you can move around with ease. The double-layered waistband keeps your tummy, thighs, and rear looking their best. If this was not all, the fabric does not pill or sag!
Pros:
Tummy control
Snug, shaping fit
Lightweight construction
Double-layered waistband
Cons:
Some find the material to be a bit too sheer.
Unlike most leggings that are too tight and not stretchy enough, these functional Spanx Assets leggings made from premium materials are the ideal pair for anyone looking for comfort. These feature-laden leggings house a tummy-control panel for a slimming look and have sleek lines with an attractive side piping for an elongated look. The Ponte fabric also offers maximum coverage and an opaque finish.
Pros:
Opaque finish
Maximum coverage
Attractive side piping
Tummy-control panel
Made from premium materials
Cons:
May not offer enough support as one would expect
A sister product to the Look At Me Now leggings, this counter product with a high-waisted finish is what you need if you're looking for a slim fit. The 360º tummy-taming waistband ensures that you feel snug and secure, while the luxurious stretch and seamless design firms your body all over. The super high-waisted band rests comfortably below your bust, offering you maximum coverage with a slight compression. Besides all these incredible features, this pair of casual leggings also comes with the celebrated twill knit construction using matte yarn and a center-free seam that minimizes any possibility of a camel-toe showing.
Pros:
Center-free seam
Seamless design
Twill knit construction
360º tummy-taming waistband
Maximum coverage with a slight compression
Cons:
Unique to these iconic Spanx essential leggings, these athleisure leggings come with an innovative knitting technique interwoven with lightweight yarn to help you stay comfortable all day long. The wide belly band, similarly present in other Spanx leggings, sucks in your belly and the figure-hugging fabric moves in harmony with your body. The seamless sewing ensures that this pair is versatile in styling and material as it can be paired with any top or any shoes. Machine washable; just toss these into your washer and get clean pants in an instant.
Pros:
Lightweight yarn
Wide belly band
Seamless sewing
Machine washable
Innovative knitting technique
Cons:
The color may not be true to the one on the website.
Now that you've explored our extensive range of the 11 best Spanx leggings of 2021, here are some tips to keep in mind before buying the one.
How To Choose The Best Spanx Leggings
Material

From velvet, faux leather, cotton to spandex, Spanx leggings have something in store for everyone. For a form-fitting design with enough stretch, we suggest you pick a pair made from a luxurious spandex blend. For night outs that deserve mention, you can choose between faux leather and velvet. However, if you require leggings that are airy, comfortable, and suitable for all the seasons of the year, select one that has a mix of cotton.
Elastic waistband

The right waistband can honestly make or break your outfit. For one that diminishes muffin-tops and contours your tummy, pick leggings that come with wide, elastic waistbands. And for maximum tummy control, you should look for high waist Spanx leggings. This ensures that your belly is sucked in, while defining your natural waistline.
Maintenance

Leggings are generally tossed into the washing machine or washed by hand to maintain and preserve their fabric. If you're too lazy to follow detailed instructions and prefer a quick cleaning, buy leggings that do not require hand washing. Otherwise, if you don't mind the extra attention needed to maintain your favorite clothing, you can select leggings that must be washed by hand.
What To Wear With Spanx Leggings?
Truly versatile, Spanx leggings can be paired with almost anything under the sun. For a casual day out, wear stretchy leggings made from a spandex-poly blend along with a tunic or a long-sleeved shirt. For days when you're dressed to impress, choose velvet or faux leather leggings and pair them with a biker jacket or even a crop top. Also, ensure that they come with a slimming finish and an elastic waistband to hug your curves in all the right places. But if you want a pair to help you slug it out at the gym, pick one that is sweat-wicking, breathable, and quick-drying.
Put your best foot forward everywhere you go with Spanx leggings that are crafted keeping your comfort in mind. No matter what size, fabric needs, or fitting restrictions you may have, trust us when we say there's a Spanx pair that's destined and designed just for you. Hopefully, our list of the 11 best Spanx leggings served as a helpful guide in your hunt for the right one! Now all that's left to do is pull your pants on and drown the sea compliments coming your way!
Expert's Answers For Readers' Questions
Can Spanx leggings be hemmed?
Absolutely! Spanx leggings can most definitely be hemmed to your requirements.
When do Spanx leggings go on sale?
Spanx leggings are on sale all-year round. However, for the biggest discounts and offers, you can check around the time of Black Friday and flash sales.
Where are Spanx sold?
Apart from their official website, you can buy Spanx from many renowned clothing stores like Nordstrom, Macy's, Walmart, and Amazon.
Are Spanx leggings worth it?
Try them once and you wouldn't regret it! The power waistband, the free-seam center and premium-quality materials make them worth it.
Do Spanx leggings run small?
Some leggings do. To find the perfect size, refer to the size chart.
Why do my Spanx leggings roll down?
This often happens when leggings are incorrectly sized. If the leggings don't sit perfectly around your rib cage, the power waistband may fail from keeping the band sitting snugly around your waist. Hence, it is wise to measure your waist correctly before purchasing a pair.
How to wash Spanx leggings?
Depending on the fabric, Spanx leggings can be either tossed into the washing machine or must be hand washed with care. But for either technique, do not use fabric softener and turn the pants inside out to preserve the legging's sheen and appearance.
How long are Spanx leggings?
Spanx leggings are available in regular and petite size, where the inseams are the defining factor.
Do Spanx leggings offer compression?
Yes, Spanx offers compression leggings that compress and smoothen your figure.
Can we workout in Spanx leggings?
Of course! The Spanx Active Leggings range has ones that provide all the support along with breathable fabric that you may need for all your tedious workouts.
The following two tabs change content below.