The Top 8 SPF Setting Sprays Of 2021 To Protect Your Face From The Sun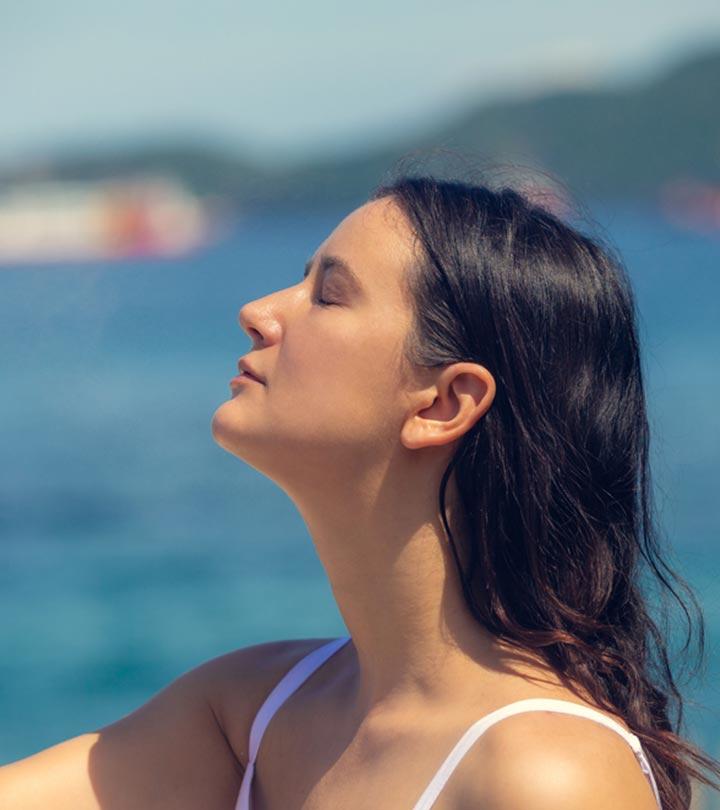 Makeup or no makeup, sun protection is an essential part of our daily routine. Just like we take care of our skin with cleansing and moisturizing, we also need to protect it from the harmful rays of the sun, even when we are indoors. That makes sunscreen an essential makeup product every day. For many, the term sunscreen evokes memories of white-casting creams with a strange smell. But now with all the advancements in science, we are fortunate to have better formulas for the same. One of the recent inventions has been the SPF setting sprays. This new version of sunscreen has revolutionized its ease of use and application.
Now there could be occasions when you missed applying the sunscreen in a rush or when you are out on the beach and need to reapply it a couple of times. You tend to feel concerned about ruining your makeup in the process. That's where a setting spray with SPF comes to the rescue. It gives you that added protection along with keeping your makeup set in place, anywhere anytime. Now that we have introduced you to this miracle product, let's also help you choose one for yourself with this list of the top 8 SPF setting sprays of 2021.
The Top 8 SPF Setting Spray Of 2021 To Save Your Face All Day!
How does it feel when you are looking for something specific but you get some added benefits along with the same? Amazing, isn't it? The Milani Make It Last 3-in-1 Setting Spray and Primer is one such multitasking product! You can use it right after cleansing your face to prime your skin before make-up, you can use it to even out your skin tone, and most importantly as a setting spray to keep your makeup sealed in place. This lightweight drugstore setting spray with SPF 30 provides you with broad-spectrum UVA/UVB protection and lasts for a good 16 hrs at a stretch. Its lightweight formula improves and enhances your makeup without appearing caked on or unnatural. It makes your face look hydrated and healthy.
Pros:
Vegan
Cruelty-free
Long-lasting
Glitter-free
Cons:
Spray bottle not user-friendly
Might leave some residue behind
Isn't it always comforting to know that the product you use on your face every day is made up of organic ingredients? Well when you use this Coola SPF setting spray, you can rest assured about that. Made with organic cucumber and aloe vera, this hydrating makeup setting spray keeps your makeup in place, provides you the necessary layer of protection from the sun's harmful rays, and keeps your skin nourished as well. You can simply mist it all over your face to reapply that sunscreen all through the day. Infused with algae extract and hyaluronic acid, this cruelty-free setting spray keeps your face hydrated, soft, and supple with each use.
Pros:
Paraben-free
Organic ingredients
Non-GMO
Water-resistant
Cons:
A lightweight makeup setting spray with SPF 40 is a win-win any day! Made up of
antioxidant-rich ingredients like peppermint and rosemary, the Supergoop Defense Refresh absorbs into the skin easily keeping it nourished and protected. With a gentle texture and natural finish, this sunscreen setting spray controls oil and shine and is good for all skin types. Simply close your eyes and lips, and mist it over your face, and you are all set! You can reapply this every 2 hours if you need to refresh your skin throughout the day.
Pros:
Lightweight
Natural finish
Reef-friendly ingredients
Cons:
Small size
Not fragrance-free
A lightweight make-up setting spray with SPF 50 that sets and refreshes your makeup along with protecting your skin from sunburn. It has a lightweight refreshing feel that gives a water-resistant satiny glow to your face. It can be used on its own or over your complete makeup to help it stay put all through the day. It makes the reapplication of sunscreen effortless and mess-free any time of the day.
Pros:
Cruelty-free
Lightweight
Refreshing
Affordable
Cons:
Overpowering smell
Not for sensitive skin
Not alcohol-free
A fine misting lightweight setting spray that not only holds your makeup in place but also provides much-needed sun protection. Enriched with Rhodiola Rosea, an adaptogenic plant, it provides anti-stress and anti-oxidation properties too. Its main ingredient— hyaluronic acid helps keep the skin hydrated while the light-diffusing silicone powder blurs out any fine lines and wrinkles, delivering a soft matte finish. You can spray it over your face 15 minutes before sun exposure and reapply every two hours especially if you are in direct sunlight or water. Its superfine mist covers the face evenly and gives your face a healthy and flawless look.
Pros:
Even coverage
Matte finish
Anti-stress
Cons:
Might be sticky
Not water-resistant
This Supergoop Rebecca Taylor – Defense Refresh (Re)Setting Mist is a limited edition makeup setting spray with SPF that comes with a refreshing smell and exclusive packaging. If you are someone always on the go or someone who works mostly outdoors, then this SPF face mist is a must in your handbag. Infused with rosemary and peppermint extract, this lightweight SPF 50 spray sunscreen helps control shine and is suitable for all skin types.
Pros:
Refreshing scent
Lightweight
Beautiful packaging
Cons:
Enriched with the goodness of organic ingredients like aloe vera, green tea, and cucumber extracts, this lightweight SPF face spray leaves your skin refreshed and protected with each use. Packed with antioxidants, this organic setting spray calms and hydrates the skin, boosting the skin's natural radiance each time. This micro-mist with SPF 30 provides broad-spectrum protection from sun damage and is easy to reapply through the day. It prevents UV-induced DNA damage and gives you a smoother skin appearance with regular use. The convenient travel size packaging makes it portable and perfect for quick touch-ups when traveling.
Pros:
Lightweight
Fine mist
Organic ingredients
Cons:
Formulated without parabens, silicones, or phthalates, this 100% vegan sunscreen mist gives a sheer SPF 45 protection while taking care of your skin. With a balanced mineral blend and goodness of vitamin C extracts, it also provides blue light protection and prevents early aging of the skin. Its lightweight and sheer formula spray evenly to deliver a satiny matte finish. It can be used as the last step in your everyday makeup routine to keep your makeup in place. It needs to be reapplied every 2 hours, and especially after swimming or sweating.
Pros:
Applies evenly
100% vegan
Cruelty-free
Paraben-free
Cons:
With this list of the top rated SPF setting sprays handy for you, you can now go ahead and get yourself one. But how do you decide what is the best setting spray for you? Worry not, we are here to help you decide with the following buying guide.
Buying Guide
How do I choose the right SPF setting spray for my skin?
There are many makeup setting sprays out there in the market making it tough to shortlist a few. A makeup setting spray with SPF gives you the added benefit of sun protection along with keeping your makeup in place in just a few spritzes.
Skin type:
Before choosing any product for your face or skin, you must be aware of your skin type and the active ingredients of the product. A good makeup setting spray for dry skin would be one with moisturizing and hydrating ingredients to keep your skin's natural moisture balance intact. With dry skin, you should try to stay away from an alcohol-based setting spray. While oily skin beauties should be careful of sprays that leave behind any greasy residue or are sticky to feel. You can rather go for an SPF face mist that absorbs the shine and gives a soft matte finished look. Combination skin girls can have the best of both worlds after doing a small patch test to confirm it suits your skin in particular. Non-comedogenic and hypoallergenic organic products work well for most skin types, especially for sensitive skin.
SPF:
If you are someone who is usually at home, then a makeup setting sprays with SPF less than equal to 30 would work fine for you. While if you spend your day mostly outdoors for work or fun, you should consider choosing a spray sunscreen for the face with broad-spectrum UVA/UVB protection with an SPF of 40 or more. It also matters if your skin is more prone to tanning easily or not.
With all of us now being more conscious of our skin health, sunscreen is a must in everyone's makeup arsenal. When we spend so much time priming and making up our face for the day, it just takes a few seconds more to have it sealed and set with a good makeup setting spray. One that comes with a built-in SPF adds a significant extra layer of protection for you. No wonder, a good SPF makeup setting spray has now become a girl's best ally to quickly and effortlessly refresh her face and makeup any number of times all through the day.
Frequently Asked Questions
Does SPF setting spray work?
SPF setting spray works wonders when it comes to keeping your makeup flawless and fixed in place. With the need to reapply sunscreen multiple times a day, especially after swimming or sweating it out in the gym, an SPF face mist gives you that ease of re-application without messing up your makeup. You can reapply the same every 2 hours for the best results.
Does setting spray set sunscreen?
The setting spray is used as a final step in your makeup routine to seal and keep your makeup in place. The built-in SPF gives you the added benefit of sun protection all through the day.
When should you apply the SPF setting spray?
An SPF face spray can be used on its own as a face primer and sunscreen 2 in 1. While most SPF setting sprays are used at the end of your makeup routine as a top coat to seal your makeup for the day.
How much sunscreen setting spray should you use?
Usually, a few spritzes of the sunscreen setting spray should be enough to coat your face evenly. It also depends on the nozzle of the spray bottle and how fine a mist is a spray.
How often can you use an SPF mist?
You can use a spray sunscreen for the face every day and as often as every 2 hours. Especially if your spray is not water-resistant, you should make sure to reapply every time you get in the water or sweat yourself out.
Recommended Articles