10 Best Spiralizers – Reviews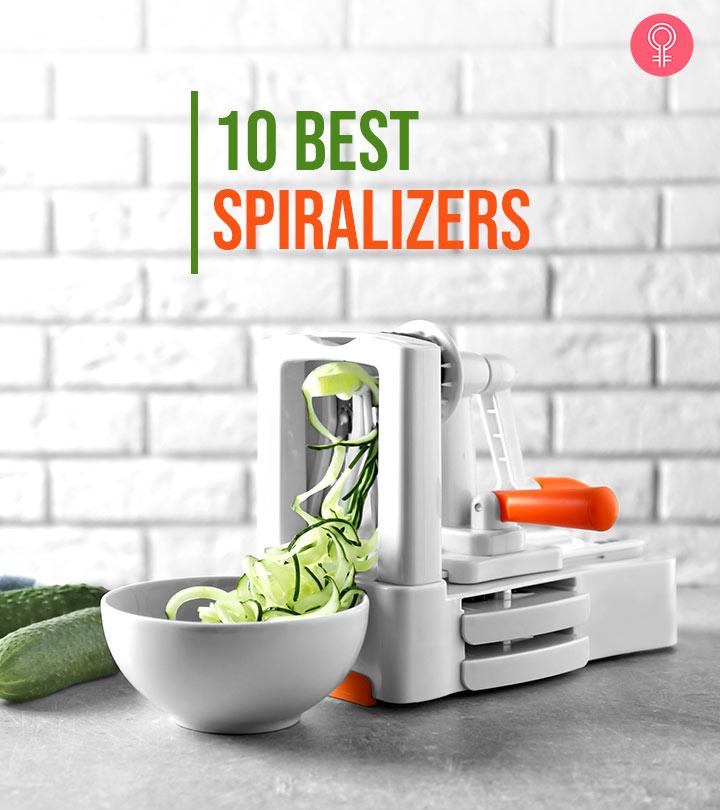 Fresh fruits and vegetables should make a significant portion of your daily diet. Everyone knows what to eat, but many people do not follow a healthy diet. Why? It is probably because fruits and veggies do not seem delicious in their natural shape.
Reshape your fruits and vegetables using a spiralizer. This kitchen tool can turn any vegetable or fruit into a spiral shape. You can also sprinkle some spices over and enjoy the taste. Here, we have listed the 10 best spiralizers along with their reviews. Take a look!
What Is A Spiralizer?
A spiralizer is an inexpensive food processor tool that turns your veggies and fruits into zoodles. It also turns other boring dietary recipes into deliciously eye-catching cuisines.
Listed below are the 10 best spiralizers.
10 Best Spiralizers – Reviews
The Veggetti Spiral Vegetable Cutter is a countertop stand spiralizer that has dual stainless steel cutting blades. You can adjust the thickness of veggies using its ultra-sharp 12 stainless steel blades. The blades can slice the toughest ingredients. The spiralizer can slice any fruit or vegetable with a diameter of 2.5″ or less. You can make veggie spaghetti, stir-fries, juliennes, etc.
Specifications
Dimensions: 2.76 x 2.76 x 6.32 inches
Weight: 3.68 ounces
Material: Plastic and stainless steel
No. of Blades: 12
Warranty: A 10-day return warranty
Pros
Noodle thickness adjustment
User-friendly design
Dishwasher-safe
BPA-free
Affordable
Cons
This spiralizer offers a new way of turning fruits and vegetables into noodles. It has seven interchangeable blades made of Japanese 420-grade hardened stainless steel. You also get a free caddy to store the blade attachments safely. You even get free access to Brieftons' four e-books. The fruit or vegetable fits between the blades and the rotating base. You can turn the handle to push it forward. The seven blades of the spiralizer create perfectly shaped spaghettis. This stand spiralizer comes with a suction mechanism pad that keeps it in position for hours and allows you to apply maximum power.
Specifications
Dimensions: 30.2 x 15.5 x 21 inches
Weight: 3.44 pounds
Material: ABS plastic and stainless steel
No. of Blades: 7
Warranty: Lifetime replacement warranty
Pros
Sharp, durable blades
BPA-free
Comes with a storage container
Compact
Cons
Expensive
Poor quality suction pad
This latest 5-blade Vegetable Slicer is claimed to be about 35% stronger than other products in the same category. The manufacturer has used 420 high-carbon cutlery-grade stainless steel to make robust blades. The slicer body is made of BPA-free ABS plastic.
This spiralizer creates both thick and thin noodles. Besides, it rests on four legs and offers great stability on the kitchen countertop. You also will get four complimentary recipes.
Specifications
Dimensions: 32 x 17 x 24.1 inches
Weight: 1.98 pounds
Material: ABS plastic and stainless-steel blades
No. of Blades: 5
Warranty: Lifetime replacement
Pros
Easy to wash
Durable
BPA-free
ABS plastic
Lightweight
Four legs for stability
Cons
None
MITBAK knows that plastic is not reliable. Therefore, it offers you a stainless steel spiralizer. It is an ultra-strong veggie slicer with three durable, food-grade blades. The three blades can be changed quickly according to your requirements. This small gadget can slice and spiralize all fruits and veggies in seconds.
It has strong suction mechanism cups that keep it from sliding from the countertop. The spiralizer is easy to be cleaned and maintained.
Specifications
Dimensions: 8.9 x 5 x 4.4 inches
Weight: 1.7 pounds
Material: Stainless steel
No. of Blades: 3
Warranty: Not available
Pros
Durable
Stainless steel body
Suction mechanism
Compact
Lightweight
Interchangeable blades
Cons
The KitchenAid Spiralizer comes with two spiralizing blades and two slicing ribbon blades. The tool will last much longer than an ordinary plastic-made spiralizer due to its robust metal body. It uses electric power to slice and spiralize your food. You can choose between five different speeds to slice your fruits and veggies. Its blades and other accessories are dishwasher-safe. The spiralizer is easy to be cleaned and maintained. It can also peel, slice, and core the food items.
Specifications
Dimensions: 5.8 x 12.4 x 2.90 inches
Weight: 2.19 pounds
Material: Metal
No. of Blades: 4
Warranty: 1 year
Pros
Flexible blade options
Durable
Compact
Lightweight
Runs on electricity
Different speed options
Cons
None
The Fullstar Vegetable Spiralizer is a complete bundle for your kitchen needs. It can spiralize, ribbon cut with its ribbon-cut blades, slice, shred, grate, and juice all your favorite veggies and fruits. You can use it to make Zucchini Spaghetti, veggie spirals, and zoodles.
The spiralizer is easy to be cleaned, and all its parts are dishwasher-safe. Fullstar has used only BPA-free ABS plastic and stainless steel to build this spiralizer. This high-quality food-grade material ensures your food is safe.
The spiralizer's non-slip finger guard ensures no injuries. You can pack the tool in your backpack and take it wherever you want.
Specifications
Dimensions: 3.74 x 3.74 x 10.16 inches
Weight: 1.15 pounds
Material: ABS plastic and stainless steel
No. of Blades: 8
Warranty: Not available
Pros
Multipurpose use
Eight food options
Compact
Affordable
Dishwasher-safe parts
BPA-free
Cons
Poor quality blades
Low capacity jar
The Sedhoom 4-in-1 Handheld Spiralizer is compact and lightweight. It can help you prepare spaghetti, zoodles, and spiral slices of vegetables and fruits. You may consider it a perfect tool for making a delicious salad.
The spiralizer has four blades. You can use its blade switch to change the blades quickly. Sedhoom has used only BPA-free plastic to build the container and high-quality stainless steel to construct its sharp blades. The tool weighs only 4.2 ounces.
Specifications
Dimensions: 4.3 x 3.9 x 3.6 inches
Weight: 4.2 ounces
Material: BPA-free plastic and stainless steel
No. of Blades: 4
Warranty: 1 year
Pros
Ergonomic design
Easy to clean
Food-grade quality
Easy to use
Blade switch to change blades
Cons
The Mealthy 5-Blade Spiralizer comes with a variety of accessories. Its catch & store container keeps the food ready for serving. You also get a user-guide, a recipe booklet, and a caddy to store the blade attachments. The package also includes a small brush that helps you keep the spiralizer clean.
This spiralizer is lightweight and portable. It is made of BPA-free ABS plastic. All its blades are made of 420-grade hardened stainless steel.
Specifications
Dimensions: 15 x 20 x 20 inches
Weight: 3.14 pounds
Material: BPA-free ABS plastic and stainless steel
No. of Blades: 5
Pros
Durable
Large capacity container
Two storage containers
Free online recipe app
Rubberized handle
Lightweight
Affordable
Cons
Same size blades
Poor quality suction cup
The Cuisinart Express Spiralizer works well to spiralize, cut, slice, and shred fruits and vegetables. Its user-friendly design allows the fruit or vegetable to go in through the angled feed tube and come out like spaghetti, zoodles, and food slices. It does the job with just a click of a button.
It is an electric-powered appliance. You need to push the food towards the blade, and it starts slicing, shredding, or spiralizing that ingredient immediately. A 40 oz plastic container collects all the prepared food for a quick-serve.
Specifications
Dimensions: 8.38 x 15.63 x 11.63 inches
Weight: 5.68 pounds
Material: BPA-free plastic
No. of Blades: 4
Warranty: Limited 3-year warranty
Pros
BPA-free material
Electric-powered
Easy operation
Comes with a 40 oz container
Cons
None
Impeccable Culinary Objects has built this compact and robust spiralizer. It has four blades. While three blades are interchangeable, one is built-in for permanent use. It is a top-rated spiralizer for preparing low-carb spaghetti and zucchini. The product has only stainless steel components and a tough black aluminum body.
Specifications
Dimensions: 8.86 x 3.54 x 4.92 inches
Weight: 1.6 pounds
Material: Stainless steel and aluminum
No. of Blades: 4
Warranty: Limited 2-year warranty
Pros
Dishwasher-safe
Effortless operation
Durable
Sturdy
Cons
These are the top 10 spiralizers available on the market. The following buying guide will help you understand what to look for in a spiralizer before purchasing one.
What To Consider When Buying A Spiralizer?
Spiralizer Type: Spiralizers are available in three types – handheld, countertop, and electric.
The best handheld spiralizer is compact and easy to carry in a backpack. A countertop spiralizer comes with a handle and a shaft. It is quite stable and makes food preparation an effortless task. An electric spiralizer comes with an electric motor, which rotates sharp blades to slice, spiralize, or shred the ingredients.
Assess the features and drawbacks of all the three types of spiralizers before you place the order.
Food And Blade Storage: Many spiralizers come with a storage container that keeps food from falling on the kitchen countertop as the blades slice the ingredient. Though not mandatory, a storage box offers secure storage of the prepared food.
Ease Of Usage: Handheld spiralizers are portable but tough to handle. Countertop spiralizers are quite user-friendly – you apply less power and get perfectly spiraled foods for serving. Electric spiralizers are super-easy to use – you just need to feed the ingredient and push a button to prepare the food and spiral it out in the container.
Dishwasher-Safety: A perfectly-cleaned spiralizer promotes a healthy lifestyle. It will not accommodate germs and bacteria if you can clean it in a dishwasher. Not all spiralizers are dishwasher-safe. This is especially true with electric spiralizers, which may require you to use a brush or a clean cloth to keep them clean. Pick your spiralizer as per your requirement.
Blade Varieties And Quality: Never buy a spiralizer that has only one or two interchangeable blades. Look for a model with at least four blades, including a ribbon blade, spiral or noodle blade, a straight blade, etc. Thus, you will get different kinds of food outputs for different recipes. Also, make sure their edges are ultra-sharp and durable.
Material: Many spiralizers come with a plastic body. Ensure the plastic is BPA-free to avoid food contamination. Stainless steel and aluminum spiralizers are safer alternatives. They also are more robust and sturdy.
Warranty: Most reputed brands offer a full refund or a limited replacement warranty. You should avoid products with no warranty.
Price: Set a budget and check the spiralizers that are suitable. Handheld spiralizers are cost-effective, while electric-powered models are expensive. Countertop models cost a reasonable amount of money, but they are perfect for your kitchen.
How To Clean A Spiralizer?
You need dish soap, a regular nylon brush, and a clean cloth.
Remove the blades by holding their plastic side and wash them with dish soap to remove the stuck food.
Detach all the removable parts of the spiralizer.
Put them in a dishwasher if your spiralizer is dishwasher-safe. Clean each detachable part with a nylon brush if the spiralizer is not dishwasher-safe.
Use the cloth to remove dust and then use a wet cloth to remove stains from the spiralizer body.
Make sure the handle, shaft, blades, and container are clean before you reassemble the tool.
Conclusion
A spiralizer is a must-have kitchen tool for every health enthusiast. It turns those boring dietary recipes into delicious, eye-catching cuisines. We have already reviewed the best spiralizers available on the market. Check the reviews and pick your favorite today!
Expert's Answers For Readers' Questions
What vegetables can you use with a spiralizer?
You can use a variety of veggies with a spiralizer. Cucumber, zucchini, beets, carrot, parsnip, sweet potato, white potato, apple, guava, and cabbage are just a few of the many vegetables that you can use with a spiralizer.
Can you spiralize cabbage?
Yes, a top-rated spiralizer would easily spiralize cabbage. However, it should be a countertop spiralizer that can fit a cabbage between the shaft and the blade.
Can you peel apples with a spiralizer?
Yes, you can peel an apple with a spiralizer. You will need a spiralizer kitchen tool with peel attachments. The KitchenAid spiralizer is a perfect tool for this job. We have already reviewed it in this post, and you can check it right now to understand more of its features.
What can I use in my spiralizer?
You can prepare spaghetti, vegetable/fruit noodles, slices, curls, and long ribbons with ingredients like cucumber, carrot, apple, etc.
You can try a variety of experiments with this tool and make your food look and taste delicious. Besides, people use this tool wisely for preparing pickles, nachos, frittatas, spring rolls, etc.
How simple is the set-up for a spiralizer?
Different models have different ways of setting up. A handheld spiralizer is quite simple to set up. Set-up the blade, wash the fruit or vegetable, and cut it into small chunks. Now place the fruit/vegetable over the blade and use the main lid to push and rotate the ingredient. You will get perfectly spiralized food in the container.
You place the fruit/vegetable between a rotating shaft and blade when using a countertop spiralizer. Use the handle to rotate the ingredient to push it against the blade and get the noodles from the other side.
You should check the user manual to learn how to use the spiralizer.
Recommended Articles
The following two tabs change content below.

Latest posts by Harini Natarajan (see all)

Harini Natarajan
As Chief Editor, Harini sets the tone and editorial direction for StyleCraze to deliver engaging, interesting, and authentic content revolving around women's health, wellness, and beauty. She has over 14 years of experience in content writing and editing for online media. She specializes in the areas of Beauty, Lifestyle, and Health & Wellness and is proficient in Medical Sciences (Biology, Human Anatomy and Physiology, and Biochemistry). Her background in Biomedical Engineering helps her decode and interpret the finer nuances of scientific research for her team. Harini is a certified bibliophile and a closet poet. She also loves dancing and traveling to offbeat destinations.